Is your favorite sandwich Ham and Melted  Swiss?? This  Ham and Melted Swiss Overnight Breakfast Casserole combines chopped ham, melted Swiss cheese and all of your favorite breakfast casserole ingredients to make one amazing main dish at your next early morning gathering!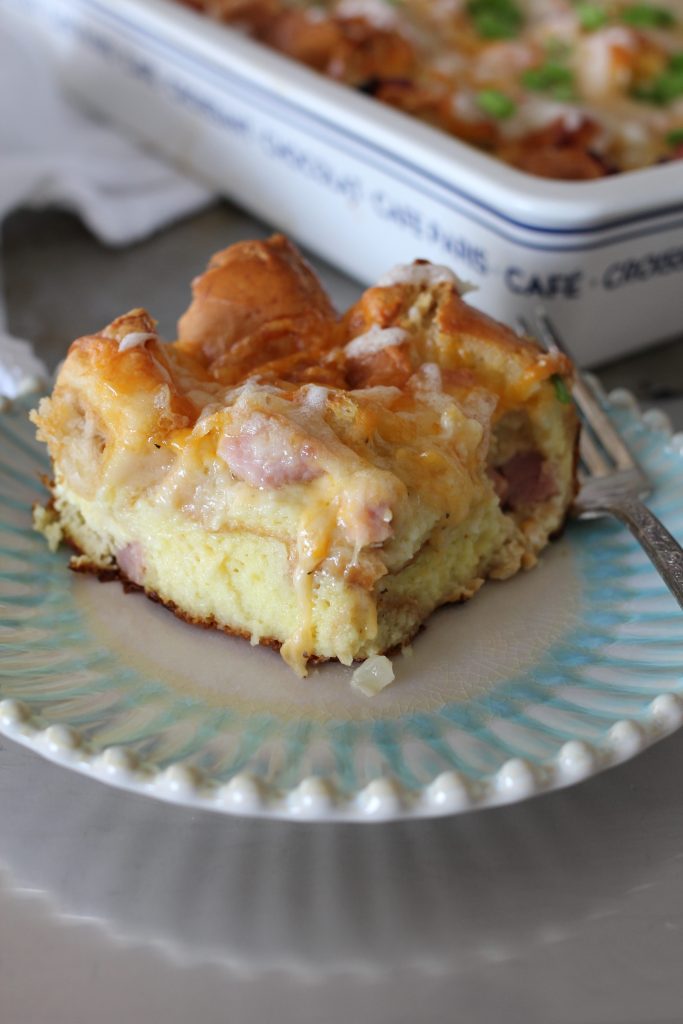 Our family loves breakfast casseroles on Christmas morning. We have a rotation of
several breakfast casseroles
that we love and  make over and over again. This recipe for Ham and Melted Swiss Overnight Breakfast Casserole is definitely going to make it on the menu this year!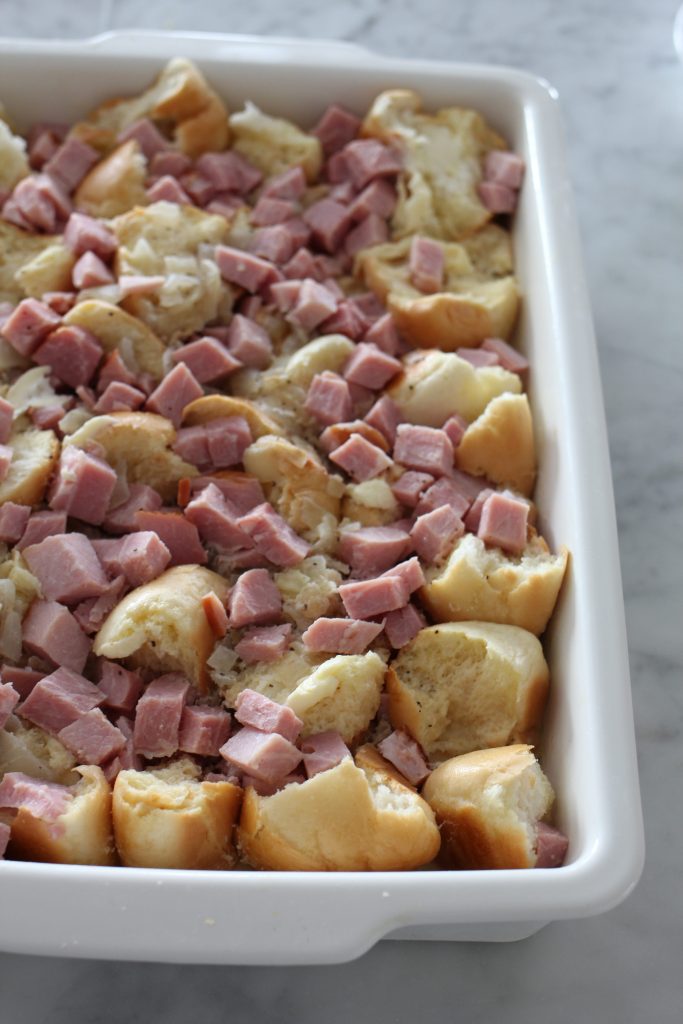 Everyone in our family loves ham. Well, sometimes they love ham… We have a funny little story about ham… Years ago, when we were remodeling our kitchen in the Bountiful house, we were eating out of our basement for about 2 months. If you've ever done a remodel, you know how fun this can be! I had a microwave and a fridge, and we got used to eating a few meals that were easily prepared in the microwave and of courses, take out. One of my go-to meals was from a local grocery store, where they made sandwiches on french bread loaves. These sandwiches were huge, about 18 inches long and 5 inches across.   I would often order a couple of sandwiches, buy some potato salad, fruit and we'd call it a meal. At the time, everyone in our family was on a ham kick. As in, they all loved ham sandwiches. Grant loved turkey, and I loved turkey, so I bought one  large ham and one other smallish turkey sandwich. At dinner time, I sat all of the kids down and started to take orders and slice up the sandwiches.
First kid. "I want turkey."  Me: "Ok."
Second kid: "I want turkey."  Me: "Ok, sure you don't want ham?" kid: "Nope."   Me: "Ok. FINE."
Third kid: " I'll have turkey."   Me: " You're kidding me. WHY DO YOU WANT TURKEY?? You guys LOVE  ham."  
Fourth kid: "I'll just have ham."
This happened about 15 years ago, and we still laugh about it. The kids like to  throw out the "I'll just have ham" line to push my buttons.
Gosh, me and my crazy younger mom days.
Anywho, I know you're going love this Ham and Melted Swiss Overnight Breakfast Casserole! It takes just a few minutes to whip up and is perfect for Christmas morning. Making the casserole ahead of time takes all of the stress out of having a hot meal on holiday mornings.  I like to serve this with something sweet and a platter or bowl of fresh fruit  and a hot cocoa bar.  What are you serving Christmas morning?
Ham and Melted Swiss Overnight Breakfast Casserole
Total Time
1
hour
5
minutes
Ingredients
1 1/2

cup

onions

6

tablespoon

butter

divided (2 tablespoons for sautéing onions, 4 tablespoons for buttering rolls)

10

rolls

cut in half ( I use Costco dinner rolls)

3

cups

chopped ham chunks

2

cups

Cheddar or Colby- Jack Cheese grated

2

cups

Swiss Cheese

grated and divided

12

large eggs

1 1/2

cups

half and half

1

teaspoon

dry mustard

few dashes Tabasco or other hot sauce

optional

1

teaspoon

salt

1/2

teaspoon

pepper

green onions for garnish

optional
Instructions
The day before serving, or early in the day of serving:
Sautee onions in 2 tablespoons butter just until softened, about 4-5 minutes on medium heat.

While onions are cooking, grease a 9x13 pan. Place rolls, halved in baking pan, cut side up. The rolls should be squished together, but not overlapping. Butter the side of the rolls that is facing up.

Pour the sautéed onions on top of the rolls, sprinkle with cut ham.

Sprinkle top of ham with 2 cups cheddar or co jack cheese and 1 cup Swiss cheese*.

Throw the eggs, half and half, dry mustard, hot sauce, salt and pepper into a blender and whirl until blended well.

Pour the egg mixture over the casserole.

Spray a sheet of foil with cooking spray on the side that will face the casserole. Top the casserole with foil and seal tightly.

Place in refrigerator. Refrigerate for at least 6 hours, or overnight.

When ready to bake, remove from refrigeratorat least an hour before baking.

Preheat oven to 350 degrees and set rack in middle of oven.

Bake covered casserole for 30 minutes.

Remove foil , sprinkle with remaining one cup of cheese and bake an additional 20-30 minutes without cover.

Remove from oven when knife inserted in center comes out clean (sometimes I remove when slightly wet), and let sit for about 5 minutes before cutting.

Garnish with green onion if desired.
Recipe Notes
-You may use any combination of cheese, if you like Swiss, use all Swiss! I like the color of the Cheddar or Colby Cheddar, so I add about half Cheddar. -To keep this dish warm without overcooking or for transporting, place the dish in a cardboard box that has been lined with newspaper. Place the casserole in the box, if you have more than one, layer using a cookie sheet to keep the layers of casseroles from smashing each other. Scrunch up newspapers around the casseroles to keep them from moving around and to create extra layers of insulation. Fold the flaps of the box to keep the heat in. This will keep a casserole out of the oven hot for at least 2-3 hours.