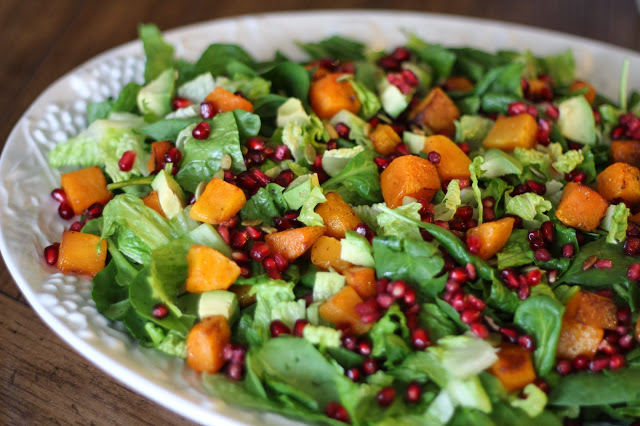 Tuesday night I made a salad for a creative group of crafters and bloggers who attended
"Spark Your Holidays Soiree" put on by
Margie Romney -Aslett (Justagirl)
and hosted by
Jamie Soucy
. I didn't stay for the festivities, but heard the ladies who attended had a fabulous time! I was amazed at Jamie's gorgeous fully decorated Christmas house and the work Margie put into assembling craft kits. It was all so festive, that I may have to sign up next time they have an event and try my hand at creating outside of the kitchen…
I wanted to share a salad that was savory and a reflection of the season. I started with greens and decided on three main ingredients for toppings: roasted butternut squash, pomegranates and avocados. Keeping the dressing harvest-style, I topped the salad with pumpkin seeds and made a basic buttermilk dressing and added fresh sage. It was simple, fresh and a bit out of the ordinary.
This dish is perfect for your holiday table, not your mother's ho-hum green salad, and also a change from the fruit-candied nut-cheese salad we see at almost every holiday gathering.
One week till Thanksgiving!
So excited.
Harvest Salad with Buttermilk Sage Dressing
Ingredients
Salad:
8-10

cups

Romaine Lettuce

chopped

8-10

cups

spinach

preferably baby spinach

3

cups

butternut squash

peeled and cut into 1 inch cubes

1

ripe and slightly firm avocado

1

large pomegranate

seeded or about 1 - 1 1/2 cups of seeds

1/2

cup

pumpkin seeds

green type, roasted, salted
Buttermilk Sage Dressing:
1

cup

buttermilk

1

cup

mayo

light is ok, but regular is better

5-7

fresh sage leaves

chopped

1

clove

garlic

1

tablespoon

fresh lime juice

1/2

teaspoon

salt

1/2

teaspoon

pepper
Instructions
Place all ingredients in blender and blend until smooth or place ingredients in container and shake or use an immersion blender. The dressing will keep for a week refrigerated.
To assemble salad:
About 1 hour before assembling salad- Preheat oven to 450 convection, or 500 bake. Move rack to middle of oven.

Place butternut squash on a baking sheet. Sprinkle with coarse salt and pepper. Drizzle with about 1-2 tablespoons of olive oil. Roast just until squash begins to turn color and get a nice brown edge. This usually takes about 15 minutes on convection or 20 in a regular bake setting. Watch closely so it does not burn.

Remove from oven and let cool completely.

Place greens on a large platter or bowl.

Top with cooled roasted squash, chunked avocado and sprinkle with pomegranate seeds.

When ready to serve, sprinkle generously with pumpkin seeds.

Serve with dressing on the side.
Recipe Notes
-I doubled this salad for a group of 50-60 women. I used 3 heads of Costco regular (not mini) Romaine heads, 1/2 box of baby organic Spinach and 1 container of pre-cut butternut squash. I also used about 1 1/2 containers of pre-seeded pom seeds also purchased at Costco.-For buttermilk dressings, I like to purchase Winder Dairy buttermilk. It is a bit thicker than other brands and whips up nicely in dressings. My second choice is Meadow Gold. Both brands found in Utah.