I love a good breakfast casserole! Most breakfast casseroles involve sitting overnight in the fridge, but this recipe for Hashbrown Breakfast Casserole can be baked right away.  You'll love the simplicity of this gluten free  recipe and the way you can easily adapt it to your liking.

I've always been a breakfast lover. Maybe because my mother always insisted on making me breakfast before I headed off to school as a young girl?  We were only allowed to eat cereal once a week, also peanut butter and jam sandwiches were few and far between! My mom loved cooking, and hot breakfast was always on the menu at our home growing up! The world has become such a busy place that sitting down to breakfast is something we seldom do anymore. Weekends, especially Sunday are a cooked breakfast day in our home. I love to make biscuits, pancakes and waffles for our family!
Hashbrown Breakfast Casserole is a dish  I've made many times, but never written out the recipe, because it changes  almost every time I make it. If I have leftover ham, or bacon or sausage,  it goes in the Hashbrown Breakfast Casserole. Sometimes, there's no meat in the house, but it doesn't stop me from making this dish, I'll often add a bit more cheese, or change it up and add two or three different types of cheese to make this dish a little more interesting.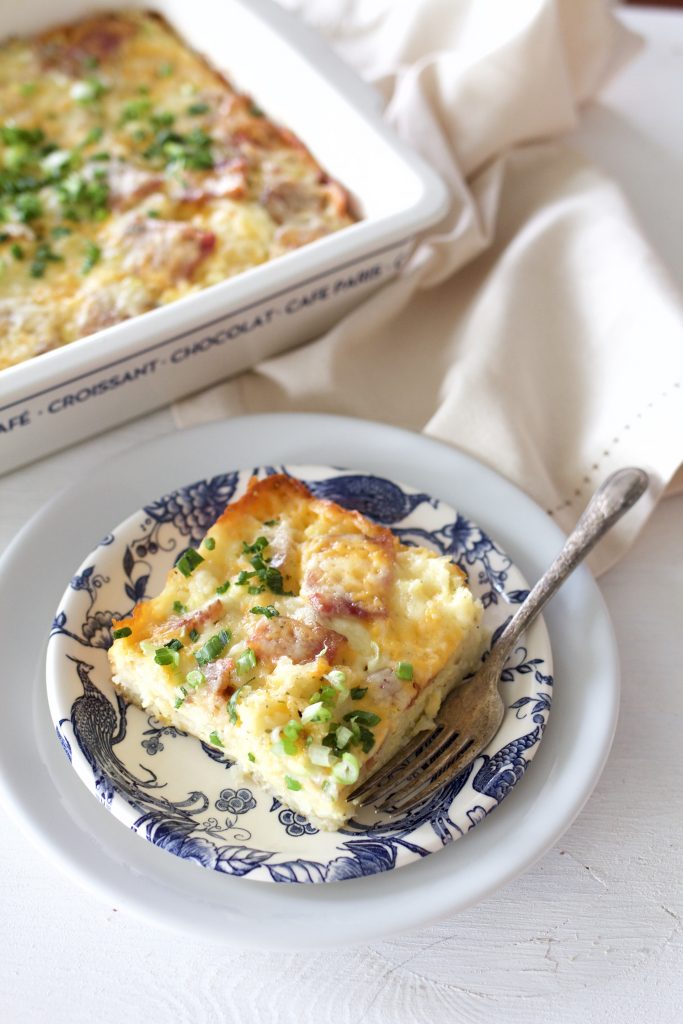 Cooking gluten free? This dish is perfect for people who have Celiac disease or are sensitive to gluten. I love this dish and everyone I've served it to, including teens to elderly people give it two thumbs up! No need to prepare one gluten free dish and one with gluten, the gluten eaters will love this recipe!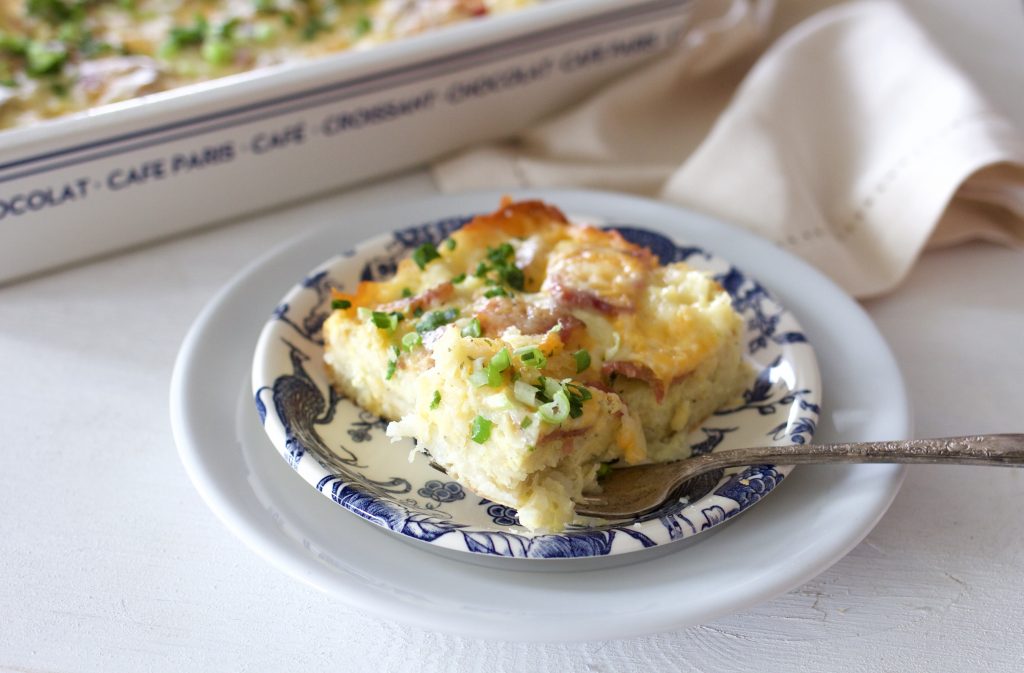 Hashbrown Breakfast Casserole can be made with either fresh grated potatoes or a bag of frozen potatoes, cooked and then placed in the 9×13 pan. I highly recommend cooking the hash browns before adding to the pan. I had to make this once when I was in a hurry and didn't brown the hash browns first, and the base turned out a bit soggy. I know you're going to love this recipe for holidays, gatherings or weekends at home when you have a little extra time to make breakfast for your family!
Hashbrown Breakfast Casserole
Total Time
1
hour
10
minutes
Ingredients
1- 16

oz

package grated hash browns

cooked in pan until golden on each side*, or 6 cups cooked, peeled and grated potatoes

2

tablespoons

canola or vegetable oil

1

teaspoon

dried parsley

pepper

about 1/2 teaspoon

1 1/2

cups

cooked meat such as sausage

bacon, ham, optional (drained of all fat)

8

eggs

1/2

teaspoon

salt

1/2

teaspoon

dried mustard

1

cup

cottage cheese

1

bunch green onions

chopped and divided in half

1

lb

cheese

I use any of the following: Monterey Jack, Cheddar, Swiss, Mozzarella (not fresh), Pepper Jack

Salsa

sour cream for topping
Instructions
Preheat oven to 350 degrees and set rack in center of oven.

Turn griddle or stove to medium high heat. Add oil to pan, Cook hash browns until they are golden, seasoning with 1 teaspoon of dried parsley and pepper.

Place the cooked hash browns in a lightly greased 9x13 pan.

Sprinkle meat on top of hash browns in pan.

Blend together eggs, salt, dried mustard and cottage cheese until smooth, about 1 minute. Add half of the green onions to this mixture (do not blend in) just add to the blended mixture.

Pour egg mixture over top of meat and hash browns in pan. Sprinkle with grated cheese.

Cover with a sheet of foil.

Bake covered for 45 minutes covered, remove for and bake for an additional 5-8 minutes uncovered.

Remove from oven when eggs are set and cheese is golden. Let sit for 10 minutes before cutting and sprinkle with additional chopped green onions.
Recipe Notes
-When using fresh or frozen potatoes, place a couple tablespoons of oil on a hot griddle and cook grated potatoes until they are browned, flip once and let cook on opposite side. I usually cook on medium high heat.
-Make sure, if you are cooking gluten free that the package of frozen potatoes does not contain gluten! Most do not, but better safe than sorry.