If you love apple cider, you will love this fall treat! Crispy on the outside, soft on the inside, these Homemade Apple Cider Donuts are downright heavenly.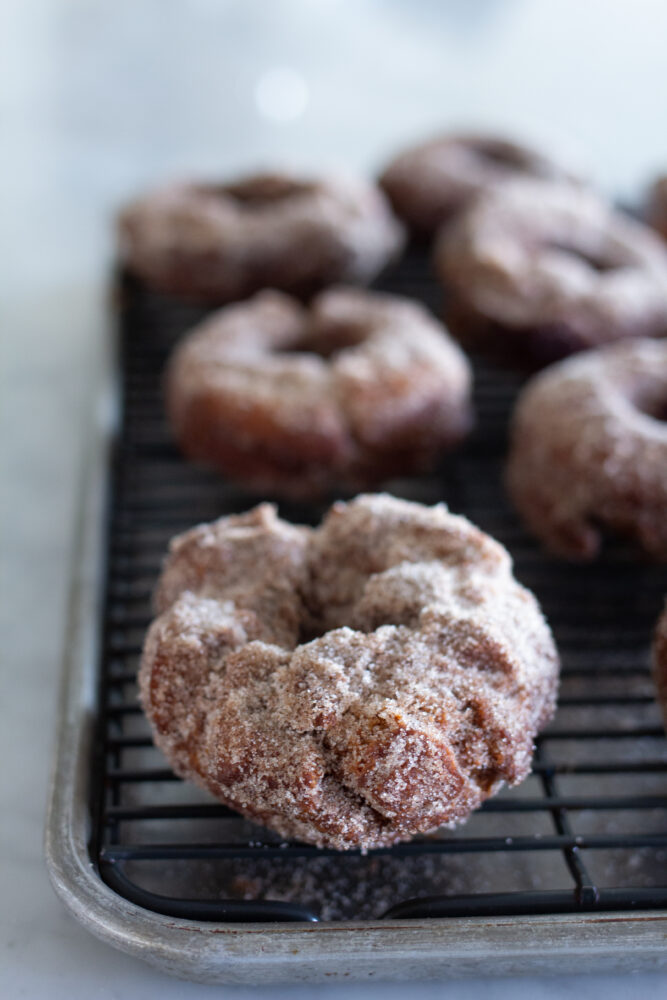 Fall is in the air! And what says fall more than a chill in the air, the leaves changing color, pumpkin treats and of course, apple cider?! These Apple Cider Donuts are everything reminiscent of this season. I love the crisp outside, coated in cinnamon sugar, encasing a warm, fluffy inside. It's the perfect balance of crunch and melt in your mouth goodness!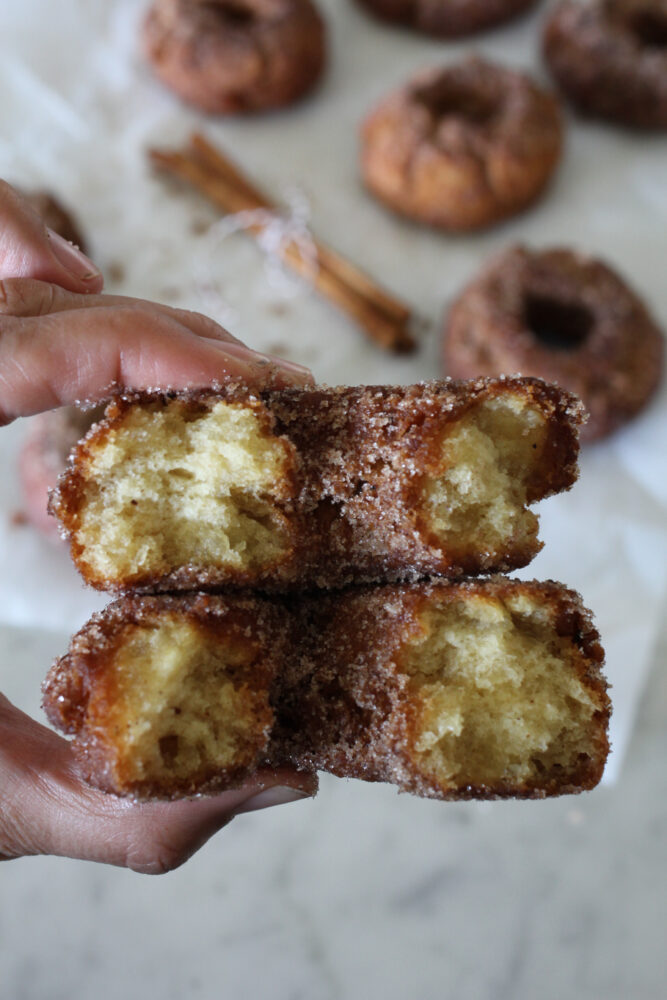 I have to give a shout-out to Cross E Ranch for the inspiration for this recipe! There is a wonderful little family farm in Utah called Cross E Ranch, known for its corn maze, corn pit, big slides, and homemade donuts, specifically their Apple Cider Donut. People go to Cross E Ranch JUST for the donuts. I know I'm guilty! Since I first indulged these delicious treats, I have wanted to create a similar recipe at home.
If you love cake donuts you will love this treat. It's like a piece of cake, deep fried and rolled in cinnamon sugar! The recipe makes a dozen, plus a dozen donut holes for, um, taste testing. I always fry a couple of donut holes to test the temperature of the oil before frying a donut.
Speaking of frying, I have not yet tried these in an air fryer, but as soon as I do, I will update the recipe. If you try this in the air fryer, please leave a comment and give your feedback!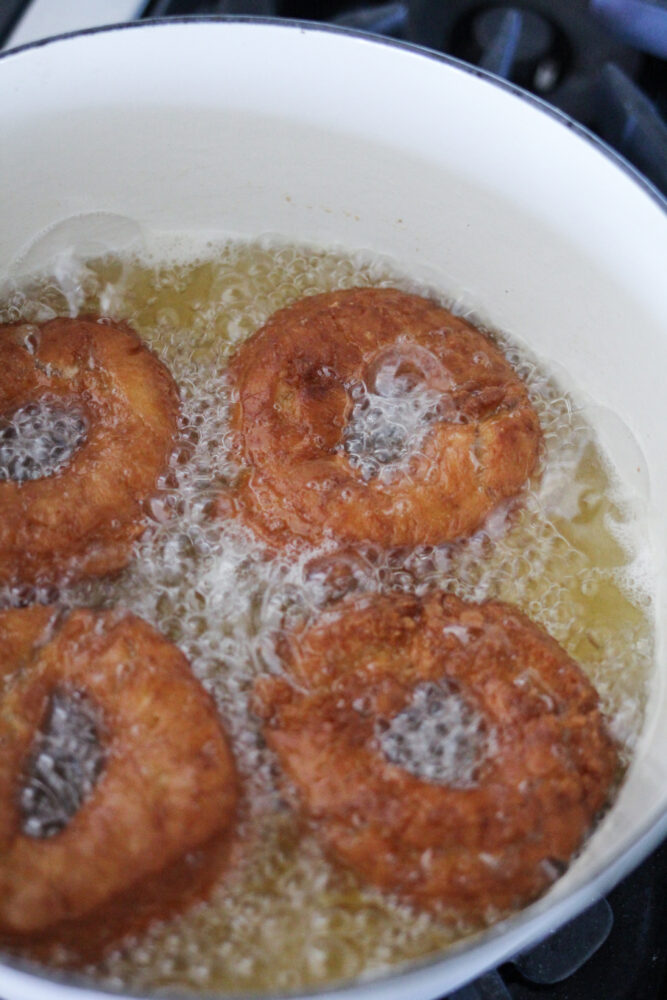 Tips for making the best Homemade Apple Cider Donuts:
Use apple cider if possible. Cider has a tangier and fuller flavor than apple juice.
I highly recommend using a thermometer that clips to the pan for best frying results!
It is best to refrigerate dough for easier handling, but this recipe also works without refrigeration.
Use a heavy pan to fry the donuts. A heavy pan will retain and help keep the oil temperature even.
Don't fry too many donuts at one time. I recommend no more than 3-4 in the pan at a time.
Donuts have a short shelf life! They are best eaten within 6-12 hours of frying.
The reduced cider in the dough gives this donut its unique flavor. I hope you'll make time to mix up a batch of these tasty treats this fall. Nothing says comfort like a warm homemade donut!
How to make Homemade Apple Cider Donuts:
Reduce the cider to one cup of liquid on the stove.
Mix the cinnamon sugar topping, set aside.
Mix the butter, sugars and eggs together.
Add all of the dry ingredients and mix until blended well, then add the cider to the dough.
Shape the donuts and let rest while heating oil, or refrigerate for up to 24 hours.
Fry the donuts a few at a time and remove to a paper towel.
Dip the donuts in cinnamon sugar after fried. Enjoy!
**Update** Changes in recipe. After receiving feedback from several readers, I added another 1/4 cup of flour to the recipe, for a total of 4 cups of flour. We also removed the oil from the batter and increased the butter to 6 tablespoons. The oil in the batter was causing the dough to separate for some while frying. After further testing, we decided to change the recipe to include butter only.
Homemade Apple Cider Donuts
Ingredients
3

cups

apple cider* (reduced to 1 cup)

3/4

cup

granulated sugar

1

tablespoon

ground cinnamon

6

tablespoons

unsalted butter, softened

1/2

cup

packed brown sugar

1/4

cup

granulated sugar

2

large eggs

4

cups

all-purpose flour (plus more for rolling out)

2

teaspoons

baking powder

1/2

teaspoon

baking soda

1

teaspoon

sea salt

1/2

teaspoon

ground nutmeg

1

quart

vegetable or canola oil for frying
Optional Glaze:
1 1/2

cups

powdered sugar

1/2

teaspoon

cinnamon

pinch

sea salt

2-3

tablespoons

apple cider or water
Instructions
Bring apple cider to a boil in small saucepan until reduced to 1 cup, about 5-10 minutes. Let cool completely. Place cup of reduced cider in refrigerator uttil cold for best results.

While cider is boiling, mix 3/4 cup granulated sugar and 1 tablespoon cinnamon in a shallow pan. Set aside.

In a large bowl combine 6 tablespoons softened butter, 1/2 cup packed brown sugar and 1/4 cup white sugar. Mix together.

With mixer on low, add eggs one at a time, mix on medium speed until combined and smooth. Turn off mixer.

Add the flour, baking powder, baking soda, salt, nutmeg and 1 cup reduced prepared cider to the mixture in the bowl. Mix together on low just until the ingredients are incorporated and the dough mixed well. At this point, the dough may be refrigerated for up to 24 hours. See recipe notes.

Generously flour a clean surface. Split the dough in half and pat out each half into a rectangle, about 1/2 inch thick. Cut out 6 donuts. Repeat the process with the other half of dough in bowl.

Let the donuts rest on the floured surface while heating up the oil.

Heat a quart of vegetable or canola oil over medium heat in a dutch oven or a large heavy pot until the temperature reaches 350-360 degrees.

Carefully lower donuts into the pan of oil, cooking no more than 3-4 donuts at a time. Cook each donut until golden on each side (about one minute per side).

Remove the donuts to paper towel to drain grease. Let cool for a few seconds before dipping the donut on each side in the cinnamon sugar mixture.

This recipe yields about 12 donuts and holes.
Optional Glaze:
Whisk 1 1/2 cups powdered sugar, a pinch of salt, 1/2 teaspoon cinnamon and 2 tablespoons water or apple cider in a small bowl. If the glaze is too thick, add another tablespoon of water or cider. Dip the warm donuts in the glaze and set on a cooling rack to allow excess glaze to drip off.
Recipe Notes
Make sure to use cider for this recipe. Cider tends to have more flavor and is tangier than apple juice. If apple juice is the only choice, use apple juice. I like to reduce the cider early in the day or the day before making the donuts. The cider may be stored the fridge or on the counter, covered until ready to use. 
I have cooked up to 4 donuts at a time in the hot oil, but I think 3 works best. When too many donuts are fried at a time, the temperature of the oil will reduce and cause the donuts to soak up the oil, making the donuts greasy. 
To make ahead, follow directions for mixing donuts. The dough may be refrigerated  after mixing and before or after shaping into donuts. Make sure to place the dough or cut out donuts in a tightly sealed container or zip lock bag. The dough may be refrigerated for up to 24 hours before frying. 
I have found the best temperature for frying this donut is at about 350-360 degrees
A donut cutter is not a necessity to make this recipe! Simply cut a circle (using a glass or biscuit cutter) and then cut a smaller circle in the middle to make a donut shape. You may also stick your finger thru the middle of the circle to form a hole in the middle of the donut.