Every weekend barbecue should include a good pot of baked beans. This recipe for Homemade Baked Beans with Ham and Peppers will be your favorite side dish this summer!
Traditionally baked beans are made with beans, meat, something saucy (ketchup, tomato sauce, mustard), something sweet, something tangy, a bit of spice and an onion or two. My newest creation- Homemade Baked Beans with Ham and Peppers includes all of the traditional ingredients, with a little twist…
Homemade Baked Beans with Ham and Peppers take the traditional and step it up a notch. I love bell peppers for both color and flavor. This recipe includes a tri-color blend of peppers. We are talking bell peppers, not spicy peppers, for this dish.  After cooking, the bell peppers  have a mildly sweet taste that adds great flavor to the baked beans. My all time favorite pans to use while making baked beans are Le Creuset. I love the ultra heavy weight of this enamel cast iron pan. My favorite size are the 7 1/4 quart round, which I have in blue and also in white. Perfect for cooking stovetop, in the oven and beautiful enough to go from oven to table!
Whenever I bake a ham there are usually lots of leftovers.  I like to use ham in overnight breakfast casseroles, Our Favorite Fried Rice  and  Dad's Favorite Navy Bean Soup. I've never really thought about using ham in baked beans until the last time I baked a ham.  I'm kind of partial to using bacon in my baked beans, but thought I'd mix it up this time and try ham.  To my surprise, I loved it. My kids loved it. Our dinner guests loved it. There was something about the salty chunks of ham, soft onion and diced peppers that turned this often predictable  side dish into a whole new experience. The hint of cinnamon along with the tangy and sweet sauce made this pot of beans one we absolutely loved!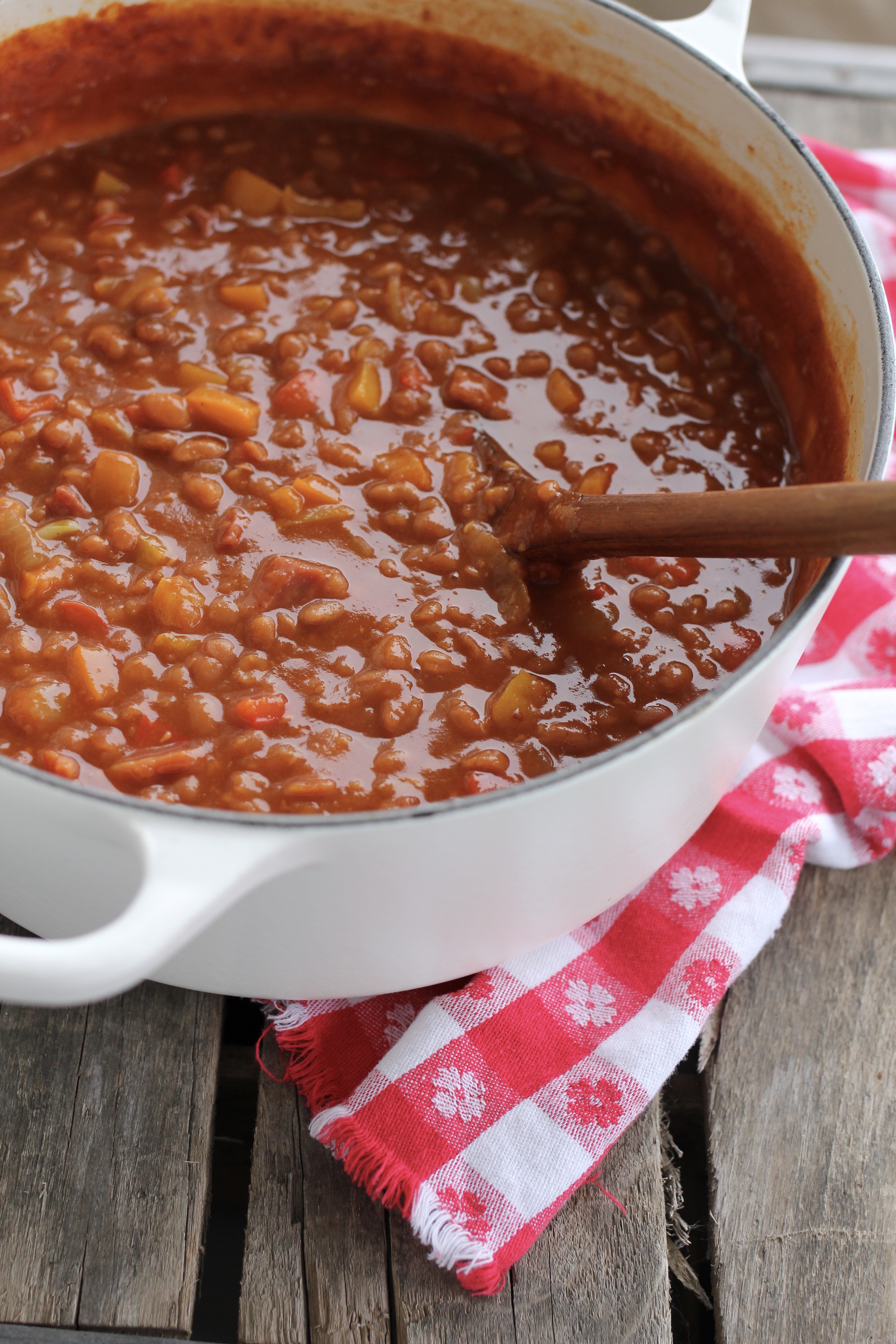 Homemade Baked Beans with Ham and Peppers can be made three different ways.  Although baked beans are traditionally baked, this dish can also be made stove top or in the slow cooker. I've included instructions for the other methods on the recipe notes. What's your favorite way to enjoy baked beans?
Homemade Baked Beans with Ham and Peppers
Cook Time
1
hour
30
minutes
Total Time
1
hour
45
minutes
Ingredients
2

tablespoons

olive oil

1

large onion

chopped, about 2 cups

1-2

cups

chopped ham

3

bell peppers

1 each, red, yellow, orange, seeded and chopped

salt and pepper

about 1/2 teaspoon each

5-15

oz

cans Pork and Beans

undrained*

1

cup

ketchup

3/4

cup

dark brown sugar

packed

2

tablespoons

Worcestershire sauce

few drops hot pepper sauce

Tabasco

1/2

teaspoon

dry mustard

1

teaspoon

cinnamon
Instructions
In a large Dutch oven or other large heavy pan with oven safe lid, pour two tablespoons olive oil into pan.

Sauté onions, ham, peppers, over medium high heat until onions are soft, about 4-5 minutes.

Season with salt and pepper.

Add un-drained cans of Pork and Beans, ketchup, dark brown sugar, Worcestershire Sauce, hot pepper sauce, dry mustard and cinnamon to vegetables in pan.

Stir well.

Pre heat oven to 350 degrees.

Cook over medium heat heat on stove top for about 5-10 minutes until oven is preheated.

Cover dish with lid. Place beans in oven on center rack for 45 minutes. After 45 minutes, remove lid for last 45 minutes of baking.

Replace lid and keep beans warm in oven at 275 until ready to serve.
Recipe Notes
-I remove the little piece of fat in the pork and beans can before adding to my baked beans. Do not use baked beans that are pre made, such as Bush's baked beans. They already have added sugars and spices and will alter the flavor of your homemade dish. I use S&W Pork and Beans. -This recipe may be made on the stove top without turning the oven on. After the pot of beans is assembled, cook over medium low heat for about 1 1/2 hours on stovetop. Place lid on pan when beans have thickened and some of the liquid has evaporated. Once the lid has been placed on the pan keep heat on low. -Beans may also be cooked in a slow cooker. Place all ingredients in a slow cooker, cook on low for 6-8 hours. I suggest sautéing the onion first in a separate pan and a adding to the slow cooker.