This recipe for Homemade Buttermilk Donuts (made without yeast) is surprisingly simple! The original recipe comes from the family of Brigham Young, second president of The Church of Jesus Christ of Latter Day Saints.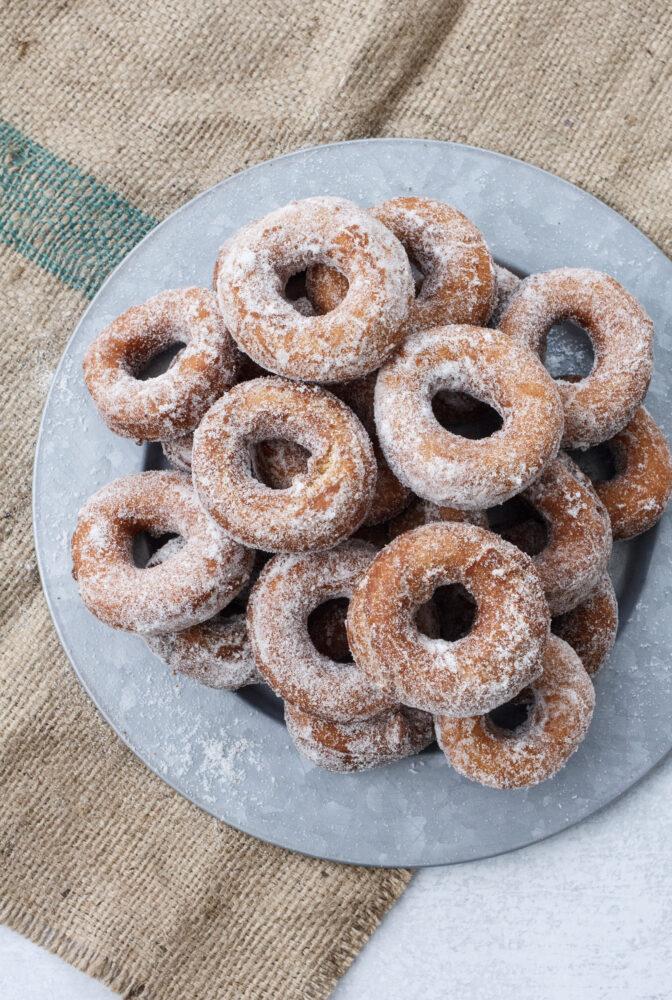 I grew up on raised, glazed donuts from a little bakery down the street from our home. Making donuts from scratch was never a thought to me until I went away to college! It was there, that I first learned how to make homemade donuts.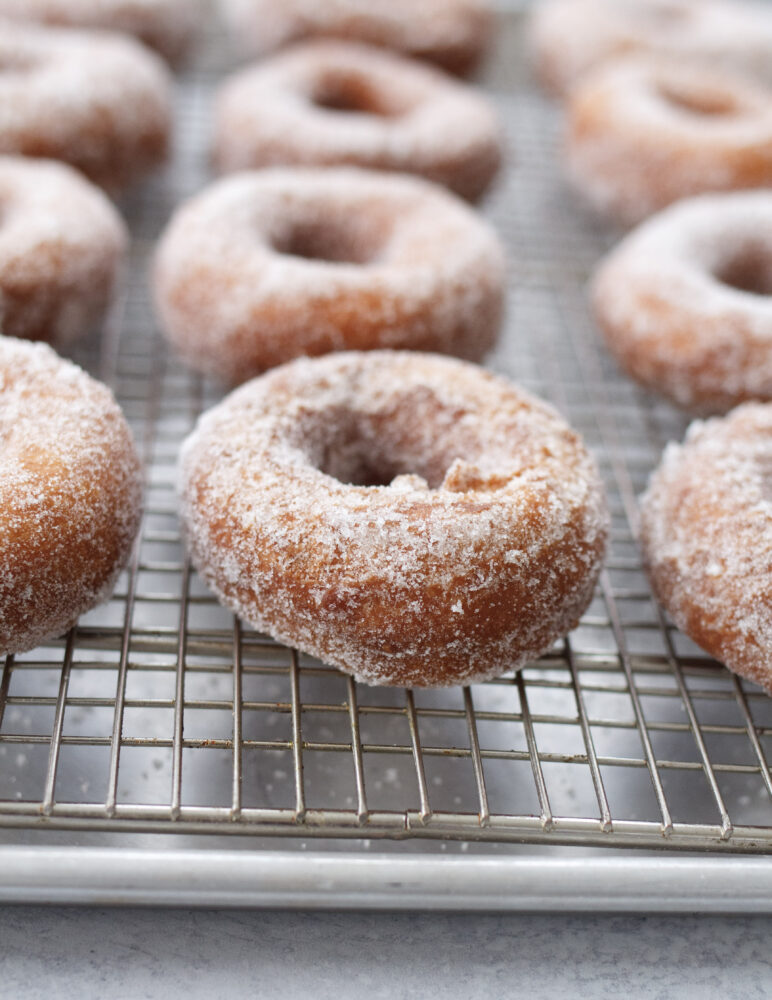 What is a donut?
Donuts are dough, fried in fat and sweetened with sugar, frosting or glaze. The shape of the dough is usually round, with the center shaped or cut out. The center piece of dough is referred to as the donut "hole". The history of the donut or doughnut or "Oily cake" is fascinating.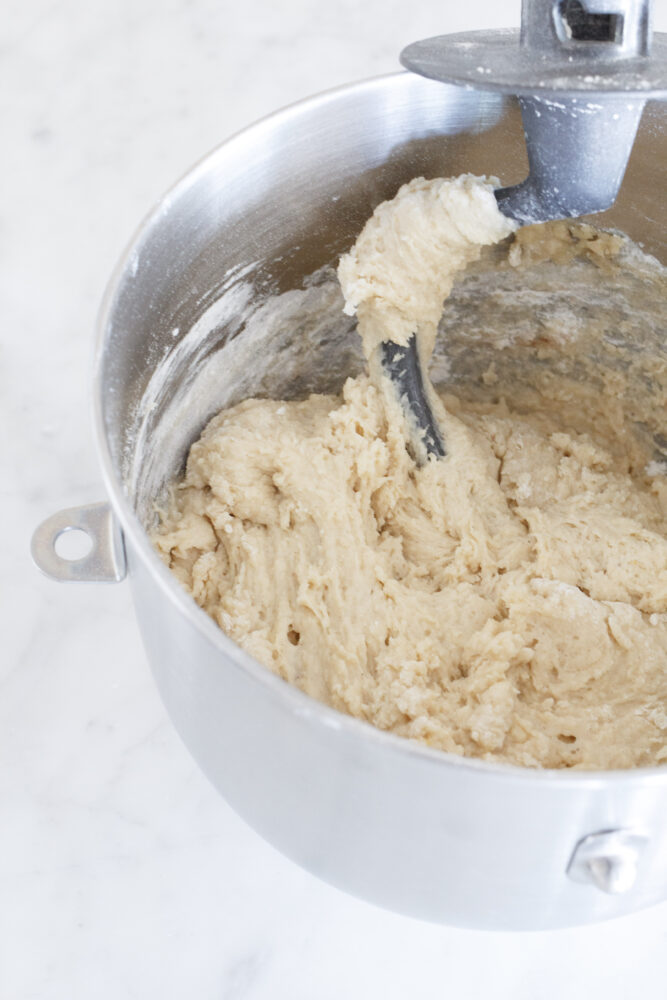 Where did donuts originate?
This article from the Smithsonian explains the humble donut Dutch origin, how it came to America, went back to France during wartime, and then exploded in popularity when a donut machine became available in the 1920's. Such a fun history lesson!
Brigham Young's favorite donut recipe, updated
As you can imagine, this buttermilk donut recipe (which originated in the late 1700's from Abigail Young, Brigham's mother) is made with simple ingredients. Flour, sugar, salt, buttermilk (most people had cows), eggs, spice and butter. The recipe has been modernized over the years. Baking soda was not used in the original recipe and I added baking powder to help give the donuts a lighter texture. Back then, the donuts were fried in lard as well. Vegetable or Canola oil takes the place of lard in this recipe.
The story goes that this donut was popular with Brigham Young and was sold in the department store ZCMI (Zion's Cooperative Mercantile Institution) in the bakery section in Salt Lake City for years.
If you have been hesitant to make donuts because yeast intimidates you, this is definitely a simple, beginner-level recipe. This recipe is guaranteed to make any gathering better in minutes!
What you need to make Homemade Buttermilk Donuts:
sugar- to sweeten donuts and also for coating finished donuts
buttermilk OR milk + plain Greek yogurt- secret ingredient to make donuts tender
eggs- helps give donuts rise and leavening
baking soda + powder- leavening
cinnamon + nutmeg- for flavor, similar to a spice donut
butter- serves two purposes, fat and flavor in donuts
all purpose flour-structure, protein and leavening
canola or vegetable oil- for frying donuts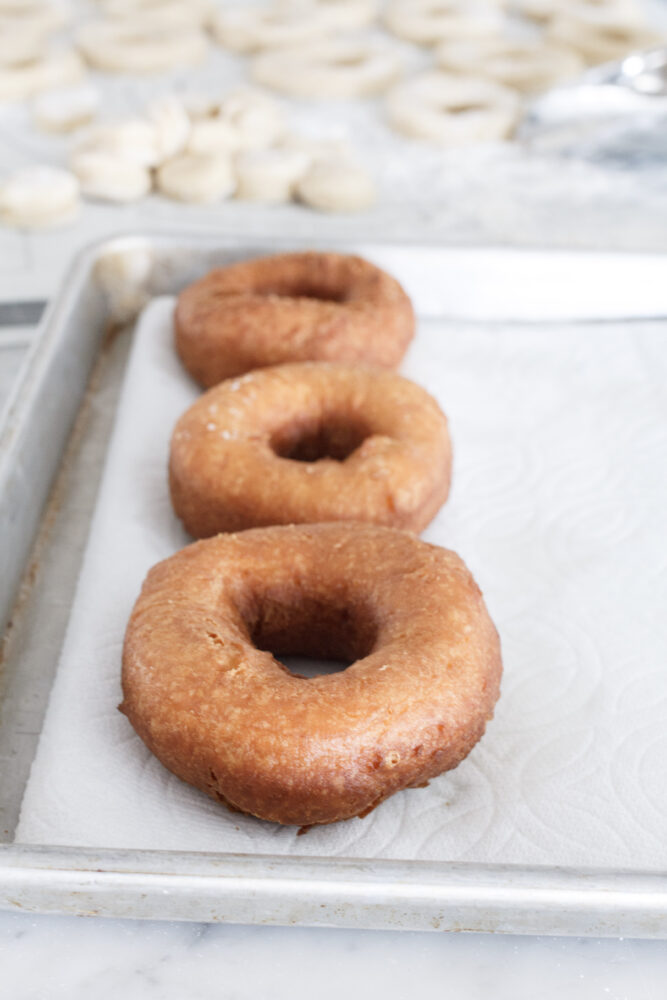 Donuts are the ultimate pantry friendly treat! At any given time I have the ingredients on hand to make donuts. Simple ingredients, easy to make recipe. This results in a treat you can make almost any day of the year. This donut is not complicated, instead it is mixed together in minutes, shaped, fried and enjoyed while still warm!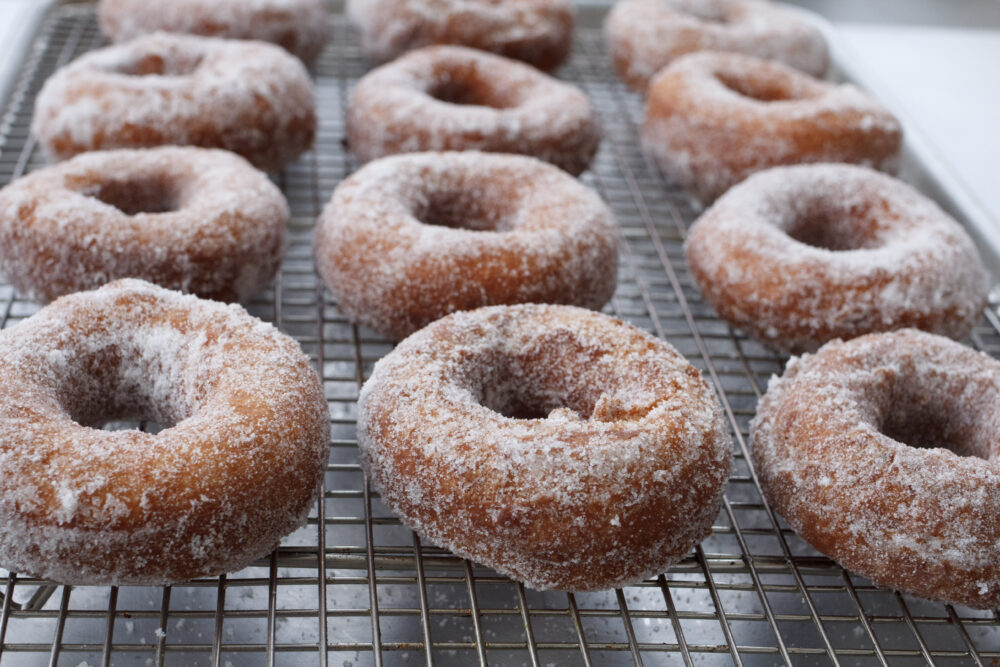 Tips (and tools) for making homemade buttermilk donuts:
When making the dough, I prefer using Greek yogurt mixed with milk (I use whatever is in the fridge skim to whole) instead of buttermilk.
If you have an electric fryer to control temperature of the oil, use it! I keep a thermometer next to the pan to frequently test the oil temperature.
I suggest doing about 5 minutes of prep before launching into making and frying the donuts. Set up a station to fry the shaped donuts with a place to drain the extra oil off of the hot donuts, then place the donuts on a paper towel lined platter or baking sheet. Next a place to toss the donuts in sugar and place on a cooling rack or platter to sit until ready to inhale eat.
Donuts can be made without any special tools, but a donut cutter definitely makes the job easier. I have a couple of donut cutters, this one is larger and cuts a bit easier, but is more difficult to store. and this one is more compact and can fit in most shallow drawers.
A few minutes of prep will make the process or assembly line more efficient. I know you are going to love this recipe!
How to make Buttermilk Donuts at home:
Place sugar into a paper bag.
Mix buttermilk, eggs and sugar together.
Add soda, powder, salt, cinnamon, nutmeg, and butter. Incorporate with buttermilk mixture.
Add a portion of the flour mix until the flour is no longer visible. Mix in an additional flour
Flour a pastry mat or clean surface. Turn the dough onto the surface and knead 3-4 times.
Roll the dough out. Shape the donuts.
Heat oil, fry the donuts. Drain on a paper towel lined cookie sheet.
Let cool for about a minute. Toss the donuts 3-4 at a time in the bag of sugar.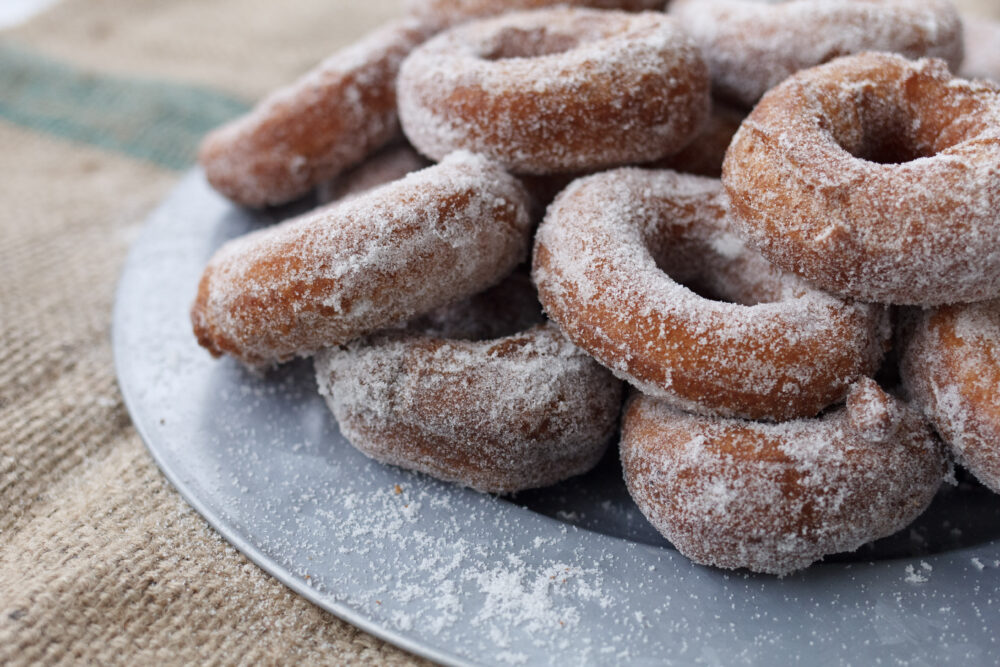 Homemade Buttermilk Donuts
This no-yeast buttermilk donut is easy to make and ready in minutes to feed a hungry crowd!
Ingredients
¾

cup

sugar for donut topping

2

cups

buttermilk OR 1 cup milk + 1 cup plain Greek yogurt mixed together, room temperature

2

large eggs, room temperature

beaten

1 ¼

cups

sugar

1

teaspoon

baking soda

1

teaspoon

baking powder

1

teaspoon

salt

1

teaspoon

cinnamon

½

teaspoon

nutmeg

6

tablespoons

melted butter

6

cups

all purpose flour

plus more for rolling out

40

oz

canola or vegetable oil for frying
Instructions
Place 3/4 cup of granulated sugar into a paper bag. Set aside.

In the bowl of a stand mixer or a large bowl, combine buttermilk, eggs and sugar. Mix until sugar is incorporated into buttermilk and eggs.

Add baking soda, baking powder, salt, cinnamon, nutmeg, and melted butter. Mix again until incorporated with buttermilk mixture.

Add 4 cups flour and mix on low with paddle attachment or using a large spoon or spatula until the flour is no longer visible. Mix in an additional 2 cups of flour, a half cup at a time, scraping down sides and bottom of bowl.

Mix in additional flour if needed. The dough should take shape and not have a wet look. If the dough is still wet or sticky, add an additional tablespoon or two of flour. Turn the dough in the bowl until the dough is no longer sticky.

Generously flour a pastry mat or clean surface. Turn the dough onto the surface and knead 3-4 times, folding the dough onto itself and gathering flour to make dough less sticky if needed. Roll the dough out to about 1/4-1/2 inch thick.

Using a donut cutter, cut the donut shapes out. Let rest while the oil is being heated.

Heat oil in a heavy pan to 375 degrees. Gently place the dough into the pan 3-4 at a time. Let cook on one side until golden, then turn with chopsticks to cook the other side. It takes about 1-2 minute per side to cook. Drain donuts on a paper towel lined cookie sheet. Cook the donut holes in 2-3 batches.

Let cool for about a minute. Toss the donuts 3-4 at a time in the bag of sugar.
Recipe Notes
Do not roll the donuts out to less than 1/4 inch thick. The donuts are best when rolled to just between 1/4 inch and 1/2 inch thick. 
To test the oil, place a donut hole into the oil. If the oil smokes, it is too hot, if the donut hole sits and the oil does not bubble, the oil is not hot enough. Use a thermometer to test the temperature of the oil throughout the cooking process. 
Don't crowd the pan with too many donuts at once, this will decrease the temperature of the oil and result in greasy, undercooked donuts. 
For best results, let the donut cool for about 1 minute before tossing in sugar. 
Donuts are best when eaten within 8 hours of cooking.