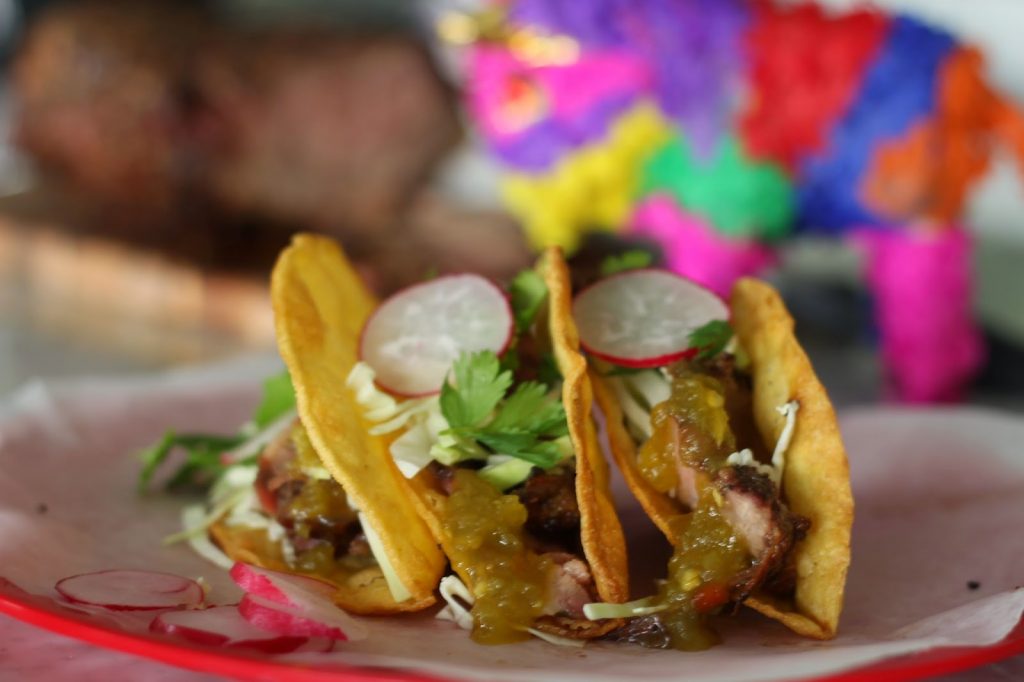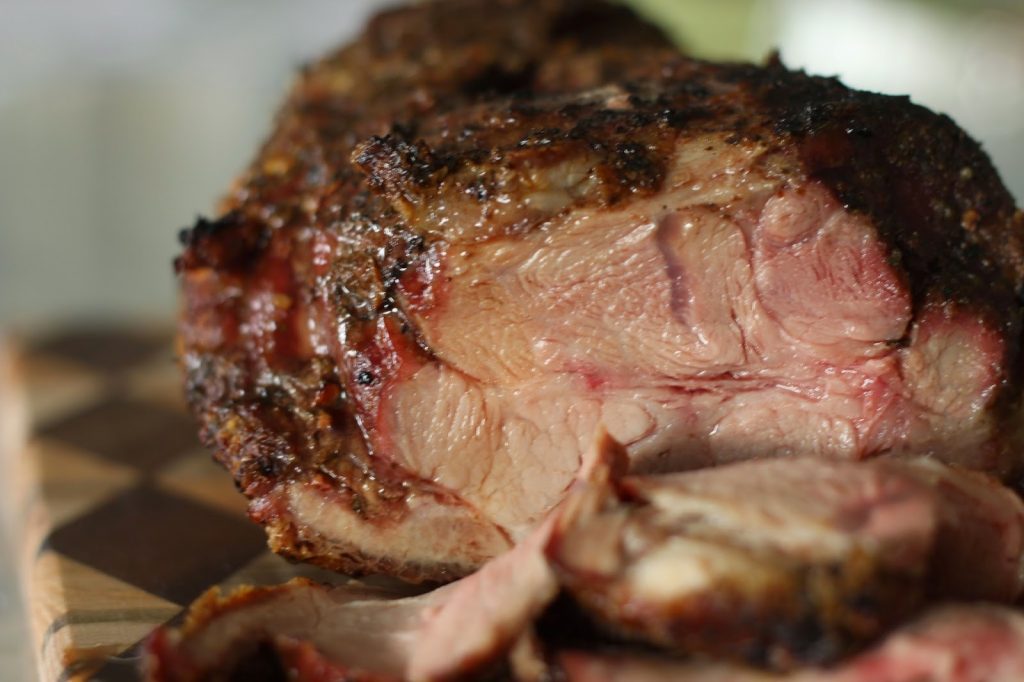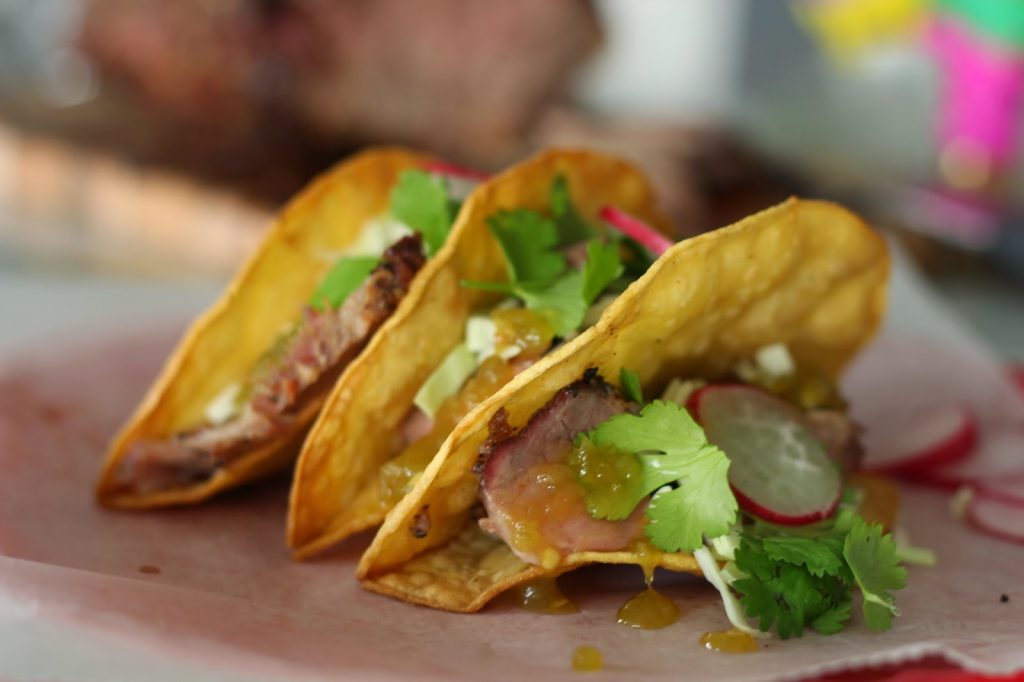 What are you doing May 5? Instead of heading to your favorite Mexican restaurant to celebrate Cinco de Mayo, why not create a tradition of celebrating in your home? The folks at Snake River Farms sent me a couple of Kurobota Pork Roasts which Iused in this recipe for Honey Lime Pork Tacos with Sweet Green Chili Sauce.
The incredibly tasty roast, combined with the lime, honey, jalapeño and green chiles made for a memorable meal. One of those meals you hope will be lunch the next day as well. The roast is one I haven't heard of or cooked previously. It was a collar roast. I've cooked Pork Shoulder, and Butt and Brisket, but never Pork Collar Roast. All I have to say is the flavor was incredible. There was a bit of marbling in the meat, which tends to disappear if you slow cook the roast and then shred, but is more visible when roasting over the grill or in the oven and then slicing.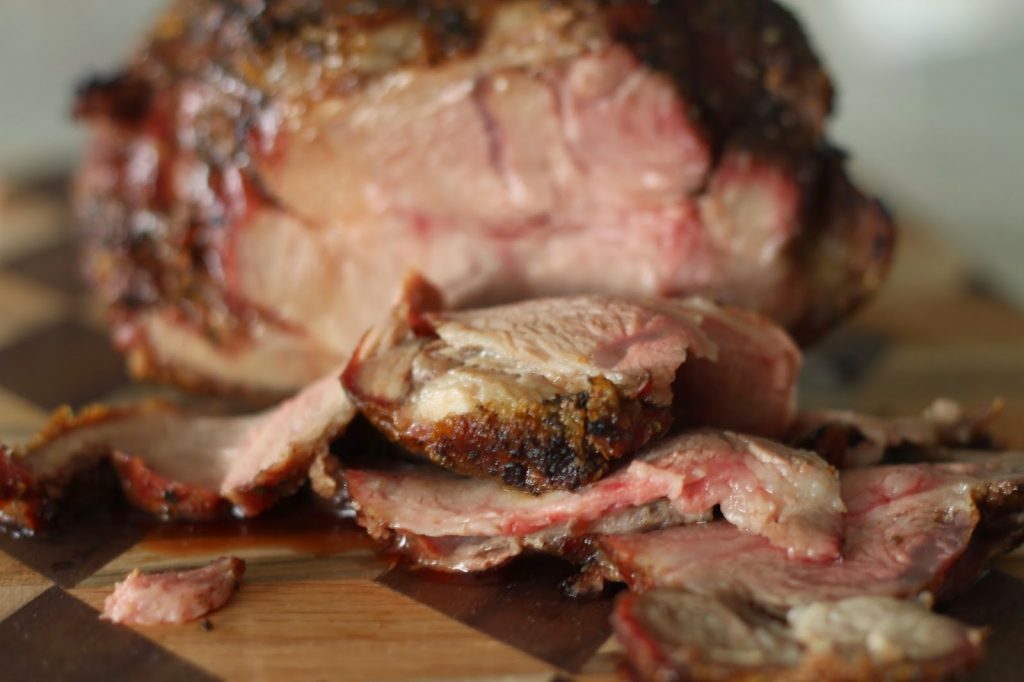 I cooked two 4.5 lb roasts, two different ways: the first roast was slow cooked in the oven with a honey lime marinade, which I let sit overnight before cooking. The second roast was cooked over low (about 300) heat on my gas grill for about 1 hour and 20 minutes. I checked the meat about every 10-15 minutes on the grill and flipped it each time I checked the temperature. When the internal temperature reached 185 degrees I removed it from the grill and let sit for about 10 minutes before slicing. I liked both methods. Slow cooking in the oven or crock pot is definitely the most simple way to cook a roast. Just marinate, brown, place in oven, cover tightly and let cook until the meat falls apart. The roasting method takes a bit more care, but I believe yielded a better tasting finished product. Either way, you're going to love this dish.
Happy 5th of May!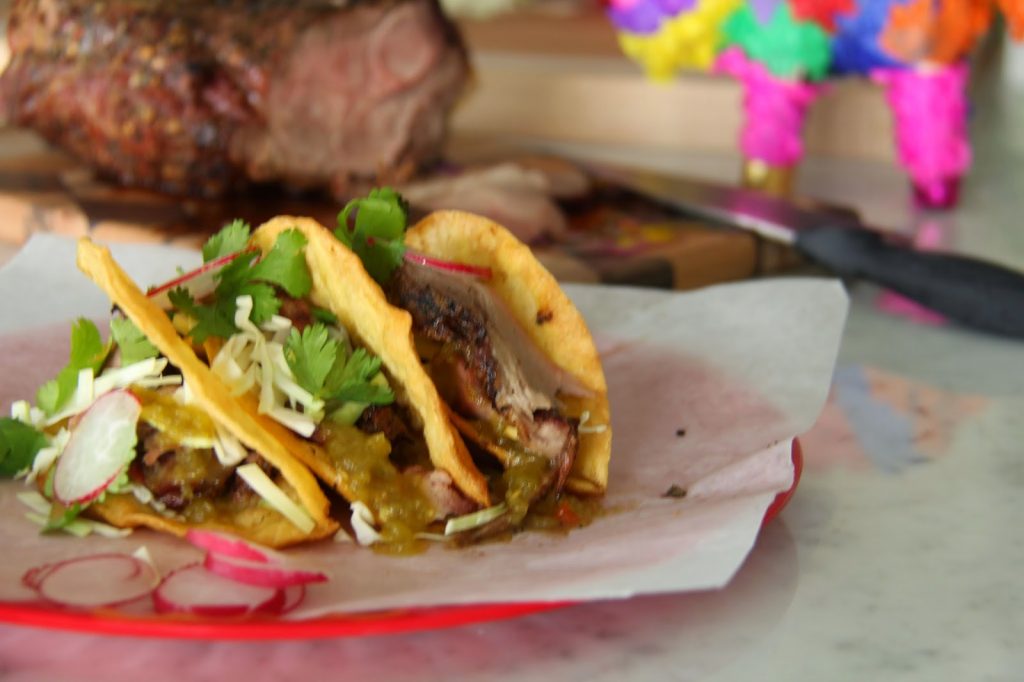 Honey Lime Pork Tacos with Sweet Green Chili Sauce
A Bountiful Kitchen
Ingredients
Honey Lime Marinade:
1/4

cup

honey

2

limes

or 1/4 cup fresh juice

1

tablespoon

smoke

liquid flavoring

1

teaspoon

salt

1

teaspoon

pepper

1

jalapeño

most of the seeds removed, chopped

1 4-5

lb

pork collar or shoulder or Boston Butt Roast

Green Chile Lime Sauce:

1/3

cup

fresh lime juice

1/3

cup

honey

1/2

cup

apple juice

1/2 – 1

jalapeño

chopped

7

oz

can green chiles
for tacos:
Corn tortillas

green and purple cabbage

sliced thin

green onions

chopped

chopped cilantro

thin sliced radish
Instructions
Mix marinade ingredients in a ziplock bag.

Score the meat lightly, by taking a sharp knife and going across the meat in long strips (about 1-2 inches apart). Then cross the slits in a diamond pattern going back across the meat diagonally.

Place the meat in the refrigerator from 2-24 hours.
Cook meat:
When ready to cook, remove the meat from the marinade. Let excess juice drip off into bag, discard marinade and bag. Place meat on a plate.

Heat a small amount of olive oil in a dutch oven. Sear the meat on all sides, just until browned. Remove the pan from heat. Pour about 2 cups of chicken or vegetable broth into the pan. Sprinkle meat generously with salt and pepper. Cover tightly (see tips below). Place in oven and cook for about 6-8 hours at 250 degrees. Mine was done close to the 6 hour mark.

When meat is done, place on cutting board. Let sit for about 5 minutes, then shred or slice thin across the grain. Or shred in pan, and then remove meat from pan. Remove any excess fat before serving.

If roasting over bbq grill or in oven, see directions above in post.
Assemble:
Cook corn tortillas on a lightly greased pan over medium high heat just until soft on each side, or heat a small amount of canola oil in a fry pan and cook tortillas, flipping once. After the tortilla is cooked on one side, flip and fold in half. Drain on a paper towel after cooking.

Place some of the sliced meat on the tortilla, top with green chili lime sauce, top with additional desired toppings. Serve immediately.

Yield about 8-10 servings

(3-4 tacos per person)
Recipe Notes
-Make sure the seal is tight on the pan when slow cooking. You can do this by placing plastic wrap, (yes plastic wrap) over the top of the pan before placing the lid on. Press the lid down to form a tight seal on top of the wrap. Doing this will create a seal so the liquid does not escape. It will not melt on the pan at a low temperature. This is only necessary if the lid on the pan does not form a tight seal.
This post was sponsored by Snake River Farms.