Once you cook bacon in the oven, you'll never go back to the frying pan! Learning how to bake bacon in the oven will change your life, especially when you have to cook bacon for a crowd. This no mess, simple method will take the hassle out of cooking bacon once and for all.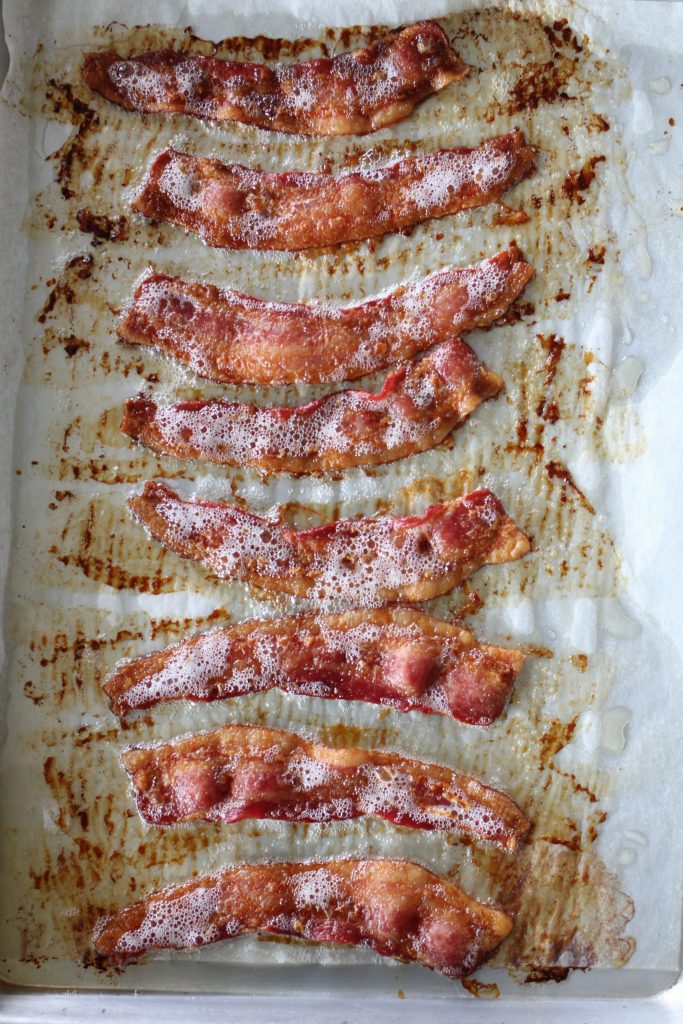 I love bacon, but.
I'm a huge breakfast person. I love to cook breakfast and love to eat breakfast. I'm a big fan of pancakes, waffles, eggs, biscuits and quiche. but when it comes to cooking bacon, those warm fuzzy feelings disappear! The hot grease spattering, time tending the fry pan and messy clean up, all add up to a task I avoid like the plague. Where's my hide the face emoji??!! I'm also a little particular about how I like my bacon cooked. It has to be firm, as in, if you take a piece and hold it up there is no floppage. Spell check is telling me floppage is not a word, but for this post on how to bake bacon in the oven, it is. The bacon should be firm, but not burnt, and should hold its shape when picked up. Bacon rules, my friends.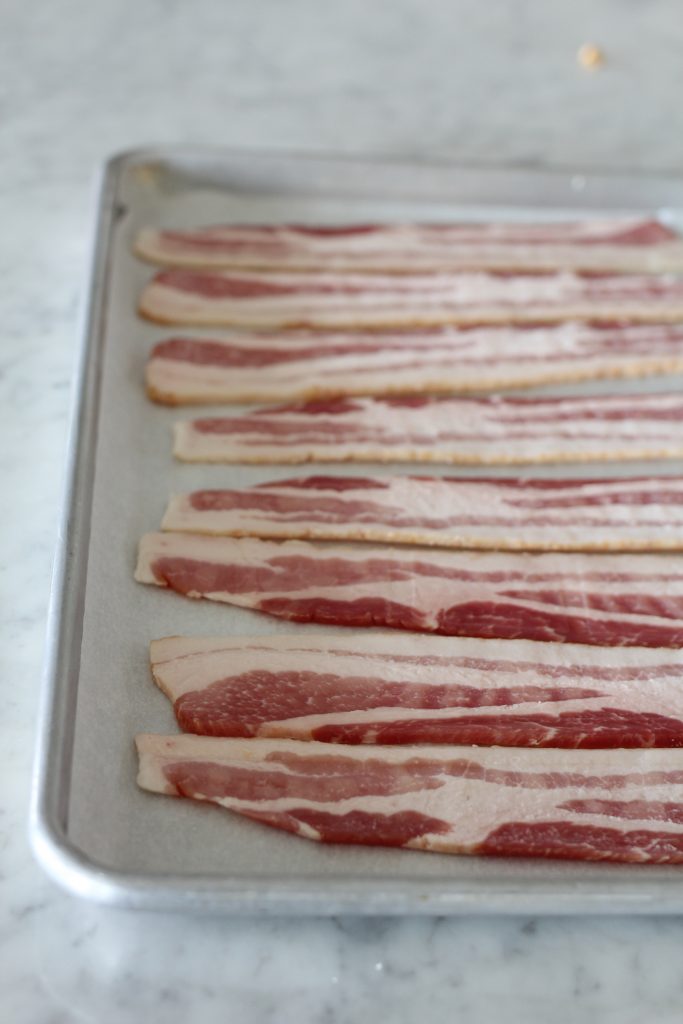 The problem with crowds
Cooking bacon for 2 is simple. But once I have to fire up the stove for more than 4-6 pieces of bacon, I start entertaining thoughts of becoming a vegetarian. How many times have you had to cook bacon for a large group and cringed at the thought of the task at hand? Once you learn how to bake bacon in the oven, the hassle of cooking bacon for a crowd is a thing of the past! You'll need a cookie sheet ( I used a half sheet pan), parchment paper or foil and a little bit of time. No layer of grease all over the stove top, and no more messy, oil-filled fry pans.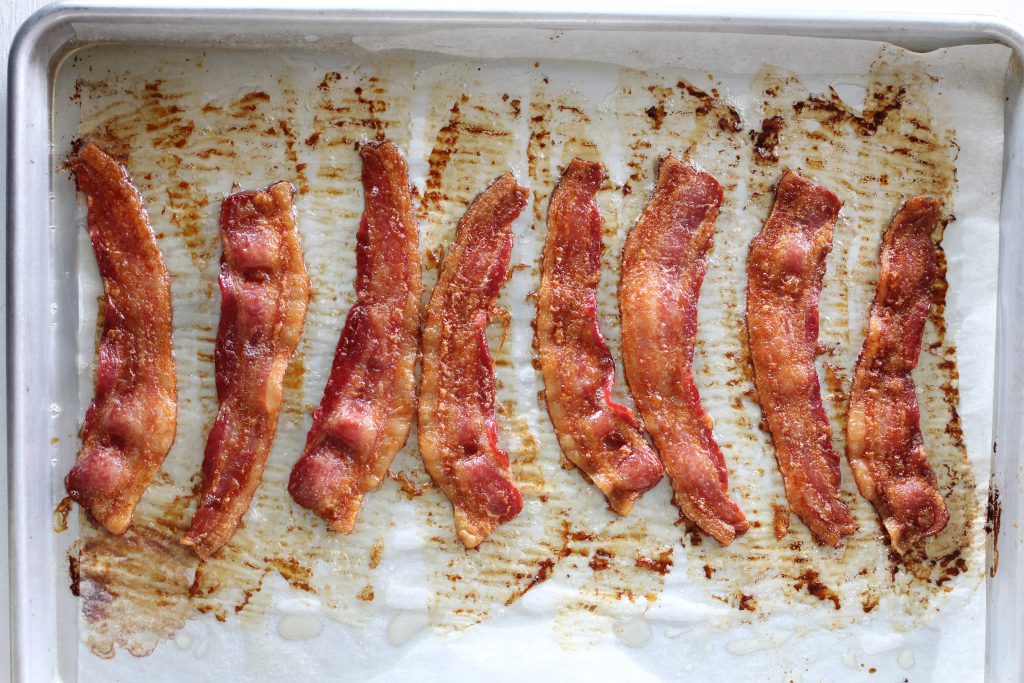 The Two step and choosing bacon
Baking bacon involves two steps. Lay the bacon on the cookie sheet, and bake. Oh, there's also the disposal of the parchment or foil, but that hardly counts as a step. That's it. It does't really even seem recipe-worthy does it? After baking bacon several times, I wanted to be able to bake the bacon without the guesswork. So I wrote it down for my own benefit. I tried a few different temperatures (350,375,400) and types (thickness) of bacon. I prefer thick cut bacon. If I'm going to eat bacon, I want to sink my teeth into a perfectly cooked thick-cut slice! Regular-cut bacon is usually sliced about 1/6th of an inch. Thick cut is usually closer to 1/8th of an inch. It varies from brand to brand. If you're looking to cut fat, try center cut bacon, which is traditionally cut closer to the bone and has a 20-30 percent less fat content. No matter the bacon thickness or cut, switching from the fry pan or griddle to baking bacon in the oven is going to free you up to make waffles, or our favorite, buttermilk pancakes!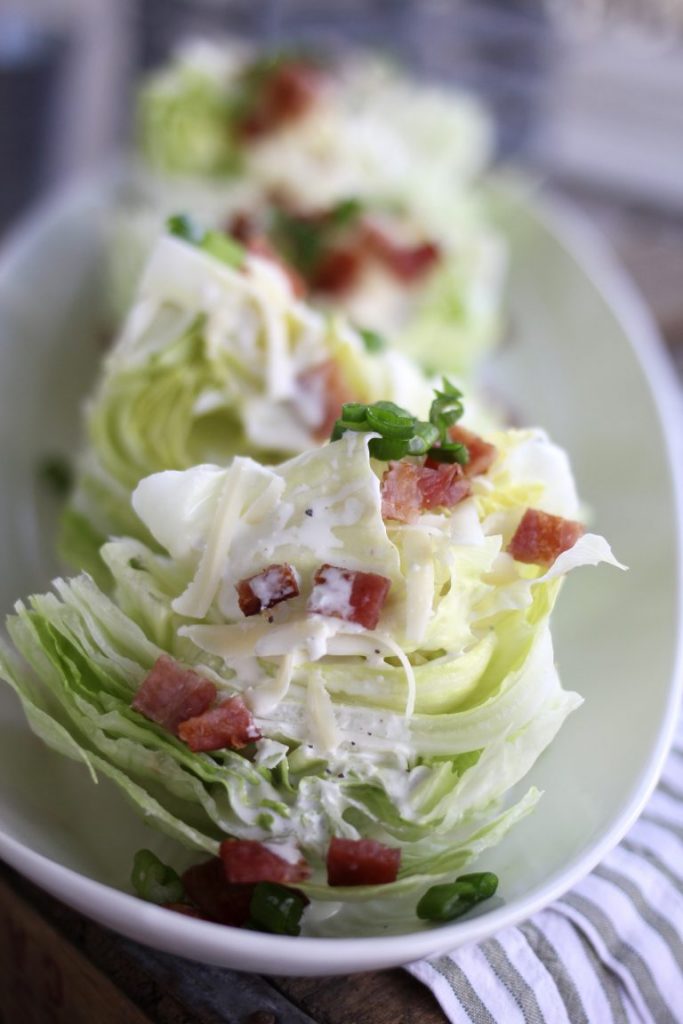 try using baked bacon on a wedge salad…