Charcuterie boards are showing up everywhere. Traditionally made of cured, dried meats, now, almost anything goes. This post will show you How to Build a Charcuterie Board with meats, cheeses and other items using a variety of different textures and flavors!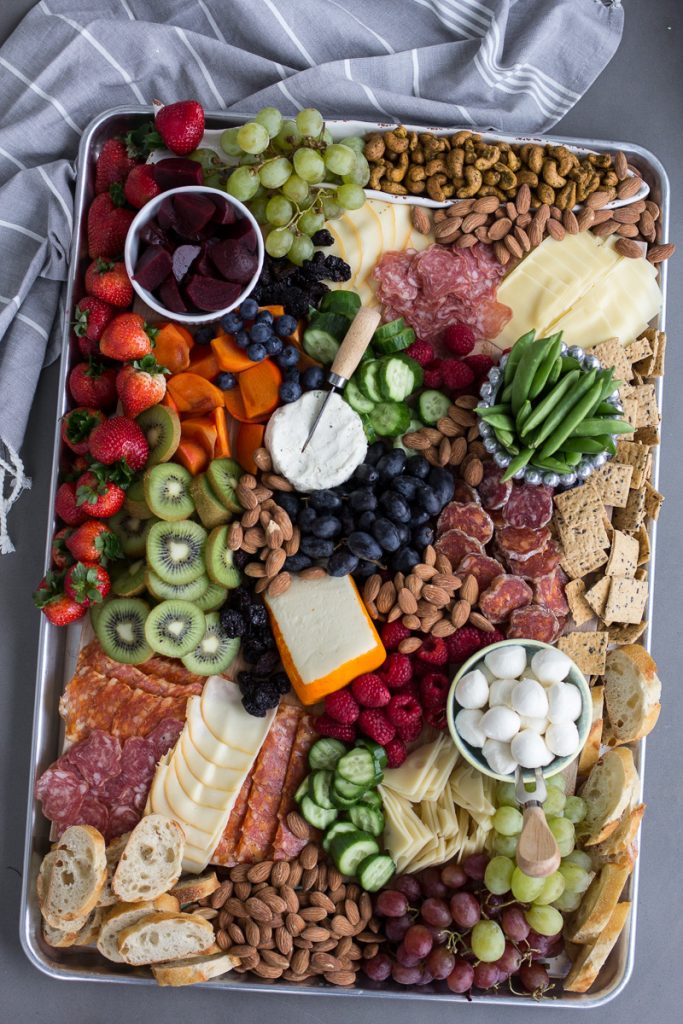 Mom was a Charcuterie Pioneer
Back in the day, mom always had what she and my dad called "summer sausage" and /or salami and cheese in  the fridge. Mom was always prepared to make a little spread of meat, cheese, fruit and crackers for any guest. She was a woman before her time!
Her spreads were almost always served on plate or two, along with a glass of juice, or a cup of japanese tea. To this day, if someone stops by to see her, she slices up a variety of meats, cheese and cups up fresh fruit to place on a plate and share with guests.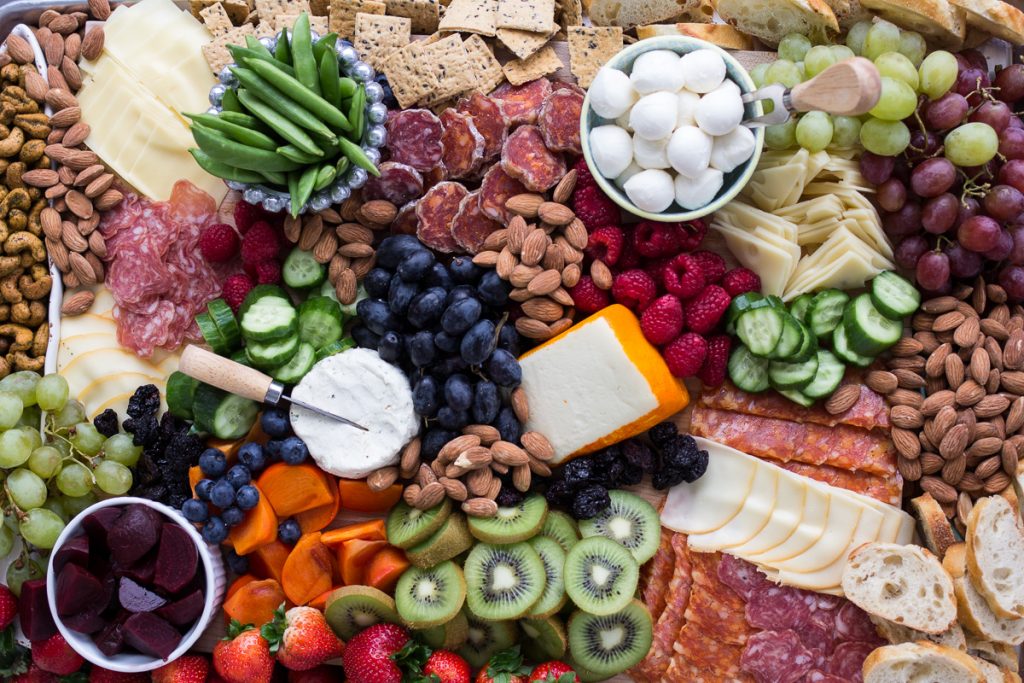 History lesson
In France, where charcuterie shops originated, the practice of curing and preserving meats dates back to the 15th century. The charcuteriers sold their cured meats to villagers to supplement the supply of fresh food available throughout the year. Pronounced  "Shar-cute-er-ree", by definition, the word charcuterie means "pork-butcher's shop," also, "cooked flesh,"  and "meat".
Many definitions also include the word delicatessen and cooked, cold meat. So there you have it. Confused? Today, most people think of a charcuterie board as variety of meats, served cold with cheese, fruit, spreads and cracker or breads.

How to build a Charcuterie Board and simplify entertaining
Charcuterie boards are the way to entertain if you're looking for quick and easy. Charcuterie boards involve purchasing  meats, cheeses, and a few other items and arranging on a flat surface.
I love how simple and impressive a charcuterie board is to put together. It literally involves no cooking and can be served year round.
I was looking for an easy way to feed about a dozen family members in our home on Christmas day,  between Christmas breakfast and Christmas dinner. I didn't want to make another meal, or load everyone up so much that they wouldn't be hungry for dinner. I decided creating a charcuterie  board was the answer.  Charcuterie boards are semi-healthy, and don't require more than slicing up a few items and placing on a platter. In about 15 minutes this was the result…

A Firm Foundation
Does building a charcuterie board require an expensive wood cutting board? You can use anything as a base or foundation for your board. You'll want to consider a few factors. First make sure whatever you use, it is safe for food.
Don't pick up a cool looking board you find behind a warehouse that is covered in peeling paint. Not safe. I used  my large Boos Block cutting board under this charcuterie board. But, as you can see, the board is covered completely, and sitting on top of a large sheet pan.  
I initially placed the board on top of the sheet pan to catch any excess spill over. In the end, I got a little carried away so the board is not visible. I've also seen "boards" that are set up directly on a clean surface such as a marble countertop. I suggest laying a piece of parchment paper down on the counter before arranging food.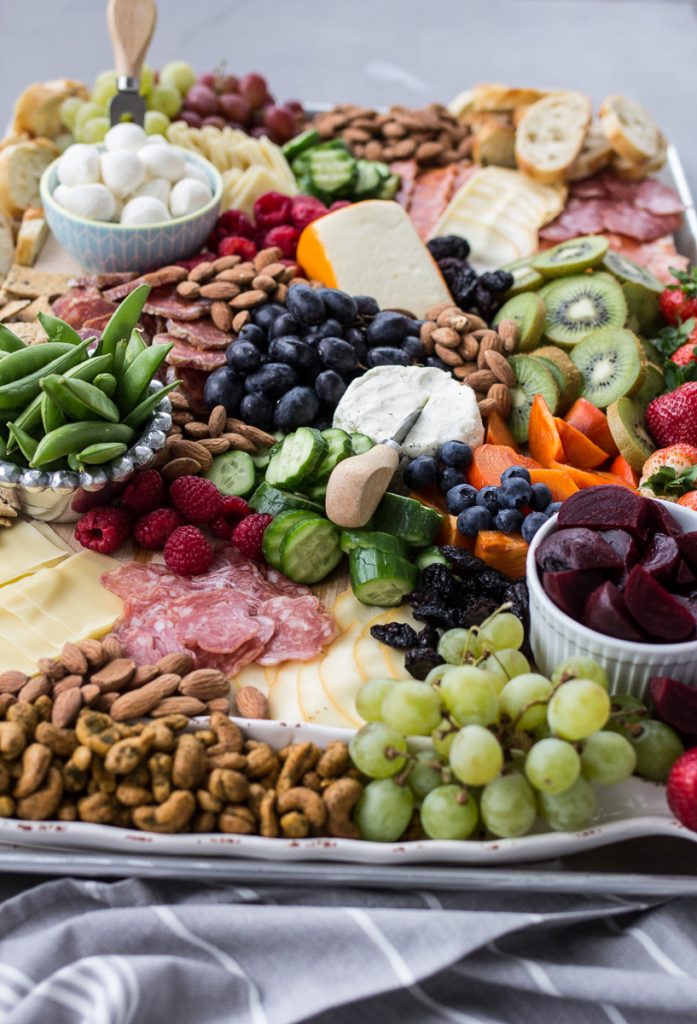 Frugal option-Potluck Charcuterie Board
If you're looking at this board and thinking LOVE IT. But can't handle the cost, gather some friends and family and ask guests to bring an item, or two to contribute.
Putting together a board is the perfect way to get a party started and let everyone's creative flare shine. I went to Trader Joe's (* items)  to purchase the majority of the items on my Charcuterie board, but you can purchase the items from any grocery store.
I used meats from Creminelli, a local Utah company. My daughter Brookie, at Female Foodie recently worked with Creminelli,  they sent her a few meats and cheeses to enjoy over the holidays, which she shared with me. Creminelli meats make an appearance on this charcuterie board!
Own It
I've seen Charcuterie board's display anything from traditional meats, cheese, olives, crackers, fruit and spreads, to chocolates, and even mini cookies! This is your board, make it your own. The only real rule, in my opinion, is to mix a variety of different flavors and textures. If you add something creamy, make sure to contrast it with something crunchy. Same with sweet and savory.
A few fun suggestions: a variety of chocolates, mixed with fruits and cheese. Tuna in a small bowl, accompanied by mini pickles, dill and sweet, a mustard mayo spread and a pile of sprouts, with toasted wheat bread, cut in to triangles. Flavored nuts (sweet and savory), along with fruit, fresh and dried. the possibilities are endless. Let us know how you build your board!

How to Build a Charcuterie Board
Suggested items for Charcuterie board are endless, here are a few I used on the board for this post...
Ingredients
2

oz

cheese per person

4 oz per person if this is the only food served

1-2

oz

meat per person

3-4 per person if this is the only food served

one large board or flat platter or cookie sheet or sheet of slate

make sure all are safe for food

Soft Cheese choose 2-3 types: Brie

Camembert, Cambozola, Burrata, Bleu, Fontina, Goat, etc

Semi hard cheese choose 2-3 types: Gouda

White Cheddar, Manchego, Gruyere, etc.

1-

spreadable cheese

I purchased Boursin Garlic Cheese*

1- 8

oz

package mini mozzarella cheese balls

Trader Joe's*

4

oz

Calabrese

uncured Italian Salami with red pepper and paprika, Creminelli brand

4

oz

Felino

uncured Italian Salami Creminelli

5

oz

Casalingo

Mild Italian hard salami Creminelli

1.5

lbs

grapes

a combination of red, green and black grapes, seedless*

2-3

kiwi

washed and sliced*

2

persimmons

washed and cut into slices*

8

oz

blueberries

washed and drained

16

oz

strawberries

washed and drained

8

oz

raspberries

washed and drained

1 8

ox package dark sweet cherries*

1/2

lb

baby cucumbers

cut into 1/2 inch chunks*

1/2

lb

sugar snap peas

washed*

1 8

oz

package baby beets

cut into quarters*

2

baguettes

sliced

crackers

1 package

almonds

dried and salted 1 lb*

seasoned cashews Thai Lime and Chili Cashew 1 lb

used about 1/4 lb

additional suggestions:

preserves such as marmalade

fruit spreads, honey, other jams, olives, small pickles (sweet and dill), mustards, sweet crackers.
Instructions
Gather board, small bowls, appetizer forks, spreaders, etc.

Clean the board or surfaces to be used and dry thoroughly.

Wash and thoroughly drain any veggies and fruits being used. Gently pat dry.

Unwrap any cheese and meat being used.

Slice cheese and meat.

Start at center of board and arrange items on board, Try to set contrasting colors and shapes together to create more visual interest.

Replenish board as needed.
Recipe Notes
-Arrange the Charcuterie board about 30 minutes before serving, it will give the soft cheese time to come to room temperature, which makes for easier spreading.
-Little bowls, purchased at specialty stores, such as William Sonoma, Sur la Table, Target or Walmart are perfect for serving ingredients such as pickles, fresh mozzarella, beets and spreads. These items are better separated from other dry ingredients on the board.
-You may use a small piece of parchment or wax paper to protect your board from grease found in meats or cheeses.
-All of the * items were purchased at Trader Joe's