This recipe for simple granola will convince you to never buy granola again! I'll teach you How to make Granola in a few easy steps, easily adaptable to your favorite nuts and spices.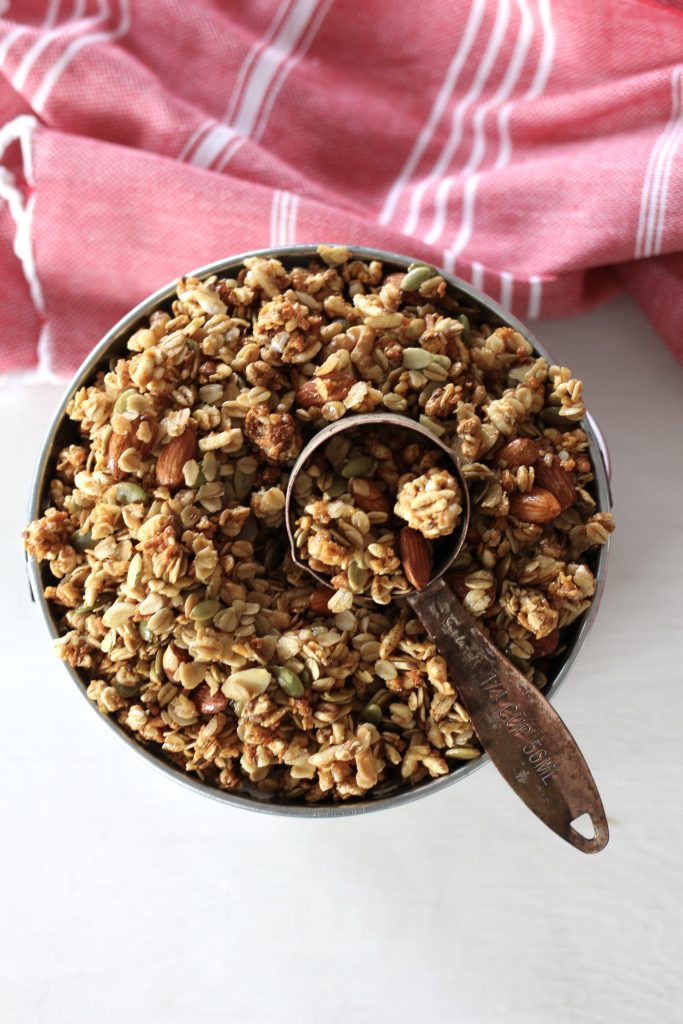 I eat yogurt almost every morning. My favorite flavor for the past couple of years has been Chobani's Dark Cherry Greek yogurt. I try to keep it on hand at all times in the fridge and love to top yogurt with a bit of homemade granola.   Don't you love the contrast of  crunchy granola to creamy yogurt?  I get on a roll and make granola for a while, and then run out and find myself staring at the granola in the cereal aisle wondering which will taste most like home made. Once you learn how to make granola at home, the grocery store version never quite measures up!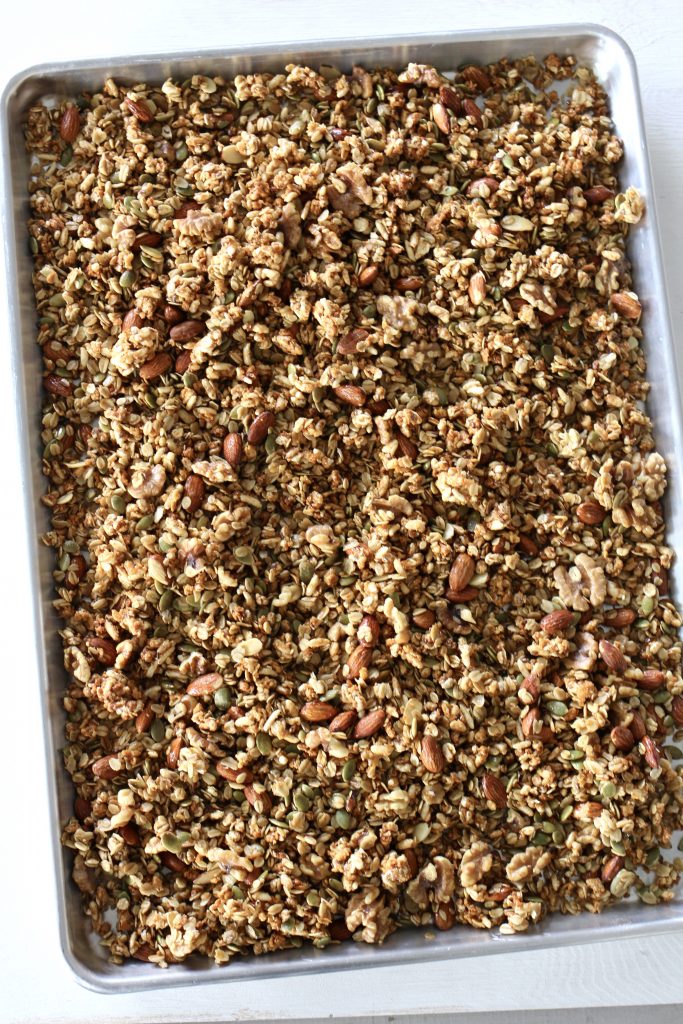 Making granola is simple. It's a matter of mixing ingredients together either in a bowl or right on a baking pan, pouring  honey and a bit of oil that has been heated onto the ingredients in a pan and baking for about an hour. That's it! Why I ever let myself run out of homemade is a mystery to me (insert thinking emoji here). Why are there no emojis on blogposts?!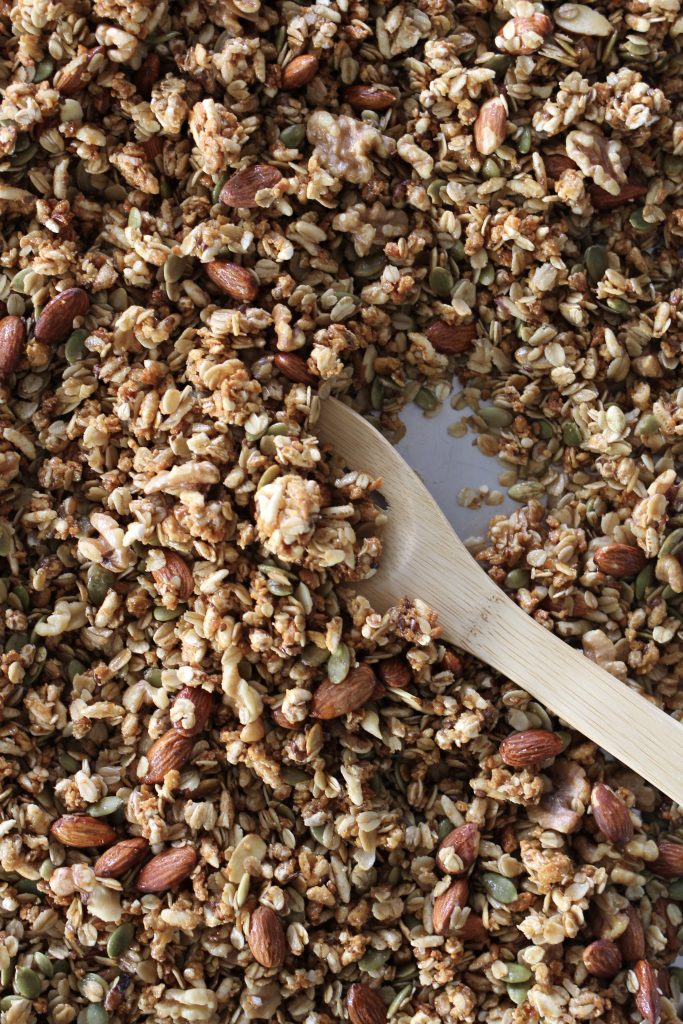 This recipe is adapted from the
Four Seasons Hotel
in Beverly Hills, CA.  I changed up the recipe and simplified it a bit so it's quick and easy to throw a batch together. I use a pre made cereal that has lots of goodies included to help give my granola a little more depth. I like a granola that has several layers of flavors and textures ranging from mildly crunchy to an almost over the top crunch factor!
This recipe yields about one and a half gallon size bags and keep well in the bags sealed tightly for about 2 weeks. Now that you have a basic recipe and know how to make granola at home, the flavor possibilities are endless!
If you're looking for a decadent granola treat try ABK's Peanut Butter Granola!

How to make Granola
Total Time
1
hour
10
minutes
Ingredients
1 14

oz

box Kashi Go Lean Honey Almond Flax cereal

or any grain or mixed grain cereal such as Meuslix or about 5 cups cereal whole grain

4

cups

old fashioned oats

1

cup

walnut halves

1

cup

almonds

whole

1

cup

pumpkin seeds

1

cup

honey

1/2

cup

vegetable or canola oil

1

cup

dried fruit

optional blueberries, sweetened cranberries, golden raisins

1

teaspoon

cinnamon
Instructions
Heat oven to 300 degrees.

Mix all dry ingredients in a large bowl or onto two jelly roll pans. Set aside.

In a saucepan bring honey and oil to a boil.

Remove from heat and pour over granola and toss to coat evenly.

Pour into lightly greased baking pans.

Bake until golden brown stirring about every 15 minutes.

Watch granola carefully after about 45 minutes. If oven cooks hot, it may be finished cooking early.

Remove granola when golden and dried.

If using dried fruit, add after removing from oven and fold into cooked granola.

Let cool completely and store in bags or tightly sealed container.