Impress your family with Springtime Salad with White Chocolate Pecan Croutons. It tastes as delicious as it looks!
I'm in love.
With a grocery store.

Last week, I was invited to a blogger event at Harmon's City Creek in downtown Salt Lake City. We were treated to a cooking class taught by Aaron, chef and director of the cooking school in the Harmon's City Creek location.

Aaron taught us how to make a creamy asparagus risotto with topped with duck bacon. Oh my. We were also served a pork tenderloin, cooked using the Sous Vide method. The tenderloin was served with a balsamic reduction, wilted baby kale, shaved white asparagus and a piece of french cut purple potato. Absolutely delicious.
Harmon's cooking school offers a variety of cooking classes at three locations, covering a wide range of classes, individual tailored small group classes and even private parties.

Harmon's is a home grown business, started by Jake and Irene Harmon on the corner of 330 South and Main in SLC. Harmon's humble beginning in 1932 has grown to 16 stores and over 3,000 associates. Their focus on customer service and fresh, quality products has made Harmon's, in my opinion, the best of the best in Utah.
What started at The Market Spot over 80 years ago has flourished under family ownership. Do you wonder why some businesses fold overnight, while others have long term staying power? After spending the afternoon at Harmon's I can tell you why they have not only survived, but thrived. Customers are #1 at Harmon's.
Bob Harmon (grandson of Jake and Irene) spent over three hours with us, in the cooking class, and then gave us a department-by-department tour of his store. Bob shared his enthusiasm for everything in the store from the house-made guac to the cookies in the bakery.


It tastes as good as it looks.
I knew Harmon's had the best in-store bakery in the state, but didn't know each and every one of their cookie, cakes and pastries are baked in house. Everything, right down to the frosting on the cookies are made in-store, with fresh ingredients. That sugar cookie pictured above was one buttery piece of heaven.I may have eaten two of the four I brought home.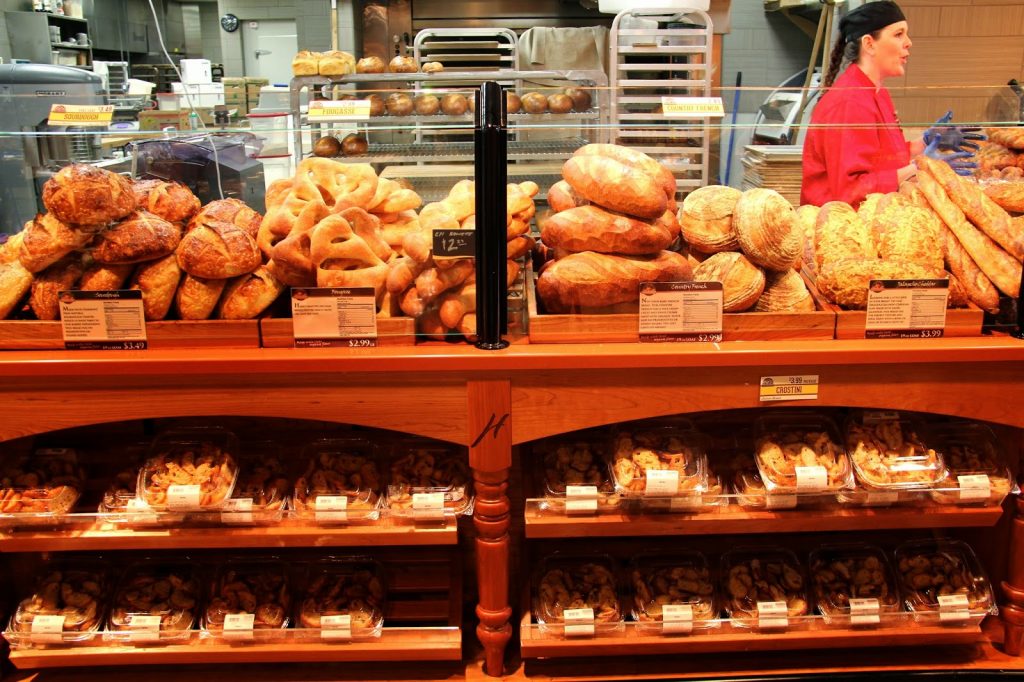 Man can live by bread alone.
The artisan breads are phenomenal. If you love bread like I do, Harmon's is the grocery store for you. Not only do they sell whole loaves, but half loaves and single slices of bread. Oh, happy day!
Sometimes, I sneak in and get a couple of slices of my favorite breads, including sugared challah and a bowl of soup to take home for lunch. This is the White Chocolate Pecan artisan bread, it's making a guest appearance in my salad today 🙂
Harmon's famous White Chocolate Pecan Bread
The produce is local when available, and always the highest quality. I recently purchased a 4 lb bag of Harmon's oranges from Brandt Farms in Reedley, CA. The oranges are packed for Harmon's and shipped immediately, which guarantees the freshest product for Harmon's customers.
I compared a Harmon's orange to one from a warehouse store I had at home, and the Harmon's orange won the sweetness and juiciness test hands down.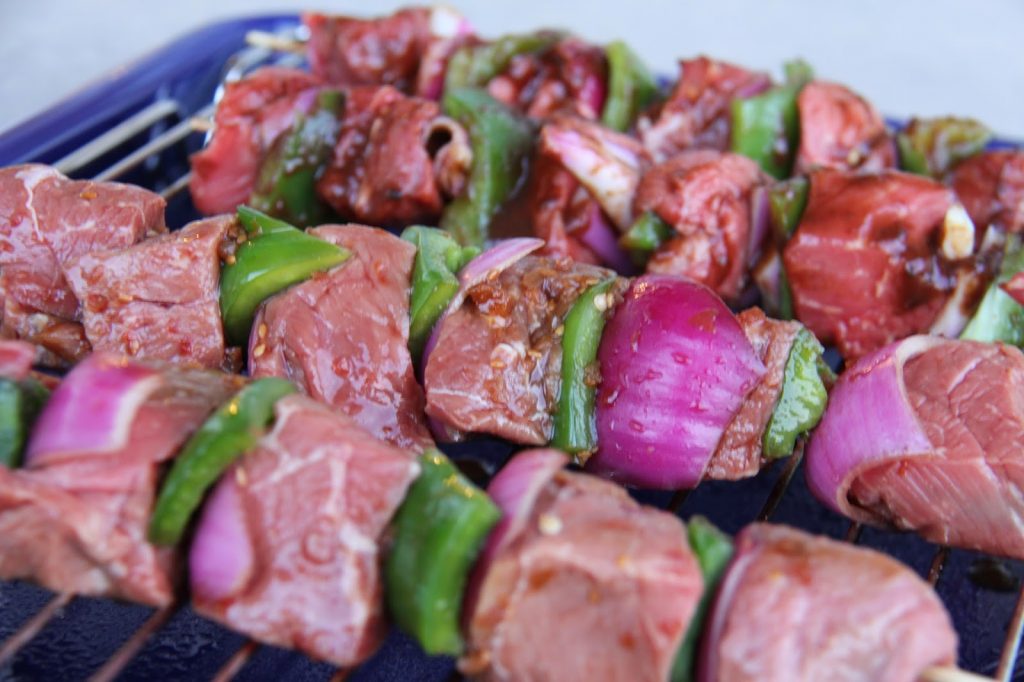 Bob's Kabobs
Are you tired of reading about my love affair with Harmon's? Don't answer that question.
Last chapter.
Meat.
Harmon's is the only grocery in the state to offer
only
Prime and Choice beef, the two highes grades on the USDA grading scale. Hormones? You won't find them in any of the meats or poultry sold in Harmon's meat cases. A while back I was looking for Italian sausage without additives. Could not find it.
Anywhere.
Except Harmon's.
I purchase a few kabobs for a quick dinner last week. Threw them under the broiler, (because I was too much of a sissy to go outside and grill in the snow). Outstanding. Even the leftovers were tender, juicy and full of flavor. The quality? = to that of a high end steak house, with a much smaller price tag,$4 for a 8 oz kabob.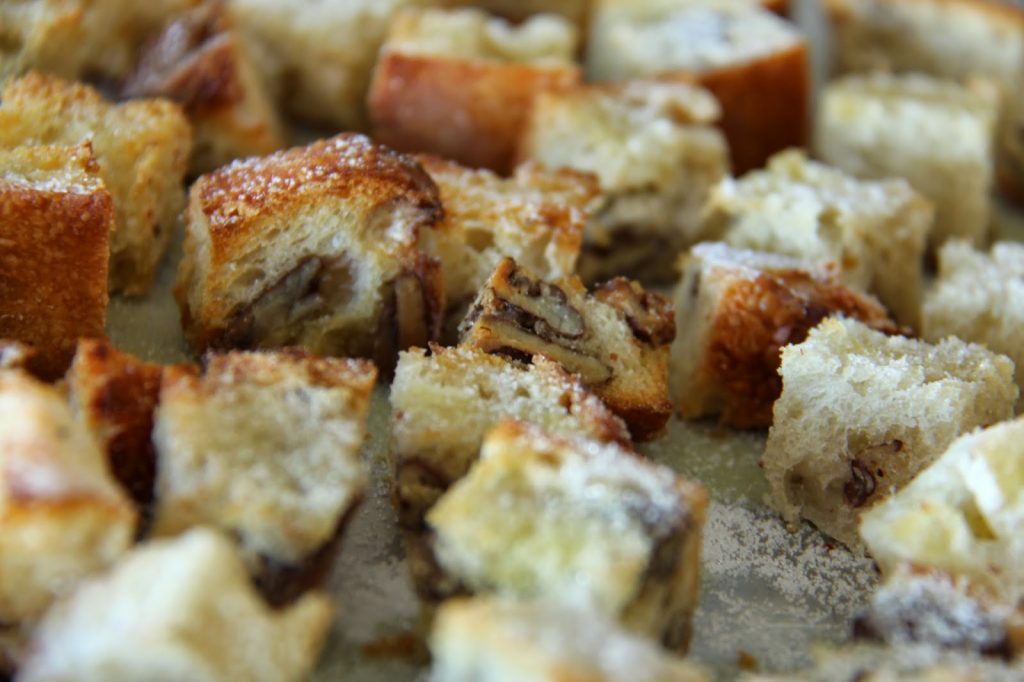 Have you worked up an appetite after reading my epistle on Harmon's??
I've got a special dish for you. With Spring approaching I decided to use a few fresh ingredients I found on my most recent trip to (you guessed it) Harmon's. One vegetable in particular, white asparagus, was especially interesting to me. Chef Aaron served it raw and thinly sliced with our lunch. You can steam it, or serve it raw. I love it both ways. It adds a nice white healthy splash to the salad instead of somewhat predictable white grated cheese.
The frosting on the cake (or salad) in this case, are the sugared croutons. They are made from the White Chocolate Pecan Artisan bread found at Harmon's bakery. They take the place of the commonly used sugared nuts in a sweet and savory salad. I know they're going to be your new favorite. Try this out for your next gathering. It's the perfect salad for your upcoming Easter brunch or the wedding shower you're hosting. Fresh, simple and unique.
If you've been thinking about checking out Harmon's enter this giveaway using the rafflecopter code below. You could win $250 to spend on your next visit to Harmon's!
Good luck 🙂
http://www.rafflecopter.com/rafl/display/b397ef49/"

you may want to slurp up any leftovers…
Springtime Salad with White Chocolate Pecan Croutons
Bountiful Kitchen
Ingredients
croutons:
3

thick slices

3/4 inch thick White Chocolate Pecan Bread (about 4 cups*)

1

tablespoon

olive oil

2

tablespoons

sugar

divided

coarse salt
dressing:
1/4

cup

cider vinegar

1/2

canola oil

1

cup

fresh strawberries

washed and cut in half

3-4

tablespoons

honey or sugar

to taste

dash salt

pepper to taste
salad:
8-12

oz

mixed greens

spinach, baby kale, etc.

3

green onions

sliced

4-5

asparagus spears

tough ends snapped off, sliced thin* (optionaor green asparagus may be used

16

oz

sliced strawberries

1 cup to be used for dressing

2

cups

fresh blackberries or blueberries
Instructions
prepare croutons:
Preheat oven to 375 degrees. Place rack on top third of oven . Cut bread into cubes. Use all parts of bread, do not remove crust. Place bread cubes on cookie sheet or jelly roll pan. Drizzle with olive oil and sprinkle with one tablespoon of sugar. Sprinkle with coarse sea salt. Bake for 10-12 minutes or until golden browned. Remove from oven and sprinkle additional tablespoon of sugar over the croutons, let cool.
Prepare salad dressing:
Place all ingredients in blender, blend until smooth. Set in refrigerator until ready to serve salad.

May be made a day ahead. Stir before serving.
Prepare salad:
Place all greens on a platter or in a salad bowl. Arrange fruits and vegetables on top of the greens. Refrigerate until ready to serve. Place the croutons on the salad just before serving. Serve with fresh strawberry dressing.

Serves 8-10 as a side salad
Recipe Notes
-If this bread is not available, you may substitute any type of bread to make the sweet croutons. i suggest using raisin bread or other artisan bread.
-The white asparagus may be steamed lightly, then cooled quickly in a ice water bath. Place the asparagus in between paper towels to remove excess water and sprinkle lightly with salt. The asparagus
may also be served raw. Wash well and drain, slice thin on an angle.