No Peel Instant Pot Apple Butter is so easy to make you will never, ever buy apple butter at the store again! The Instant Pot cooks apples in a fraction of the time of the slow cooker and is perfect for making homemade apple butter in less than an hour.
A few years ago, my friend Melanie gave me a jar of homemade apple butter she had cooked up in the slow cooker. It was SO GOOD. As in,  I wanted to ask for another jar, but you know how that goes. Homemade canned goods are like GOLD.
One of the reasons I'm not a huge fan of canning is it takes so much time. The Instant Pot has revolutionized this process. Recipes that once took hours, now take less than an hour! Minutes, my friends, minutes.  When the
Instant Pot
entered my life,  I knew I had to try to duplicate Mel's yummy apple butter.
After a few experiments and I had the perfect blend of  sweet, without using too much sugar. I knew if I didn't add a lot of sugar, adjustments needed to be made.  This is where my trusty hand immersion blender (aka favorite kitchen tool) became a key player in making the apple butter thick.
Leaving the apple peel on is essential to  Instant Pot Apple Butter.  Once the peel is soft and blended into the apples, it serves as a natural thickener, similar to my favorite One Pot Butternut Squash Soup!
Five easy steps to make Instant Pot Apple Butter at home!
Wash and cut the apples.
Throw apples and a few other ingredients into the Instant Pot.
Cook
Blend the cooked apples.
Place in jars and enjoy!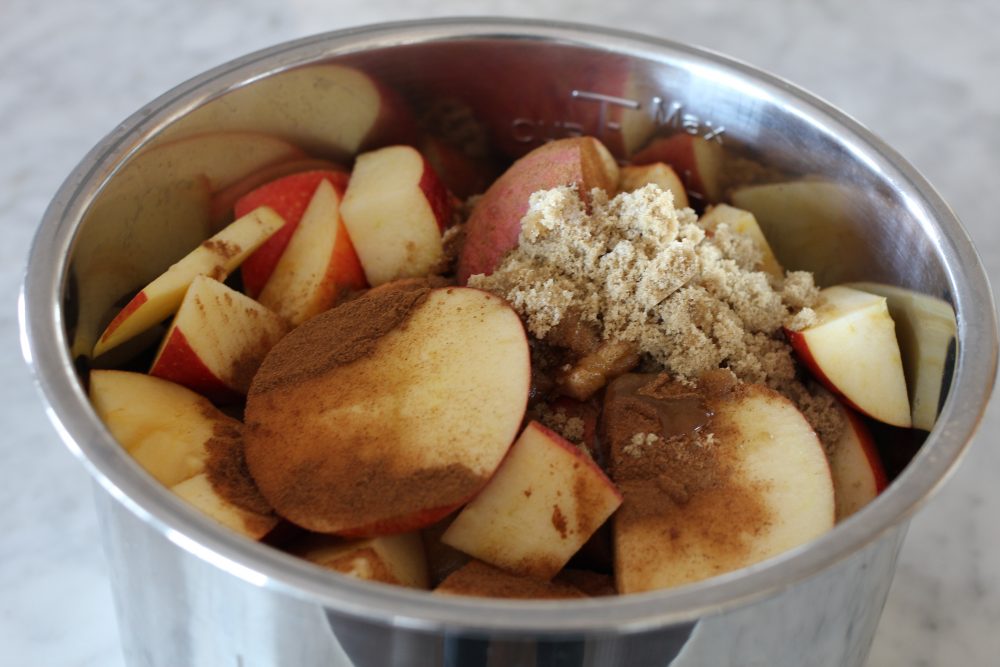 Still not convinced? A few reasons you want to make this at home:
I promise, you're not going to find anything that tastes like homemade in the grocery store!
You'll know exactly what ingredients are in your apple butter.
It's easy to freeze and take a jar out when needed, which is Monday, Tuesday, Wednesday, Thursday, Friday.
If you have boxes of apples sitting around and you need to use them up, this is your ticket!
Instant Pot Apple Butter is perfect on pancakes, waffles, toast, bagels, as a dip, and  in recipes that call for applesauce or apple butter.
If you don't have an Instant Pot, you can also make this in a slow cooker, place all ingredients into a slow cooker and turn on low for about 6-8 hours( notes on recipe as well)!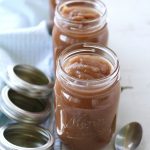 Instant Pot Apple Butter
Ingredients
4

lbs

apples

any type of sweet apple do not remove peel

1/2

cup

water

* see recipe notes about this amount of water

1

teaspoon

pumpkin pie spice

2

tablespoons

brown sugar

dash salt

2

tablespoons

lemon juice

For a family-sized batch

or to share with friends:

8-10

apples

or about 5 lbs apples before cutting

1/3

cup

water

1

tablespoon

pumpkin pie spice

1/2

cup

brown sugar

2

dashes salt

2

tablespoons

lemon juice

same as with small batch
Instructions
Wash apples, remove any stickers and cut the apples into fourths.

Place apple on a cutting board and cut each side (4 cuts) until just the core is left in the middle (see photo). Discard core.

Place the apples into the Instant Pot and add water, spice, brown sugar and salt.

Make sure rubber seal is in place inside the Instant Pot lid. Close and secure the lid to the locked position. Check to make sure the vent is turned to SEAL.

Push MANUAL setting, and set the timer for 15 minutes, adjust time using the up or down arrow. START or push MANUAL again to begin cooking.

When timer is finished, let pressure in pot release naturally for about 15 minutes. After 15 minutes, turn the dial to the VENT position and let remaining steam release, if any remains.

Let the apples cook on the Saute setting or Slow Cooker setting, while stirring in lemon juice. Place the immersion blender into the Instant Pot and pulse until smooth, moving the blender around the pan as you bend up bits of apple until completely smooth. If you don't have an immersion blender, let the apple butter cool for about 30 minutes, then place the apple mixture in blender in small batches until smooth.

Spoon apple butter into jars or other containers. Use with in 10 days, store in refrigerator or freeze until ready to use.

Makes about 3-4 pints for large batch, depending on how much you sample before placing in jars 🙂
Recipe Notes
Initially, the recipe called for 2 tablespoons of water added to the apples. A few readers have said their Instant Pot has given an error message "burn" . To eliminate this issue, we have amended the recipe from 2 tablespoons of water to 1/2 cup to insure there is enough water in the pot to bring it to proper pressure and not trigger a "burn" message. I have made this recipe using 2 tablespoons of water, but want to avoid any problems for readers while in the middle of cooking the apples! I suspect the juiciness of the apples has something to do with how they cook up and if they do or do not produce a burn message.
If after the apple butter is cooked and blended it seems not quite thick enough, you may cook with lid off in Instant Pot for additional time on Sauté setting. Make sure to stir pot to prevent scorching!