This recipe for Instant Pot Hard Boiled Eggs is the best way to cook perfect hard boiled or soft boiled eggs! If you're looking for a fool proof, mess proof way to cook eggs that turn out perfect every time, this recipe is for you.
Living beneath your privledges?
If you have an Instant Pot and aren't cooking your hard boiled or soft boiled eggs in the Pot, you're living beneath your privileges! Seriously. This method for cooking eggs will change your life. And if you don't have in Instant Pot yet, put it on your list of small appliances you need. The price hovers right around $79 for the 6 quart model (the one I use the most).
While we are on the subject of price and options, often I'm asked which IP I recommend. If you have a family of 4-5, I recommend the 6 quart. If you cook for more than 4-5 people buy an 8 quart model. I have both, mine are both the Instant Pot brand. Both are basic models (not bluetooth) and I use them weekly. Even with just the two of us at home, I'm constantly using the IP. It can be on your doorstep tomorrow with the help of our friends at AMAZON.

Get Fresh…
Gone are the days when you had to let your eggs sit in the fridge for a week or two before you can hard boil and then peel your eggs. I always try to remember to purchase eggs at least two weeks early before making Deviled Eggs or a Cobb Salad. If Easter sneaks up on me and I haven't purchased eggs early enough, I know I'm doomed to eggs that will look awful once they are peeled. Instant Pot Hard Boiled Eggs are a game changer. NO MORE UGLY PEELED EGGS! The eggs come out perfectly peeled every single time. And your eggs can be as fresh as straight from the chicken coop- not eggs that have been sitting in your fridge for weeks. If you use your Instant Pot for nothing else, this one recipe or method for cooking eggs will justify every penny you spent on the pot!
The color green and hard boiled eggs= not a good combo
Last year, I went to a restaurant with my mom in the PNW. I ordered a seafood salad, Cobb style. The salad came with two eggs, hard boiled , cut in half on the platter. Both of the eggs had big green rings around the yolks. Green rings around yellow yolks are not attractive. Why does this happen? A chemical reaction occurs between the sulfur in the egg whites and yolks when the eggs are cooked for too long, creating the unattractive green ring around the yolk. It doesn't effect the taste and isn't harmful to your health, but doesn't make for a pretty hard boiled egg! Follow this recipe, and you'll eliminate the dreaded green ring.

Last words on Instant Pot Hard Boiled Eggs
Does size matter? I experimented with small to extra large eggs, I found the time of cooking to be the most important factor. The eggs cooked for the exact same time whether small or x large turned out almost identical doneness. Here are photos according to cooking time:
Altitude– does it make a difference? I'm not sure. I live at about 5,000 ft above sea level. The eggs tested were all cooked at my current elevation. If you are at sea level, I'd love to hear your results and alterations to this recipe. I've heard there is a slight difference in cook time depending on elevation, but my guess is, this applies to much higher elevations, above 7-8,ooo feet or more.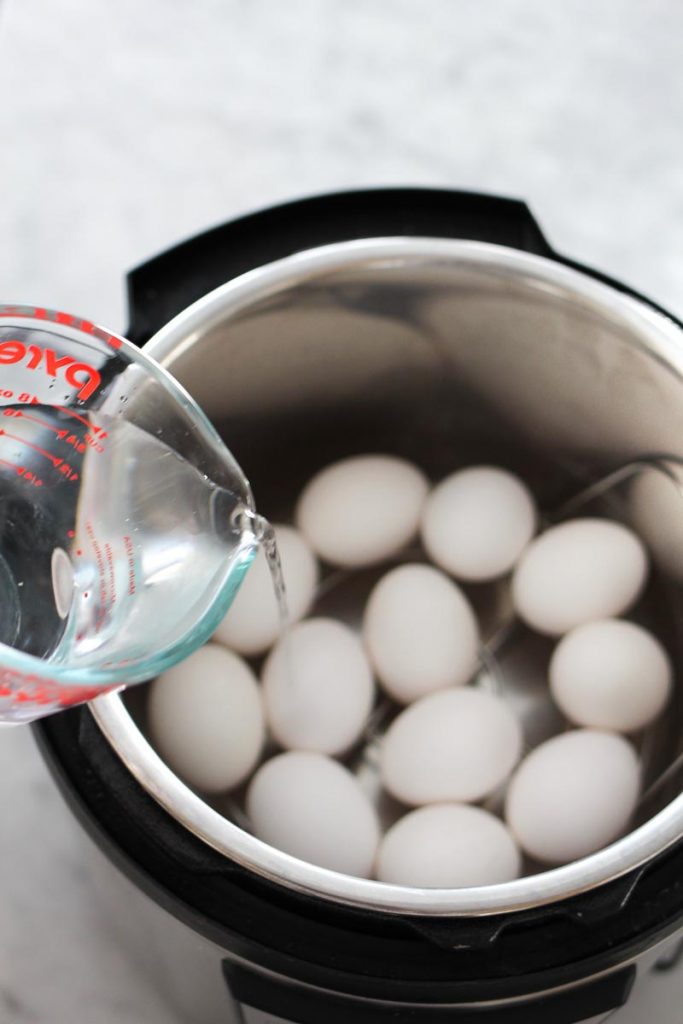 Numbers-I tested the eggs in Instant Pot Hard Boiled Eggs in four groups of batches in the Instant Pot: groups of 4 eggs, 6 eggs and 12 eggs. I did not see any difference in amount of eggs or changes to cooking time depending on the size of the Instant Pot I used. As I said earlier, I have both 6 & 8 quart Instant Pots.
The rack– I used the rack that comes with the Instant Pot to cook the eggs. The eggs will scorch if cooked directly on the bottom of the insert to the Instant Pot, so make sure to use the metal rack, or a metal or silicone steaming basket will work as well.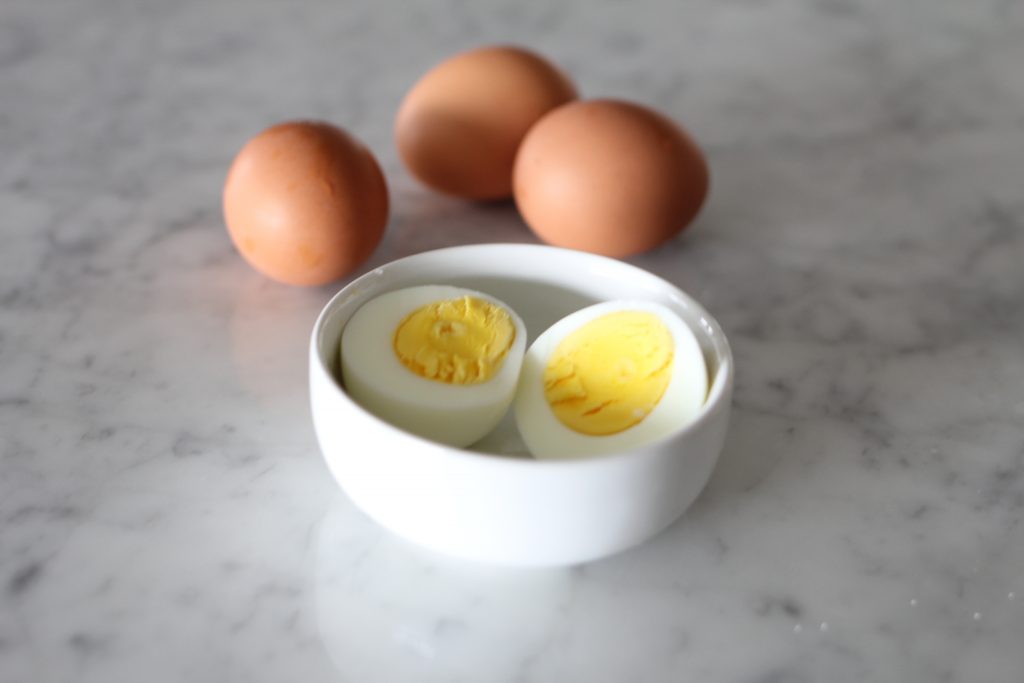 White or brown eggs– does it matter? Traditionally, white eggs have much thinner shells than brown eggs. White eggs tend to crack easier using the Instant Pot Hard Boiled Eggs method of cooking than brown eggs. If you are coloring eggs, I prefer a smaller egg, they seem to yield less cracks and breaks in the shells after cooking. My choice for eggs used for coloring? Medium size white eggs. I also think a medium size egg is perfect for making into ABK Classic Deviled Eggs!


Ice bath or simply cold water? The eggs peel easily when submerged in cold water or an ice bath. I simply place the eggs in a bowl in the sink and run cold water over in a small stream for about a minute. You may also place ice in a bowl, add cold water and then add the eggs to the ice bath after cooking. It is important to cool the eggs down after cooking or they will continue to cook in the shells. One of the batches I cooked I forgot about, and cooled with a bit of cold water, but the eggs weren't completely cooled down, so they continued to cook in their shells, yielding the green ring (see paragraph above for reasons why the green ring appears).
Of course if you are enjoying a soft boiled egg, you don't want to completely cool the egg down. Run a little cold water over the egg before cutting for easy handling, and scooping out of the shell. If the white or yolk seem too soft on a soft boiled egg, test one egg for doneness, then allow the eggs to sit at room temperature for a few minutes- they will have a chance to continue to cook inside of the shell and firm up a bit. Remember, this only works if you have not cooled the egg down initially in an cold water or ice bath. Once you cool the egg, the cooking process stops inside of the shell.

Make sure to leave a comment and rate this recipe after you've used this method in your Instant Pot and let us know about any alterations you've made!

Instant Pot Hard Boiled Eggs
I have tested this recipe with a 6 and 8 quart Instant Pot brand Electric Pressure Cooker
Ingredients
4, 6

or 12 eggs

free of cracks, small to extra large

1

cup

cold water
Instructions
Place rack (or metal or silicone steam basket) in Instant Pot.

Carefully place eggs in the Instant Pot on rack.

Add one cup cold, warm or hot water to pot.

Place the lid on the pot, making sure the rubber sealing ring inside of lid is in place.

Place the lid on the Instant Pot, lock into place.

Make sure the pressure release valve is in the seal position.

Using the MANUAL setting or HIGH PRESSURE Setting, adjust the timer to 5 minutes for hard boiled, 3 minutes for medium set yolks or 2 minutes for soft boiled eggs.

When the timer goes off, carefully release the pressure manually using the pressure release valve.

Remove the eggs and set in a bowl filled with ice water. You may also run a stream of cool water over the eggs while in a bowl.

If cooking eggs for soft boil, remove and set the eggs in cool water for about 30 seconds to a minute for easier handling, then remove and set in bowl and cut in half with sharp knife. Scoop out the cooked egg, including the yolk into a small clean bowl for serving.
Recipe Notes
-For soft boiled eggs, the eggs will firm up and become less runny (including the whites) as they sit. Do not leave in cold water bath for longer than a minute or eventually the egg yolk will become completely firm.
-The eggs peel quite easily when submerged in cold water or an ice bath. I simply place the eggs in a bowl in the sink and run cold water over in a small stream for about a minute.
-No matter the amount of eggs, 4 or 12, I use 1 cup of cold water.