New in 2019 – ABK's Free Thanksgiving Ebook, with printable timeline checklist, grocery list, more recipe links for ABK Thanksgiving favorites and additional Thanksgiving tips to help you keep everything running smoothly!
The days of making mashed potatoes on the stove top are behind us! This Instant Pot Mashed Potato Recipe is my favorite way to make mashed potatoes. In a few minutes you can have creamy mashed potatoes in one pot!
There are so many uses for the Instant Pot from making one-pot dinners to cooking side dishes like this Instant Pot Mashed Potato Recipe! I love the way the Instant Pot cooks and also keeps the finished dish nice and warm until time to serve.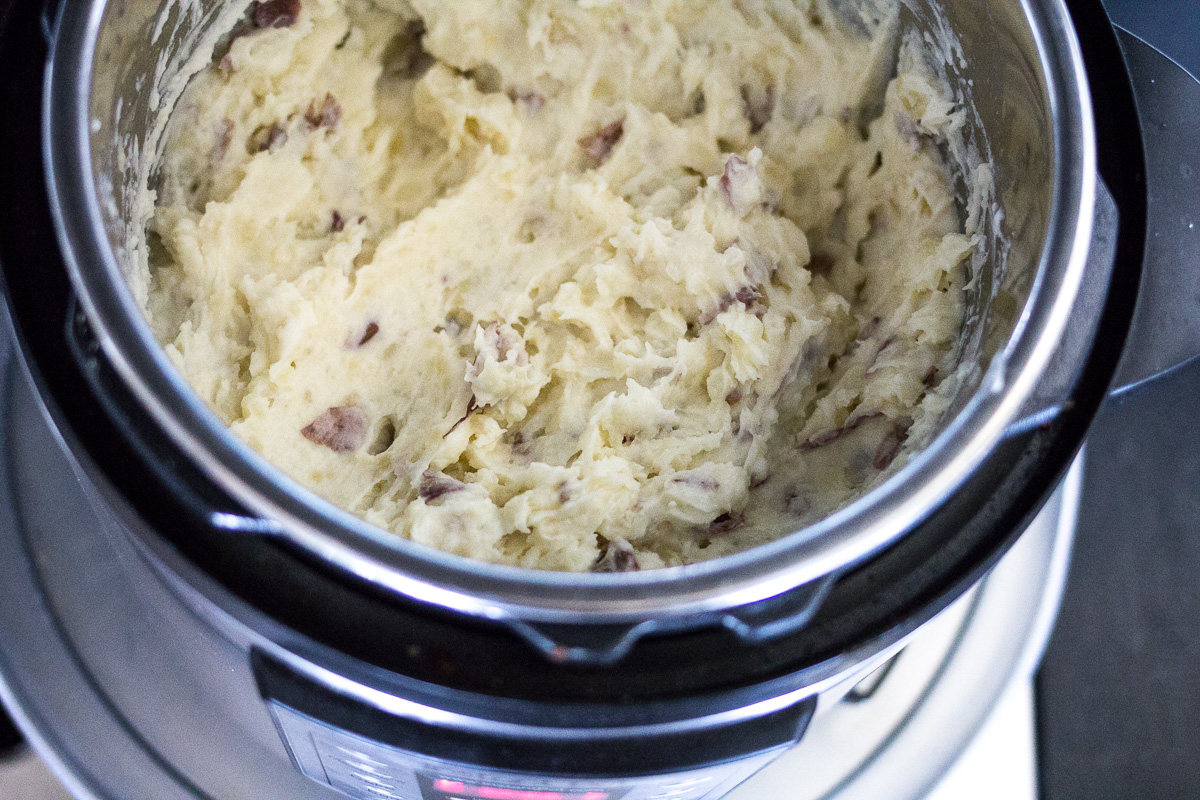 Our former stand-by for mashed potatoes was ABK's Slow Cooker Mashed Potatoes. If you don't have an Instant Pot, it is the perfect way to cook potatoes and keep warm without cooking stovetop! The downside to using the slow cooker is the cooking time is 4 hours, compared to about 30 minutes total (including mashing) in the Instant Pot!

My preference for mashed potatoes is a small red potato. A few reasons why I like this variety of potato: They are easy to scrub and don't need to be cut up before using. I like a bit of color in my mashed potato, so leaving the skin on small red potatoes and then mashing works well for me. Red potatoes have better flavor than a Russet (imho), which are the premium potato for mashing.
Russett's yield the most fluffy mashed potato, if you are looking for a smooth, fluffy finished product! I like my mashed potatoes to be a bit more rustic looking and don't mind it when my mashed potatoes have a few chunks of potato. While many people use an electric mixer, I always use a Potato Masher, this one is my favorite.
Once you try ABK's Instant Pot Mashed Potato Recipe you'll never go back to boiling potatoes on the stovetop. For holidays, this method is perfect because it frees up space on the stove and also keeps the potatoes warm for hours. One less dish to worry about when you're trying to get a big meal on the table, hot, all at once. If you are looking for gravy to top your Instant Pot Mashed Potatoes, take a look at this recipe for Simple Pan Gravy!