Instant Pot Pork Tenderloin with Orange Rosemary Glaze is about to become your new go-to meal! It's simple enough for a family meal and impressive enough for a special occasion.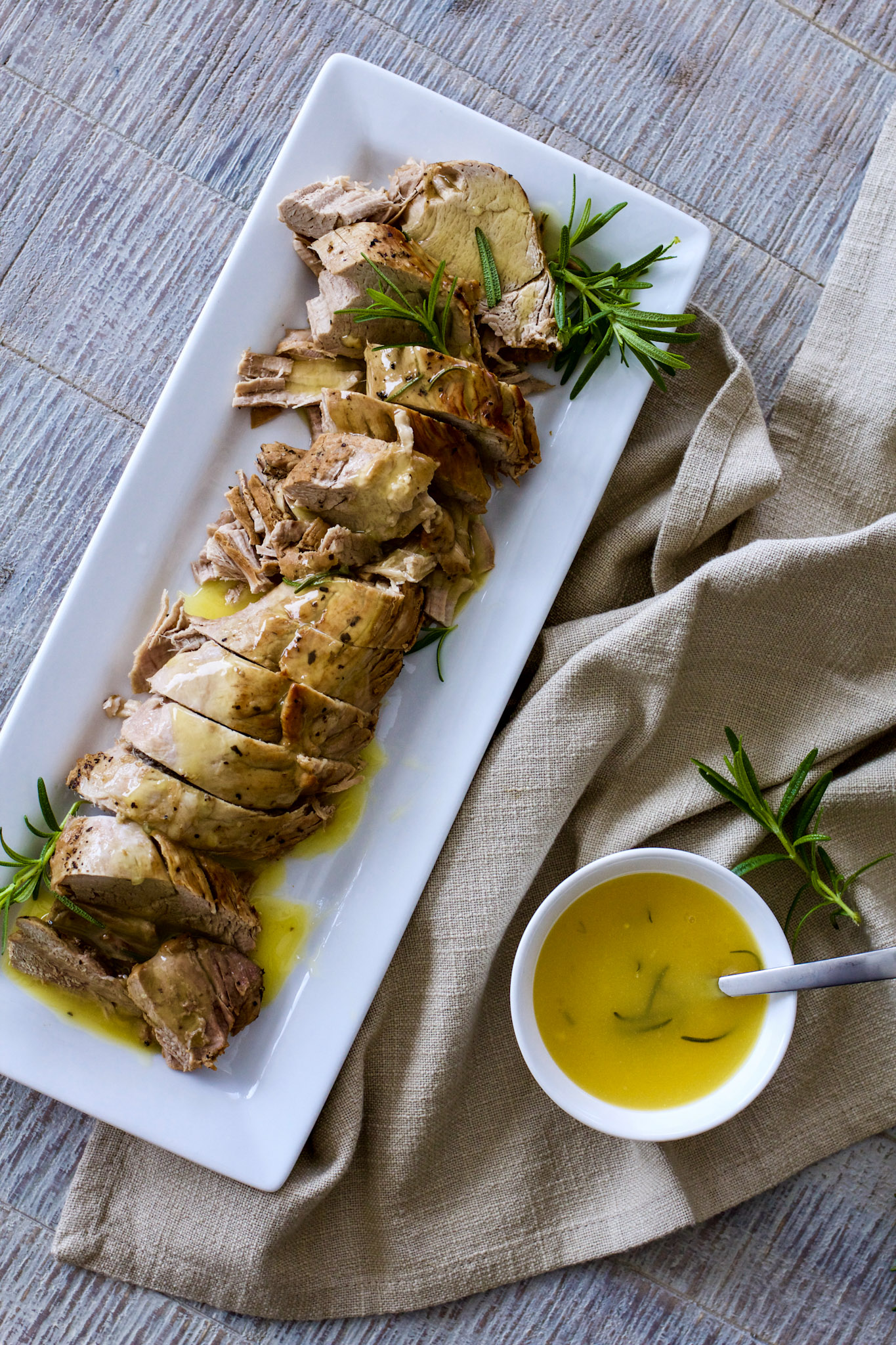 Easter is coming up soon…If you have guests who aren't fans of ham, this dish will satisfy even the choosiest eaters! Instant Pot Pork Tenderloin with Orange Rosemary Glaze is so easy to toss in the Pot you'll never want to cook a tenderloin any other way. I use bottled Balsamic salad dressing to marinate the meat, which gives the otherwise often bland tasting pork a delicious flavor. The dressing can be purchase in any grocery store. Oil-based salad dressings are a perfect marinade for meat because they contain oil and also vinegar or another acidic ingredient which helps tenderize the meat. I used a very inexpensive brand for this recipe (check the recipe notes) and love the result.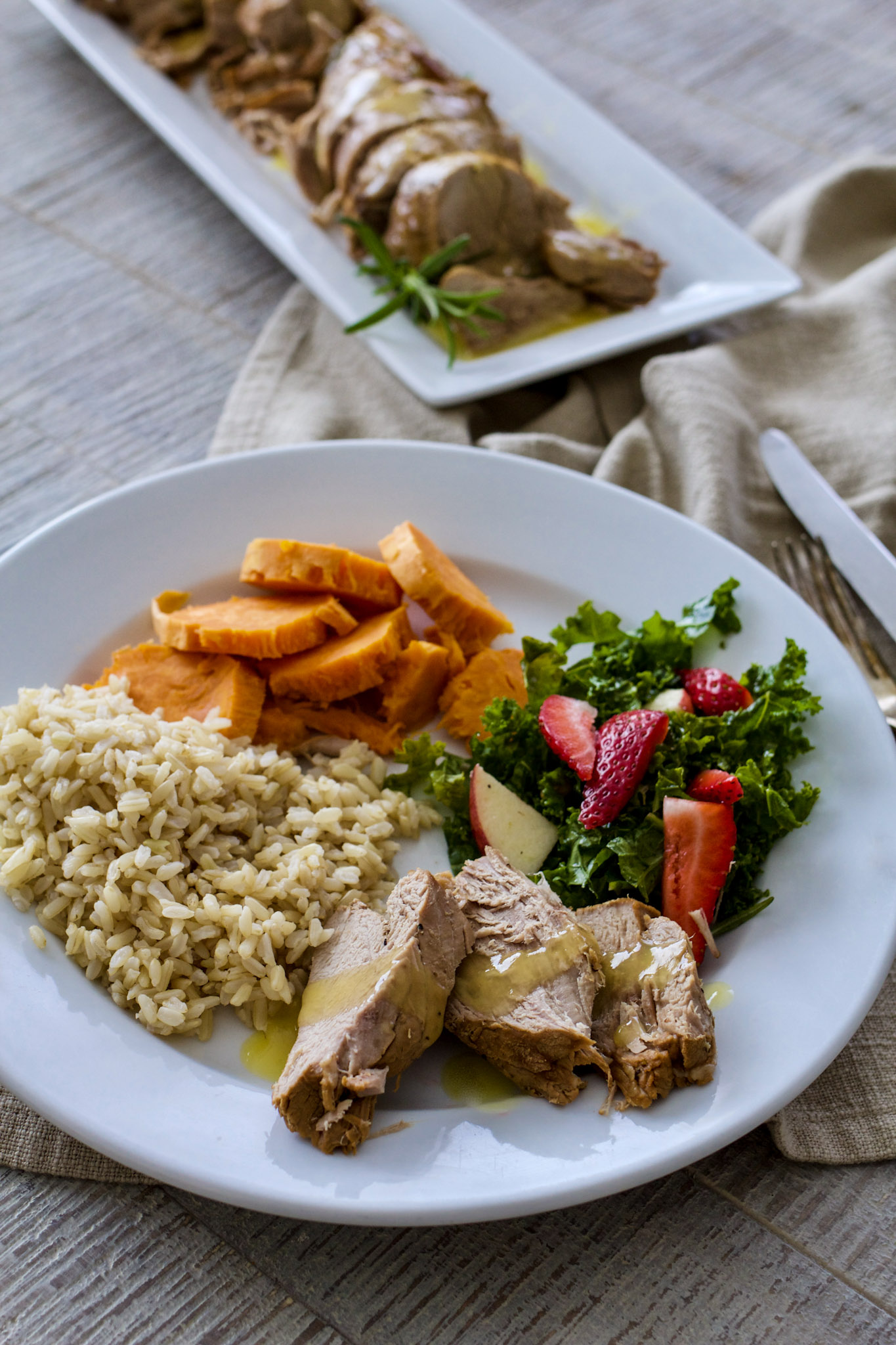 You all know by now how amazingly easy it is to cook a meal in the Instant Pot. I love the versatility of the "sauté" setting in the pot. It takes just a few minutes to get the Instant Pot up to the proper heat setting to give your meat a nice brown coating on the outside. I highly recommend using the saute mode before turning the pressure cooker on. I've cooked pork tenderloin for years and love it when the pork is fork-tender. Usually, this takes hours to achieve in the oven or the slow cooker, but in the Instant Pot, it takes about 5 minutes of pressure cooking, and then another 10-15 minutes to naturally release pressure. The result of using the pressure cook method is fall-apart meat that is flavorful and unbelievably tender.
If you're looking for other pork tenderloin recipes that aren't Instant Pot recipes, I love Pork Tenderloin with Sesame Ginger Glaze and Warm Cabbage Slaw (top photo) and Stuffed Pork Tenderloin with Balsamic Mushroom Gravy .
Instant Pot Pork Tenderloin with Orange Rosemary Glaze
Ingredients
2.5

lbs

pork tenderloin

not pork loin roast*

1

cup

bottled Balsamic Salad Dressing*

salt and pepper

2

tablespoons

olive oil

1

cup

broth

chicken or beef
for glaze:
2

cups

orange juice

1

tablespoon

fresh or bottled lemon juice

1/4

cup

sugar

1

tablespoon

+ 1 teaspoon cornstarch

2-3

tablespoons

fresh rosemary
Instructions
Marinate the pork in Balsamic dressing in a ziplock bag for 2-24 hours, turning bag over every few hours if possible.

When ready to cook, turn the Instant Pot to high saute setting and remove the pork from the marinade, let excess marinade drain back into bag and set pork on paper towel. Discard marinade.

Add 2 tablespoon of olive oil to the Instant Pot.

Pat the meat to dry a bit with a paper towel and sprinkle generously on one side with salt and pepper.

Place the meat, seasoned side down in the hot Instant Pot.

Sear meat until browned on one side, before flipping the meat, season on opposite side with additional salt and pepper. Sear opposite side.

Using the manual setting, turn the pot to 5 minutes. Add 1 cup of broth (chicken or beef) to the Instant Pot.

Close and seal the lid into place.

When the timer goes off, allow the pot to naturally release pressure for about 15 minutes.

While the meat is cooking, pour orange juice, lemon juice, sugar and cornstarch into a small sauce pan and whisk until smooth.

Cook over medium high heat, bringing ingredients to a boil. Whisk and cook until the glaze is thickened, about 3-5 minutes. Add rosemary to sauce.

Remove from heat until ready to serve.

When meat is done, remove from Instant Pot and set on cutting board. Let sit for about 5 minutes before cutting. Slice into 3/4 inch slices with a sharp knife and place on serving platter.

Drizzle with some of the glaze, and place remaining glaze in a bowl and pass with meat.

Garnish with additional fresh rosemary leaves.
Recipe Notes
-Make sure to purchase tenderloin for this recipe, not pork loin. Pork tenderloin is an especially tender cut of meat and is sold in a long thin package. Often times, Hormel is the brand on the packaging. At Costco, pork tenderloin is sold in a two pack, meaning two packages, each containing two pork tenderloin, or enough for double of this recipe.
-This recipe is easily doubled, brown the pork two at a time in the pot, but pressure cook (all 4 pieces of meat) together. If you are doubling the amount of meat, I suggest pressure cooking for about 8-9 minutes. 
-If you like, you may spoon a bit of the juice left in the pot over the meat after placing on a platter. Then spoon some of the glaze over the top as well.
-I used Kraft brand Balsamic Dressing in this recipe, but any brand may be used.