Instant Pot Sweet Potato & Black Bean Chili is healthy, hearty and will warm you up on cold winter days! Filled with sweet potatoes, black beans, corn and just the right spices and herbs  to make your taste buds happy…
Born and Raised…
I was raised on sweet potatoes. My mom is Okinawan and absolutely loves sweet potatoes.  Growing up, we ate sweet potatoes frequently-  as a side to almost any Japanese style meal,  dipped and fried in tempura batter,   and also as leftovers, sliced right out of the fridge. To this day, my mom eats sweet potatoes every day.  Sweet potatoes have so many health benefits! Loaded with fiber and vitamins including: Vitamin A, Vitamin C, Vitamin B6, and Potassium. Besides all of the health benefits, sweet potatoes can be served as a sweet or savory dish. I love the way sweet potatoes add just the right amount of sweet to my Instant Pot Sweet Potato & Black Bean Chili!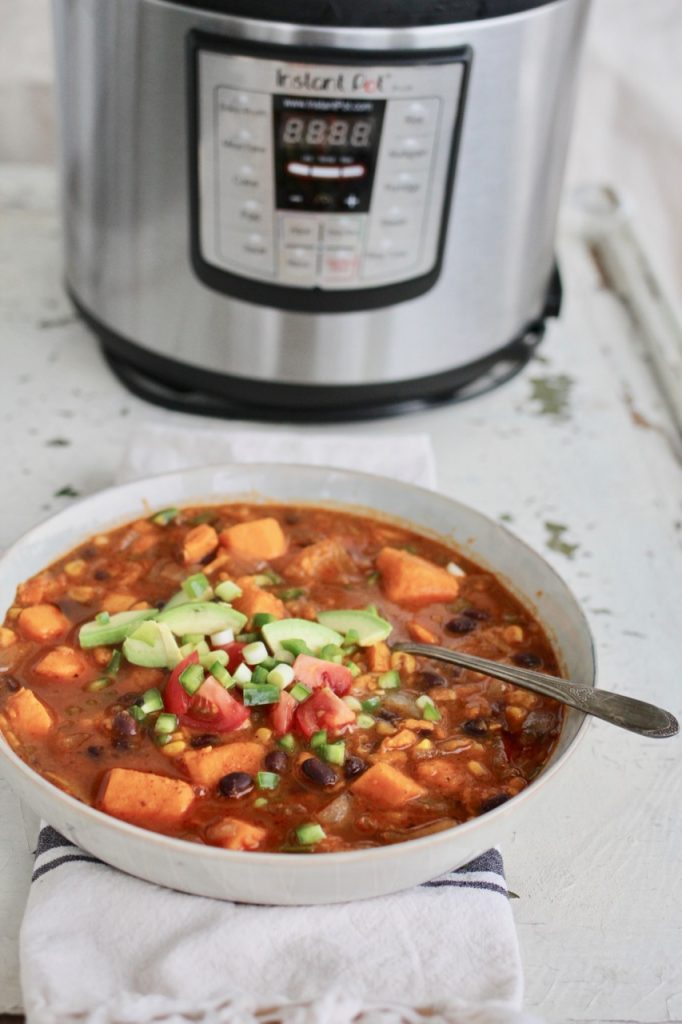 Instant Pot Fact and Fiction
You know how I feel about the Instant Pot!  The Instant Pot is often associated with cooking food quickly, because of the word "instant".  If you think the IP means a quick meal, you might be a little disappointed. Time spent heating up the pot, and then pressurizing is more than a 5 minute process. I love the Instant Pot because meals that used to take hours to cook now are ready to serve in a fraction of the time. I look at the Instant Pot (electric pressure cooker)  as a faster and more nutritious method of cooking, as compared to a slow cooker or cooking for long periods of time on the stovetop or in the oven.  Instant Pot Sweet Potato & Black Bean Chili is an easy fix for a weeknight dinner. I love that it's healthy and  flavorful, and this Instant Pot Sweet Potato & Black Bean Chili is also gluten and dairy free! The leftovers, (drained of juice) are perfect as a filling for tacos or quesadillas. The toppings to this chili are everything!  I love adding chopped avocado, fresh tomato, plain greek yogurt and a little cheese.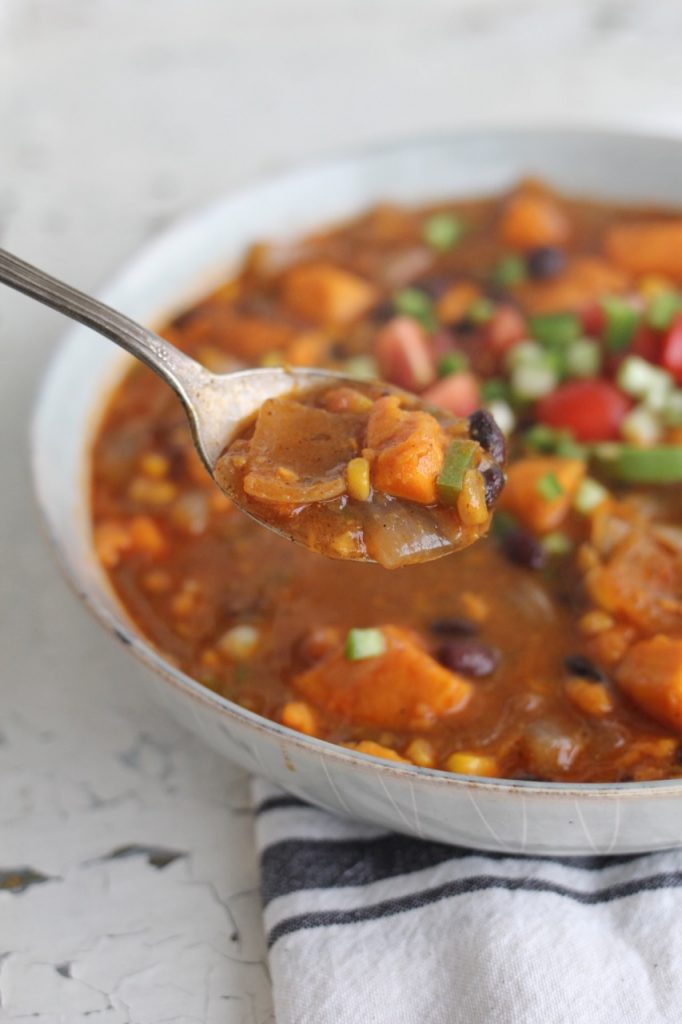 Hearty and Happy
If you are into meatless meals, this is the perfect dish for you. And those in your home who usually want meat in their chili won't miss it in this hearty dish! The sweet potatoes are more than filling and will satisfy even the pickiest eaters. I purposely made this dish mild on the spice meter, so it would be appealing to families with young kids. If the kids are happy, everyone's happy. If you like your chili with a little more of a kick, go ahead and add a jalapeño or two! Either way, this dish has plenty of favor with or without the extra spice. I hope you love this healthy and tasty way to serve sweet potatoes and black beans!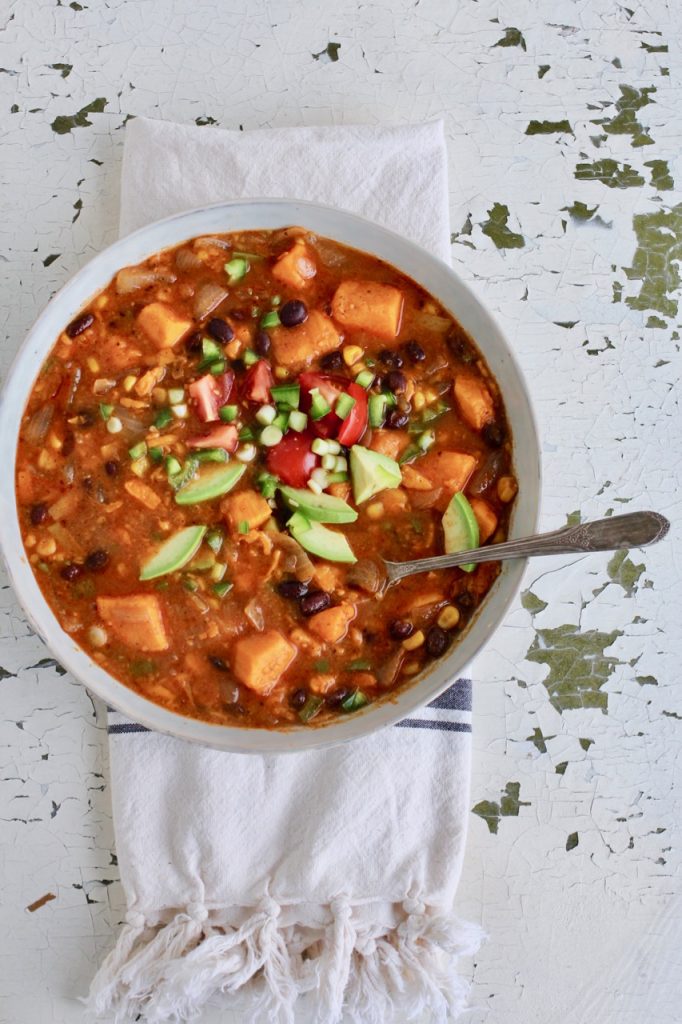 Instant Pot Sweet Potato and Black Bean Chili
Hearty and healthy, this Instant Pot Black Bean Chili will satisfy everyone at the dinner table!
Ingredients
2

large sweet potatoes or about 4-5 cups

2

tablespoons

olive oil

2

cups

or 1 large onion

white or sweet onion, peeled and cut into chunks

1

large Anaheim pepper

seeded and chopped

1

Jalapeño pepper

chopped (seeded if desired, optional)

2

teaspoons

coriander

1

teaspoon

cumin

1

tablespoon

chili powder

1/2

teaspoon

ground black pepper

or more to taste

1

clove

garlic or 1/2 teaspoon garlic powder

1/2

teaspoon

kosher or sea salt

1

cup

frozen corn

yellow or white

1

cup

cold water

2 14-15

oz

cans black beans

drained and rinsed with cold water

2

tablespoons

tomato paste

16-32

oz

chicken or vegetable broth

salt to taste

garnishes: chopped avocado or guacamole, sliced olives, grated cheese, sour cream or Greek yogurt, tortilla chips
Instructions
Turn the Instant Pot on to SAUTE setting. Check lid to make sure rubber ring is inserted correctly in lid and dial on out side of lid is set to SEALING position. Set aside side while IP is heating.

Peel and cube sweet potatoes into one inch pieces carefully (they are extremely hard when not cooked and difficult to cut) and set aside in bowl.

Pour olive oil carefully to the pot. Add chopped onion, coriander, cumin, chili powder, black pepper, garlic and salt. Saute for about 4-5 minutes until onions are softened. Add corn and saute an additional 2 minutes. Remove ingredients in IP to a bowl and set aside. Do not clean out the Instant Pot insert.

Turn off Sauté setting. Add chopped sweet potatoes, about 1/2 teaspoon of salt and 1 cup of cold water. Place lid on top of Instant Pot and set to locked position. Check to make sure lid is in the SEAL position.

Set the timer on the IP to 4 minutes MANUAL or HIGH PRESSURE.

While sweet potatoes are cooking, drain and rinse the black beans using a colander over the sink.

When timer is finished, carefully release the pressure in the Instant Pot. When all pressure is manually released, remove lid and add cooked onion mixture and tomato paste, stir to dissolve. When mixed well, add black bean, 16 oz of chicken broth and chopped Anaheim and Jalapeño if using. Set the Instant Pot to the SAUTE setting again and let simmer until all ingredients are hot. Add additional broth to desired consistency.

Add salt to taste, serve immediately, or leave in the IP on the KEEP WARM setting until ready to serve.

Serve with toppings: Tortilla chips, avocado, chopped tomato, cheese, sliced olives, sour cream or Greek yogurt.