Have you ever cooked a whole chicken? The Instant Pot is your ticket to easy home cooked rotisserie chicken! This recipe for Instant Pot Whole Rotisserie-Style Chicken will be your new go-to recipe for roasting moist and tender chicken right in your home.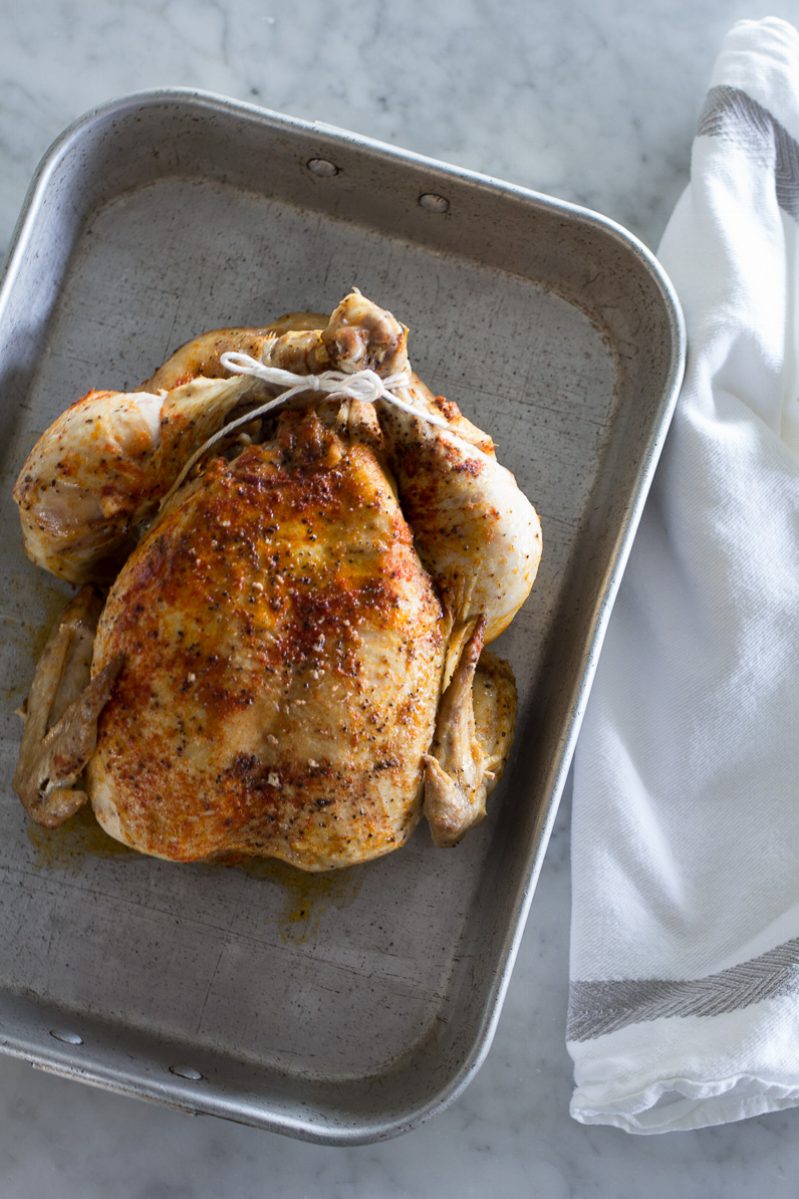 How many times have you been in the grocery store at dinner time and purchased a rotisserie chicken for a quick and easy dinner? Once you learn how to make Instant Pot Whole Rotisserie-Style Chicken, you'll be able to purchase a whole chicken and "roast" it at home in your Instant Pot! I want to know exactly what is in the food I serve my family, and rotisserie chicken is no exception. When was the last time you took a look at the ingredients on a store bought rotisserie chicken? Yikes! A long list of ingredients you may not be able to pronounce will most likely be staring you in the face. This recipe can be made with any whole chicken, a few seasonings and a little olive oil! Let's get started…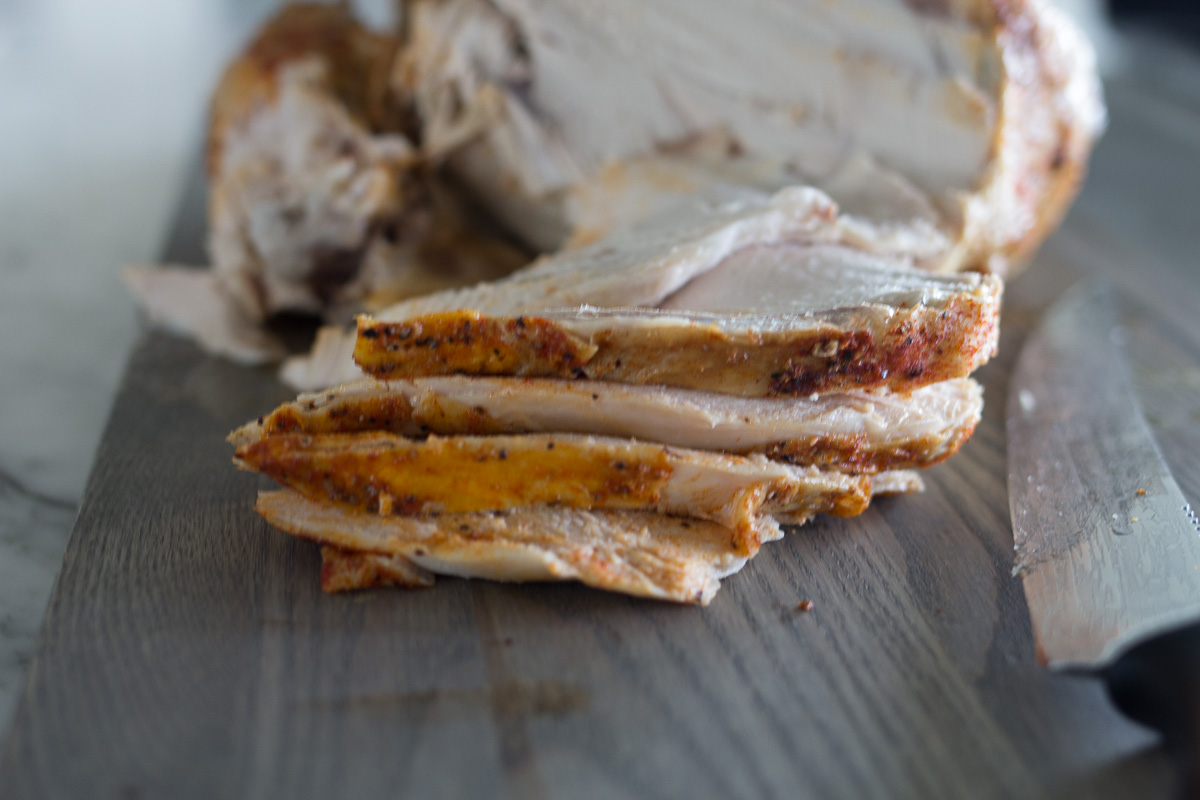 Seriously Quick and easy
As quick as you can say Rotisserie Chicken, you can cook one in your Instant Pot! We think of a rotisserie chicken as being a quick-fix to our dinner dilemmas, but with a little advance planning, you can pull a fresh or frozen whole chicken out of the freezer and cook Instant Pot Whole Rotisserie-Style Chicken in minutes, and I guarantee you, the results will be tastier and healthier than that pre cooked chicken in a warmer next to the checkout line!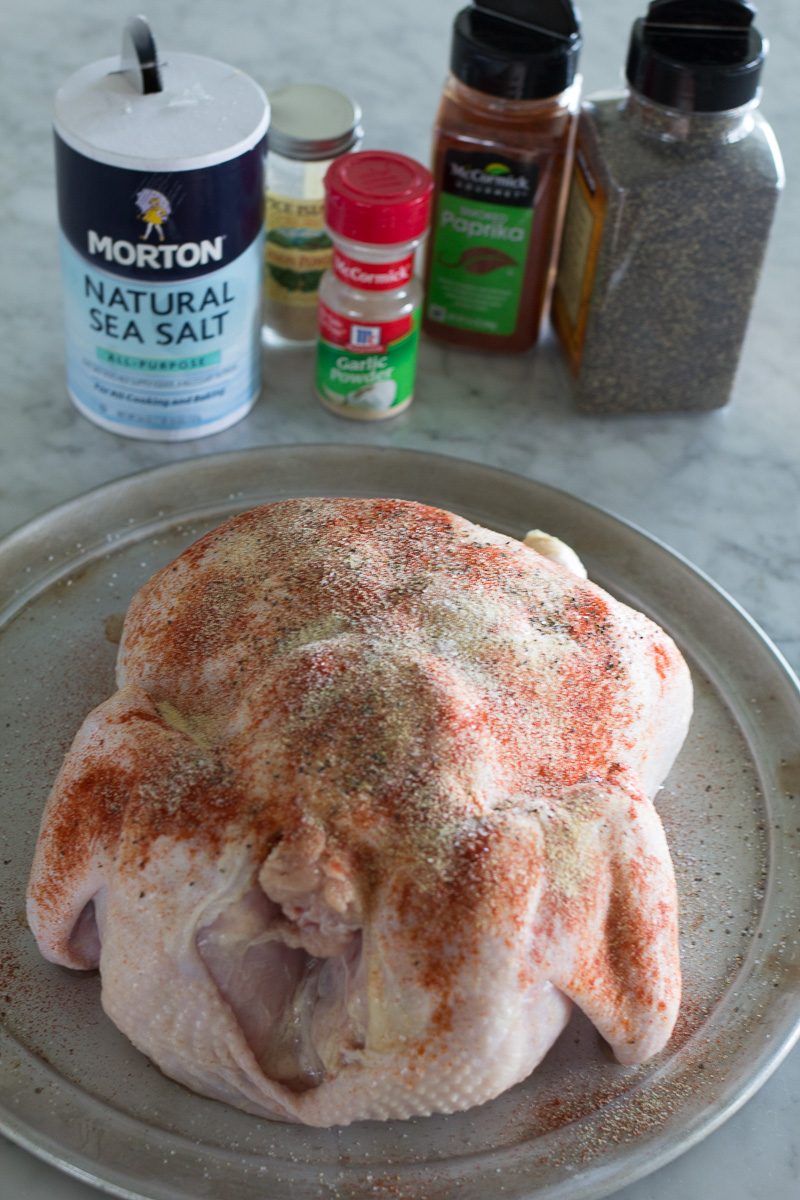 I can't believe I ate the Whole Chicken…
If you don't eat the whole chicken, this recipe is perfect for leftovers! I love to cook a whole chicken, serve it for dinner and then bag up the leftovers, label and freeze for a meal later in the week or month. Chopped or sliced whole rotisserie-style chicken is perfect for chicken quesadillas, family style chicken tostadas, or for use in chicken soups or chicken casseroles. If you're looking at the plump chicken (above) and wondering about the size, this one is particularly large. It was a organic whole chicken it weighed about 6-7 lbs total.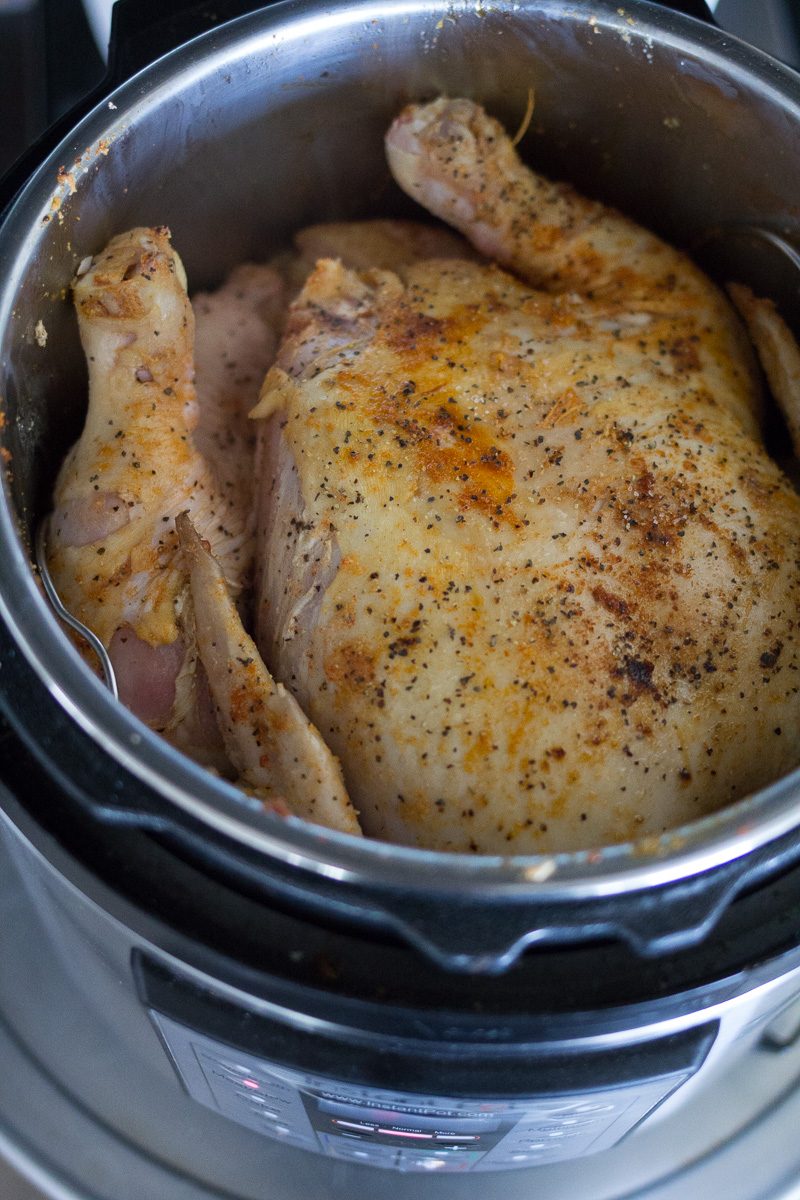 Whole or halfsies
This recipe not only works for whole rotisserie-style chicken, but also for chicken pieces. If you don't want to deal with a whole chicken and all that comes with pulling or cutting chicken off of the bones, this recipe also works like a charm with a combination of chicken breasts, thighs, wings with or without bones or skin. Weigh out about 5 -7 lbs of chicken, and follow recipe directions. Brown the chicken pieces in two or three batches, allowing chicken to brown on each side (see recipe for instructions).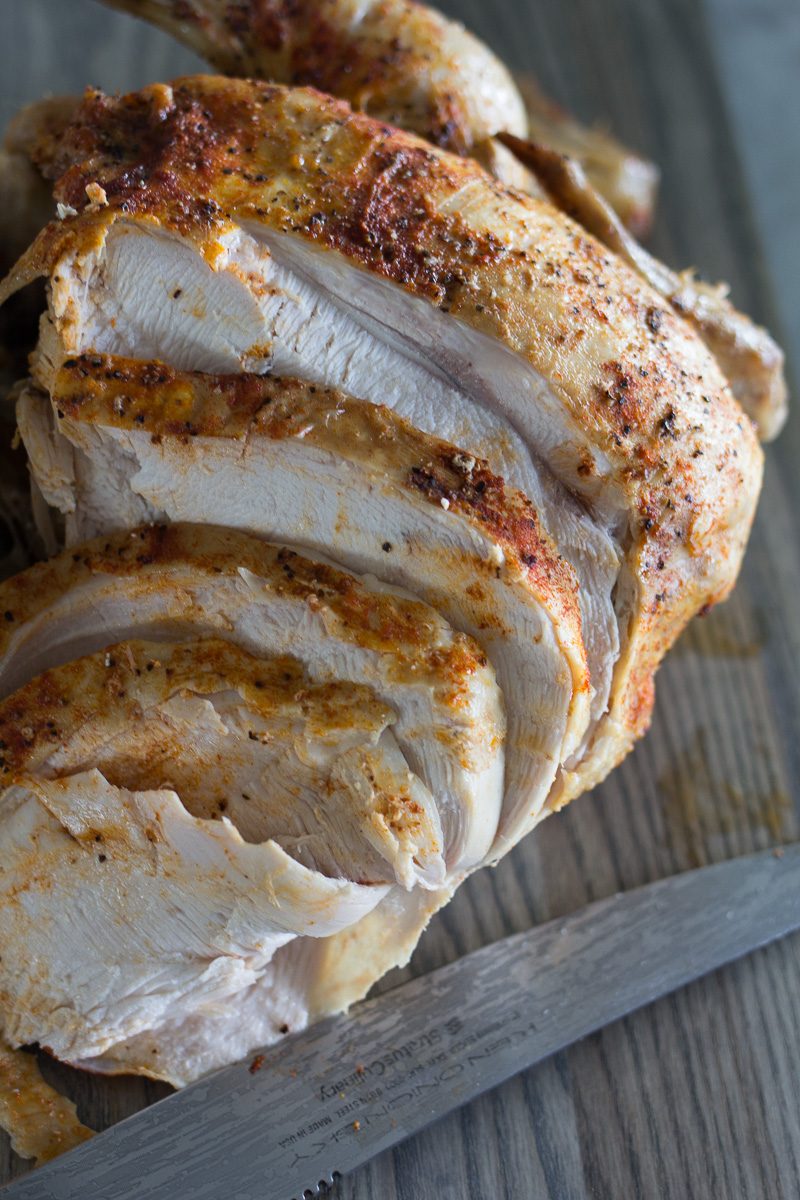 don't forget the bones!
When cooking an Instant Pot Whole Rotisserie-Style Chicken, make sure to save the bones for making chicken broth, which is perfect for homemade chicken noodle soup. There is nothing like the flavor of real bone-flavored broth! If you don't have time to make broth after cooking the chicken, place the bones in a Ziplock bag and freeze until ready to use. When you're ready to make broth, place the bones frozen or out of the fridge into a pot of cold water, about 4-6 quarts of water and heat until boiling. then simmer for about an hour. Strain and use the broth in cooking or freeze for later use.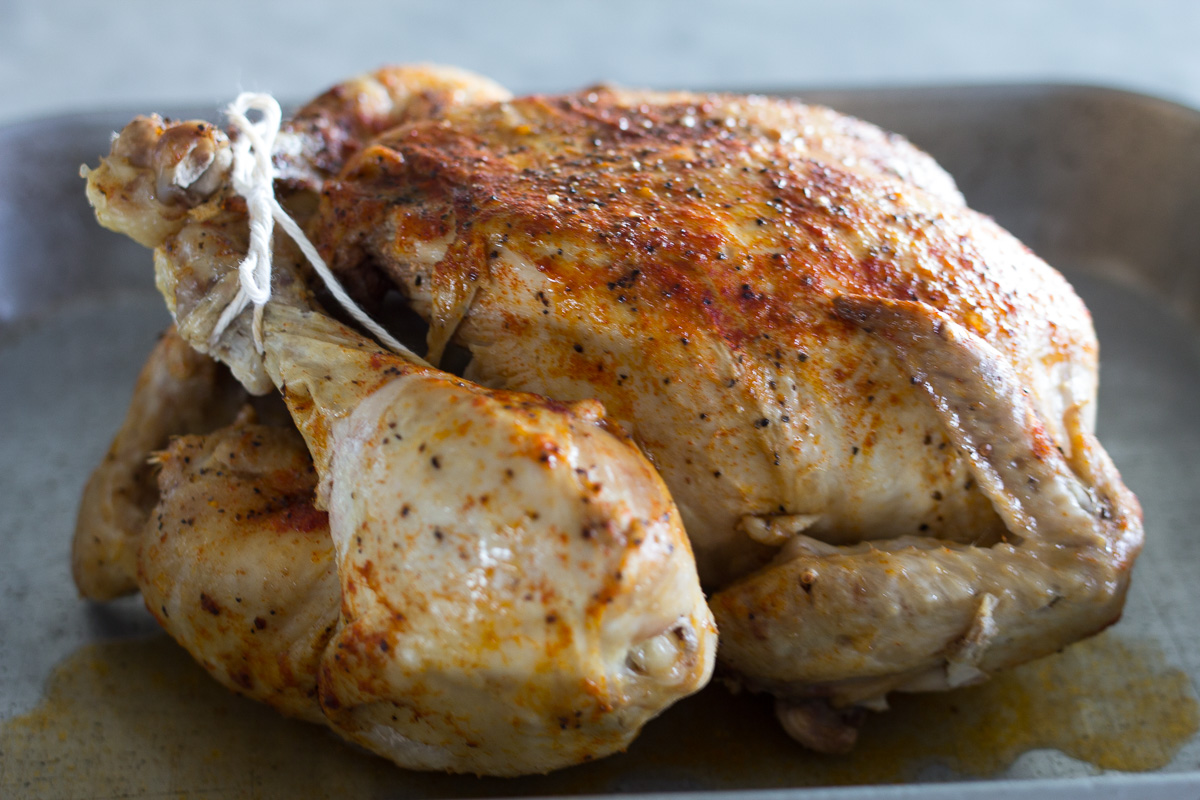 Instant Pot Whole Rotisserie-Style Chicken
Ingredients
1- 5-7

lb

whole chicken

coarse sea salt and pepper

about 1 tablespoon each

1

tablespoon

paprika

1

teaspoon

onion powder

1

teaspoon

garlic powder

olive oil for cooking

1

cup

chicken broth

more if making chicken gravy

bakers twine*
Instructions
Turn on Instant Pot to Saute Setting.

Mix together in a bowl and set aside: sea salt, pepper, paprika, onion powder, garlic powder.

Wash and remove any packaging and extra chicken parts form inside of whole chicken. Pat dry with paper towels and rub all of the seasoning onto the chicken.

Tie together the legs of the chicken. You may also tie the wings to the body of the chicken if you like, this will help the chicken cook more evenly and keep the wings moist.

Pour the oil into the heated Instant Pot.

Brown the chicken in the hot oil in the Instant Pot, turning after about 3 minutes or when chicken is golden brown on both sides.

When chicken is browned, remove from Instant Pot. Place the chicken on the steam rack and lower back into the Instant Pot.

Add one cup of chicken broth to the Instant Pot, around the sides of the chicken.

Place lid on pot with sealing ring in place and lock the lid into place. Make sure the lid is set to the "sealing" position.

Using the manual setting, cook chicken for 25 minutes. After the timer goes off, allow the pressure to natural release for about 15-20 minutes.

Use pot holders to remove chicken by lifting the handles of the steam rack and place the chicken on a serving platter or cutting board. Let the chicken rest for about 5-10 minutes to allow the juices to set up.

Slice the chicken and serve.

The liquid in the bottom of the pan may be used to make gravy.

To make gravy:

Turn the Instant Pot to the saute setting, add about 2-3 tablespoons of butter. Whisk until melted. Add 3 tablespoons of flour and whisk until smooth. Add 2-3 cups chicken broth a little at a time, while whisking. Add salt and pepper to season.

Set the Instant Pot to the slow cooker mode to reduce heat.

Taste gravy, if needed, add concentrated chicken flavoring such as bullion cubes or paste.

Serve with chicken.
This post includes affiliate links.