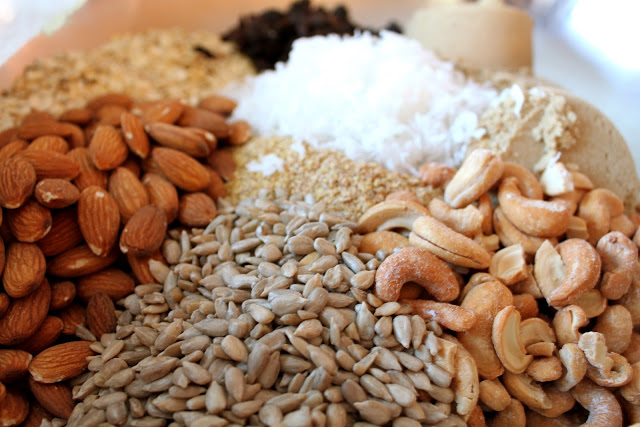 Karen's Peanut Butter and Cashew Granola is  legendary in our neighborhood. We LOVE it at our house. Sprinkled over granola with some fresh fruit. Love it on any type of Greek yogurt. I know this granola is not particularly healthy, but hey, it's better than a brownie for breakfast.
It takes just a few minutes to throw together, then a couple of large baking sheets in the oven. A little bit of cooking time, depending on how crunchy you like it. It keeps for weeks stored in canisters or Ziploc bags, if you can help yourself from taking a handful every time you walk by…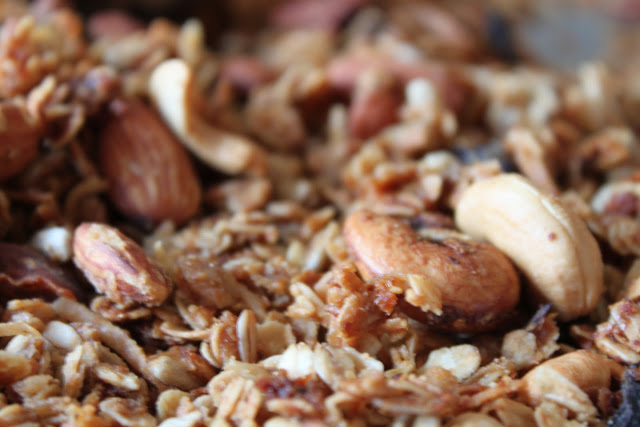 Karen's Peanut Butter and Cashew Granola
Karen Hilton
Ingredients
8

cups

old fashioned oats

1 ½

cups

brown sugar

1 ½

cups

wheat germ

8

oz

coconut

8

oz

salted pecans or almonds

8

oz

cashews

8

oz

sunflower seeds

shelled

1

cup

raisins

optional

½

cup

water

½

cup

vegetable oil

½

cup

honey

½

cup

peanut butter

2

teaspoons

vanilla
Instructions
Preheat oven to 300 degrees.

Mix together first 8 ingredients in a large bowl or other container.

Put the rest of the ingredients in a saucepan and stir. Bring to a boil. Pour this over the dry ingredients and stir. Spread on 2 large cookie sheets, and bake for 1 ½ hours, stirring about every 20 minutes.

Cook until the granola is done to your desired (crunctaste.