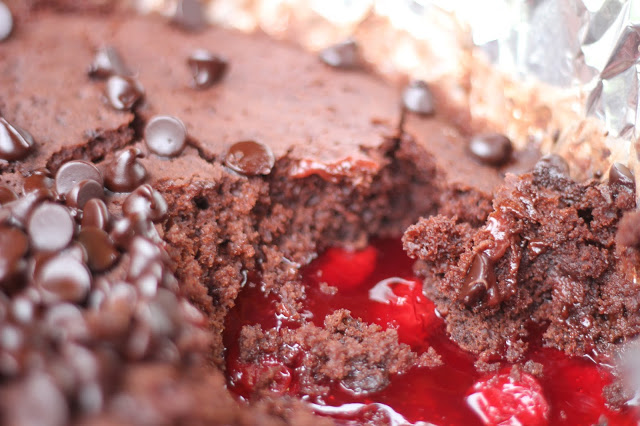 We purchased our Dutch ovens about twenty years ago, with the thought in mind we would use the Dutch ovens for cooking in the wilderness.
Grant is a big time: camper/hiker/backpacker/bowhunter/all around guy's guy. Whatever that means. He loves anything that has to do with the out-of-doors. Me, on the other hand…
Well.
Let's just say a couple of days at our cabin fills my quota for getting in touch with nature.That said, once every three or four years, I dust off the Dutch ovens and channel my inner pioneer.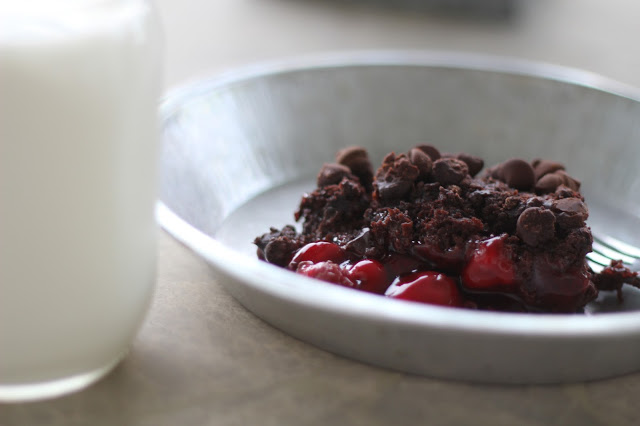 While I was at Stake Girl's Camp last week, my new friend Kash (who I was privileged to work with in the kitchen) provided this recipe and all of the ingredients (right down to the briquettes) for all the Young Women and their leaders at camp. Yikes. That was a lot of work. Thanks Kash.
The recipe was a winner! Everyone loved the gooey, rich, chocolaty-cherry dessert. It takes about two minutes to throw in the Dutch oven and cooks in about 30-40 mins. We made this at our cabin for the Fourth, and everyone loved it. I also made Kash's Red Raspberry Dutch Oven Cobbler
Get on your pioneer. You'll love this dessert.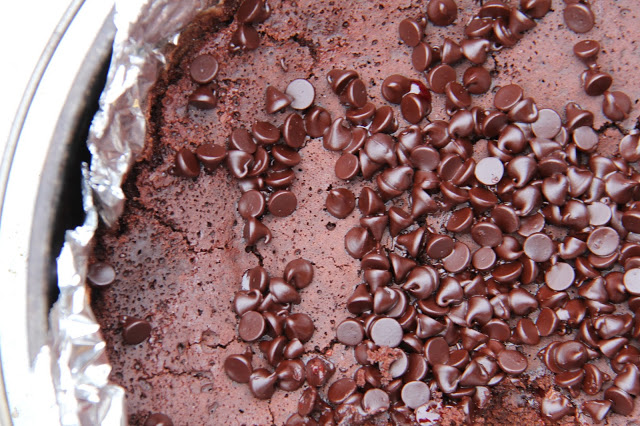 Kash's Black Cherry Chocolate Dutch Oven Cobbler
Ingredients
one 12-14 inch dutch oven

2

cans cherry pie filling

1

box Devils Food Cake

1-12

oz

can Black Cherry Soda

I used Shasta

1-12

oz

bag chocolate chips

semi sweet or milk

heavy duty foil

optional
Instructions
About 1/2 hour before cooking:
Heat briquettes in chimney for 15-30 minutes until briquettes turn white. Directions here.

Line the dutch oven with heavy duty foil*. Spray foil lightly with cooking spray.

Spoon cherry pie filling into foil lined pan. Sprinkle dry cake mix evenly on top of fruit.

Pour Black Cherry Soda over dry cake mix. Mix gently with fork so the soda doesn't mix too deep into the cherry layer. Don't worry about mixing too much, the moisture will even out during baking.

Place the dutch oven lid on.

Place 7-10 coals below the oven, and 16 coals on top of the oven in a circular fashion.

Bake 25-35 minutes for a 14 inch oven and 30-40 for a 12 inch oven.

Check after about 15 minutes. When cake is done, remove from heat and sprinkle with chocolate chips. Place lid back on and allow chocolate to melt. Serve warmwith cream or ice cream.
Recipe Notes
-Dutch Oven purists will probably frown upon the use of foil to line the pan. I say easier is better while camping. You may make this dessert without lining the pan, but be prepared to clean up a sticky mess off the bottom of the pan 🙂
-I suggest preparing this dish before dinner. After the cobbler is done cooking, remove from heat. It will keep warm for at least a couple of hours with the lid on.
-When we first started Dutch oven cooking, we (I use the term "we" loosely) thought if 10 coals on the bottom were good, 20 were better. Not so. If the recipe calls for 10 on the bottom and 16 on the top, follow the recipe suggestion. Or you'll have blackened cobbler.
-When baking in a Dutch oven, more of the coals should be on top (or on the lid) of the oven to prevent burning the bottom of the dish.
-Briquettes vs other brands- Kash only likes to use Kingsford. I agree. We have experimented with other brands, Kingsford is best.
I used a 12 inch Dutch Oven to make this dish. I highly recommend the Lodge brand, which we have had for years. They'll outlast any camper 🙂