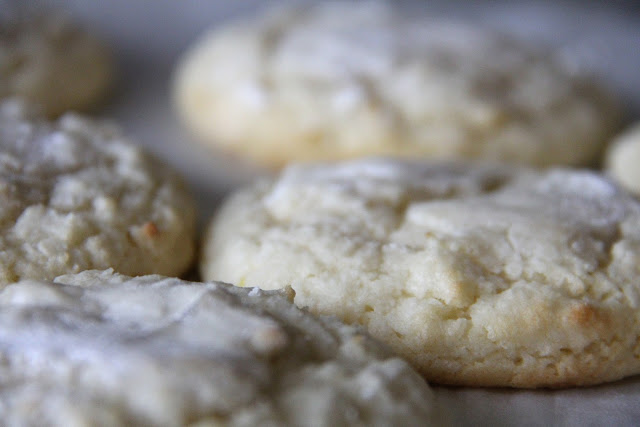 Day three of our
CCE
; Lemon Crinkle Cookies won the
LDS Living Best Cookie Recipe Contest
in 2011. If you are baking for a lemon lover, they'll love this treat. Some people say you either are a chocolate or lemon lover.
Really?
It's like choosing which child is your favorite.
Always a fun discussion to have with your children.
Oh reminder, Christmas is 20 days away!
You're welcome.
Happy baking 🙂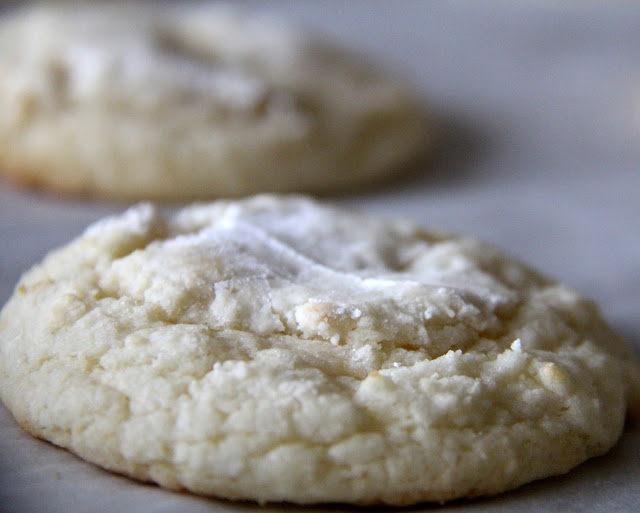 Lemon Crinkle Cookies
Ingredients
½

cup

unsalted butter

softened

1

cup

granulated sugar

½

teaspoon

vanilla extract

1

whole egg

1

tablespoon

lemon zest

1-2

tablespoons

fresh lemon juice

¼

teaspoon

salt

¼

teaspoon

baking powder

⅛

teaspoon

baking soda

1 3/4

cup

cake flour

1/4

cup

powdered sugar
Instructions
Preheat oven to 350 degrees (I use the convection setting).

Grease light colored baking sheets lightly with non-stick cooking spray and set aside. Or use parchment lined baking sheets.

In a large bowl, cream butter and sugar together until light and fluffy. Whip in vanilla, egg, lemon zest, and juice. Scrape sides and mix again.

Stir in all dry ingredients slowly until just combined, excluding the powdered sugar. Scrape sides of bowl and mix again briefly.

Pour powdered sugar into a bowl.

Roll a heaping teaspoon of dough (I use a 1 ½ inch cookie scoop) into a ball and roll in powdered sugar.

Place on baking sheet and repeat with remaining dough.

Bake for 8-9 minutes* or until bottoms begin to barely brown and cookies are set.

Remove from oven and let cookies cool completely.
Tips:
*If using a non-stick darker baking tray, reduce baking time by about 2 minutes.
-The original recipe calls for 1 ½ cups all pupose flour. I baked these several times and found the cookies were not as puffy as I would like. We live at about 4400 ft above sea level and have to add additional flour to achieve a cookie that is not completely flat after baking. I tried adding additional all purpose flour, but found using a total of 1 ¾ cups of cake flour produced the result I wanted- a cookie that was still chewy and moist, but not flat.
-If you are baking in an oven that is a professional model (Wolf, Viking, etc) made for home use, bake at 325 convection, 6-7 minutes.
-My friends Jo, Diane and Nan made a recipe similar to this for a shower in our neighborhood. My other friend Jo (yes two friends named Jo) made lemon sorbet to go with the lemon cookies. YUMMY. Click on their names for links to some truly wonderful recipes 🙂