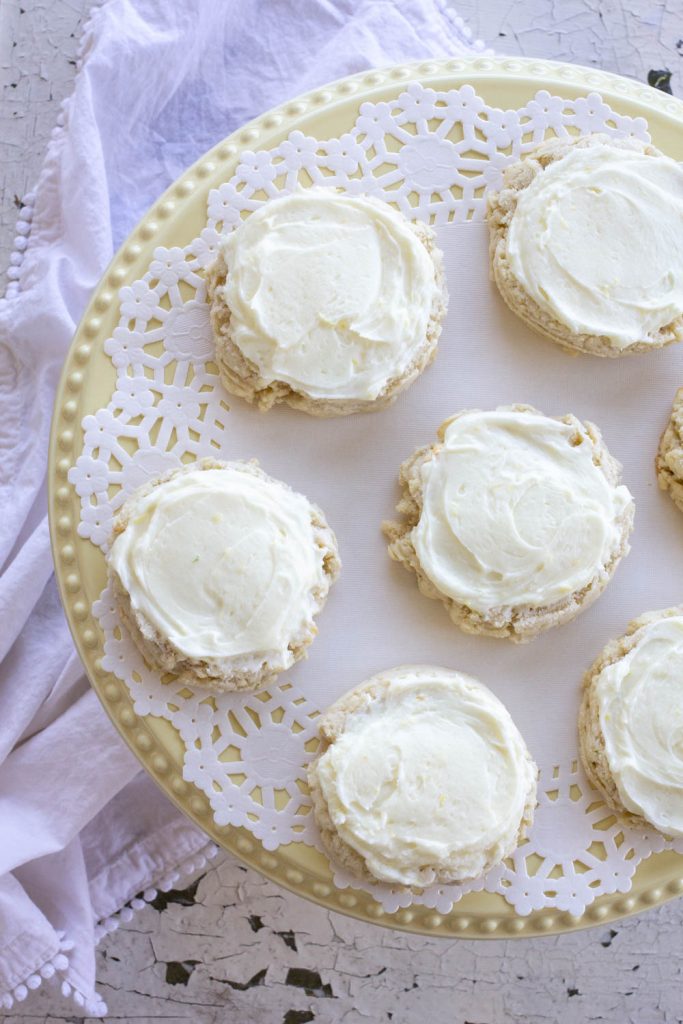 Originally posted in 2014, the Lemon Lime Swig Cookie recipe has been updated with new recipe content and photos.
This version of my Swig copycat cookie is a bit of citrus heaven! The Lemon Lime Swig Cookie is everything you love in a Swig cookie, but with a fresh twist… lemon juice and lime zest! Everyone who tries this cookie loves it and many have told me they prefer this to my traditional original Almost Swig Cookie.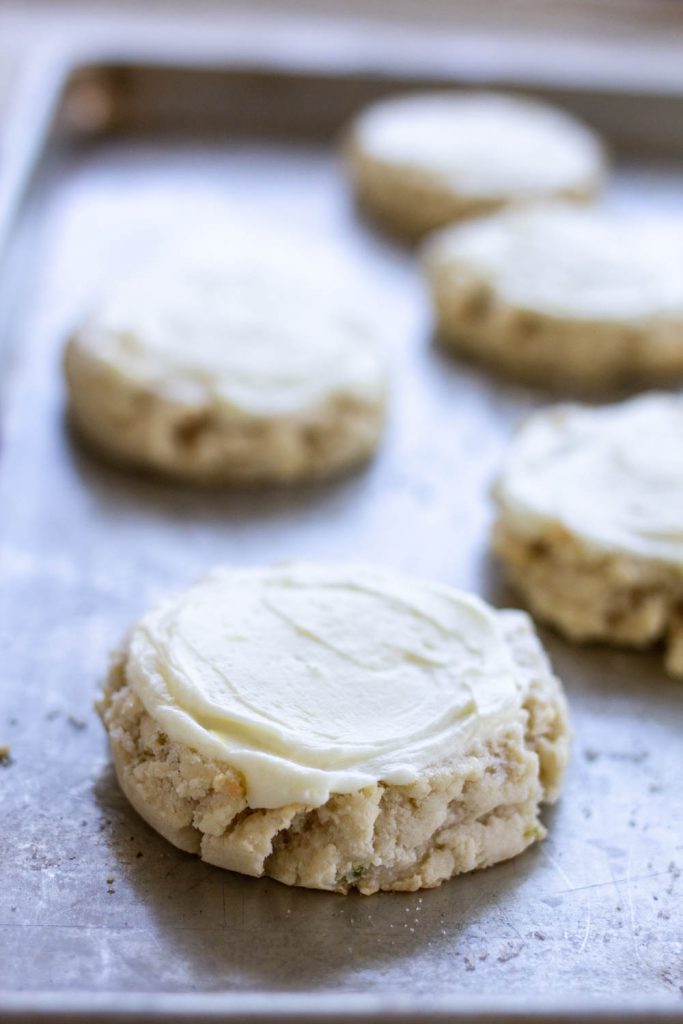 Have you made ABK's (Almost) Swig Cookies? Or my chocolate version of the Almost Swig, The "Swagg Cookie" ? If so, you are an old pro at making this type of cookie.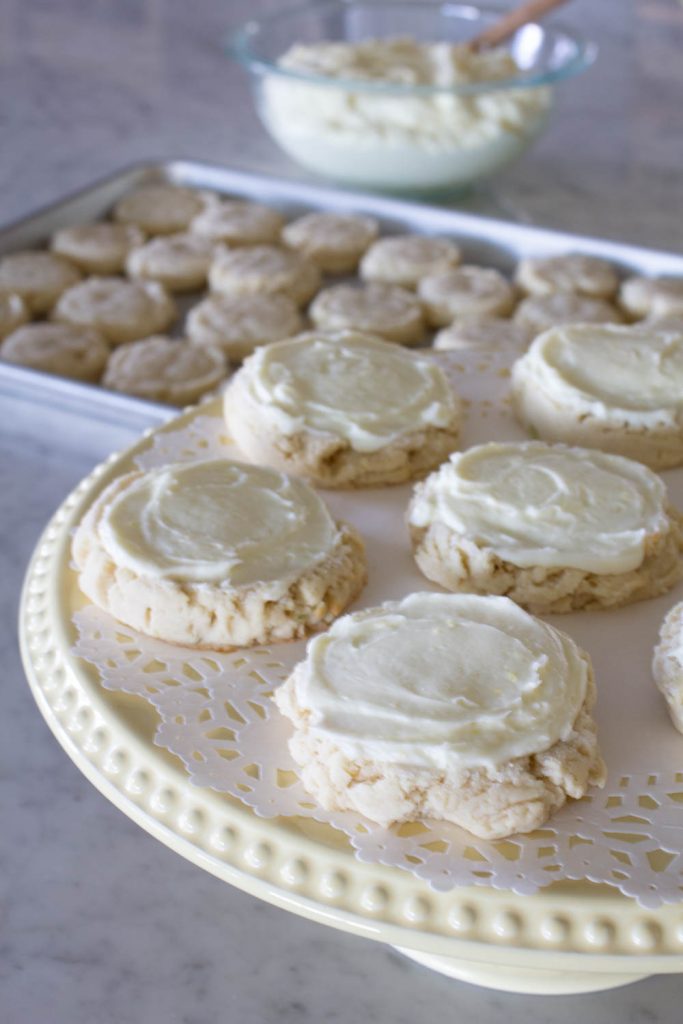 If  you're looking for a fun new way to celebrate spring, try this Lemon Lime Swig Cookie! It tastes like spring in a cookie. Fresh, light and bursting with citrus flavors, this cookie is the perfect compliment to any meal.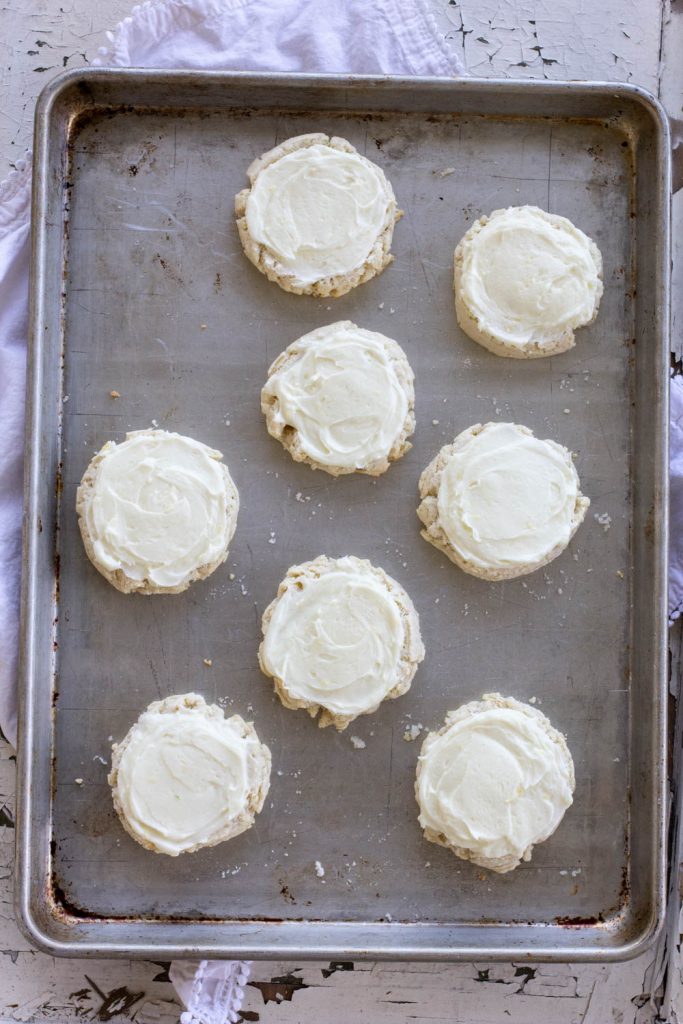 Years ago my sister in law, Diane, asked me about a dessert suggestion for a dinner with a Mexican-theme menu. I suggested she try adding some lime or lemon to the Almost Swig recipe for a treat that would compliment her meal. I was so intrigued with the idea that I decided to experiment at home so I could share a recipe with you.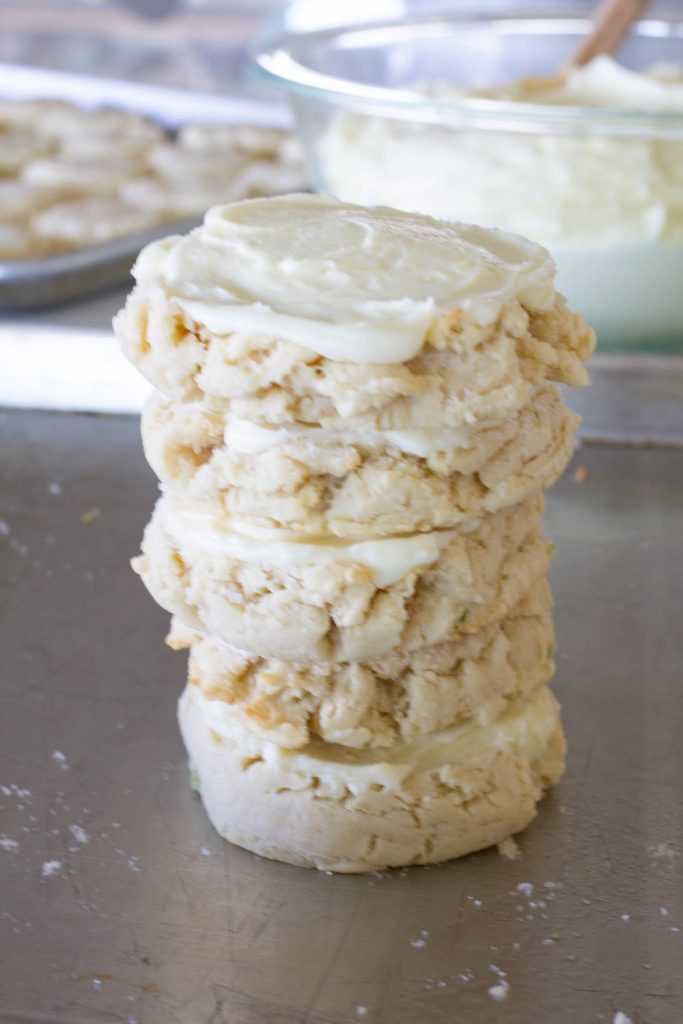 I tried putting lemon and lime in the frosting, but didn't love the way the frosting looked with flecks of green. So I grated a bit of lime zest in the cookie dough, then made a fresh lemon and sour cream frosting to top off the cookie. Oh my. This Lemon Lime Swig Cookie is out of this world delicious.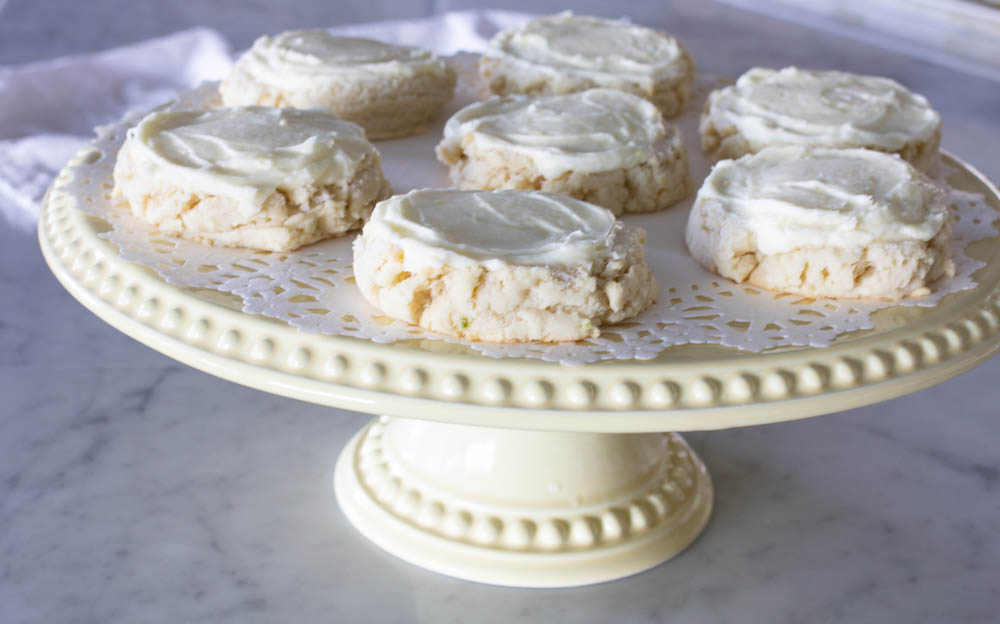 Using fresh vs bottled lemon juice is a game changer in this Lemon Lime Swig Cookie recipe.  The difference between bottled lemon juice and fresh squeezed, especially in frosting is kind of like the difference between a can of orange flavored juice and a glass of fresh squeezed OJ.  Oh, don't worry you won't need 20 lemons (photo below), one lemon will do!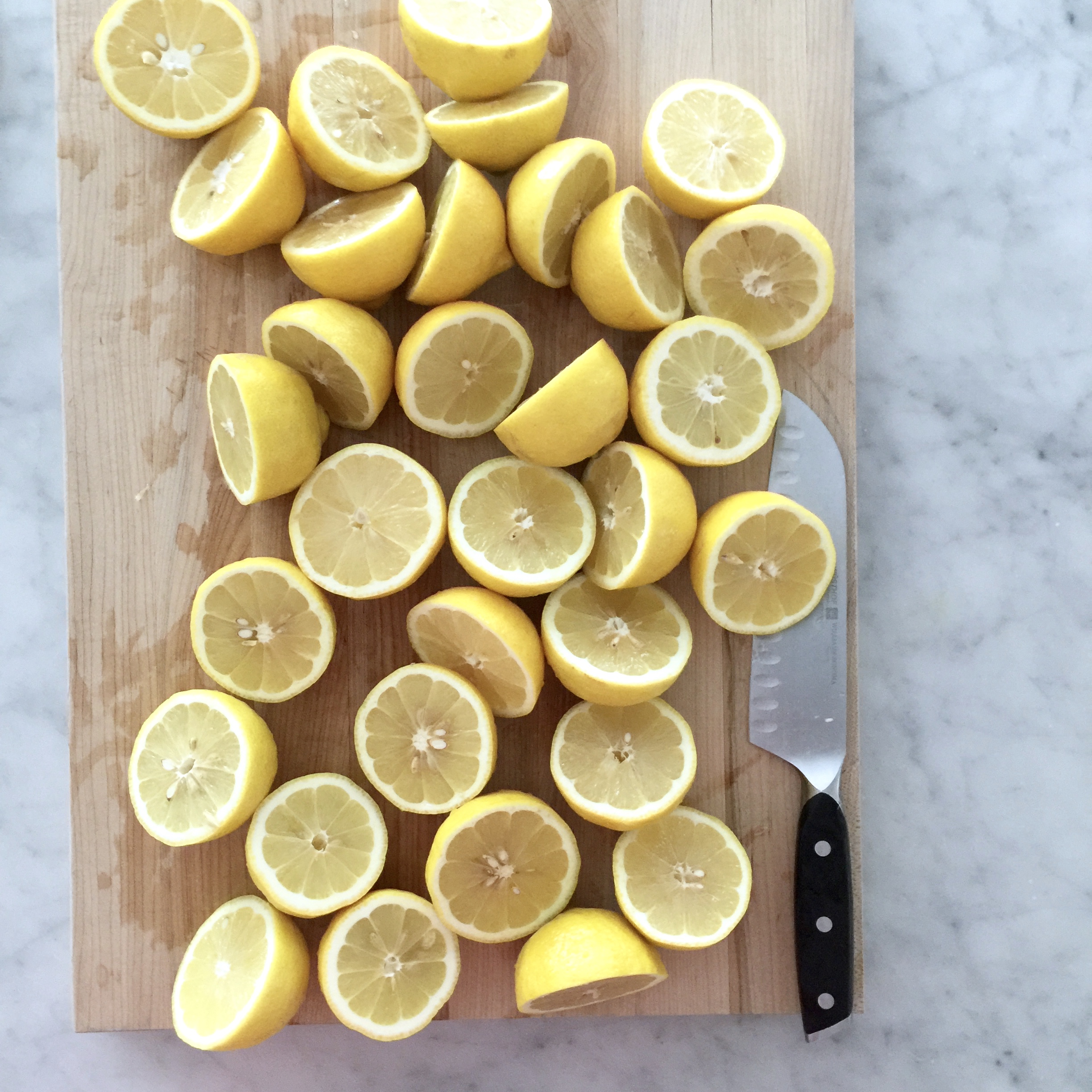 After several test batches, the cookie was ready for sharing. I gave the cookies to several friends and neighbors for review. Taste tester comments ranged from "OMGOSH WHAT IS IN THIS COOKIE??!!!!!!" to "Best cookie I've ever eaten".  Over and over again people have told me this is their  'top of the list'  favorite version of my Swig-style cookies! The grated lime zest and fresh lemon juice sets this apart from other citrus flavored cookies I've tried in the past. I know you're going to love baking up this Lemon Lime Swig Cookie.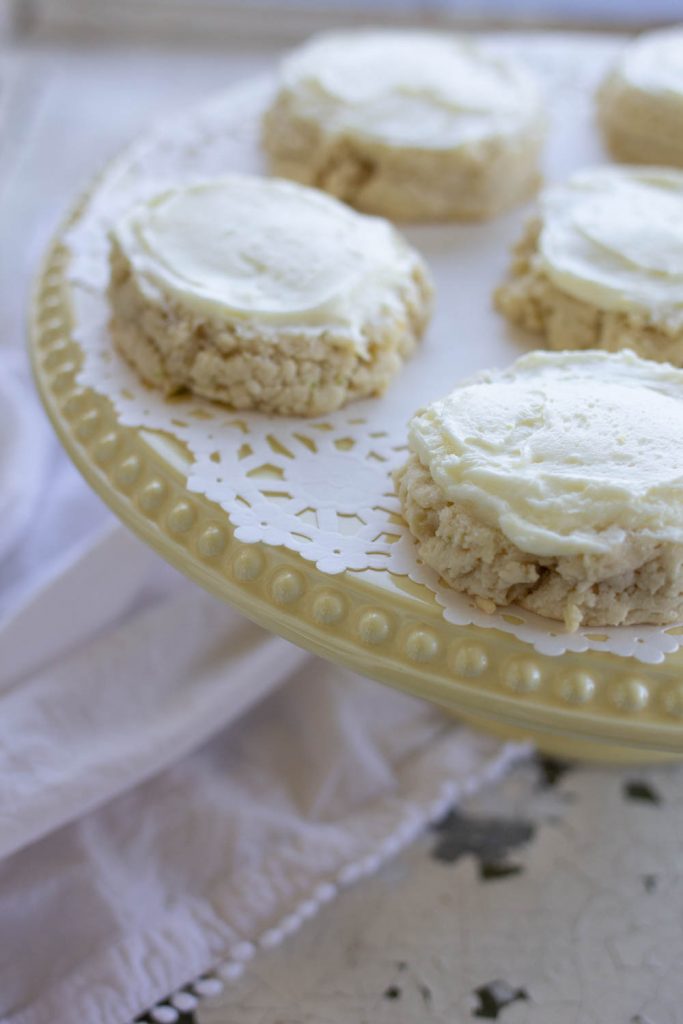 Lemon Lime Swig Cookie
This lemon-lime variety of the potular Swig cookie sold in Utah is over the top delicious! It is loaded with citrus flavor- tart and sweet at the same time!
Ingredients
dough:
1/2

cup

unsalted butter

1/2

cup

canola or vegetable oil

1

cup

sour cream

zest from one to two limes

grated fine

1 1/2

cup

granulated sugar

1

teaspoon

almond extract

or vanilla

4 1/2

cups

all purpose flour

1

teaspoon

baking powder

1

teaspoon

salt

sugar for top of cookies
frosting:
1/2

cup

butter

room temperature

2

tablespoon

sour cream

4

cups

powdered sugar

3

tablespoons

fresh lemon juice

zest from one lemon

grated fine

dash of salt

1

drop yellow food coloring

1-2

tablespoons

milk**
Instructions
Preheat oven to325 convection or 350 regular bake.

Take butter out of refrigerator and microwave for about 15 seconds. Place butter, oil, cold sour cream and lime zest in a mixing bowl. Mix for about one minute. Add sugar and almond or vanilla flavoring, mix until smooth. Add all dry ingredients at once. Mix just until flour disappears and the mixture comes together in a ball of dough, less than a minute on very low speed.

Spray the cookie scoop with a little cooking spray. Scoop the dough onto a cookie sheet. I use either a 1 3/4 inch or a 2 inch scoop. A two inch scoop will produce a cookie similar in size to the Swig cookie. If you don't have a cookie scoop, roll the dough into a ball about the size of a golf ball.

Place about 1/4 cup sugar into a small bowl.

Spray the bottom of a glass with cooking spray then dip the glass bottom into granulated sugar. Lightly flatten the cookies with the bottom of the glass. Press the cookies so they are flattened a bit, twisting the glass as you press to produce a jagged edge.

Bake cookies in oven for about 10-12 minutes or until edges are lightly golden and cookies are slightly firm to the touch. Remove from oven, let cool. Place the cookies in the fridge and chill.

Prepare the frosting: Beat together the butter, sour cream, powdered sugar, lemon juice, zest and salt. When all ingredients are incorporated, add the drop of food coloring and milk if the frosting needs to be thinned. Frost after the cookies are completely chilled.

Makes about 18 large cookies.
Recipe Notes
-If you want the cookies to taste more like the Swig cookies make this adjustment to the dough:omit the almond flavoring and reduce the sugar to 1 cup. I prefer the cookies to be a bit sweeter, so I liked 1 1/2 cup of sugar in the dough.
-I use a microplane grater to grate the zest.
-The Swig cookie is frosted with quite a thin layer of frosting. I prefer my frosting to be a bit thicker. If you want to frost the cookie with a thinner frosting, add about 3-4 tablespoons of milk to the frosting.
-This cookie stays quite well in the fridge for two weeks if kept in an air tight container. I almost always have a cookie sheet filled with these in my fridge for emergencies 🙂 They taste as good after two weeks as they do on the day they are made.