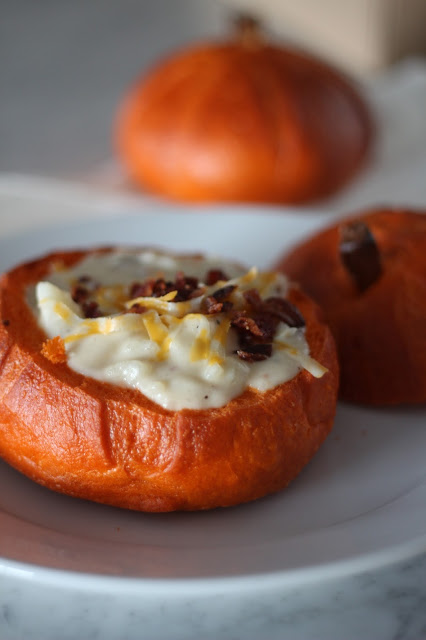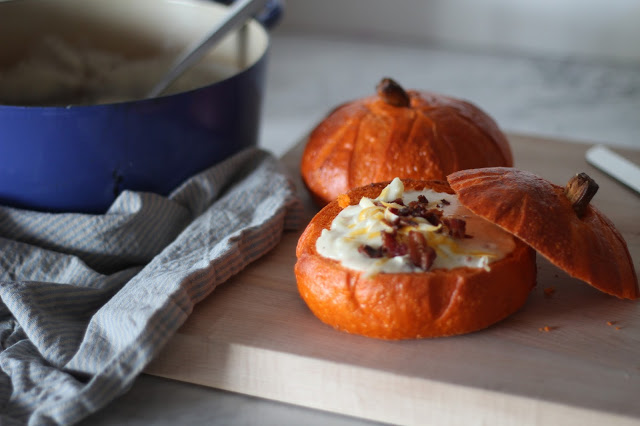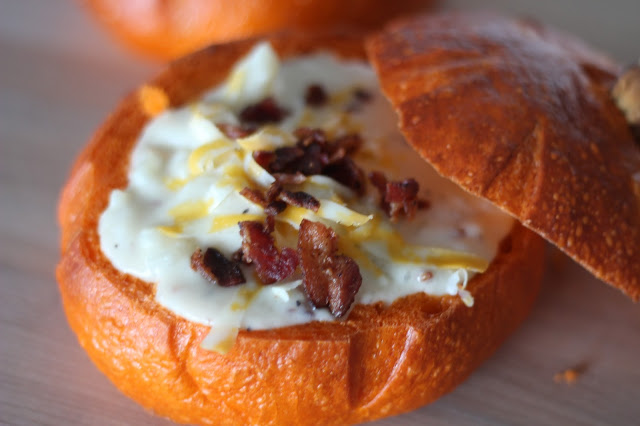 This Loaded Baked Potato Soup in Bread Bowls is the perfect meal for your trick or treat night! It's always easier to get your kids to eat on Halloween night if you have a tradition of making something fun to eat. I love this Loaded Baked Potato Soup because it's a quick, easy, filling and delicious. You can load it up with extra toppings, or serve it straight out of the pot.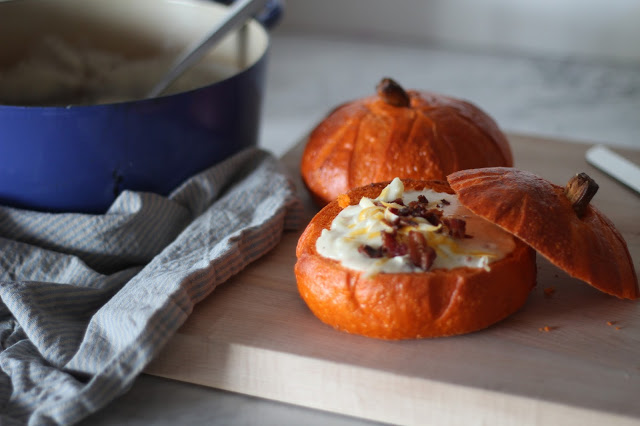 I found these cute bread bowls at Harmons Grocery in Farmington, if you don't live close to Harmons, you can pick up any type of small loaf artisan or french bread and carve out the middle. I loved the Harmons loaf, it was a bit more dense than other bread bowls I have purchased, which was perfect for holding a thick rich bowl of soup. We used the carved out pieces for dunking in the soup. Mmmmmm. So good.
Don't you love the little stem made out of pretzel?
Happy Halloween!
Ingredients
1/4

cup

butter

1/4

cup

flour

1/2

teaspoon

salt

1/2

teaspoon

pepper

1

cup

chicken or vegetable broth

2

cups

milk

plus additional for thinning soup

1

cup

cheese

2

cups

baked potato

scooped out or in chunks

1/4

cup

sour cream

crumbled cooked bacon

additional grated cheese

sour cream

chopped chives or green onion
Instructions
Melt butter in a stockpot over medium to medium high heat. Add flour, whisk and continue to cook for about two minutes, add salt and pepper. Whisk in broth. Stir until smooth. Turn heat to medium.

Slowly add milk, continue to whisk. Add grated cheese and whisk. Fold in cooked potato. Cook until bubbly and smooth. Just before serving, add sour cream. Heat until bubbly. Turn heat to simmer.

Scoop out bread bowls. Serve soup in bowls, add milk if the soup gets too thick.

Top with crumbled bacon, grated cheese, chives, and a spoonful of sour cream.

Serves 2-4, about 1 1/2 cup servings.
Recipe Notes
-I used potato that had been baked a few days earlier. I scooped the potato into a bowl and used the skins for baked potato skins. If you are baking the potatoes for this recipe, scrub the skins, bake the potatoes to use in this recipe. It is not necessary to peel the potato before chopping for the soup.
-This recipe may require more salt and or pepper depending on the amount of flavor in the broth.
-This recipe is easily doubled.
-I've seen bread bowls in Harmon's Dick's Market, Lee's Market and Smith's Grocery.