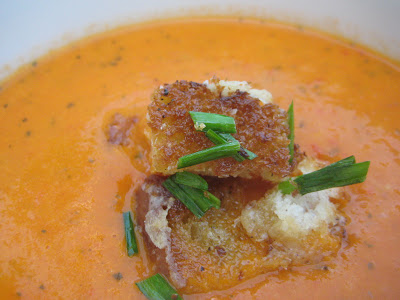 Martha's Fresh Tomato Soup with Parmesan Chive Croutons
My sweet friend Melanie gave me a big box of tomatoes fresh out of her garden yesterday. Joy! Happiness! More tomato toast! More BLT's! Now I can pretend it's still summer, and enjoy these gems.
I ate this tomato soup a few years ago at a Recipe Club dinner and loved it. It takes about 10 minutes to make. I tried the recipe at home, and it seemed to be missing something – it needed a yummy crouton.
I froze a few pieces of French bread I made a couple of weeks ago, so I pulled that out of the freezer, sliced it up (frozen) and threw it into a pan. After sautéing a few minutes in olive oil, I had some homemade croutons to serve with the most delicious bowl of tomato soup!
Martha's Fresh Tomato Soup
adapted from Martha Stewart
Ingredients
3

tablespoons

butter

3

tablespoons

olive oil

2

medium onions

chopped

4

cloves

garlic

1/2

cup

white grape juice

8

cups

chopped tomatoes

skins left on

1-2

teaspoons

kosher salt

1-2

teaspoon

fresh ground pepper

1

cup

fresh basil

chopped

1/4

cup

cream
Instructions
Melt butter in stock pot. Add chopped onion and garlic, cook for about 5 minutes, or until soft. Add white grape juice, tomatoes, salt, pepper and basil. Cook for another 5 minutes. 

Cool for about 5 minutes add cream if desired. Blend soup in batches using blender until all soup is smooth. Return to stockpot, add cream and heat just until warmed through. Serve with croutons.

Yield: 4-5 large bowls
Parmesan Chive Croutons
Ingredients
bread 2-3 slices

olive oil

grated parmesan

fresh chives

chopped (I used garlic chives)

kosher salt

pepper
Instructions
Cut up 2-3 pieces of bread, preferably a dense and crusty bread. I used leftover french, and it was still yummy.

Heat a non stick skillet using medium high heat. Add about 3-4 tablespoons olive oil. Toss bread in pan and cook for about 3-4 minutes. Season with salt and pepper. Sprinkle generously with grated parmesan, toss and add chopped chives.

Remove from heat and let cool. Top soup with croutons. This can also be cooked in the oven at 350 degrees for about 10-15 minutes or until browned. To cook in oven: toss all ingredients and place on foil lined cookie sheet, bake as directed.
Recipe Notes
-The original recipe called for 6 tablespoons butter and no olive oil. I like this lighter version better. If you really want to cut fat, leave out the butter altogether and just use 3 tablespoons of the olive oil (total). I tasted the soup before adding the cream (1/4 cup, cut down from original 1/2 cup) and thought it was really good without the cream addition too.
-*If you have a hand held immersion blender (read about it here)– there is no need to let the soup cool before blending up, also no need to transfer out of the stock pot. Just add the cream to the pot after blending.