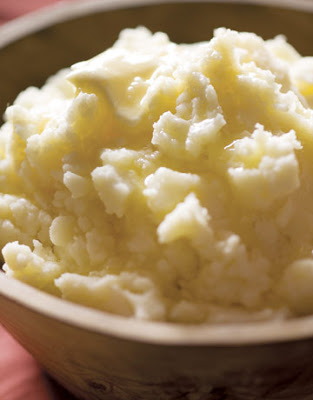 The real deal.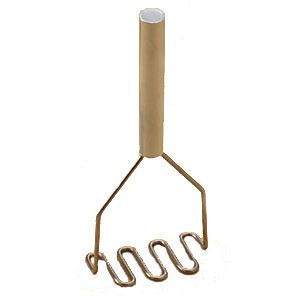 The real deal masher.
Like most of you, I have made mashed potatoes for years without using a recipe. The drill usually goes something like this: Go to garage, dig around for potatoes without anything growing out of sides, wash, throw into pot with water, boil, peel, mash with lots of butter, salt and milk. One day, I picked up a copy of
Cooks Illustrated
. It is a fantastic magazine loaded with information on cooking methods, product testing and great recipes. No advertising, just articles and recipes. One year they tested the best method for cooking and preparing mashed potatoes . The recipe is really simple, and produces the BEST mashed potatoes. The Cooks people suggest, based on research:
Cooking method: Cook potatoes with the skins ON. They tested several batches with and without and reported " Even when prepared with exact same amounts of butter, half and half and salt, the two batches were wildly different. (funny they said WILDLY) The potatoes that had been peeled and cut made mashed potatoes that were thin in taste and texture and devoid of potato flavor, while those cooked whole and peeled after cooking yielded mashed potatoes that were rich, earthy and sweet." Then they go on and on about speaking to food scientists who explained – "peeling and cutting potatoes before cooking increases the surface area through which they lose soluble substances such as starch, proteins and flavor compounds to the cooking water. Oh my, it is a LONG article. I'll stop there with the reasons why you should wait to peel AFTER Cooking… On to:
Butter – "Working with 2 pounds of potatoes, which serve four to six, we stooped so low as to add only two tablespoons of butter. The potatoes ultimately deemed best in flavor by tasters contained 8 tablespoons."
Dairy- Heavy cream made potatoes that were heavy and sodden and unpalatably rich, even when we scaled back the amount of butter. On the other hand, mashed potatoes made with whole milk were watery, wimpy and washed out." (gee, you wouldn't want to serve wimpy mashed potatoes, would you???) Half and half, which we used in our original tests, was just what was needed. The mashed potatoes now had a lovely light suppleness and a full, rich flavor that edged toward decadent. Can't you just hear your mother in law saying – "these potatoes are SO Supple!" ha.
They explain that the order of the butter and dairy added is also important. Here is the short version explanation from the food scientists: "There were significant differences when we added the half and half first, as opposed to adding the melted butter first. When butter is added before the half and half, the fat coats the starch molecules, inhibiting their interactions with the water in the half and half added later, and thereby yielding silkier, creamier mashed potatoes. The benefit of using melted butter results from its liquid form, which enables it to coat the starch molecules quickly and easily."
Are you still reading this? Good sign! It probably means your family will have a chance to eat "decadent" mashed potatoes next week.
If you are even thinking about serving your family those awful potato "products" hiding in your food storage – give this recipe a try this week. Just as a trial run before Thanksgiving. They really are so easy. There is absolutely NO COMPARISON between fake and real mashed potatoes.
Confession time: One Thanksgiving, right before dinner was served I realized we were not going to have enough mashed potatoes for our large crowd. So I discreetly mixed up a batch of "potato pearls" and spooned them into a pretty bowl. My girls spotted the imposter's from across the room. They waited while their cousins and other un -named family members loaded up their plates with the reconstituted starch. Then, they filled their plates with the real deal.
Mashed Potatoes 101
Ingredients
2

pounds

potatoes

scrubbed (I like Russet)

8

tablespoons

butter

1 stick, melted

1

cup

half-and-half

warmed

1 1/2

teaspoons

salt

fresh ground pepper
Instructions
Place potatoes in large saucepan and cover with 1 inch water. Bring to boil over high heat; reduce heat to medium-low and simmer until potatoes are tender (a paring knife can be slipped into and out of center of potatoes with very little resistance), 20 to 30 minutes. Drain.

Using a clean wet dish rag, hold the potato and peel back skin with paring knife. Place in large bowl. Stir in melted butter with large spoon until incorporated. Using Potato masher, mix in half-and-half, salt, and pepper to taste. Serve immediately.
Recipe Notes
-Yukon Gold, Red, Russet (my fav), or White potatoes can be used–each turns out a different texture. For smooth mashed potatoes, a food mill or potato ricer fitted with the finest disk is the best choice. For chunky mashed potatoes, use a potato masher (my #1 choice) and decrease the half-and-half to 3/4 cup.