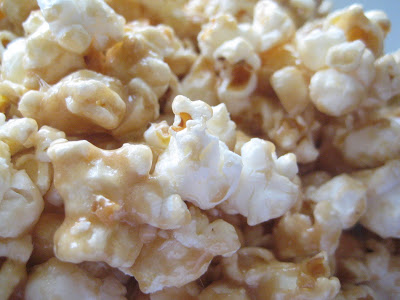 Ute Caramel Confession Corn
Ingredients
4

quarts

popcorn

popped (or two bags of microwaved popcorn)
Caramel :
1/2

cup

butter

3/4

cup

brown sugar

1/4

cup

lite Karo syrup

1/2

teaspoon

salt—- add only if you are using unsalted popcorn

1

teaspoon

baking soda
Instructions
Mix caramel ingredients in a medium microwave proof bowl. Place in microwave 1 1/2 minutes on high. Remove and stir. Microwave 1 1/2 minute more. Remove from microwave and add 1 teaspoon baking soda, stir. Pour over popcorn in large bowl, toss caramel and popcorn until popcorn is coated.
Recipe Notes
-I cooked this on the stove instead of the microwave. Just melted the butter, then added everything else (except soda) and boiled for 2-3 minutes. Then added soda and tossed with popcorn.
-After following directions you may spread the mixture on two greased cookie sheets and bake at 350 for about 10 minutes. Stir at 5 minutes. This made a yummy crunchy caramel corn.