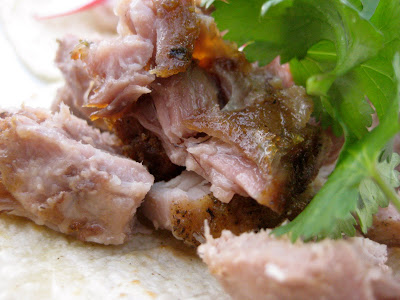 I wanted to have a little Cinco De Mayo celebration earlier this month. Between baseball rain outs and reschedules, end of school year craziness, and lifeingeneral, our celebration was reduced to a throw together dinner. You know how my kids LOVE Boston Butt. I found a couple of recipes that looked easy and yummy-one was a Cooks Illustrated recipe and another claiming to be the "best pork carnitas, EVER."
So, I ran to
Dick's Market
, came home, turned on the oven, threw a butt roast in the oven for about 4 hours. Went back to micro managing my kids lives. At the 4 hour 15 min mark, dinner was ready. So- about 20 minutes total prep (working) time.
Other than Stephen picking off the radishes, it received rave reviews, which is no small victory. Trust me, this can be a tough crowd.
Mexican Pulled Pork Carnitas
adapted from Cooks Illustrated
Ingredients
Pork
1- 3 1/2 to 4

lb

boneless pork butt

don't go smaller than 4

2

tablespoons

ground cumin

1

small onion

sliced

2

bay leaves

crushed

2

tablespoons

dried oregano leaves

1

teaspoon

salt

1/2

teaspoon

pepper

ground

2

tablespoons

lime juice

about 1 lime

1/2

cup

water

1

medium orange

halved
Tortillas and garnishes:
12-15 6

inch

corn tortillas

(I like white corn)

lime wedges

minced onion

red, white or yellow

fresh cilantro leaves

thinly sliced radishes

avocado

chunked

sour cream
Instructions
Preheat oven to 350 degrees.

Place roast in heavy oven proof pan. Squeeze lime and orange juice on top of roast. Rub pork with all dry ingredients. Pour water around sides of roast. Lay halves of lime and orange in pan with roast and water. Lay onion slices on top of roast. Cover pan with tight fitting lid.

Place roast in oven. Set timer for 2 hours. After 2 hours, turn oven to 225 degrees, or off completely. Do not open oven. Leave roast in oven for an additional hour, or two. Remove and let cool for a few minutes. Pull all remaining fat off of meat and discard. Chop pork and set aside.

About 15-20 minutes before you want to eat, chop garnishes and set aside. Turn on griddle to about 300 degrees, or if using a pan on stove, medium high heat. Spray surface with Pam or rub with vegetable oil. Quickly grill tortillas in hot pan until each side is puffed, about 10-15 seconds each side. You may grill the tortillas ahead of time and wrap in paper towel and foil to keep warm. Top each tortilla with a bit of meat and other garnishes.

Serves 4.
Recipe Notes
Tips, confessions: -I actually forgot to add the orange juice, it was still wonderful. -I grill the tortillas as we eat.
-Often people ask me if it's ok to substitute Pork Loin Roast for Boston Butt. Boston Butt is a roast that has a high fat content. If you use another type of roast in this type of recipe, it will not be as flavorful. If you trim the fat off of the Boston Butt, it will not be as flavorful. The fat is what keeps the meat moist, and gives it a hard to duplicate flavor.
-When I cook Boston Butt's I vary the amount of cooking time. It's a perfect Sunday or busy day type of roast. Set the timer to cook the meat for about 2 hours, then either reduce the heat to about 225-250 or simply turn the oven off for up to 3 hours. If the oven door is not opened, it will stay warm for several hours and continue to cook the roast at a low temperature.