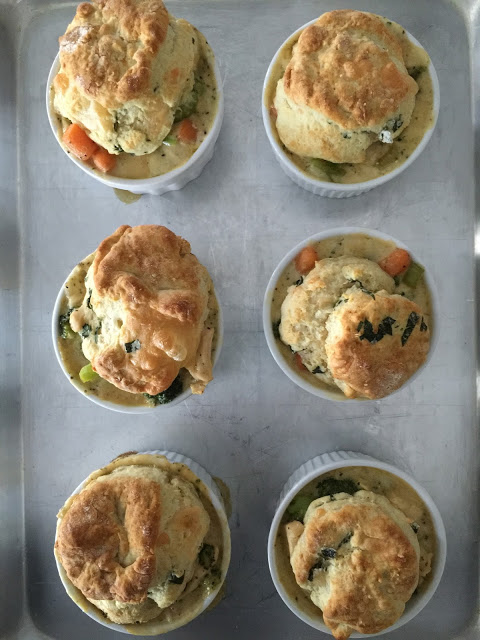 After an amazingly warm September and October, I'm sitting at my kitchen counter and the snow is beginning to fall. Chicken Pot Pie is the ultimate cold weather dish, and this update on the classic will get you in the mood for the winter weather coming. Mini Chicken Pot Pies with Herb and Cheese Biscuit Toppers are filled with comfort food goodness!
I've given two ways to make this dish: a busy-day canned soup variety that takes a few minutes to dump and bake and then a from scratch recipe for those who have a little more time. Either way, this dish is hearty and will make even the pickiest eater happy!
Mini Chicken Pot Pies with Herb and Cheese Biscuit Toppers
Ingredients
Filling:
1

tablespoons

butter or olive oil

2

carrots

or about 1 1/2 cups baby carrots, cut up

1

cup

of celery

chopped (or more carrots if you aren't a fan)

1

cup

broccoli

chopped

1

cup

onion

chopped I like sweet onions but white or yellow work as well

3

cups

cooked

chopped chicken (or rotisserie chicken, cut up)

1

tablespoon

dried tarragon

optional
sauce:
6

tablespoons

butter

1/2

cup

sifted flour

2

teaspoons

chicken stock concentrate*

1-2

cups

water or milk

-OR-

1

can cream of chicken soup

1

can milk

Cream Biscuit Topper

2

cups

flour

1

tablespoon

baking powder

1

teaspoon

baking soda

1

teaspoon

salt

1 1/2

c

cream

3

fresh basil leaves

chopped (or other herbs, about 2 tablespoons, optional)

1

cup

cheese

grated
Instructions
Preheat oven to 400 degrees.

Saute carrots, celery, onion and tarragon together in a large stockpot for about about 3-4 minutes. Remove from heat add chopped broccoli, place lid on pan and let sit for 5 minutes.

In another pan, over medium heat melt 6 tablespoons butter and add 1/2 cup sifted flour.

Whisk until smooth.

Add 1 teaspoon salt and pepper each and 2 teaspoons chicken stock concentrate.

Whisk until smooth. Slowly pour 1 1/2 cups water or milk into pan whisking until smooth and bubbly. If the mixture gets too thick, add a little more milk or water. The mixture should be the consistency of gravy.

Pour this mixture over the cooked vegetables.

If you are using the soup method, add the soup and can of milk directly to the vegetable mixture after the vegetables are finished sitting for 5 minutes covered.

Mix until the soup and milk are blended into the vegetables.

Do not add salt to this mixture until you taste, the soup usually has enough salt included.

Add cooked, chopped chicken to the vegetable/gravy mixture.

Place ramekins on a cookie sheet.

Fill greased ramekins (about 8) or a 9×13 pan with vegetable, chicken and gravy mixture.

Top each with a biscuit.

Bake for about 12-15 minutes at 400 degrees or until mixture is bubbly and biscuits are golden.
prepare biscuits:
Mix all dry ingredients together in large bowl.

Add cream all at once, fold until dry mixture is absorbed.

Fold in herbs and cheese. If the mixture is too dry, add a tablespoon or two of additional cream.

Pat out on floured surface to about 3/4 inch thick.

Cut with round biscuit cutter or glass.

The biscuit recipe usually makes about 12- 2 1/2 inch biscuits.
Tips:
-*Stock concentrate is sold in many forms. It enhances the flavor of the gravy. Knorr and Swanson both sell stock concentrate.
Knorr
is sold in a little "cup" about 4 cups to a package the little cups are equal to about 1 tablespoon of flavoring ( one of the cups will be perfect in this recipe) . Swanson sells their product "Flavor Boost" in a box with 8 liquid packets included. You can also buy stock concentrate in jars at food specialty stores. These are usually sold in 2 cup (actual 2 cup measurement) jars that need to be refrigerated after opening. I always look for products that are MSG free. A crumbled bullion cube will also work.
-The biscuit can be made without the herb and cheese added. I used Smoked Gouda, but any cheese will work.
-You may use any combination of veggies. I strongly suggest using onions because of flavor, but green beans, peas, corn may be substituted for the other veggies.
-I frozen the leftovers by placing the entire ramekin in a Ziplock bag in the freezer. To use, let sit on counter for about one hour. Heat, covered for about 45 minutes at 350.
-To make this "quick and easy", use a can of soup and milk and a can of biscuits in place of the roux and cream biscuits.
-The ramekins I used may be purchased
here.