Are you a chocolate chip cookie fan? Then you've probably heard of The New York Times Chocolate Chip Cookie recipe, (touted to be the best chocolate chip cookie recipe in the world) adapted from Jacques Torres, crazy famous pastry chef and chocolatier. I'm long overdue in making the NYT Chocolate Chip Cookie recipe and seeing for myself if it is indeed the best chocolate chip cookie recipe ever!
I think the reason why it took me so long to try this recipe was I felt ABK's Tried and True Chocolate Chip Cookie was so good, why would I need to ever try another recipe? Several years have passed, 6 to be exact, since I first posted my Tried and True recipe. For those of you who haven't tried it, my Tried and True recipe is a thick chewy cookie with a slight bit of crunch on the outside, and a soft center. It's a 20 minute start to finish success every single time! But I started to think. Maybe there's something better. Or different AND better than the Tried and True…the wheels started turning and I launched into experimenting with the New York Times Chocolate Chip Cookie recipe my friend Barbara first told me about years ago…
The New York Times Chocolate Chip Cookie is reported to have a perfect crunchy exterior with a gooey middle. I could go on for days about the comparisons of the Tried and True to the NYT Cookies! I'll answer a few questions and hopefully you'll leave a comment below and let me know your thoughts…
Get comfy, because this post is going to answer all of your answers to life's most important questions…about chocolate chip cookie making, or at least about making the New York Times Chocolate Chip Cookie Recipe!
Here are answers to anticipated questions:
Why is this recipe such a big deal? As far as my research shows, Jacques Torres shared his original recipe with the NY Times and they printed it around 2008. The writer of the original article is David Leite. Today, if you google "New York Times Chocolate Chip Cookie Recipe" you will be presented with 979,000 links referencing the famed recipe! This recipe sets itself apart from other recipes for chocolate chip cookies for a few reasons:
1. The cookie dough is refrigerated for (suggested) 12-48 hours. Readers have recommended 48 hours, the recipe suggests 36 hours resting time in the refrigerator. To me, that's a long time to wait for a finished product. Especially when we are talking chocolate chip cookies!
Big deal #2. The amount of chocolate in the cookie. The recipe suggests 1.25 pounds. Yes, pounds of chocolate. Not chocolate chips (the typical chocolate chip cookie recipe calls for one bag approx 11-12 oz of chocolate chips). Bittersweet chocolate discs or "faves", at least 60 percent cacao content. You can purchase the discs online for approx $30/2 lbs. Since the recipe calls for 1.25 lbs, this is a pretty steep price to pay for chocolate in chocolate chip cookies. On my first try, I used a high quality chocolate, similar to the discs found online. Were they worth it? I don't think the average consumer will appreciate the difference in chocolate that sells for $5-7 per lb as opposed to double the price (or more). I found the Trader Joe's "Pound Plus" Dark Chocolate bar Imported from Belgium, 1 lb 1.6 oz, worked well in this recipe. If you purchase two bars, you will use all of one plus one row of chocolate from the second bar. I believe it was under $6 for the bar. Make sure to go to Trader Joe's to purchase, the Amazon price is quite a bit more than if you are purchasing in store. The TJ brand melts nicely and also has a rich dark chocolate flavor that is perfect for this cookie. I also think it would be perfectly fine to use only one of the Trader Joe's bars.
3. The salt on top of the cookie. It repeatedly gets two enthusiastic thumbs up from men. I love it too. The salty/sweet combo is undeniably irresistible for most cookie connoisseurs. The type of salt you use matters, Coarse Sea Salt is my favorite. Don't ever use Morton's table salt on top of this cookie. Think gourmet.
How does the new York Times Chocolate Chip Cookie compare to other chocolate chip cookie recipes, including ABK's signature Tried and True Chocolate Chip Cookies? If you like chocolate more than you like cookie dough, you'll love this cookie. The best way to describe this cookie is a lot of chocolate and a little cookie. It has the appearance, flavor and texture of a cookie you purchase from a high end bakery. Very pretty, and the flavor is rich and delicious. If you've made ABK's Tried and True Chocolate Chip Cookies, you will probably still love this cookie. It's difficult to compare. It's like comparing apples and oranges. Two totally different types of chocolate chip cookies! The Tried and True are still my favorite. When you break apart the New York Times Chocolate Chip Cookie, you see chocolate, chocolate and more chocolate. When you break into a Tried and True Chocolate Chip Cookie, you'll see cookie and chocolate. Apples and oranges my friends!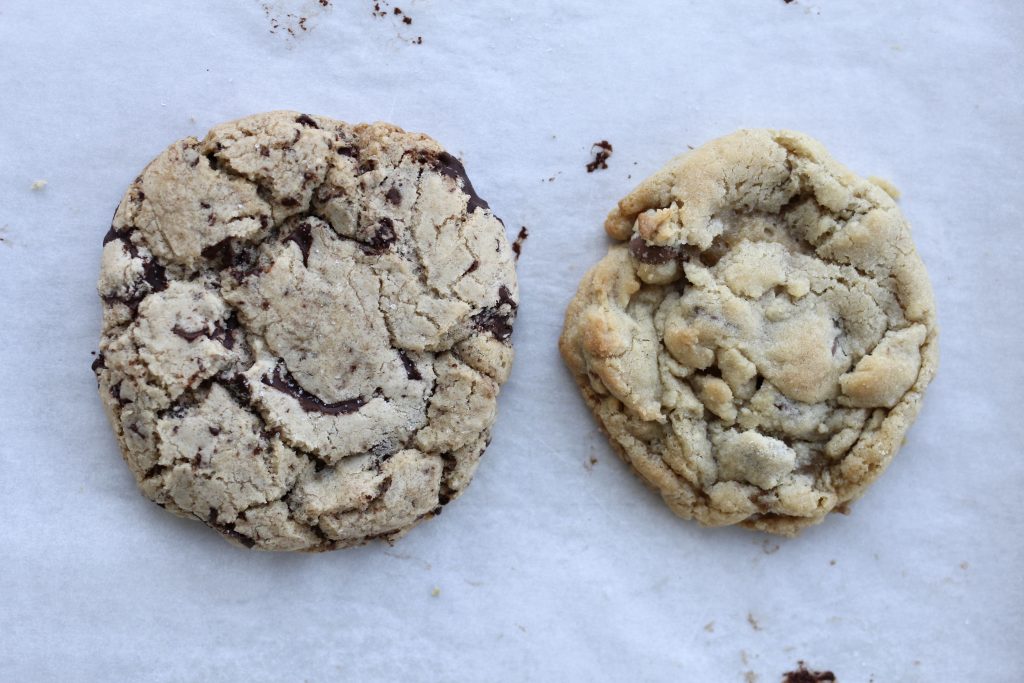 Does the flour (all purpose, bread flour, cake flour) you use really make a difference? Yes, it does. First let me say when I post a recipe and go through testing stages, I think of my reader. Will they feel it is within their reach to successfully make this recipe? Will they have most of the ingredients on hand? Will they be able to use the ingredients purchased for this recipe in another recipe on my site, or will that full bag of cake flour sit unused until it is finally tossed? With that in mind, I started experimenting. I always have cake and bread flour on hand, so no big deal for me to make a cookie that requires both. I'm not a huge fan of cake flour in cookies, mostly because I have a really sensitive nose and I don't love the scent of cake flour in cookies. Probably because it smells like…CAKE. And I want my cookies to smell like cookies, not cake.
I tested this recipe several different ways. First try, with all purpose flour and bread flour. It created a cookie that was easily baked right at the moment it was mixed up, no refrigeration required. The bread flour has a higher protein content, (which in turn helps with gluten development) than all purpose flour and will create a chewier cookie. If you were to make this cookie with only bread flour, it would have a very heavy texture. But combining it with AP flour gives the cookie the perfect texture. I also tried following the original recipe exactly and didn't see much of a difference using the recommended cake flour and bread flour combination. Using only all purpose flour and then baking right away didn't produce a great result. The cookies were too flat and didn't have enough of a rise. I'm sticking with the All Purpose and bread flour combo. If you would like to read more about the science behind the flours and refrigeration of the dough before baking this is an excellent in depth article. Also, for those of us living in high elevation, the bread flour and AP flour combo works well!
Why is it ok to beat the butter for 5 minutes in this recipe, when I am always preaching NO OVER BEATING in the Tried and True recipe? The refrigeration of the cookie dough changes everything. In the Tried and True recipe, as well as most of the recipes for cookies posted on ABK, I recommend being careful about over mixing the butters and sugars so they won't become too soft. The NY Times recipe calls for beating the butter, sugars and eggs for 5 minutes. The refrigeration, again, changes the consistency of the dough. The Tried and True cookies were developed with no refrigeration needed. I wanted a recipe that could be mixed up, baked and served in minutes.
Refrigeration of the dough in the NY Times recipe allows the soft ingredients to soak up the flours and other dry ingredients. Refrigeration also allows the butter to solidify again. Most recipes, including the original Toll House recipe call for refrigeration of the dough (intended by the original creator, but not included on the package recipe). I feel refrigeration is key to producing a great cookie if you don't want to be concerned with over mixing butter and sugars together. If you take a look at most chocolate chip cookie recipes, they are, for the most part the same 8-10 ingredients, with slightly different measurements. My two cents? The main secret to producing great cookies most often lies in two methods: 1. not over beating butter and sugar, so it won't become too soft and therefore produce a flat cookie. OR 2. Refrigerate the dough to insure the cookies will not flatten while baking.
Is it really necessary to refrigerate the dough for 36-48 hours?? I tried refrigerating the dough for 12, 24, 36 and 48 hours. I also tried no refrigeration of dough and baking immediatley after I made the cookie dough. I consider myself to be a pretty harsh critic of cookies. Especially chocolate chip cookies. The refrigerated dough produced a cookie with more body. The caramel like texture of the cookie that the author and many readers described (after 36 hour refrigeration) was difficult for me to detect because there was SO MUCH CHOCOLATE in the cookie. If you reduce the chocolate a bit, the caramel like texture in the cookie dough comes through a bit more! If you make the dough and bake the cookies right away, the cookie will spread quite a bit and produce a large, thin cookie. I quite liked this method. I'm a fairly impatient person when it comes to wanting my sweets now, not 48 hours from now. Waiting 36-48 hours before baking, to me, is the biggest draw back of making this recipe…too much wait time! I don't believe it is necessary to wait 36-48 hours for a killer cookie. Yes, they are maybe a bit better, but notably better than waiting an hour or two at most for the dough to solidify? Not for me. If you are baking the cookies from a solid refrigerated state, preheat the oven and bake the cookies for 18 minutes. It sounds like a long time, but it works. If the cookies are at room temperature, they will require less baking time. All that said, if you have the time, refrigerate and wait. I think you will be very happy with the results!
Can I use chocolate chips instead of discs or cut up chocolate? How do I find affordable chocolate? This question largely answered in question one, above. I will say that in one batch I used chocolate chips, semisweet. They were good, but did't give the cookies the WOW factor that was found when using cut up chocolate or the discs.
Why is there such a variation in the size of the cookies photographed? And what about convection vs traditional bake? The flattest and largest cookies were made without refrigeration, with the combo of All Purpose flour and Bread flour. The puffiest cookies were made after refrigeration for 24-48 hours. I did not flatten the cookies before baking, they were baked after formed into large (3.25 oz balls). They also were not thawed at all after removing dough from refrigerator. The recipe suggests placing the container of dough into the fridge, before scooping out, but I found it easier to scoop, place on a cookie sheet and then refrigerate.
I always bake my Tried and True's using a convection oven. I thought it would be beneficial to readers to have a recipe that produced a great cookie using a traditional bake (not convection bake) oven setting, since so many readers don't have access to a convection oven! Every time I baked the New York Times recipe, I use the regular BAKE setting on my oven. Baked on center rack, one sheet at a time, and I did not turn the pan during baking.
Did that answer every question you might possibly have?? If not, leave me a comment and I'll answer as soon as humanly possible!
In the end, I loved the NY Times cookie. If you want to make a truly spectacular chocolate chip cookie, I think you'll love this recipe. Baking for a total foodie and want to impress? This recipe is going to make a statement. Also, as a side note, I distributed these cookies to several different taste testers. The comments ranged from "Amazing" to "WOW, best cookie ever" to "I still like your Tried and True recipe better". I guess you'll have to try both out and decide for yourself!
I've altered the original recipe to simplify some of the steps. I've also listed the recipe with my alterations in ( ) next to the original recipe. Happy baking and make sure to come back and let us know about your experience with this recipe!
One last thing…
In the past few days I've altered this post several times…remembering little things I forgot to add to the post. From this point forward, I'll continue to add to this post, but Ill make any notes in this section. Just in case you didn't get your fill in the 5,000 word post above!
July 9, 2016
Gluten Free option! I forgot to share this link for the Gluten Free Option on this recipe. The recipe, posted by Shauna, of Gluten Free Girl, has received lots of positive comments, which is always a good sign. If you try the GF recipe, please leave a comment here so others can benefit from your baking experience!
September 2016
One of the 1 lb 1.6 oz bars from Trader Joe's is plenty of chocolate for this recipe! I used to buy two bars and cut off enough to equal the called for 1.25 lbs but one of the bars works well. I now only use 1 chopped bar for this recipe.
Original recipe found on this post by David Leite.