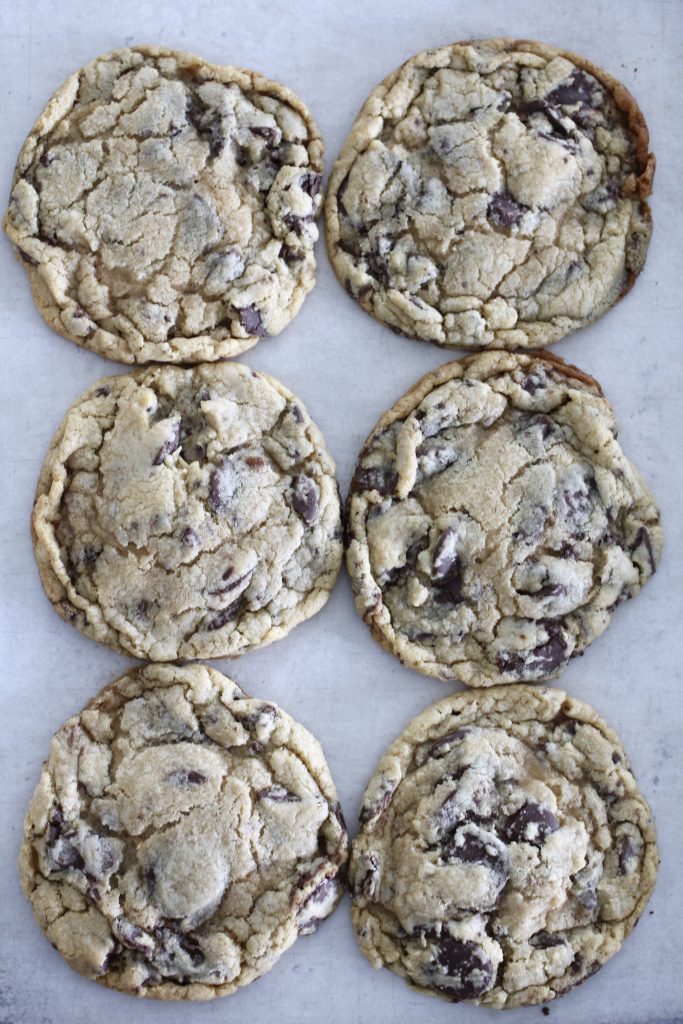 Are you a chocolate chip cookie fan? Then you've probably heard of The New York Times Chocolate Chip Cookie recipe, (touted to be the best chocolate chip cookie recipe in the world) adapted from Jacques Torres, crazy famous pastry chef and chocolatier.  I'm long overdue in making the NYT Chocolate Chip Cookie recipe and seeing for myself if it is indeed the best chocolate chip cookie recipe ever!
I think the reason why it took me so long to try this recipe was I felt  ABK's Tried and True Chocolate Chip Cookie was so good, why would I need to ever try another recipe?  Several years have passed, 6 to be exact, since I first posted my Tried and True recipe. For those of you who haven't tried it, my Tried and True recipe is a thick chewy cookie with a slight bit of crunch on the outside, and a soft center. It's a 20 minute start to finish success every single time! But I started to think. Maybe there's something better. Or different AND  better than the Tried and True…the wheels started turning and I launched into experimenting with the New York Times Chocolate Chip Cookie recipe my friend Barbara first told me about years ago…
The New York Times Chocolate Chip  Cookie is reported to have a perfect crunchy exterior with a gooey middle. I could go on for days about the comparisons of the Tried and True to the NYT Cookies!  I'll answer a few questions and  hopefully you'll  leave a comment below and let me know your thoughts…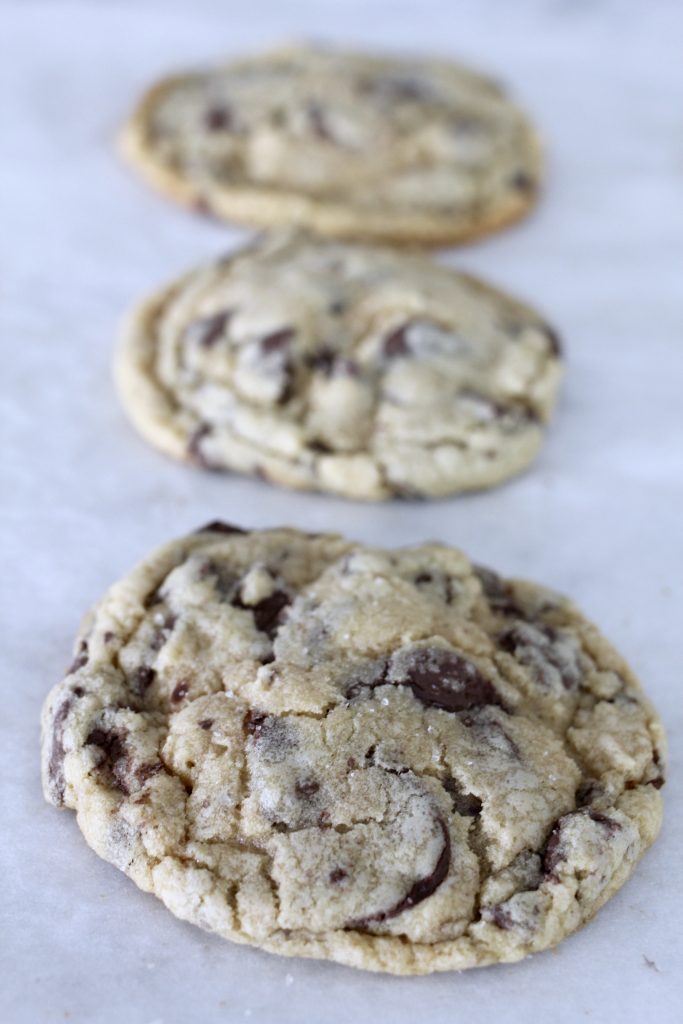 Get comfy, because this post is going to answer all of your answers to life's most important questions…about chocolate chip cookie making, or at least about making the New York Times Chocolate Chip Cookie Recipe!
Here are answers to anticipated questions:
Why is this recipe such a big deal? As far as my research shows, Jacques Torres shared his original recipe with the NY Times and they printed it around 2008.  The writer of the original article is David Leite.  Today, if you google "New York Times Chocolate Chip Cookie Recipe" you will be presented with 979,000 links referencing the famed recipe! This recipe sets itself apart from other recipes for chocolate chip cookies for a few reasons:
1. The cookie dough is refrigerated for (suggested) 12-48 hours. Readers have recommended 48 hours, the recipe suggests 36 hours resting time in the refrigerator. To me, that's a long time to wait for a finished product. Especially when we are talking chocolate chip cookies!
Big deal #2. The amount of chocolate in the cookie. The recipe suggests 1.25 pounds. Yes, pounds of chocolate. Not chocolate chips (the typical chocolate chip cookie recipe calls for one bag  approx 11-12 oz of chocolate chips). Bittersweet chocolate discs or "faves", at least 60 percent cacao content. You can purchase the discs online for approx $30/2 lbs. Since the recipe calls for 1.25 lbs, this is a pretty steep price to pay for chocolate in chocolate chip cookies. On my first try, I used a high quality chocolate, similar to the discs found online. Were they worth it? I don't think the average consumer will appreciate the difference in chocolate that sells for $5-7 per lb as opposed to double the price (or more). I found the Trader Joe's "Pound Plus" Dark Chocolate bar Imported from Belgium, 1 lb 1.6 oz, worked well in this recipe. If you purchase two bars, you will use all of one plus one row of chocolate from the second bar. I believe it was under $6 for the bar. Make sure to go to Trader Joe's to purchase, the Amazon price is quite a bit more than if you are purchasing in store. The TJ brand melts nicely and also has a rich dark chocolate flavor that is perfect for this cookie. I also think it would be perfectly fine to use only one of the Trader Joe's bars.
3. The salt on top of the cookie. It repeatedly gets two enthusiastic thumbs up from men. I love it too. The salty/sweet combo is undeniably irresistible for most cookie connoisseurs. The type of salt you use matters, Coarse Sea Salt is my favorite. Don't ever use Morton's table salt on top of this cookie. Think gourmet.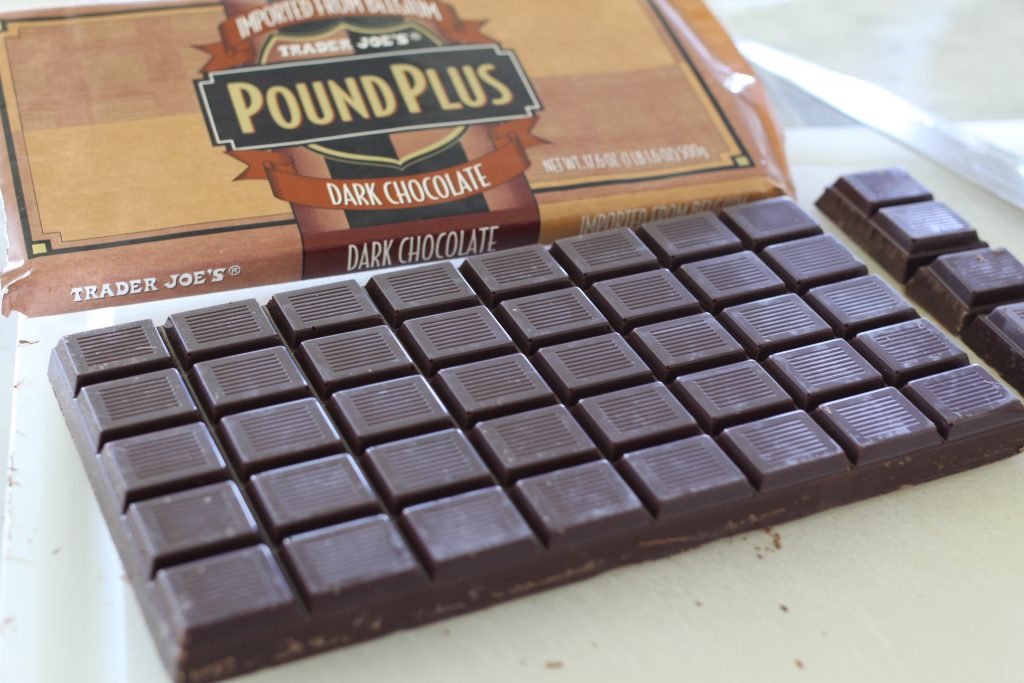 How does the new York Times Chocolate Chip Cookie compare to other chocolate chip cookie recipes, including ABK's signature Tried and True Chocolate Chip Cookies? If you like chocolate more than you like cookie dough, you'll love this cookie. The best way to describe this cookie is a lot of chocolate and a little cookie. It has the appearance, flavor and texture of a cookie you purchase from a high end bakery. Very pretty, and the flavor is rich and delicious. If you've made ABK's Tried and True Chocolate Chip Cookies, you will probably still love this cookie. It's difficult to compare. It's like comparing apples and oranges. Two totally different types of chocolate chip cookies! The Tried and True are still my favorite. When you break apart the New York Times Chocolate Chip Cookie, you see chocolate, chocolate and more chocolate. When you break into a Tried and True Chocolate Chip Cookie, you'll see cookie and chocolate. Apples and oranges my friends!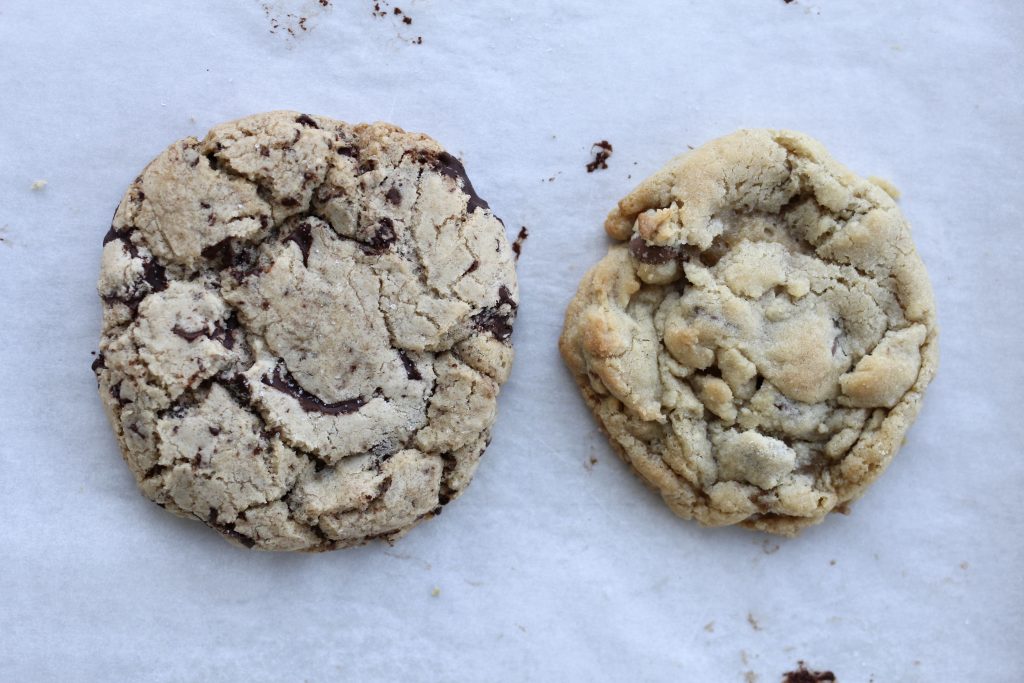 New York Times Chocolate Chip Cookie on the left, Tried and True Chocolate Chip Cookie on right