No Soak Instant Pot Black Beans will change the way you look at cooking beans. No more thinking ahead so you can soak the beans overnight. Just place the beans in the pot and let the magic happen!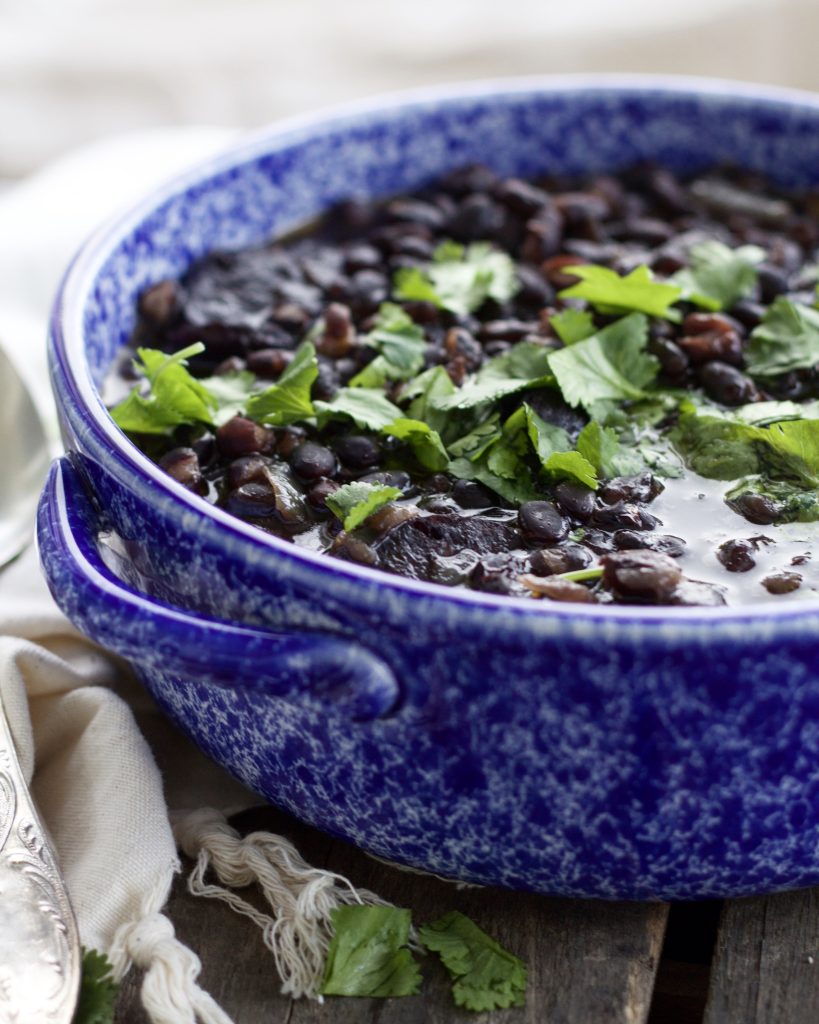 king of beans without a recipe
Our friend Eric is the King of Black Beans. He's famous for his beans. I asked him for the recipe years ago, and he couldn't give it to me. It wasn't one of those – it's a secret – kind of things, but more of a I don't really use a recipe thing. Eric's beans taste a little different to me every time time I eat them. He was the Scoutmaster to our kids growing up. When he took the boys on a campout, breakfast the next morning was everything remaining in the cooler (eggs, chili, leftover hotdogs ) cooked in a dutch oven often covered in cheese. The boys loved it and thought he was the best cook ever!
I totally understand the I don't cook with a recipe mentality. There are some things I make without a recipe. I start out with a basic few ingredients and then add until it tastes just right. Spaghetti sauce, chili and salad dressing are all on my no-recipe list. No Soak Instant Pot Black Beans definitely fits into that category. You can make these beans spicy if you like heat by adding chiles, red pepper flakes, hot sauce or a bit of cayenne. I used a Cajun-style sausage to add just a bit of spice. Add more veggies such as peppers, different types of onion, even carrots, chopped. Make your beans without meat if you like your beans meatless. Just start with the basic amount of beans and liquid in this recipe. The possibilities are endless…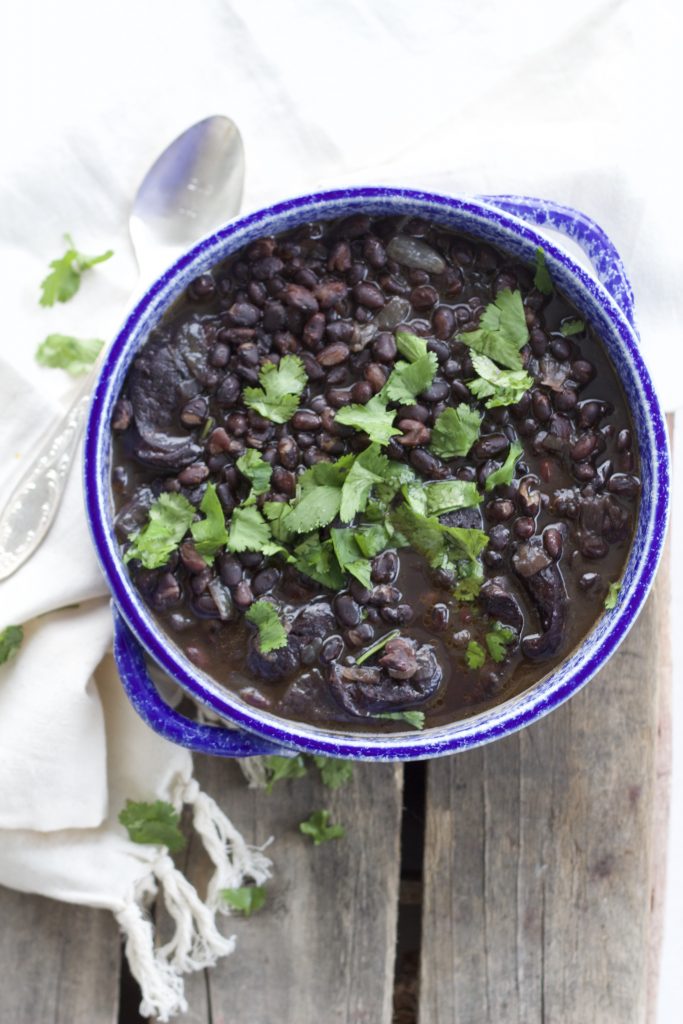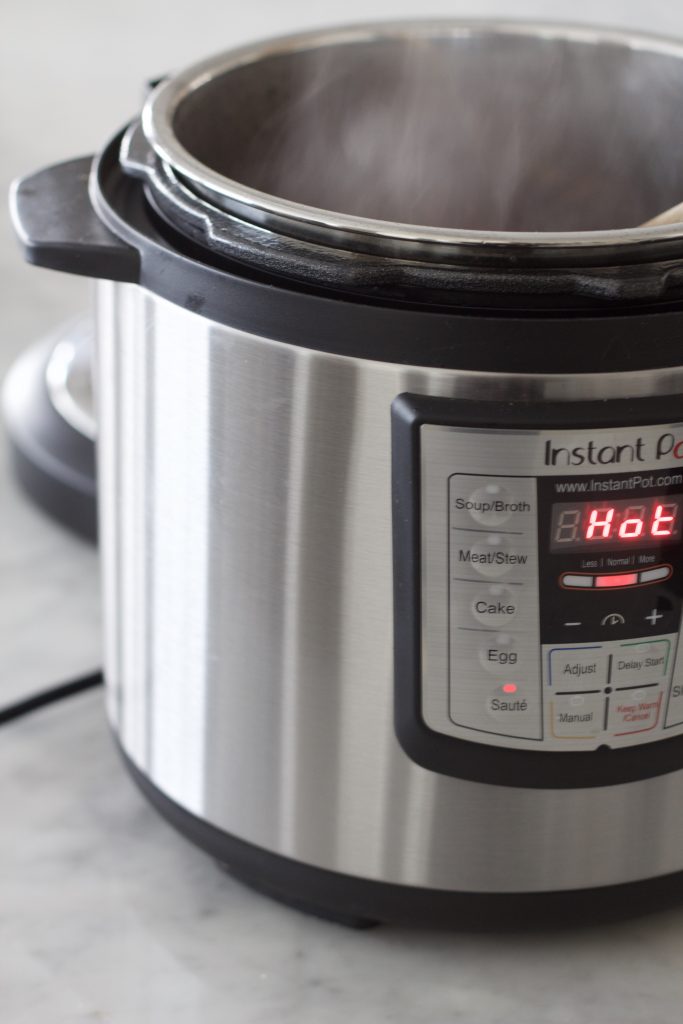 Forget what grandma said. No Soaking Required
If you have never cooked beans without soaking, or if you've never cooked beans in your life (except out of a can), you are about to be pleasantly surprised. Traditionally, dry beans require soaking, but when using the Instant Pot, soaking is not necessary. Total game changer. Some people will say to soak your beans no matter (even when using the Instant Pot), for reasons that include everything from less gas (ummmmm, yes, that type of gas) to better appearance of the cooked beans (less splitting of the beans) but I don't think it makes a difference.
The definitely do not soak the beans advocates believe soaking the beans reduces the overall flavor of the cooked beans. They believe the best tasting beans are not soaked. I'm all for simplifying, so I love this recipe for No Soak Instant Pot Black Beans. No more planning the night before to make sure the beans are soaked.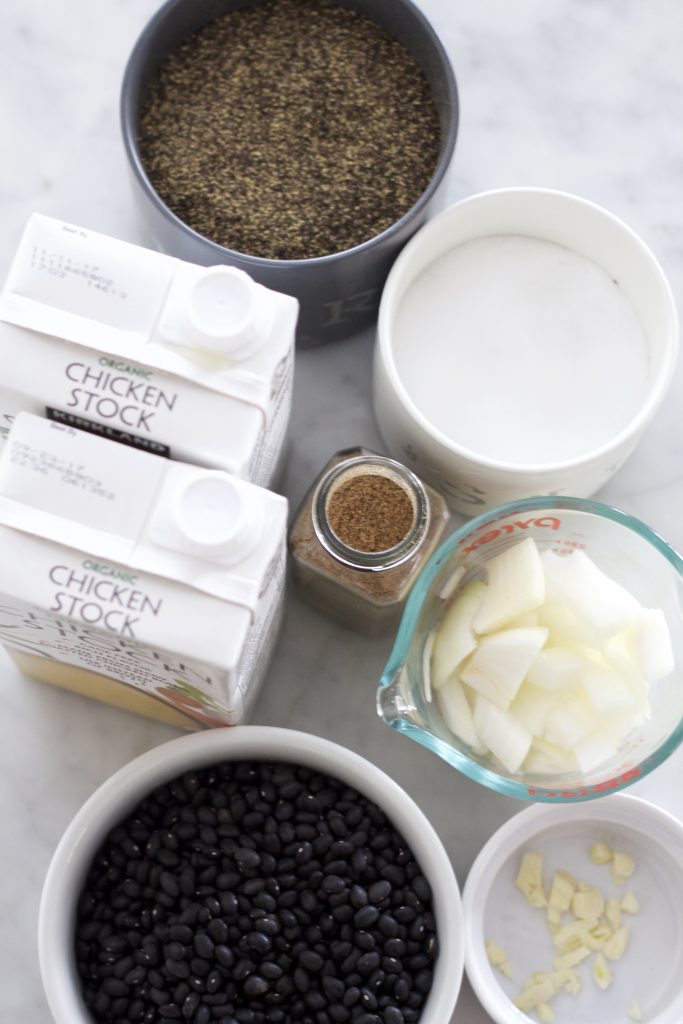 Keep it simple
My recipe for No Soak Instant Pot Black Beans is short and sweet. A few simple ingredients: oil (to prevent foaming in the pot) meat, beans, onion, garlic and seasonings. Also, a few cups of broth for cooking the beans. I prefer broth to water. I use regular, not low sodium broth. I like my beans to be flavored with salt and I've found that regular broth works best for our family. I also add sea salt to the mixture. This recipe is kid friendly. Not too spicy, but interesting enough for adults to ask for a second bowl.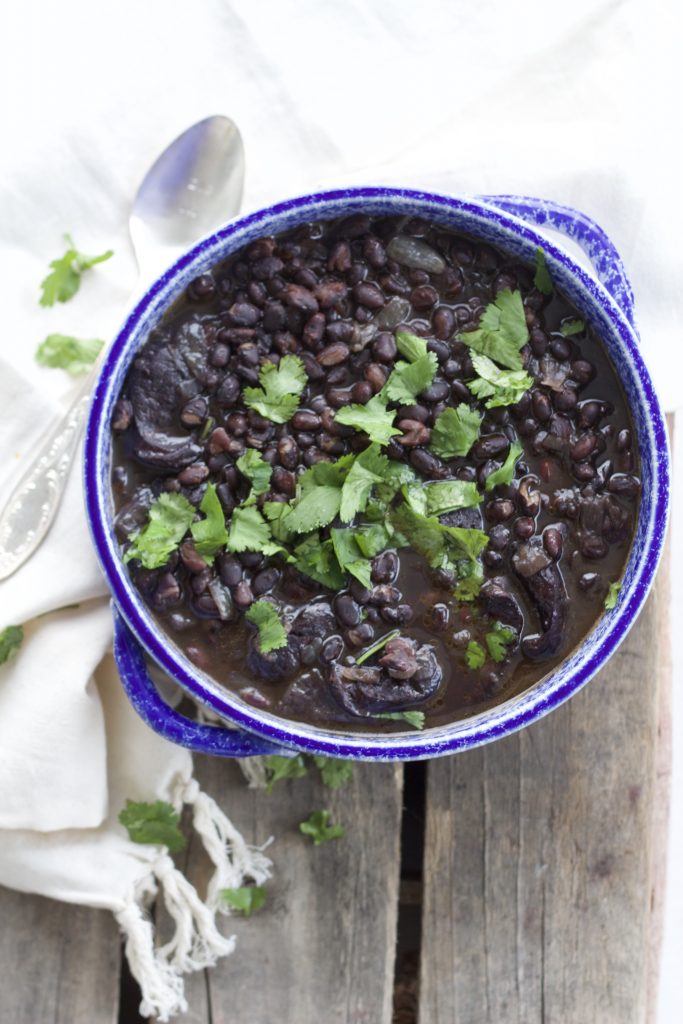 Serve it up
No Soak Instant Pot Black Beans can be served as a soup or as a side. I love it served on top of rice. If you're going to enjoy your black beans as a side ( perfect with Weeknight Turkey Enchiladas) you can do a few things to make the beans easier to serve (less soupy). After the beans are completely finished cooking, and all of the pressure is released, the top can come off of the pot and you can turn the setting to sauté.
The heat level will come up in the pot and the beans will boil. Use this setting with the lid off will allow some of the liquid to cook off. If you have an immersion blender, you can place the blender in the pot and just pulse in a few areas for a second or two. I use my immersion blender at least once a week to thicken sauces without adding extra ingredients. Careful to not make the whole pot of beans mush! Using the immersion blender will smooth out a few beans, and when stirred, can thicken the mixture. If you'd like, you can also remove a cup or two of the beans and place them in a blender and whirl on low for a few seconds, then add back to the Instant Pot.
Be very careful whenever mixing hot ingredients in a blender. The beans can also be served with condiments such as sour cream, grated cheese, chopped green onion and guac or chopped avocado. Pass the tortilla chips or warm flour tortillas and you've got a meal.

No Soak Instant Pot Black Beans
Total Time
2
hours
10
minutes
Ingredients
1-2

tablespoons

Olive Oil

12

oz

Sausage

pork, chicken or turkey- I used Cajun Style Andouille for a little spice

1

lb

dried black beans

1

onion white

yellow or sweet, chopped (about 2 cups)

2-4

cloves

garlic

minced

2

teaspoons

ground coriander

2

teaspoons

sea salt

1

teaspoon

ground pepper

2

quarts

chicken or vegetable stock or broth

cilantro

chopped for garnish
Instructions
Turn Instant Pot to sauté setting and pour oil into pot.

Add sausage and cook until cooked and lightly browned. Remove sausage from pot and set aside until the beans are completely finished cooking.

Turn pot off. Leave remaining oil in pot to prevent beans from foaming while cooking.

Add the dry black beans, chopped onion, garlic, coriander, salt, pepper and stock.

Place the seal in the lid, and place the lid on the pot. Turn the lid to the closed position and set the timer for 45 minutes.

Let the beans cook, when the timer goes off let the pot sit until the pressure naturally releases, at least 30 minutes. The remaining pressure may be released manually. The "keep warm" setting may be used until you are ready to serve.

A few minutes before serving, add the meat back to the pot and stir.

Garnish and serve.
Recipe Notes
-The recipe says to remove the meat from the pot before cooking the beans, and then add the meat back just before serving. I like to remove the meat so it won't turn the color of the beans. If you look closely, the photos show a batch of beans where I did not remove the meat first. If you forget to remove the meat, it is not a problem. -If you add additional vegetables to this recipe, it will produce more liquid, which is fine, but will water down the flavors a bit. Compensate by adding a bit more of any spices used. Also, you may drain off a bit of the liquid when finished or thicken by setting the pot to the sauté mode and letting some of the liquid cook off with the lid OFF after the beans are cooked and pressure is released. The beans may also be pulsed a bit using a blender (remove about a cup or two of the beans and liquid) or an immersion blender, then replace back into pot of beans.