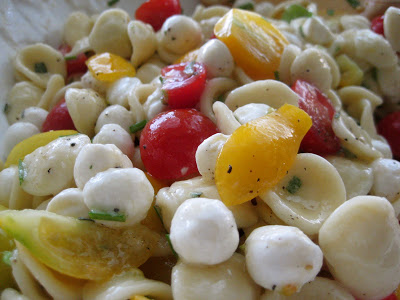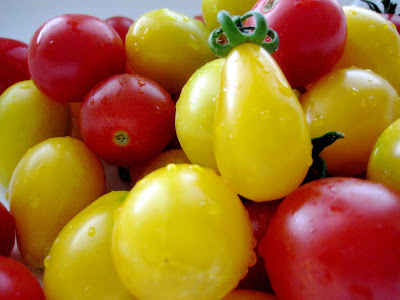 I took one look at this recipe for Orecchiette with Fresh Mozzarella, Pear Tomatoes and Garlic Chives and knew I had to make this salad. The only problem was – well two problems. One – no garden= no tomatoes. Especially no pear tomatoes. This is where great neighbors come in. A call to the Farr's. Beg their girls to go out into the garden and see if any of those cute little pear or cherry tomatoes are ripe. Problem solved. Second problem: Read the recipe and look at the ingredients really fast, and you might think this is a SALAD recipe. It looks like a salad in the pic in August Bon Appetit. Re-read the recipe. A little more carefully this time. Right before making dinner. This is not a salad, but is a hot dish. Oh well. I decided to go with my vision, and make it as a salad. Loved it. Hopefully, you have neighbors like the Farr's, or maybe you grow your own pear tomatoes. If not, you are missing out. Big time. This salad is so yummy. Fresh. Hurry summer is slipping away…
Orecchiette with Fresh Mozzarella, Pear Tomatoes and Garlic Chives
Ingredients
10

Oz

Orecchiette

little ear shaped pasta, about 3 cups uncooked

1

pound

fresh mini mozzarella balls

found these at Costco

1

pound

grape or pear tomatoes

red and yellow if available

8-10

tablespoons

extra virgin olive oil

6-8

tablespoons

white balsamic vinegar

5

tablespoons

minced fresh garlic chives or regular chives* see note below

4

tablespoons

minced fresh oregano
Instructions
Cook the pasta in salted boiling water according to package directions. Drain, and rinse with cold water to stop cooking.

Pour into large bowl, and add all of the remaining ingredients. Season with kosher salt and lots of fresh ground pepper.
Recipe Notes
-I added extra oil and vinegar to the pasta after the salad sat for a while. The pasta absorbs the oil and vinegar, and becomes a little dry.
-Using a white balsamic is important, if using red, it will discolor the pasta and cheese. White balsamic is found in Italian markets, and in some grocery stores.
-*Note that the recipe calls for 5 tablespoons minced garlic or regular CHIVES, not 5 tablespoons of garlic.