For some unknown reason, I feel the need to have an orzo salad with our Easter meal. Why orzo? Why at Easter? We don't really need to answer these questions. Information that actually might be useful: Orzo is a small rice shaped pasta. It comes in different sizes, some look more flat and like short grain rice. Other varieties of orzo are more similar to a piece of long grain rice. I prefer the longer, thinner shape. It's not rice, just pasta shaped like rice. Find it in the pasta section of your grocery.

The Easter orzo salad changes a little each year. I love shrimp, orzo and vegetables together. I tried a new recipe this year, and everyone agreed it's a keeper. I know you're going to love it too.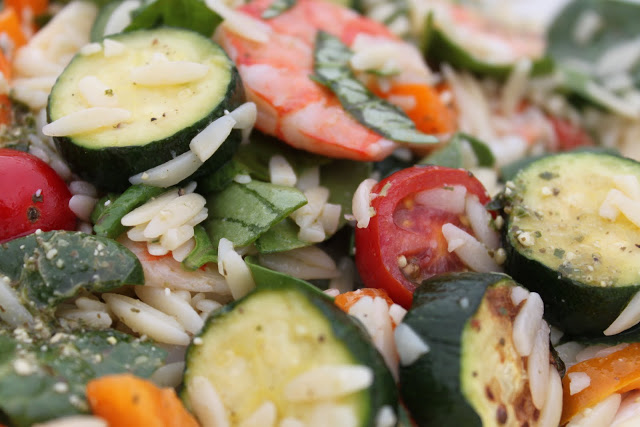 Orzo, Shrimp and Summer Vegetable Salad with Pesto Vinaigrette
Adapted from Bon Appetite 2008
Ingredients
8

ounces

orzo

about 1 1/3 cups

6

tablespoons

extra-virgin olive oil

divided

2

medium zucchini or summer squash

about 9 ounces total, cut lengthwise into 1/4-inch-thick slices

1

red or yellow bell pepper

quartered

3

tablespoons

purchased pesto

2

tablespoons

red wine vinegar

2

tablespoons

fresh lime juice

1

pound

uncooked large shrimp

peeled, deveined

2

cups

tomatoes

cored, cut into 1/2-inch cubes (about 2 cups) or 2 cups grape tomatoes, slice in half

1/2

cup

thinly sliced fresh basil leaves plus sprigs for garnish

1 8-

ounce

ball fresh mozzarella cheese

cut into 1/2-inch cubes

1

cup

fresh spinach

chopped
Instructions
Cook orzo in large pot of boiling salted water until tender but still firm to bite, stirring occasionally. Drain. Rinse with cold water; drain well. Transfer to large bowl and toss with 1 tablespoon oil.

Prepare barbecue (medium-high heat). Brush zucchini and bell pepper with 2 tablespoons olive oil, then sprinkle with salt and pepper. Whisk pesto, lime juice, remaining 4 tablespoons oil, and remaining 1-2 tablespoons vinegar in small bowl for pesto vinaigrette. Place shrimp in medium bowl. Add 2 tablespoons pesto vinaigrette; toss to coat.

Grill zucchini and bell pepper until crisp tender, about 2 minutes per side for zucchini and 3 minutes per side for bell pepper. Transfer to work surface. Sprinkle shrimp with salt and pepper; grill until charred and cooked through, 2 to 3 minutes per side. Place shrimp in bowl with orzo. Chop zucchini and bell pepper; add to bowl with orzo. Add remaining vinaigrette, tomatoes, sliced basil, and mozzarella; toss to combine. Season to taste with salt and pepper.

Garnish with basil sprigs and serve cold or at room temperature.

Serves 4-6 as a side salad

This can be made ahead and kept in refrigerator for up to a day before serving.
Recipe Notes
-This can be prepared without a grill. If you have a convection oven, turn the heat to about 425 and cook just until vegetables start to turn golden. You may cook the shrimp in the oven as well, or saute in a pan on the stove. The flavors are definitely better when the vegetables and shrimp are grilled on a barbecue grill. -Don't overcook the vegetables. They should be barely softened when cooked properly.