If you want to make the best sugar cookie ever, Our Favorite Sugar Cookie is the recipe for you! When my kids were young, we always made this recipe for Valentines Day, Halloween and Christmas. We have been making and baking these soft sugar cookies for over 30 years and they are still our favorite!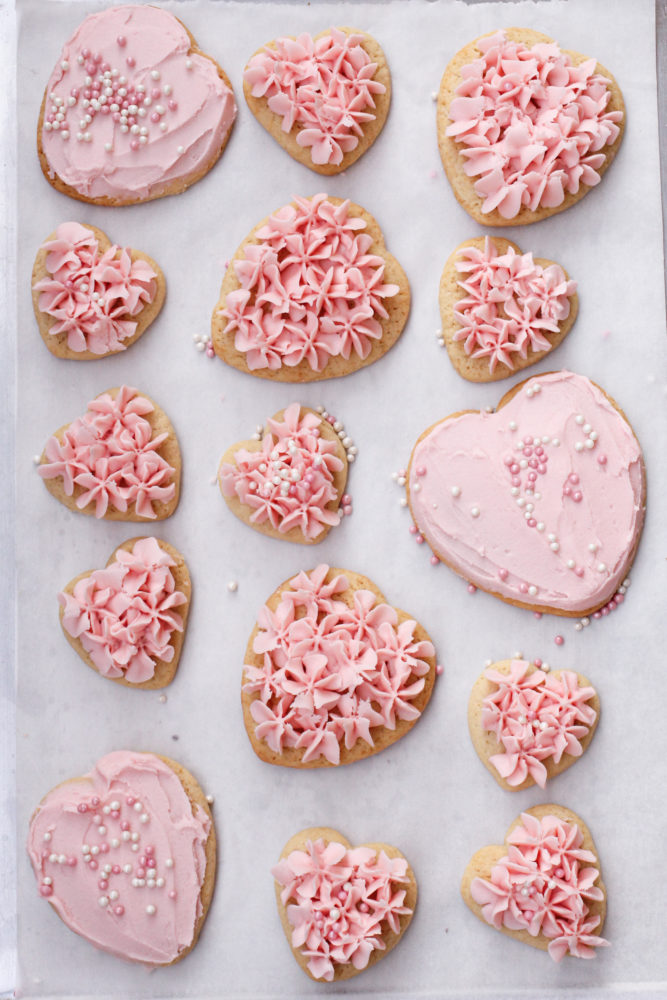 sugar cookie recipe made with butter
Our Favorite Sugar Cookies are a traditional sugar cookie recipe. Back in my mom's baking days, most sugar cookie recipes were made with shortening or a mixture of shortening and butter. The shortening helped to preserve the cookies and also helped to hold their shape.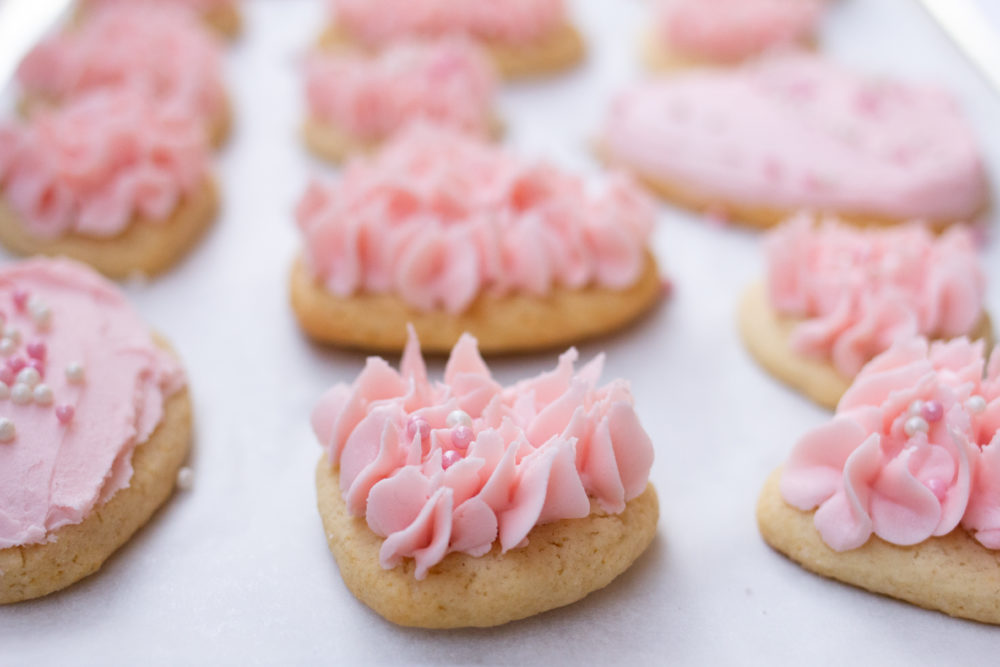 I think many cooks also preferred shortening because it was less expensive than butter. I personally like the taste of butter (better than a shortening) in this cookie!
Tips for making sugar cookies…
If you are making sugar cookies for the first time, there are a few tips to remember. When making sugar cookies with all butter, it is best to refrigerate the cookie dough to help the cookies hold their shape.
Remember, if you refrigerate the dough, it needs to be rolled out and cut and then baked as soon as possible. Don't refrigerate the dough and then let it sit out on the countertop for a long period of time.
The dough should be cold when the cut out cookies go into the oven. Refrigeration of the dough will keep the cookie from spreading too much!
don't roll too thin!
When rolling out the dough, don't roll the cookies too thin. I usually roll to about 1/4 inch thickness. I like a thick sugar cookie, not a thin crunchy cookie! And make sure to prepare frosting with butter, never use shortening or margarine in frosting! The frosting is key in this cookie.
When I made these with and for our kids when they were young, we had oodles of cookie cutters! So many choices. But for Halloween, we always used a pumpkin shaped cookie cutter. And for Valentine's Day, of course, the heart shaped cutter!
I colored the frosting orange and always bought candy corn for the eyes and m&m's for the mouth. We frosted the cookies with a butter (smooth edge) knife, and then decorated. Orange, yellow and black or brown sprinkles were always on hand as well!
try using a decorating tip to frost!
This year, I tried to make a prettier version of our old classic! I doubled my frosting, and then spooned it into a bag with a 4B star tip. I colored part of the frosting light orange, and a small portion light green for the stem of the pumpkin.
They aren't perfect. But each time I try to use a cake decorating tip, I get a little better. Let's put emphasis on the word "little". Wilton has tips for piping with the star tip I used here. Also, I loved this article by Orson Gygi on "Everything You Need to Know About Piping Tips" .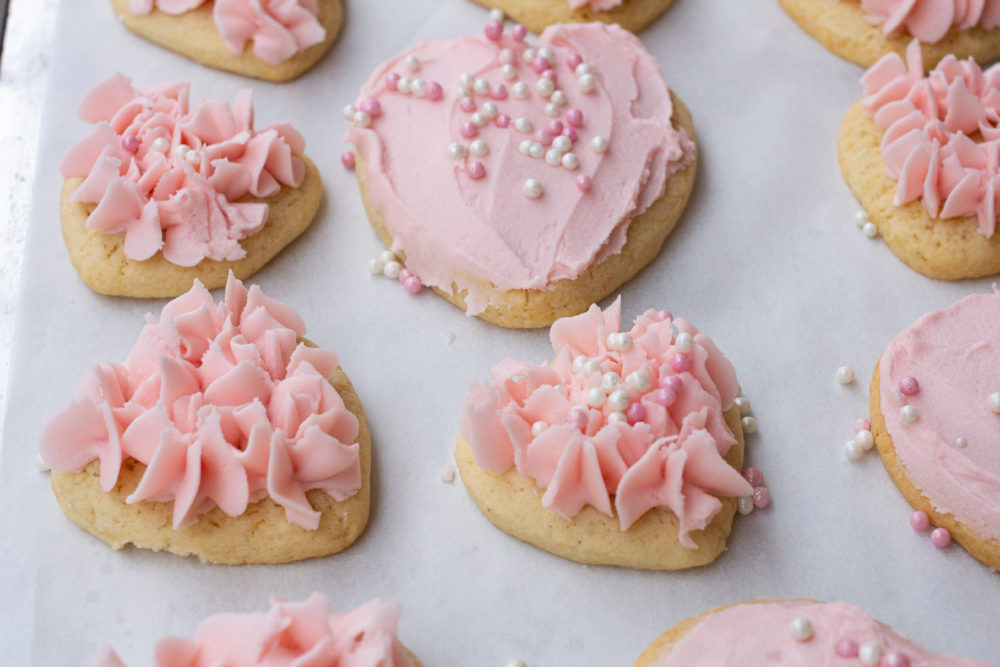 I'm anything BUT a cake decorator, I can barely squeeze the frosting out of the bag without having it get all over my hands! I am always amazed at people like my friend Courtney, who can make decorating a cake look effortless!
For me, I love the look, but it's a once in a while sort of event! Most of the time, I simply frost the cookies and throw on some fun sprinkles.
roll and cut or scoop and bake sugar cookie
This cookie is also easy to make as a scoop and bake treat if you don't want the mess of rolling out and cutting cookie shapes. Follow the directions on this post for Gluten Free Sugar Cookies if you are looking for the easiest method EVER for making frosted sugar cookies! Also, if you need to bake gluten free, I've never eaten a better GF treat in my life.
Our favorite sugar cookies recipe makes about 35-40 large cookies, enough for eating and sharing! The cookies by themselves are not very sweet.
The frosting on these cookies adds just the right amount of sweet to make this the most wonderful sugar cookie ever. I hope this becomes your favorite sugar cookie too!
This recipe was originally posted in 2011. Recipe and photos updated in 2020.
Our Favorite Sugar Cookies
A Bountiful Kitchen
chill dough, cool and frost
1
hour
30
minutes
Total Time
1
hour
57
minutes
Ingredients
Please read recipe notes before starting to cook!
1

cup

unsalted butter

softened

1

cup

solid shortening or 1 cup additional unsalted butter

softened

2 1/4

cups

granulated sugar

1

tablespoon

vanilla

3

eggs

6 ¼-½

cups

all-purpose flour

1

tablespoon

baking powder (note TABLESPOOON)

1

teaspoon

baking soda (note TEASPOON)

1

teaspoon

salt

⅓

cup

milk*

plus additional flour for rolling out cookies
Butter Cream Frosting
1

cup

butter

room temperature

6-7

cups

powdered sugar

1/4

teaspoon

salt

1

teaspoon

vanilla or almond flavoring

about 1/4 cup milk
Instructions
Cream the butter, shortening and sugar together.

Mix in vanilla and eggs. Beat on medium speed until incorporated.

In a separate bowl, mix together 6 cups of flour, baking powder, baking soda and salt.

Add flour mixture alternately with milk. Mix at low speed just until all flour and milk are mixed into the butter mixture. Do not over mix. If the mixture feels too sticky, fold in another 1/4-1/2 cup of flour. I try to add as little extra flour as possible to keep the dough soft but not sticky!

You may refrigerate at this point, overnight or up to three days before baking. It is best to refrigerate covered dough for at least 1-2 hours.

Roll out on floured surface in batches about 1/4 inch thick*. Cut with cookie cutters into desired shapes.

Place immediately on ungreased baking sheets about one inch apart.

Bake at 350 degrees for about 12 minutes or until lightly golden on edges.

Yields about 35-40 3×5 inch cookies
For the frosting
Beat butter until soft. Add 3 cups of powdered sugar. Continue mixing on low.

Add 2 more cups of the powdered sugar. Mix until smooth. 

Add the milk a tablespoon at a time, along with the last cup of powdered sugar.

Scrape down sides of bowl, and mix until all ingredients are incorporated and smooth. Add food coloring if desired.

Yields enough frosting for about four dozen cookies* see recipe notes.
Recipe Notes
The dough will spread and puff up. Do not place the cookies too close together. If the cookie dough is refrigerated, the dough will not spread as much.
There are many factors that effect the final product when baking. Some of those factors are: temperature of butter, mixer speed, temperature in the kitchen, altitude, if using butter or shortening or both. For this reason, I suggest baking a test batch of two cookies This will give you an idea of how much the cookies spread while baking, so you can make adjustments as needed. 
This recipe originally was given to me by a friend back in the 80's. Back then, many cooks used shortening in cookies. The shortening in this recipe will help the cookies hold their shape, but I prefer to make cookies with all butter. 
To get a muted frosting color, mix the food coloring at half strength. For instance; the directions to color a batch of orange frosting calls for 12 drops of yellow and 4 red. Use half of this amount.
Remember to save a little of the frosting to color for the stem if you are making  pumpkin shaped cookies!
If you are decorating the cookies using a large tip, make another 1/2 recipe of the frosting so you will have enough to decorate all of the cookies. If frosting the cookies using a knife, the amount in the recipe will be sufficient.
If you are using any type of sprinkles, make sure to have the sprinkles handy right after frosting and apply. If you wait, the frosting will set up and the sprinkles will not adhere to the frosting!