Overnight Cinnamon Rolls are the perfect way to enjoy fresh, hot cinnamon rolls early in the morning without the 4AM wakeup call!
This recipe can be made as an overnight roll, or a traditional make and bake. Instructions for both methods are included on recipe notes. ABK's Overnight Cinnamon Roll recipe is also freezer friendly!
Why overnight?
I love to serve fresh, hot cinnamon rolls right out of the oven for breakfast or brunch on a special occasion. The problem with serving cinnamon rolls fresh in the morning?  It requires getting up before the sun rises to insure they are mixed, rolled, risen, baked and frosted by the time you're ready to serve. Overnight Cinnamon Rolls to the rescue!
The beauty of this recipe is the work and mess is finished the day before, so all you have to do on the day of serving is pull the pan out of the fridge, let rise, bake and frost.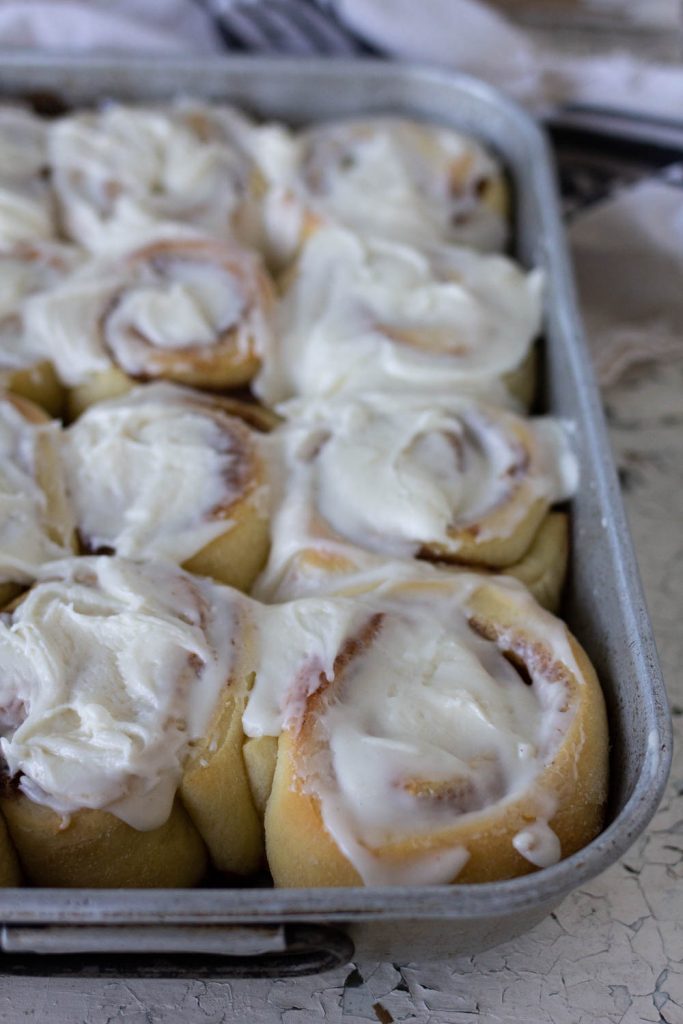 Ingredients and method combined to make the best overnight cinnamon roll
Not all cinnamon roll recipes are created equally! This recipe comes after YEARS of trial and a lot of error. The perfect  overnight sweet roll uses a combination of flours and a small, (but not too small) amount of yeast. This recipe for Overnight Cinnamon Rolls calls for Bread flour and All Purpose flour. If you omit the bread flour, the rolls will lack the texture you are looking for in a light, and slightly chewy roll.
A tablespoon of yeast in combination with the cup of bread flour will yield a rise in the dough, without rising too much overnight. Remember, the roll will rise a bit in the fridge, and then again in the oven! One last unique combination –  I believe butter and oil in the dough helps to create a chewier texture we love in our cinnamon rolls!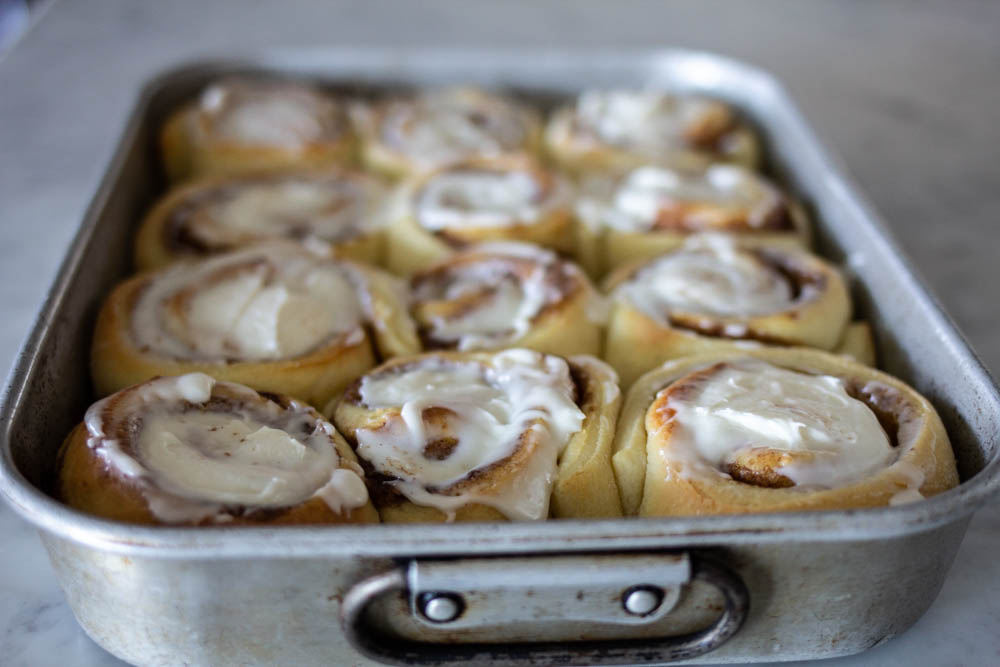 How do you make Overnight Cinnamon Rolls?
The process of making overnight cinnamon rolls is basically the same as a traditional cinnamon roll. Mixing and waiting for the first rise of the dough is still included in the recipe. There are recipes that omit the first rise in cinnamon rolls to save time, but I don't love the texture of the quick-rise cinnamon roll.  Most bakers will tell you there is a compromise when you are making yeast rolls that only require one rise!
This recipe uses a small amount of yeast in the dough, so the roll won't puff up too much in the fridge overnight.   Once the cinnamon roll has been formed, cut and placed in the pan; simply cover and let sit in the fridge until the next morning. When morning comes, the pan needs to come out of the fridge and sit in a warm place to allow the rolls to rise and then be baked. If you have a "PROOF" setting on your oven, I suggest using it. The PROOF setting is usually set to about 85 degrees. Don't try to force the rolls to raise too quickly, or the rolls will yield a "yeasty" flavor.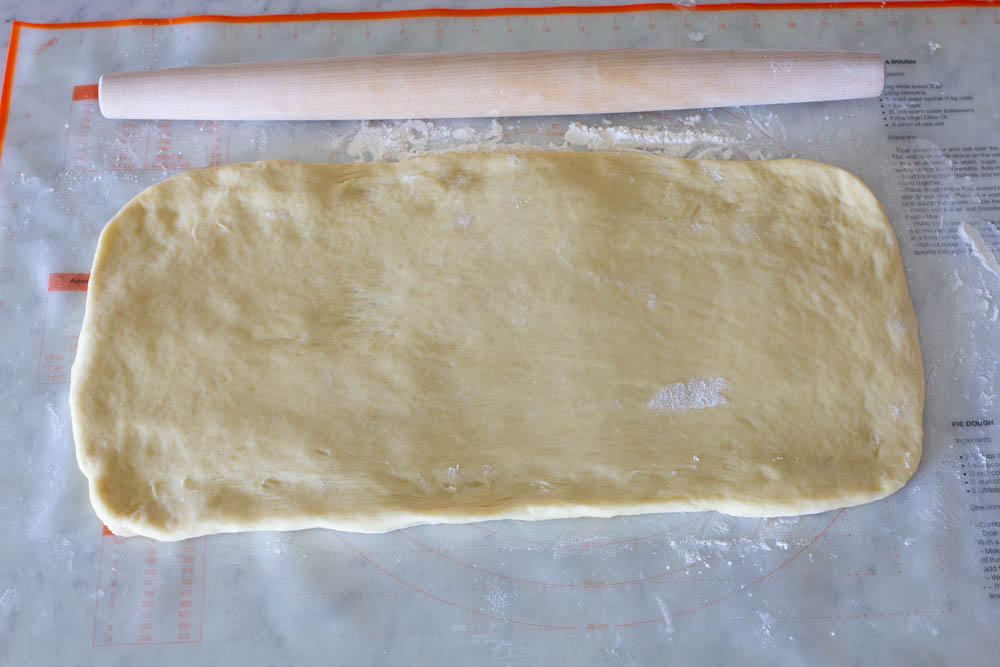 Simple cinnamon roll filling
The three key elements to a delicious cinnamon roll are: dough, filling and frosting. I think the filling is often overlooked. The secret to perfect filling is… simplicity. I like a basic filling that includes butter (no margarine!), brown sugar and cinnamon. I also like a pinch of salt to balance out the sweet. Soft and not totally melted butter works well to keep the filling from spreading out too much!
Rolling up and cutting rolls
When I make cinnamon rolls it seems like I'm either baking for a big crowd or just a few people at home. This recipe is perfect for one 9×13 pan  yielding 12 cinnamon rolls. If I'm making overnight cinnamon rolls for a crowd, I double this recipe and use a jelly roll pan for baking.
Cutting cinnamon roll dough is easy if you have a sharp knife,  or a pastry scraper works well as long as the edge is sharp. I've found a stainless steel edge is ideal for cutting cinnamon roll dough. Dental floss works well too, just make sure it is not flavored! One time I used mint flavored floss and could taste it on my cinnamon rolls. Not a good combo!
The best cream cheese cinnamon roll frosting
I've frosted cinnamon rolls with a huge variety of ingredients. Some I love and others are just… meh. In the end, I have a few favorites, but nothing competes with a cinnamon roll topped with cream cheese frosting. I like to keep the cream cheese on the light side. Less is more when it comes to cream cheese frosting in my opinion!  I use 4oz of cream cheese in this recipe.  Don't make the mistake of using light cream cheese. If you use light cream cheese in baked goods, don't expect the same texture as with using regular cream cheese. There's more than just a lower calorie and fat content result!  In the end,  your baked product, or frosting (in this recipe) will suffer. Frosting will not set up the same when using a low fat or no fat cream cheese. Trust me!
I hope you love this Overnight Cinnamon Roll Recipe and hope it makes your morning gatherings a little easier and much sweeter!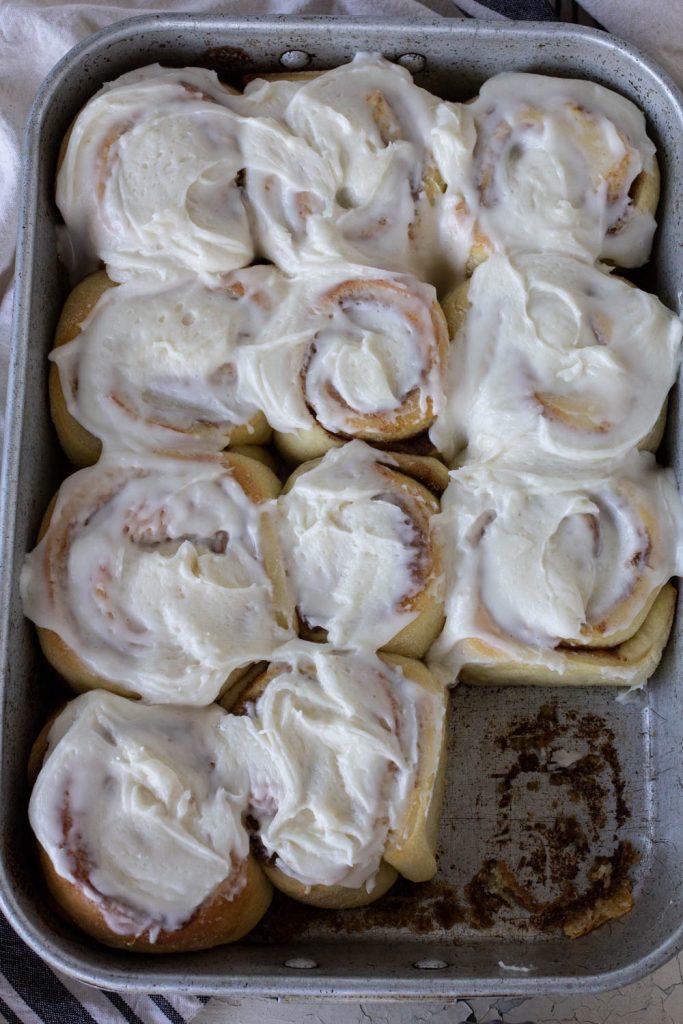 Overnight Cinnamon Rolls
Overnight Cinnamon Rolls are perfect for breakfast or brunch gatherings! Most of the work is done the day before, on day of serving- rise, bake and frost.
raising and time in refrigeration
12
hours
Total Time
12
hours
35
minutes
Ingredients
1

cup

warmed milk

I use whole, but any type will work

1

tablespoon

dry yeast

1

teaspoon

sugar, granulated

2

large

eggs + one yolk, at room temperature

4

tablespoons

unsalted butter, melted

1/4

cup

vegetable or canola oil

*if you prefer, you may use an additional 1/4 cup of butter instead of oil

1/3

cup

sugar, granulated

1

teaspoon

sea salt

3

cups

all purpose flour

1

cup bread flour*

additional all purpose flour for rolling out dough
filling
6

tablespoons

butter, room tempereture

no margarine!

2/3

cup

light brown sugar

1

tablespoon

cinnamon

pinch

sea salt
cream cheese frosting
4

oz

cream cheese, not light, room temperature

see post for more info

4

tablespoons

butter, room temperature

3 1/2

cups

powdered sugar

1-2

tablespoons

milk, cream or half and half

1

teaspoon

vanilla

dash

salt
Instructions
Prepare dough:
Carefully place eggs (in shells) into a small bowl of warm water to gently heat the eggs. Let sit while preparing yeast mixture. Or use room temperature eggs.

Place warm milk in the bowl of a stand mixer. Sprinkle 1 tablespoon of yeast and 1 teaspoon sugar over the warm milk. Let sit until the yeast begins to bubble and rise.

Add eggs, egg yolk, 4 tablespoons melted butter, oil , 1/3 cup of sugar and salt to the yeast mixture. Mix until blended with paddle in mixer on low.

Add 3 cups all purpose flour. Mix on low until all ingredients are incorporated. Add 1 cup bread flour a little at a time, switch to dough hook. Mix until all flour is mixed in, and no white patches are visible. Mix for about 1 minute on low speed using dough hook. The dough should look smooth when finished.

Lightly coat the inside of mixing bowl with cooking spray. Cover bowl with Saran wrap. Let sit for about 2 hours in a draft free place that is at least 72 degrees.*

While dough is rising, prepare the filling and the pan for baking.
Prepare filling:
Mix 6 tablespoons room temperature or slightly melted butter, brown sugar, cinnamon and a pinch of salt together in a small bowl. Set aside.

Generously butter the bottom and sides of a 9x13 pan (preferably not glass*) and set aside.
Form rolls:
Using a lightly floured surface, pat and then roll the dough into a 20"x10" rectangle.

Spread the filling onto the dough evenly.

Roll up the dough, starting with the long side, until the dough is rolled into one long piece.

Using a sharp knife, pastry scraper with sharp edge or unflavored dental floss, cut the rolled dough into half, then each half into 2 pieces, then each portion into 3 even rolls. You should have 12 rolls when finished (see photos on post)

Place the rolls into prepared pan and cover with a sheet of parchment. Tightly cover the pan with foil or plastic wrap and place in refrifgerator for 2-12 hours.

2 1/2-3 hours before baking, place pan on top of dry dishtowel in a warm draft free place.* Do not set pan directly on a cold stone countertop! Remove cover used in refrigerator and parchment. Cover with clean, dry dishtowel. Let come to room temperature and rise. Alternately, you may use a proof setting on your oven (85 degrees) and cover the rolls with parchment and a light towel. Leave the rolls in the oven to raise for about 1 1/2 hours.

30 minutes before baking, heat oven to 375 regular bake OR 350 Convection. Place rack in center of oven. Prepare frosting (below) and set aside.

When rolls are ready to bake, place in oven and bake for 15 minutes (convection) or 375 regular bake for 15-20 mintues or until tops are a light golden color. Remove from oven.

When rolls are still hot, frost with about 1/2 to 3/4 cup of the frosting. This will melt into the rolls a bit, but topping with a portion of the frosting while rolls are hot will allow the frosting to seep into the rolls and create a gooey soft, flavorful roll.

After rolls have cooled about 15 minutes, top with remaining frosting and serve.
Make frosting:
While rolls are baking, combine soft cream cheese and butter in a bowl. Mix until smooth. Add powdered sugar, and mix again on low speed. Add milk, vanilla, and dash of salt. Mix until smooth. Add a splash more milk if needed. See notes for nake ahead.
Recipe Notes
You may use all butter if you like. I have found the texture of the roll depends on a  few factors, one being the use of a combination of butter and oil in the dough. The butter gives the rolls great flavor and the oil helps to create a  bit of a dense and slightly chewy texture. 
I've experimented with flours in cinnamon rolls for YEARS. This combo creates a light, but still slightly dense texture in cinnamon rolls. I think using part All Purpose and part Bread Flour is the perfect combo. If you are looking for a lighter cinnamon roll, and want your roll to have a higher rise, you may use All purpose flour, and leave out the bread flour. 
Make sure to use butter in the filling and the frosting, not margarine or a butter substitute. Butter has a flavor and texture that cant be duplicated! 
The baking time will vary according to your oven, but this recipe is most often finished in my oven right at the 15 minute mark. I use a 350 convection setting. You can also bake regular bake at 375 for 15-20 minutes. 
Remember to allow about 15 minutes after the rolls are baked for the rolls to cool enough to serve and to frost in two stages. 
I recommend using a light colored pan (not a dark coated pan or glass) for best results. Glass tends to bake hot (at least 25 degrees hotter) and dark pans  often result in dark bottoms on rolls!
The frosting on this recipe may be made the day before and refrigerated. When you take the rolls out of the fridge to rise, take out the frosting and let come to room temperature.
To freeze rolls- Prepare as directed in recipe, except when ready to refrigerate rolls, cover tightly with plastic wrap and freeze immediately. The rolls may be frozen for 30 days and then removed from freezer. Unwrap and cover lightly with a dishtowel. Let thaw and rise for 3-4 hours and bake as directed. 
To make and bake this roll recipe (without refrigeration), proceed as directed until the rolls are refrigerated. Instead of refrigerating, let shaped rolls sit on countertop covered with a  light dishtowel. Let rise for 1 1/2 hours. Bake and frost as directed.