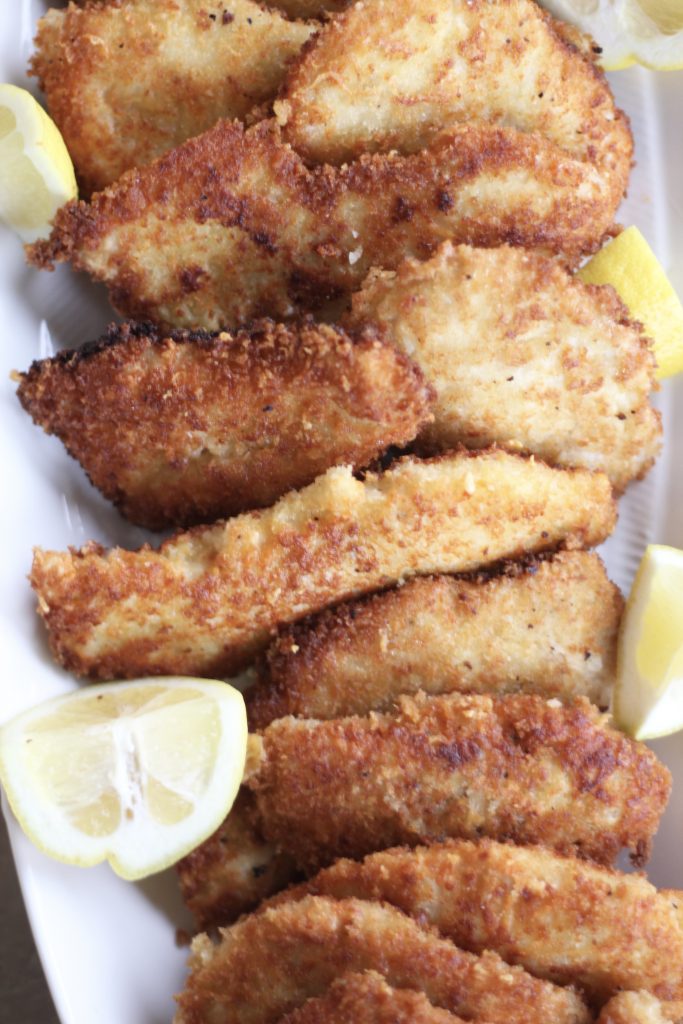 I love this recipe for homemade Panko Chicken Strips!  It's better than takeout, and most certainly 100 times better than drive-thru chicken nuggets. They are kid and adult friendly and a recipe that can be on the table in less than 30 minutes, which is perfect for a weekend dinner!
On the weekend we usually take a break from our usual routine. I always look forward to going out and trying a new restaurant, or an old stand-by like Hires Big-H. You can often find us there ordering a Big H, Onion Rings, Fry Sauce, and a Cherry Limeade and using their car hop service. That's one weekend night, the other, it's usually a home made something-or-other that's kind of quick.  Sunday is always reserved for a family sit down dinner at home.  This recipe is one I love for a quick Saturday night meal. It's perfect on top of a bed of greens with some fresh cut tomatoes, or just chicken with a salad on the side. Oh, Panko Chicken Strips also make the best chicken sandwich hot or cold!
Homemade sauce makes all the difference! Try this with some barbecue sauce, or Utah Fry Sauce, or even some homemade Buttermilk Ranch Dressing! Your family will love you forever and you'll be able to pronounce all of the ingredients in your dinner. That's not something you can say if you eat at a fast food drive thru!
Panko Chicken Strips
Recipe adapted from a Bon Appetit original recipe
Ingredients
1

cup

all-purpose flour

2

large eggs

1 1/2

cups

panko

Japanese breadcrumbs

1/4

cup

grated Parmesan

2

teaspoons

dry mustard powder

Kosher salt

freshly ground pepper

4

small skinless

boneless chicken cutlets (about 1 1/2 pounds total), cut in half so the cutlet is half as thick*

Canola oil for frying

1

lemon

halved for serving, if desired
Instructions
Place flour in a shallow bowl.

Beat eggs in a second shallow bowl.

Combine panko, Parmesan, and mustard powder in a third shallow bowl and season mixture generously with salt and pepper.

Create an assembly line with the first being the sliced chicken, then the flour, next the egg and finally the Panko crumb mixture.

Place a pan at the end to place the chicken on when dipped and prepared for cooking.

Season chicken with salt and pepper, then dredge in flour, shaking off any excess.

Transfer to bowl with beaten egg and turn to coat. Lift from bowl, allowing excess to drip back into bowl.

Coat with panko mixture, pressing to adhere.

Heat about 1/2 cup of Canola oil in a large heavy skillet or a cast-iron skillet over medium-high heat. Working in 2 batches, cook cutlets, adding oil to pan between batches if needed.

Cook until golden brown and cooked through, about 4 minutes per side. Transfer cutlets to a paper towel-lined plate and season with salt. Serve with dipping sauce, or serve with lemon slices for squeezing on top.
Recipe Notes
-The recipe is called Panko Chicken Strips, but as you can see, I don't usually cut the chicken into small strips.-Instead of pounding the chicken until it is thin, I simply slice the chicken in half so it is half as thick. This eliminates the need to pound the chicken and saves on clean up and prep time. Pounding the chicken does tenderize, so if you like super tender chicken, pound away!