Remember last fall, when I had to accompany Brookie to Europe? We traveled through Spain, Italy and France on our two week vacay. I could go on and on, and bore you about every bite of pastry, pasta and gelato we consumed, but I'll spare you and just say, Italy was the highlight of our food experiences.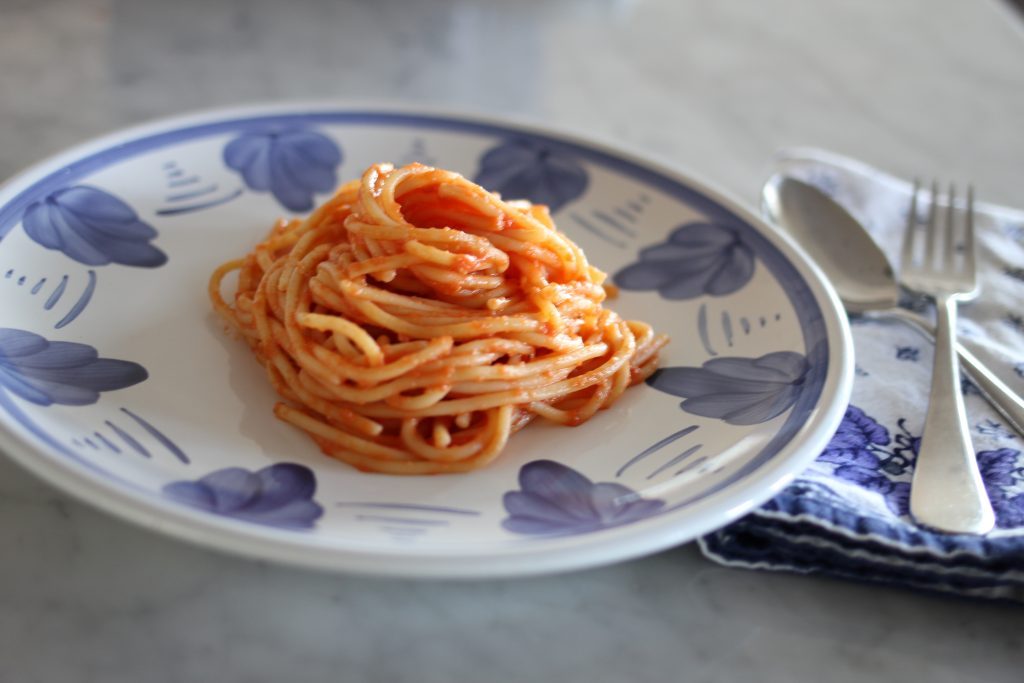 When I received my May, 2011 Bon Appetit, I was deliriously happy to see the entire issue was dedicated to ITALY. Yips! The cover photo, Pasta Al Pomodoro is our recipe of the day. BA shares some of Italy's cooking secrets in their article "Pasta Perfect, A BA Cooking Manifesto". Their 10 point guide to the "simplest, most luxurious sauces imaginable" is at the very least, informative. Here are five of their ten pointers:
1. Forget the pot, use a pan– BA points out the difference in pasta you get in "top flight" restaurants as opposed to everywhere else. The key – a saute pan. The reason pasta in a top quality restaurant tastes better- "the pasta is cooked till almost done, then transferred to a saute pan, where the pasta and sauce are cooked together, therefore insuring each strand of pasta is coated with the sauce."
Brilliant! I've never thought of this.
2. You're not using nearly enough salt– You should use about 1 tablespoon of salt- per quart of water. Well, this one I did already know, blogged about that here. Yes, this really makes a difference in the way your cooked pasta tastes.
3. Don't dump the pasta water–Starchy, salty pasta water is the secret ingredient in most sauces. Always save some of the cloudy, starchy pasta water to add to your sauce. It gives your dish body and flavor.
4. Everything is better with butter–This goes without saying. BA says-the secret to "rich, silky sauce" is extra fat. They also share this tidbit of info (not sure if I needed to know this) "Yes, all of the restaurants use it. " Andrew Carmellini of NYC's Locanda Verde restaurant says "In Italian its called mantecare which means to make creamy" .
5. Cheese is not just a garnish– "Restaurants also always enrich pasta sauces with cheese before grating it table side. When a little is added to the sauce, it melts and becomes a binder that lends to texture and flavor."
So there you have it. The article, written by Oliver Strand is a wonderful mini-education on how to make perfect pasta in your very own kitchen.
Oh yes, the recipe! Why you'll love this dish: It's easy on the budget, but tastes like a million bucks. It's not complicated. It takes less than an hour start to finish (most of the time is simmering on the stove top, not actual work). I've made it twice, and we've loved it both times. Last Sunday, I started this at about 5. Served it before 6 with some crusty rolls, olive oil, balsamic and fresh green beans. It was almost like being back in Firenze.
Almost.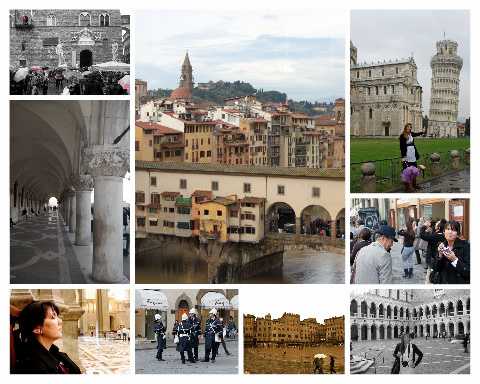 Venice, Florence, Siena and Pisa
Pasta Al Pomodoro!
Ingredients
1/4

cup

extra virgin olive oil

1

medium onion

chopped or minced

4

cloves

garlic

minced

pinch

red pepper flakes

1-28

oz

can peeled tomatoes

pureed

kosher salt

3

large fresh basil sprigs

3

quarts

water

12

oz

bucatini or spaghetti

1/2

cup

pasta water

reserved from cooking pasta

2

tablespoons

cubed unsalted butter

1/4

cup

fresh grated Parmesan or Pecorino cheese
Instructions
Heat 1/4 cup olive oil in a 12 inch skillet over medium low heat.

Add one minced or chopped onion, stirring until soft, about 12 minutes.

Add minced garlic cloves and cook, stirring for 2-4 minutes.

Add a pinch of crushed red pepper flakes. Cook for about 1 minute. Increase heat to medium and add can of tomatoes that have been pureed in a food processor or blender. Lightly season with kosher salt.

Cook, stirring occasionally, until sauce thickens slightly and the flavors meld, about 20 minutes.

Remove pan from heat, stir in fresh basil and set aside.

Bring 3 quarts of water to a boil in a 5 quart pot. Season with salt. Add pasta and cook, stirring occasionally until about 2 minutes before tender. Drain pasta, reserving at least 1/2 cup of the pasta cooking water.

Discard basil and heat skillet over high heat.

Stir in reserved pasta water to loosen sauce, bring to a boil. Add pasta and cook stirring until sauce coats pasta and pasta is al dente about 2 minutes.

Remove pan from heat and add the cubed butter and grated cheese. Toss with metal tongs until the cheese melts. Transfer to warm bowl or plates; serve with more grated cheese if desired.
Recipe Notes
-This can be made in a slow cooker. Place all of the ingredients in the slow cooker for the day on low. I'm guessing 6 hours will be enough time...If you pre cook the onion and then dump it all in the slow cooker, about 3 hours on low. If using the slow cooker, I would make sure to double the recipe and freeze the leftover sauce.-Long (12" or longer) metal tongs. They cost just a few dollars. You need them for this dish.- I usually like my onions chunky, but cut them a little smaller for this recipe.-One time I was out of whole peeled tomatoes, and I subbed chopped tomatoes. No problem.-If fresh basil is unavailable in your area, go ahead and use dried basil. Of course, you won't be retrieving it from the sauce before serving, as you would with the fresh sprigs. I would try about 1 tablespoon of dried basil leaves. Fresh is best, if at all possible.-I'm not a huge garlic fan so I cut back and used only 2 cloves.