It's hard to beat a classic chocolate chip cookie, but these Peanut Butter Cup Chocolate Chip Cookies come very close! Gooey bites of chocolate and peanut butter never tasted so good!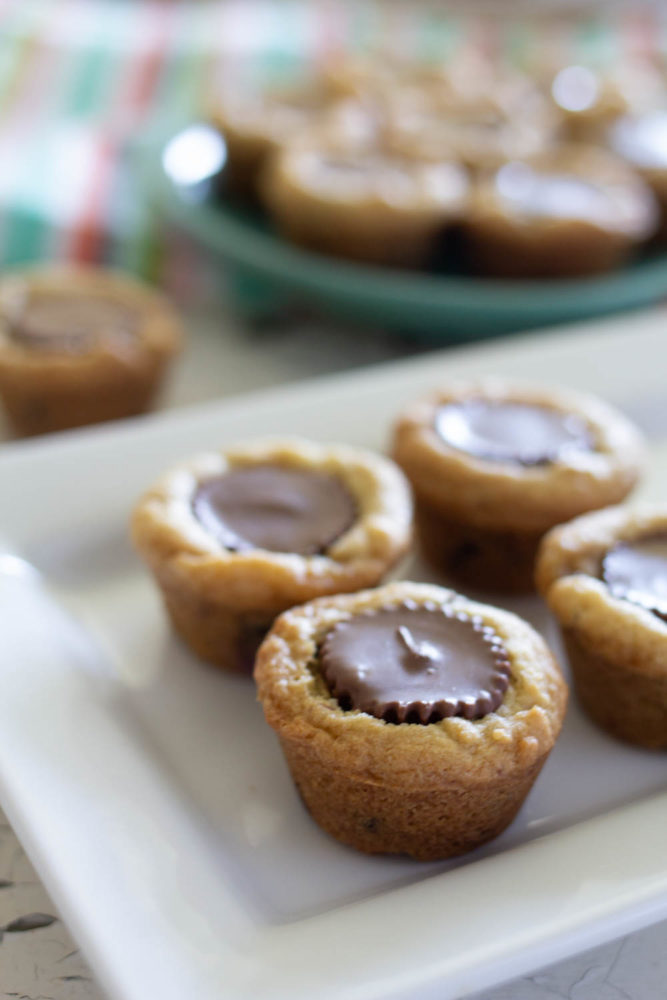 I've found that recipes from friends are often the recipes I use over and over again. This recipe comes from my dear friend Vickie, who I met nearly 40 years ago when we were both going to Dixie College in St George, UT. We immediately bonded and have been close friends since!
Vickie is THAT MOM who makes cookies for every team. Cookies for her kids while they were growing up, their team mates, her x's kids and their teams. Because that's how she is. Always giving, No boundaries. This peanut butter cup cookie was always a team favorite and on her regular rotation of cookie recipes!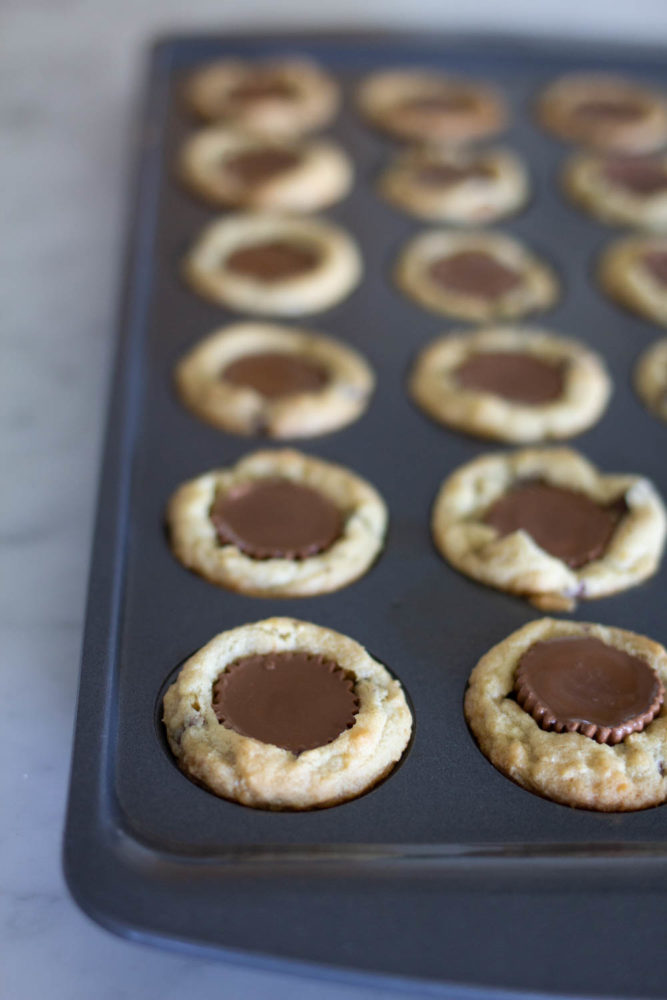 Nothing could be easier or more fool proof than a cookie baked in a mini muffin tin! By using a mini muffin tin, you will avoid the issue of the cookie being just the right consistency to avoid spreading while baking. The cookie is contained into one neat little "cup"!
This method works for almost any cookie recipe. I have used it to make one of our favorite Sunday night treats. Simply scoop this dough into a regular size muffin tin, bake just until top crust forms. The cookie will still be melty and soft inside. Remove, let cool for about 5 minutes and then place in a small bowl and top with ice cream. Easiest dessert ever!
Baking Peanut butter Cup Chocolate Chip Cookies in a muffin tin also makes the cookies extra chewy because they can be barely baked on the outside, and still soft on the inside. Two top tips for the chewiest cookies: do not over mix, and do not over bake! These two tips alone will solve many problems with baking chocolate chip cookies! This post for our Tried and True Chocolate Chip Cookies will also give more helpful tips!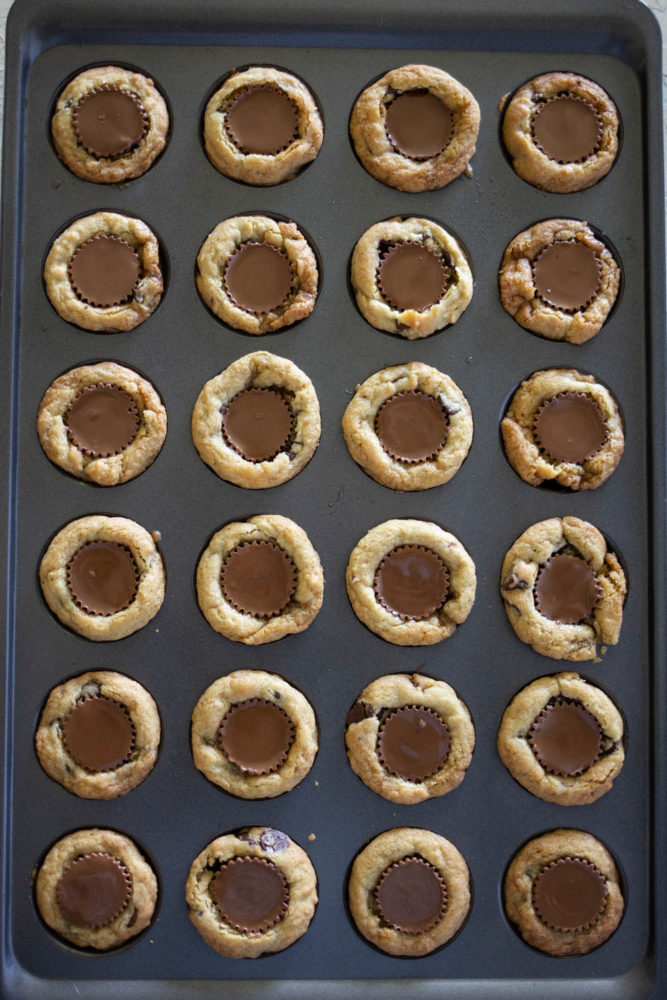 Our peanut butter cup cookie recipe starts out with a basic chocolate chip cookie dough, but that where the ordinary stops! Right smack in the middle of the cookie is a Mini Reeses Peanut Butter Cup. I love this cookie warm. I also love this cookie slightly frozen!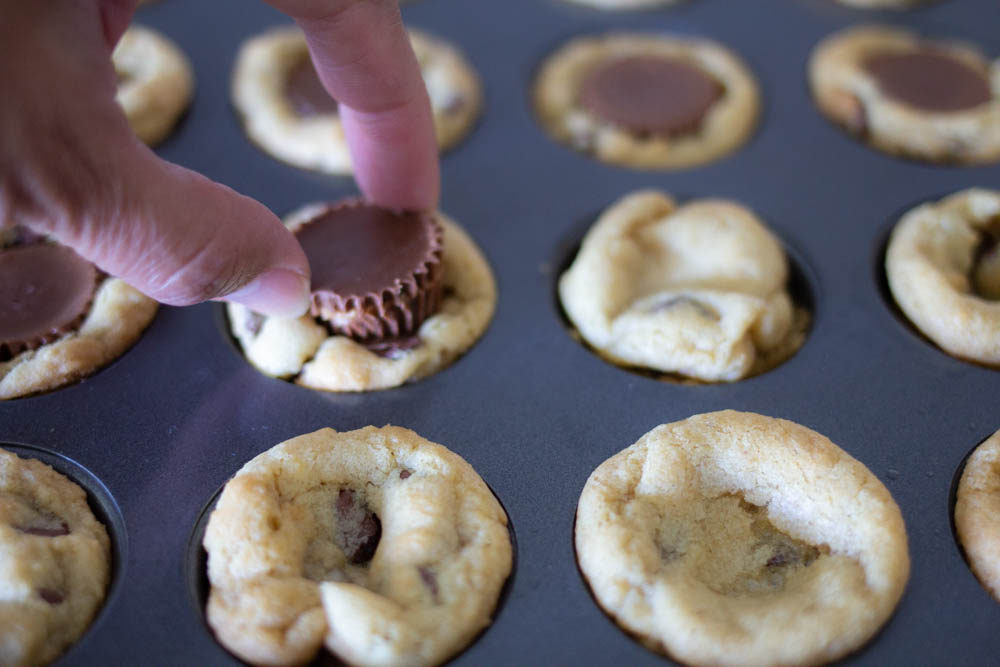 How to make Peanut Butter Cup Chocolate Chip Cookies
Unwrap the Reeses
Make the chocolate chip cookie dough
Drop by spoonfuls (or use a mini scoop) into a mini muffin tin
Bake at 350 degrees for 8-9 minutes- don't over bake
Remove pan from oven and press mini Reeses PB Cup into the center of each cookie while still warm
Let cookie cool before removing from muffin tin, this will help the cookie hold its shape
Store cookies in an airtight container at room temperature, or frozen for up to one month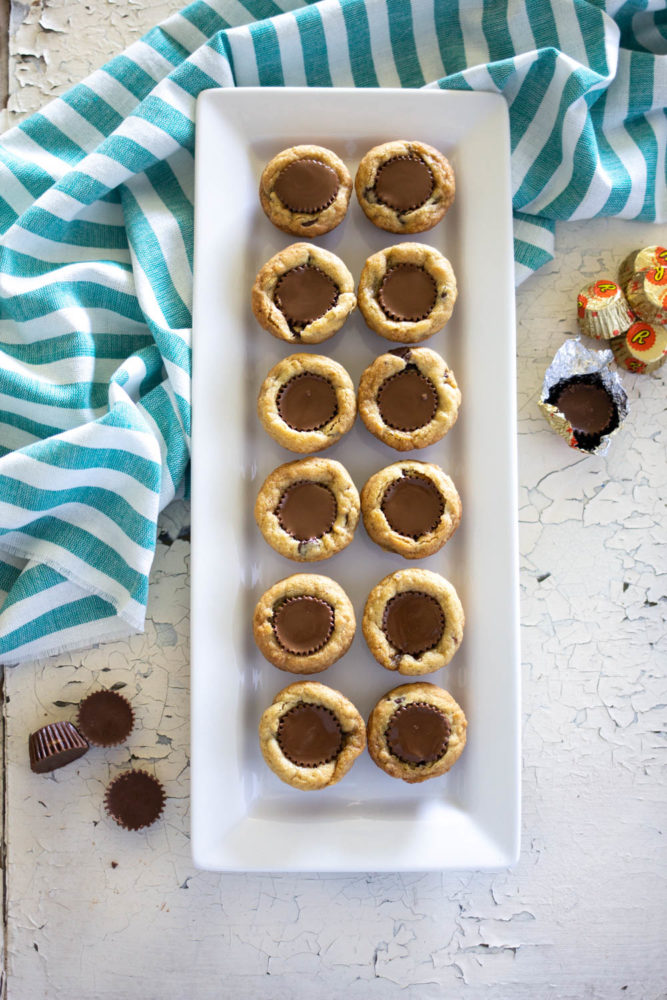 If you love peanut butter and chocolate you will love this cookie. Just a few minutes and a couple of bags of peanut butter cups stand between you and the best Peanut Butter Cup cookie!
This recipe updated with photos and content January 2021. Originally posted 2010.
Peanut Butter Cup Chocolate Chip Cookies
This yummy cookie is a combination of two favorites: Chocolate chip cookie dough and peanut butter cups!
place candy in center, cool
15
minutes
Ingredients
Basic chocolate chip cookie recipe:
1

cup

unsalted butter

3/4

cup

sugar

3/4

cup

brown sugar

2

eggs

1

tablespoon

vanilla

1

teaspoon

sea salt

1

teaspoon

baking soda

2 1/2

cups

all purpose flour

2

cups

chocolate chips, semi sweet

2

packages Reese's Mini peanut butter cups*

wrapper removed

*you will need about 1 1/2 packages of pb cups per one recipe of cookies
Instructions
Preheat oven to 350 degrees. Lightly grease a mini muffin pan.

Mix butter and sugars together in the bowl of a stand mixer or a large bowl. Add eggs, one at a time. Add vanilla mix for a few seconds. Keep the mixer on low speed.

With wooden spoon, or spatula, add dry ingredients and chocolate chips all at once. Mix just until dry ingredients are incorporated with butter mixture. 

Drop by spoonfuls into muffin tins. Bake for 8-9 minutes just until set and top is no longer shiny or wet looking.

After removing pan from oven, press a mini peanut butter cup into the middle of the cookie. Let cool completely.
Recipe Notes
The key to making this cookie is to not over bake! Bake just until the top is set on the cookie. 
This cookie is great for make ahead, just make and bake as directed, let cool and freeze in a single layer tightly covered. Or, when the cookie is completely set up and the candy in center is no longer soft, the cookies may be layered, with a sheet of parchment in between. 
I like Reeses Peanut Butter cups the best in this recipe. Trader Joe's PB cup is good as well. 
Plan on 2 cookies per serving.