Addicted to chocolate…and peanut butter? ABK's Peanut Butter Fudge Brownies filled with peanut butter chips,  topped with a  layer of peanut butter and chocolate buttercream frosting was made with you in mind! 
For as long as I can remember, I have loved Reese's Peanut Butter Cups. I love them at room temperature, frozen, and even slightly melted.  I love the regular size (two to a package) and the smalls that are individually wrapped. Not a fan of the king size cups. Useless information, I know.
I'm also a huge fan of brownies and have posted at least a dozen different brownie recipes on this blog. What can I say, I'm definitely a brownie gal. This is the first time I've posted a brownie that has peanut butter chips in the batter. My Peanut Butter Cup Brownie Bites, are a bite size cookie I absolutely love. And my favorite peanut butter bakery cookie is Cutler's Cookies Frosted Peanut Butter Cookie. It's over the top delicious and the recipe comes straight from Curt Cuter, Cookie Boss of Bountiful, UT.  If you're in Bountiful, you need to stop by and get either a Frosted Peanut Butter or a Brownie Marshmallow Cookie (those two are my favorites). Or just make a batch at home if you're extra ambitious!
My recipe for Peanut Butter Fudge Brownies consists of  a fudge brownie, filled with peanut butter chips,  topped with a layer of smooth peanut butter (while the brownie is still hot), and finally, frosted with a thick layer of creamy chocolate frosting after the brownies have cooled off. It's a peanut butter and chocolate lover's dream.  If you love Reese's, your'e going to love this recipe. Trust me, I know these things.
Happy baking!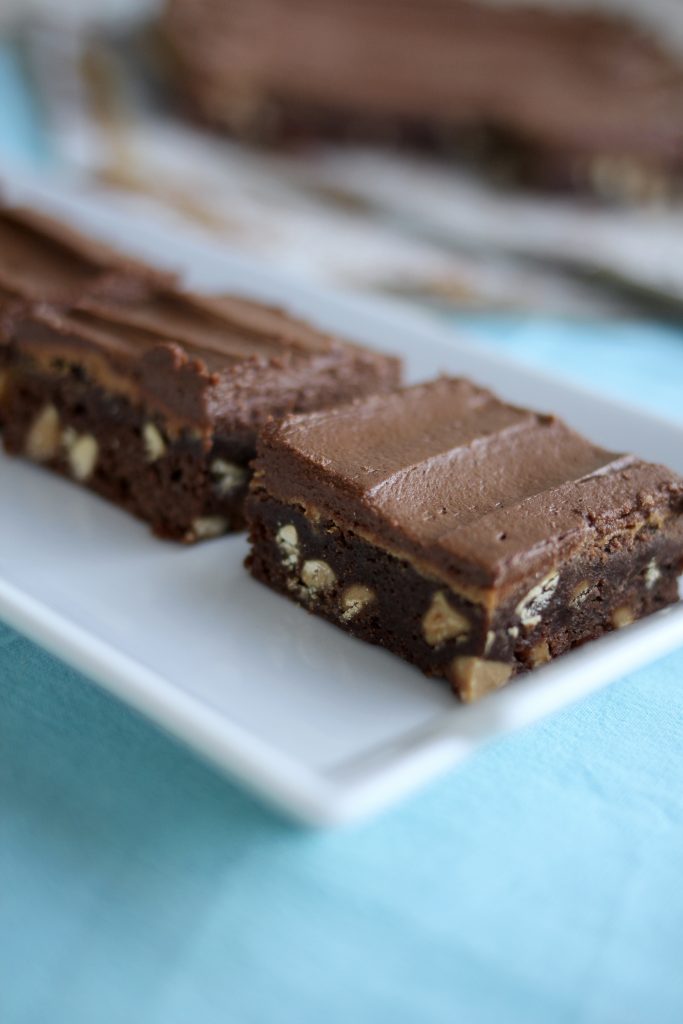 Peanut Butter Fudge Brownies
Ingredients
1

cup

butter

2 sticks unsalted, room temperature

1/3

cup

cocoa powder

2

cups

granulated sugar

4

eggs

1 1/2

cups

flour

1/2

teaspoon

salt

1

teaspoon

vanilla

1-12

oz

package Reese's Peanut Butter Chips

1/2

cup

smooth peanut butter

Skippy or Jif, no natural peanut butter
Frosting:
1/2

cup

butter

room temperature

3

cups

powdered sugar

1/3

cup

cocoa powder

dash of salt

1/4

cup

milk or half and half

1

teaspoon

vanilla

parchment paper or foil
Instructions
Pre heat oven to 350 degrees. Set rack in center of oven.

Line a 9x13 pan with parchment paper or foil, grease lightly.

Mix the butter, cocoa and sugar in an electric mixer until smooth. Add eggs, one at a time. beat until smooth.

Add the flour, salt, vanilla and peanut butter chips to the bowl. Mix on low speed or fold in by hand with a spatula, just until the flour disappears. Do not beat.

Spread the mixture into the prepared lined pan.

Bake on center rack in oven for about 25-30 minutes or until top is set and a toothpick inserted in the center of the brownies comes out with a few moist crumbs attached.

Remove from oven and let cool for a couple of minutes.

Spread 1/2 cup of peanut butter on the top of the hot brownies with a spoon or butter knife.

Place in refrigerator or on counter until the brownies cool completely.
Make the frosting:
Beat the 1/2 cup butter, powdered sugar, cocoa powder, salt, milk and vanilla together until smooth.

When the brownies are completely cool, spread with frosting.
Recipe Notes
-Reese's Peanut Butter Chips are my preference.