Peanut Butter Pie has had a special place at our Thanksgiving pie table for over 20 years. It is always at the top of our family request list! Move over chocolate pie. This chocolate graham crust, peanut butter filling, thick fudge topping all in one incredibly rich dessert is guaranteed to steal the show late November.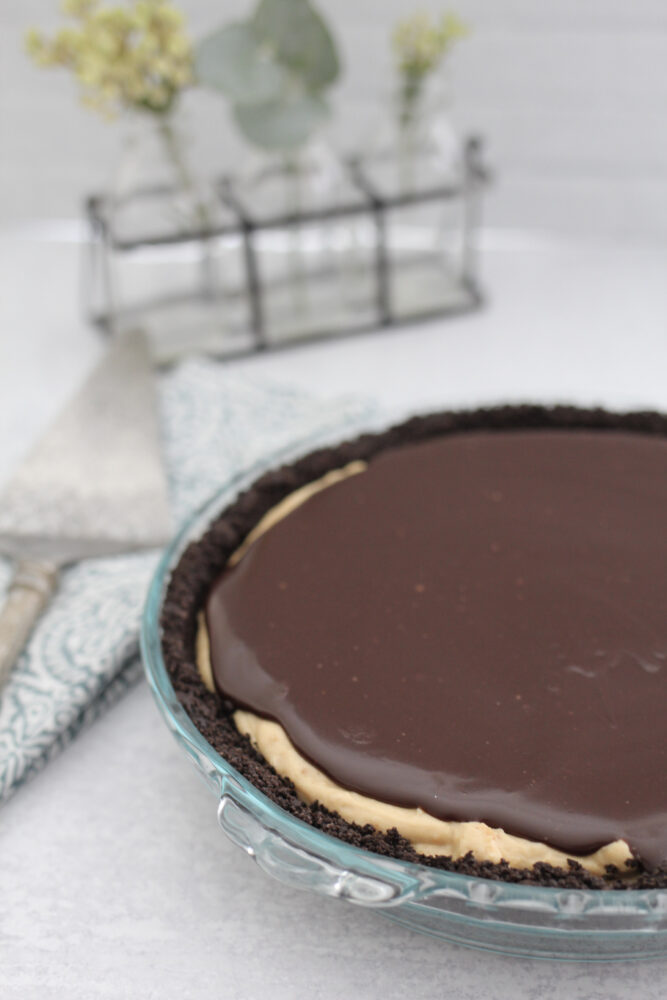 Are you a Reese's lover? I am. If I were going to create a pie that is most like biting into my favorite candy, it would be this pie. Many chocolate peanut butter pies are light and airy, but this pie is more dense, like biting into a refrigerated slice of homemade Reese's. It's like one huge peanut butter cup in a pie plate!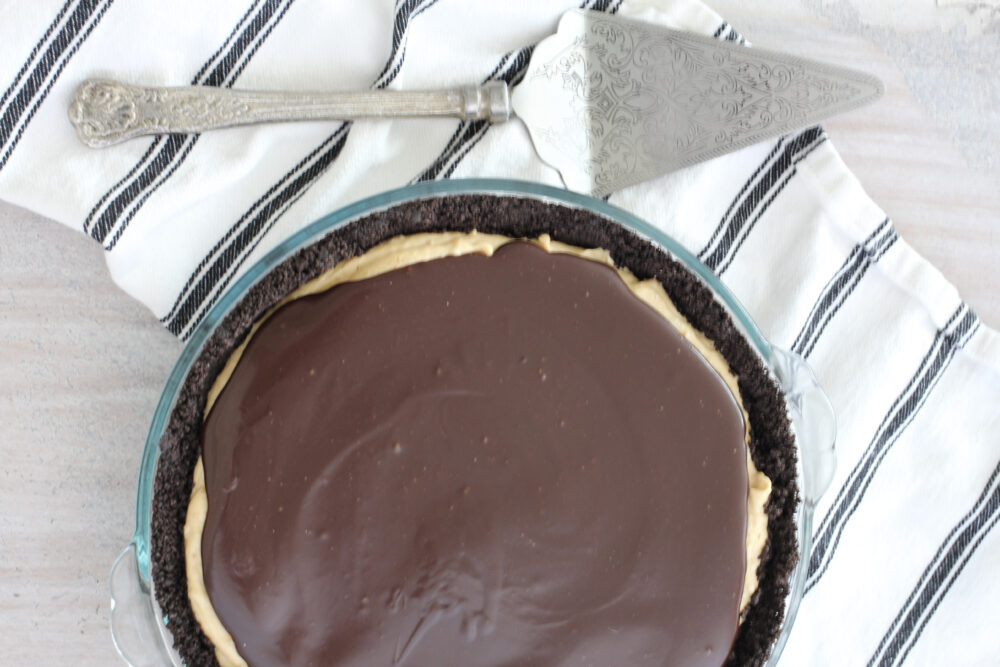 One warning, this pie is super rich. A small slice will satisfy even the most serious chocolate-peanut butter lover! One 9″ pie will easily feed 10-12. Make sure to assemble this early in the day, or better yet, the day before. Sheri's Southern Peanut Butter Pie (original name) with Homemade Fudge Topping will keep for days in the fridge (if hidden properly).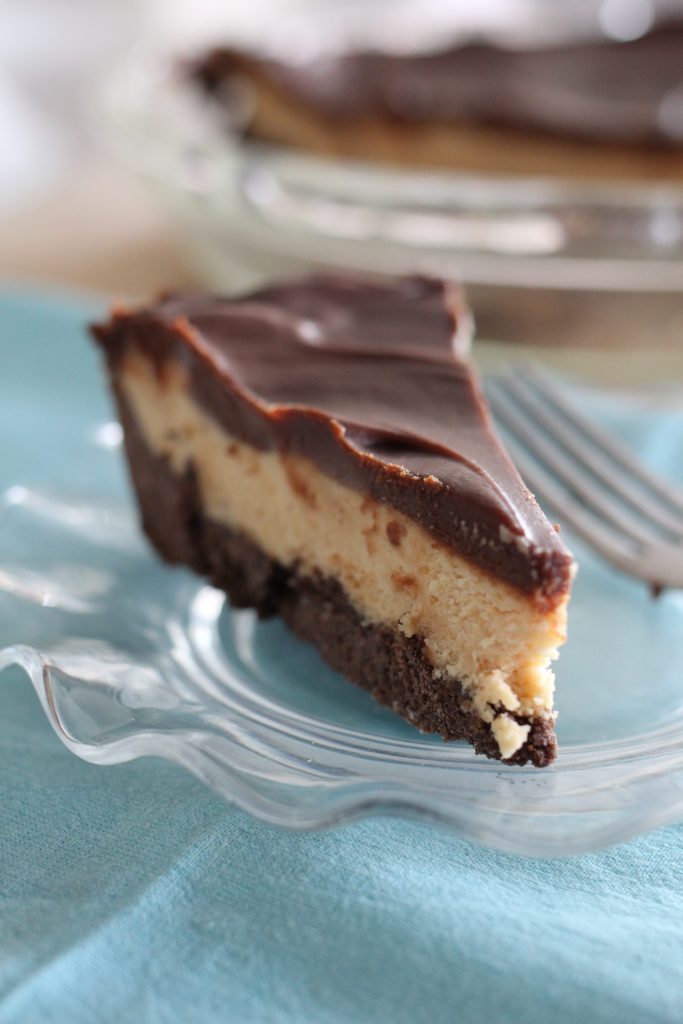 Cream cheese, peanut butter, powdered sugar and heavy cream round out the filling line up. Baked in a homemade chocolate graham cracker crust, and topped with a simple, but decadent 4-ingredient fudge topping, this pie satisfies every chocolate peanut butter lovers wildest dreams.
Here's why I love this pie so much. First, my SIL Sheri makes it for us every year for our annual family pie night. It's her recipe and I haven't tasted another quite like it! When she arrives, I immediately take a slice and place in the fridge for consumption while making Thanksgiving dinner the next day. Second, it's the easiest pie to make. Bake the crust- which consists of crushed chocolate grahams, sugar and butter; make the peanut butter filling, assemble, chill and top with a layer of fudge. That's it. Third, it's distinctly different than most other pies we eat at Thanksgiving. Fourth, if you have leftovers (big IF), it keeps for days!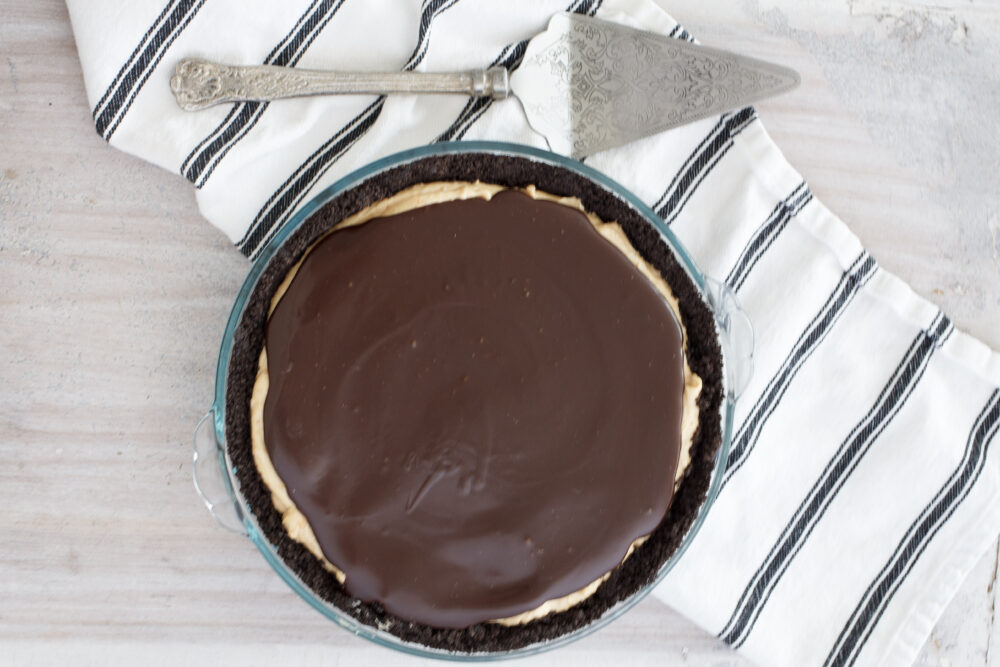 This is definitely a beginner pie. The key is to make sure the cream cheese is softened (room temperature works) to get a smooth blend on the filling. Also remember to fold, (not beat) in the whipped cream to the filling, this will give the filling a bit of a light lift instead of being super dense. I make this the day before I want to serve so it sets up properly. Also, who doesn't want to check one more item off of the to-do list on busy days?!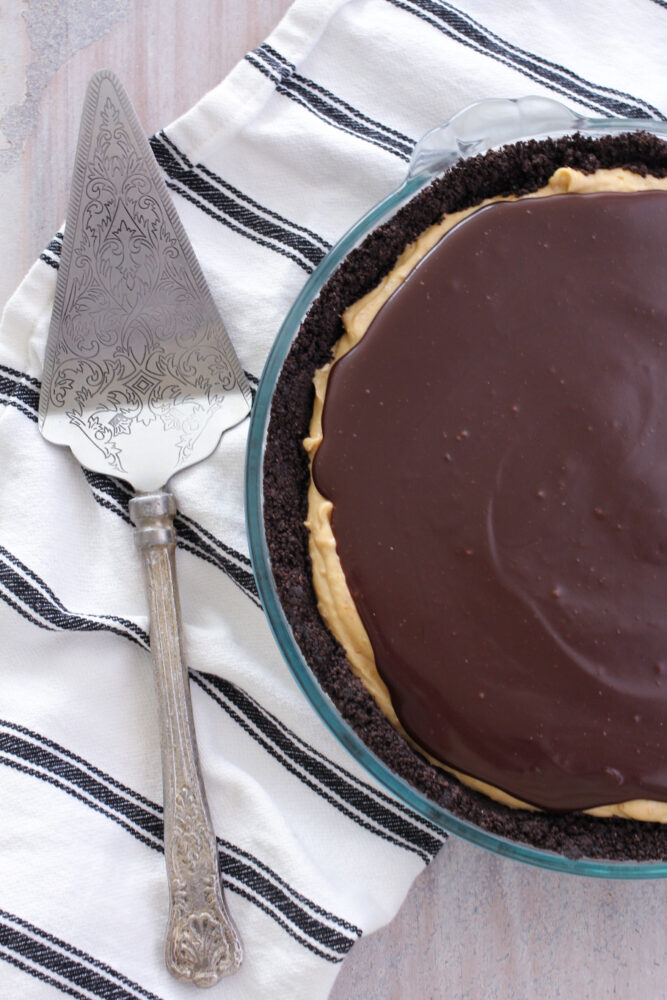 If you are a guest for Thanksgiving, pick out a pretty pie plate and give the plate to your host as a gift. You won't have to awkwardly retrieve your pie plate when ready to leave! This pie works best in a 9 inch by 1 inch pie plate.
First posted on ABK in 2011, this pie recipe has been updated with new content, edits to the recipe and photos. Also printed in the ABK Cookbook 2022.
Peanut Butter Pie with Homemade Fudge Topping
A peanut butter chocolate dream pie! Rich peanut butter filling between a homemade chocolate graham crust and delicious homemade fudge topping. Best served cold!
cool, set up time
8
hours
Total Time
8
hours
35
minutes
Ingredients
Crust:
1 1/2

cups

chocolate graham crackers

10-11 crackers, crushed

1/3

cup

granulated sugar

1/2

cup

unsalted butter

melted
Filling:
8

oz

cream cheese, softened (not low fat)

1

cup

chunky peanut butter

1

cup

powdered sugar

1

cup

heavy whipping cream, whipped until stiff
Fudge topping:
2/3

cup

heavy whipping cream

1/3

cup

granulated sugar

4

ounces

semi-sweet chocolate

1

tablespoon

vanilla
Instructions
Preheat oven to 350 degrees. Place rack in the center of the oven. Lightly grease a 9 inch pie plate.
for pie crust:
In a food processor, combine graham cracker crumbs, sugar, and butter. Pulse until well blended. Press the mixture into the bottom and sides of the prepared pie plate.

Bake for 15 minutes. Let cool completely.
for filling:
Clean the food processor; add cream cheese, peanut butter, and powdered sugar. Process until almost smooth, leaving a few chunks of peanut butter. Gently fold in the 1 cup whipped cream and spoon the filling into the crust. Chill for at least 2 hours.
for fudge topping:
In a saucepan, stir 2/3 cup whipping cream, granulated sugar, and chocolate over low heat until thickened. Remove from heat; add vanilla and stir until smooth. Let cool completely.

Top peanut butter pie with fudge topping. Chill 8 hours or overnight before serving.
Recipe Notes
The crust will shrink when baked but will not affect the finished product. Nine chocolate graham cracker rectangles make about 1 cup of fine crumbs.
Whip the heavy cream for the filling before folding in, but do not whip ahead for the fudge topping. 
Best made with homemade crust and topping. 
I use a 9 inch x 1 inch pie plate.