How to make Mother sad:
Mother sends package to Mexico to son on mission, in November, with Christmas gifts inside. December 25th. No package received.
Mother sends package to son mid-December with home made treats, hoping it will get there close to Christmas/New Year. No package received.
Mother sends package end of December for missionary son's January birthday.
Seven weeks after first package sent. Still, no packages received. Sob. Sob. Sniff, Sniff.
How to make Mother happy:
Mother talks to son on SKYPE (greatest invention, EVER) on Christmas day. Son doesn't care he didn't receive package, he is just beaming and so thrilled to be able to talk and see his family online!
Mother sends email just before son's birthday.
The email starts off with- Questions: PACKAGES????
Son's response in email later that day: "No packages, yet. Don't worry about it. I love you! I miss you a lot."
Also in Mother's email to son: Do you need anything?
Missionary son: "I just want some homemade cookies or something haha."
"And maybe some potato salad."
Well at least HE still has a sense of humor about the packages not being delivered!
I'm grateful to have a son who has lost himself in service, and doesn't think it's a big deal to celebrate Christmas or his birthday without a gift.
Note to me: It's just stuff.
I tried to send this treat( the recipe I'm posting today) a month before his b-day. I even saved one square, wrapped it up, taped a little note on it and set it next to my computer. The note said "do not eat till December 29th". A few of my friends saw my note taped to the treat, and were really amused by this. Do you think this is funny? Doesn't everyone do this? I wanted to see/sample for myself how fresh it would taste if he received it two weeks after I sent it. Um. Well, whatever. For the record, it was still decent. Not super fresh, but if you were, say, living in a foreign country, and you hardly ever got home made treats, you would probably think it was wonderful :), even if it was a little less than fresh. That is, if you ever received your mail.
Ok, enough of my rant about mail, treats and the lack of timely, or any delivery.
**Update 1/23 Letter home from Stephen. He received two packages on his birthday! His Christmas gifts were a little late. Next Christmas, Ill send in September. Yay!
On to wishing Stephen a happy birthday!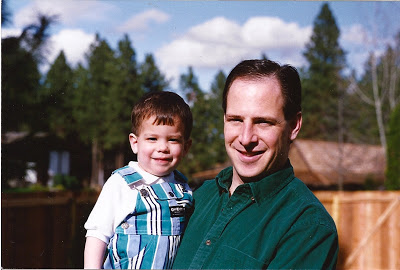 How did you grow up so fast??
About 19 years later….Stephen (on the right) with his last companion, Elder Gallan.
I'm posting these, because last year when Stephen left on his mission (yes, it's been 11 months!)- He requested Peanut Butter Scotchies for his farewell celebration. You can look back here to that day…
I thought his birthday was an appropriate day to post one of his favorite treats!
Happy birthday, Stephen.
love and miss you,
Mum
Peanut Butter Scotchies
aka, Chocolate Scotcheroos
Ingredients
1

cup

light corn syrup

1

cup

white sugar

1 1/2

cups

smooth peanut butter

4

cups

Rice Krispies*

1 1/2

cups

butterscotch chips

or one 11 oz package**

1 1/2

cups

semi sweet chocolate chips

or one 11-12 oz package**
Instructions
Bring sugar and corn syrup to a boil . Add peanut butter and cereal.

Remove from heat, and press into a greased 9×13 pan.

Place the butterscotch and chocolate chips in a glass bowl in microwave for about 1 1/2 minutes, stirring and place back into microwave for 30 seconds and repeating stirring until all chips are melted. This usually takes about 3-4 minutes total.

Spread the melted chips on tops of the cereal mixture in the pan. let cool and cut into bars.
Recipe Notes
*The original recipe from Kellogg's uses 6 cups of cereal, I have always used 4.
**They also use only one cup each of the butterscotch and chocolate chips. I like to have a really thick layer of topping, so I use more chips.
-Don't over cook the sugar and Karo Syrup mixture, just bring to a boil and remove from heat. If you over boil, the bars will become very hard and difficult to cut.