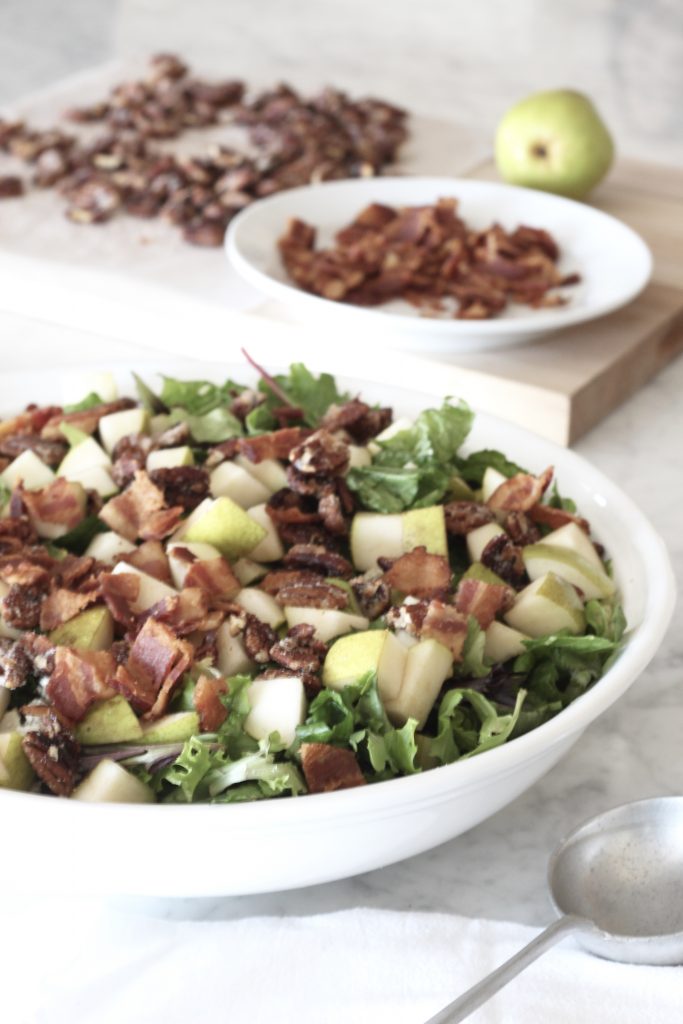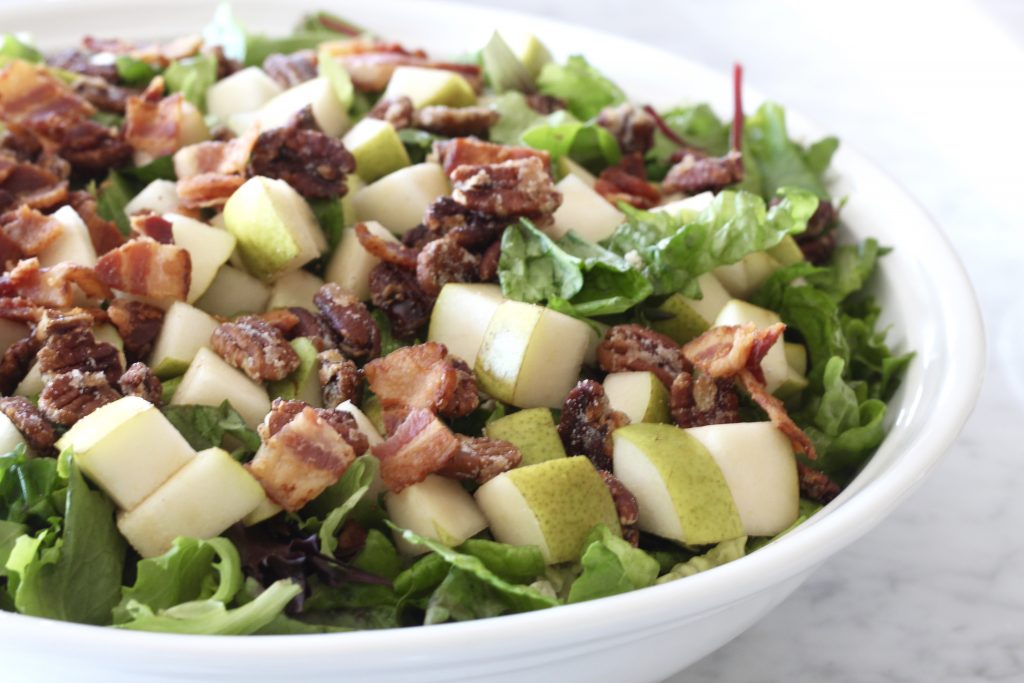 The Pear and Pecan Salad at Plates and Palates in Bountiful is one of my most often requested recipes. I'm guessing it's their top seller, along with their Lemon Tarragon Salad.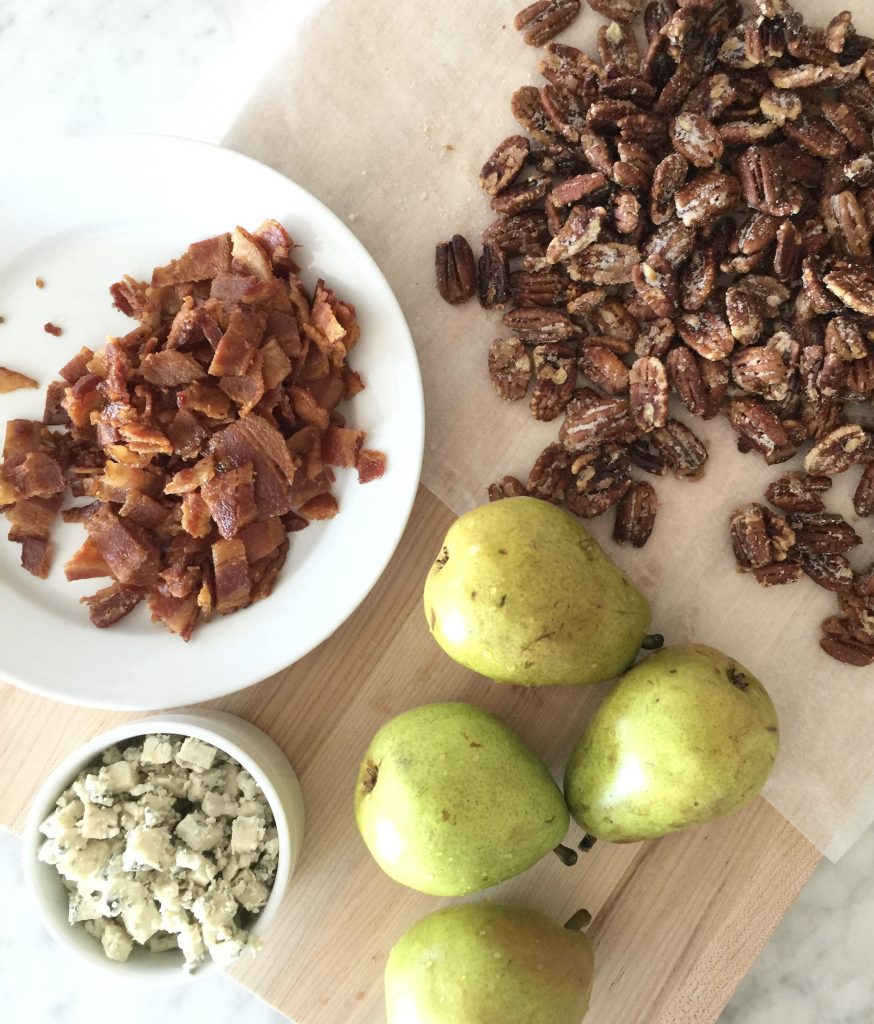 My friends and I have been loyal customers at Plates from day one and have watched this business grow (from what seemed like just us eating there) to a steady flow of women (and a few men), starting early afternoon most days. We love the fresh salads, home made dressings and of course, fountain soda 🙂 If you follow me on Instagram you know it's my go-to lunch spot for eat in or take out in Bountiful.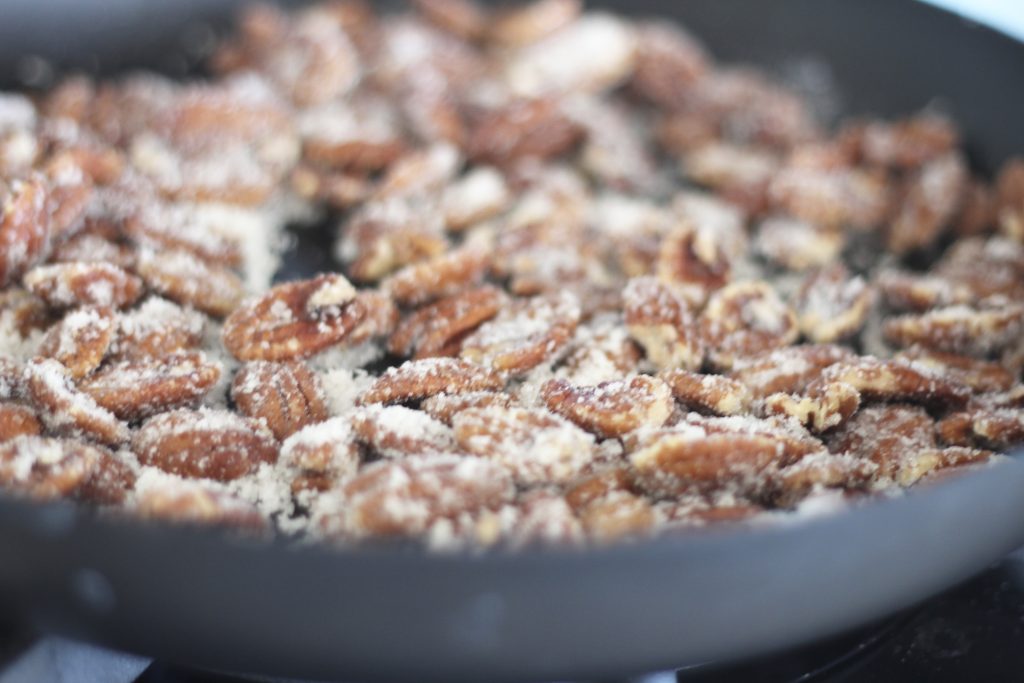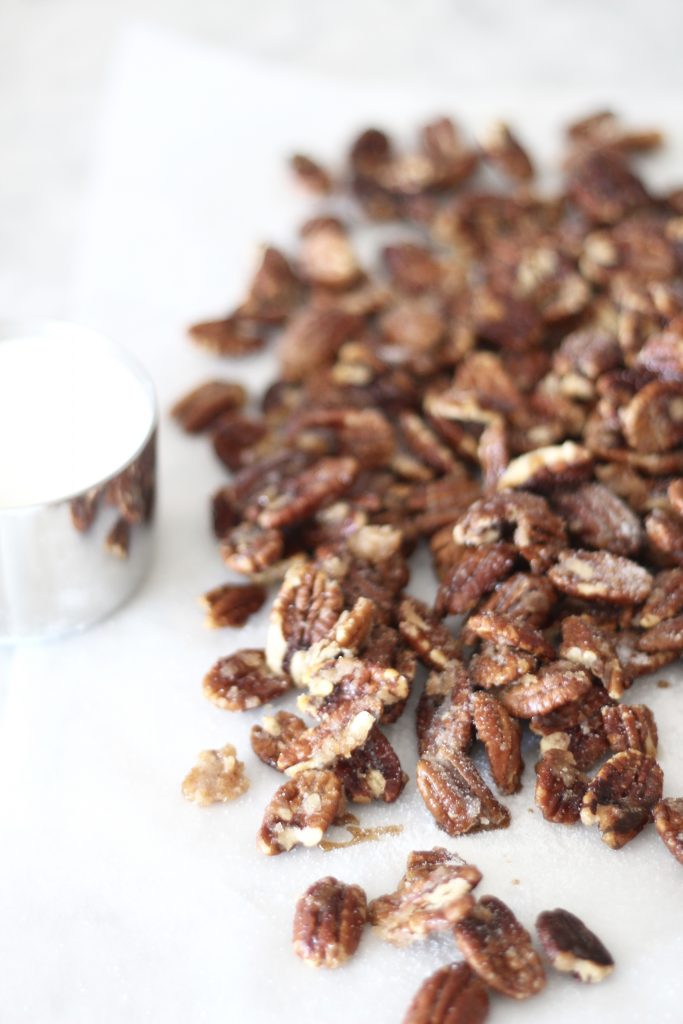 This salad is simple to make ahead. I like to cook extra bacon and pecans because they have so many uses in other dishes and will keep when sealed up in a Ziplock bag for weeks (refrigerate the bacon and hide from kids and husband). The pecans and bacon can be prepared ahead along with the dressing, so the salad can easily be arranged when ready to serve. I love this salad served with Mango Chicken Pasta Salad with Tarragon Lime Dressing and Lion House Rolls for a girls lunch in home.
Enjoy!
Pear and Pecan Salad with Red Wine Vinaigrette
Ingredients
1

lb

bacon

thick cut is best

1

large head Romaine lettuce

washed and chopped

1 16

oz

package Spring Mix or Spinach

optional

lettuce total should equal about 20-25 cups of greens

one piece of foil or parchment paper

3

cups

pecans

2

tablespoon

butter

1/3

granulated sugar

1 1/2

cups

Gorgonzola cheese

crumbled

2-3

ripe pears

either Green Anjou or Bartlett (cut into chunks just before serving)
dressing ingredients:
1/2

cup

olive oil

1/4

cup

Red Wine Vinegar

1-2

tablespoons

honey or sugar

to taste

1/4

teaspoon

Dijon mustard

optional

1/4

teaspoon

Kosher Salt

fresh ground pepper
Instructions
Cook bacon until crisp*. Drain grease and chop into coarse chunks. Set aside.

Tear a piece of parchment paper or foil about 12- 15 inches long and set on counter.

In a large non-stick skillet, melt butter over medium heat. Add pecans and sugar to pan. While stirring, cook the pecans over medium to medium high heat until the sugar begins to melt and the pecans are coated with caramelized sugar. Be careful to keep stirring so sugar does not burn.

Pour the caramelized pecan mixture onto the parchment or foil in a single layer. If you like, sprinkle an additional tablespoon of sugar over top of the warm pecans. Let cool completely.

Prepare salad dressing by whisking all ingredients in a blender or small bowl. Set aside in refrigerator until ready to use.

When ready to assemble salad, place prepared lettuce in a large bowl or on platter.

Sprinkle with Gorgonzola cheese, bacon, candied pecans, and cut up pears.

Drizzle with dressing. Serve immediately.

Serves about 15 as a main course salad, or about 25 as a side dish.
Recipe Notes
-Bacon may be cooked on stove top or lay on a jelly roll pan in a single layer (use a piece of parchment paper or spray the pan with cooking oil for easy clean up) and bake on center rack at 350 degrees for about 15-20 minutes. Remove the bacon to another pan and pat the bacon with a paper towel to remove grease after cooking. -Most large heads of Romaine lettuce yield about 15+ cups of chopped lettuce. You may use all Romaine or use a mixture of Romaine and Spring Mix, or Spinach. I like to mix lettuce for a little bit of variety. The lettuce can be washed, dried and chopped and placed in a Ziplock bag until ready to use. This may be done the day before serving .-The dressing may be tossed with the lettuce in a large bowl before topping with the remaining ingredients, or drizzled on top of the salad just before serving. The dressing will be more than enough for this amount of salad. You should have about half of the dressing left for another use. If you are doubling this recipe, one recipe of the dressing should be enough to cover all of the salad. Also, A classic Vinaigrette usually always includes a bit of Dijon. I am not sure Dijon is used in Plates version of this dressing, but I like just a little for flavor!-Pecans:The trick to making delicious candied pecans is sugar and patience! You need to focus your attention on the pecans while cooking. If you leave the stove, the pecans are likely to burn. Don't turn the heat up too high and keep a spatula in your hand. The candied pecans will also likely be enough to cover more than one salad. I like to make extra so I have some on hand for a quick weeknight salad. Or let's be honest. Snacking :)-The pears should be ripe and unpeeled. Core and cut the pears into chunks. If it is necessary to cut the pears ahead of time, toss the cut up pears with a little of the salad dressing, this will help prevent the pears from turning brown. Anjou pears don't brown as easily as Bartlett's in my opinion.