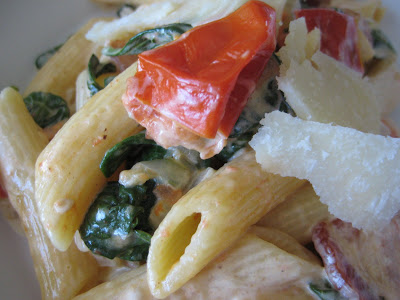 In UTAH, school is almost out, and there are a gazillion places to be and programs/games/meetings to attend before the end of May. I was looking for a quick and easy dish to prepare for dinner last week and found this in Gourmet magazine. I had to make a few adjustments-
1) I already had a huge container of spinach I needed to use in my fridge, so I used spinach instead of Arugula.
2) I used fresh tomatoes instead of sun dried, because the boys don't love sun dried, and I had fresh on the counter. It totally changed the overall taste of the dish, I'm sure.
3)My neighborhood grocery deli girl looked at me with that "what are you talking about??" look when I asked for some
pancetta
. Instead of making a trip to the big city, I subbed a little bacon. It was an acceptable sub, but the pancetta would have been WAY better. Omitting the meat altogether probably would have been a better option.
The boys loved it, so I can't complain too much. Start to finish, less than 1/2 hour.
Happy May!
Penne with Sun Dried Tomatoes and Arugula
Ingredients
1/4

pound

thinly sliced pancetta

finely chopped

3

tablespoons

olive oil

1

medium onion

chopped

2

garlic cloves

chopped

2/3

cup

cream

1/3

cup

milk

my addition, because the cream amount was not enough liquid see tips below

1/2

cup

drained oil packed sun dried tomatoes

chopped

8

cups

fresh arugula or spinach

1

pound

Penne pasta*

1/2

cup

grated Parmesan plus additional shaved Parmesan for serving

1/4

cup

fresh chopped basil

salt and pepper
Instructions
Cook Pasta using package directions. Reserve cooking water to thin pasta sauce. Set aside.

Cook pancetta in one tablespoon olive oil in a skillet (I like Teflon for this dish) over medium heat, stirring occasionally until brown and crisp. Transfer pancetta to paper towels and drain. Pour off all extra oil, wipe out any crumbs from meat remaining in pan. Over medium heat, cook onion in 2 tablespoons oil in pan until softened. Add garlic, salt and pepper cook for about 8 minutes total. Stir in cream, milk, sun dried tomatoes and cooked pancetta, simmer until slightly thickened, about 3-5 minutes. Remove from heat, add arugula stir, just until wilted about 1 minute.

Add pasta to sauce in skillet and toss together with grated Parmesan. Thin sauce with reserved cooking water if necessary . Stir in fresh basil, serve with shaved Parmesan on top.
Recipe Notes
-I thought 1 lb of pasta was too much past for the amount of sauce. A little of the dry side. Next time, I'll either just cook 3/4 lb of the pasta, or adjust the sauce to make a little more. Maybe up the overall liquid dairy products to 1 1/2 cups. I added 1/3 cup of milk, because I thought the 2/3 cup of cream was not enough. Even with the 1/3 cup of milk addition, and a little water from the pasta, it was not enough sauce for me…