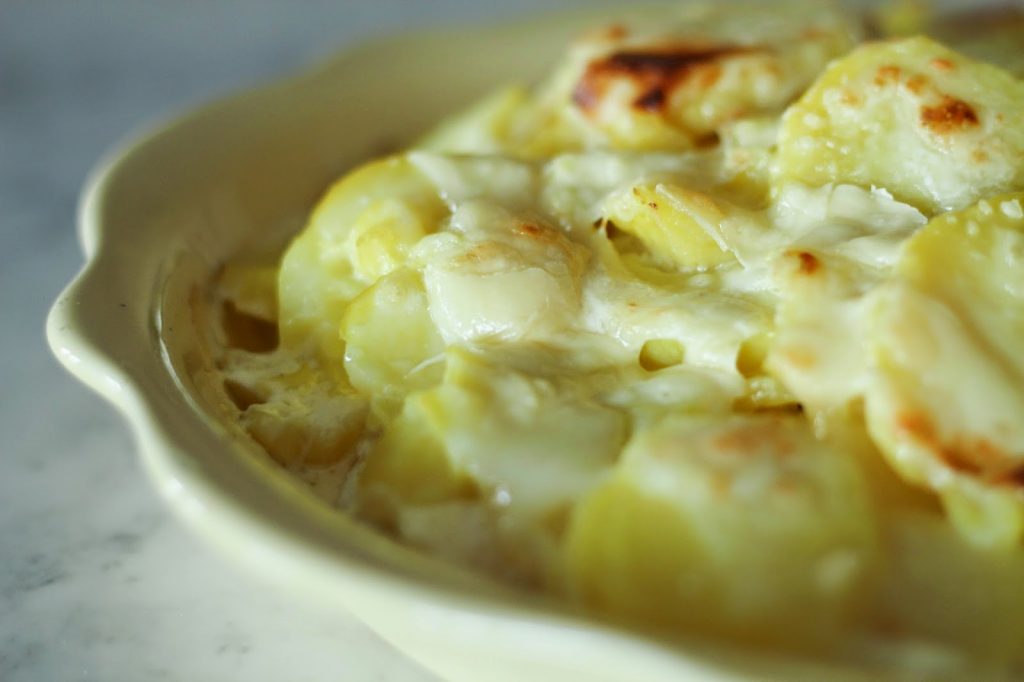 Have you ever made an au gratin dish you absolutely love? Until now, my answer would have been no. My top four issues with au gratin potatoes: (side note, the difference between au gratin and scalloped potatoes are, scalloped potatoes never have cheese, and au gratin potatoes always have cheese)
1. Potatoes are not cooked/soft enough to be melt-in-your-mouth delicious.
2. Not creamy enough.
3. Not enough cheese.
4. Too complicated.
I knew there had to be a way to make potatoes that were creamy, delicious and simple every single time. I've experimented with making a roux, then adding thinly sliced potatoes, and everything from garlic to onions, seasonings etc. before baking and serving. None of the variations I tried were perfect.
Sometimes, making lists like the one above helps to tackle each problem you're trying to solve in a dish. It sounds like I'm working on a peace plan for the UN, right? Some things are just that important.
I always started with raw potatoes and then decided if I wanted a soft and creamy dish, I needed to boil the potatoes ahead of time, until they were done. Which makes sense if you think about it. Completely cook the potatoes ahead of time, then all you are really doing in the oven is heating them up and browning a bit. No more guessing if the potatoes are cooked all the way after baking.
Also, the type of potatoes you use in an au gratin dish makes a huge difference. Russets are great for mashed potatoes and baked potatoes, but not so great for an au gratin dish. If you want the potatoes to still hold their shape while also being cooked to a soft texture, then a Yukon Gold is your potato. They are golden or yellow in color, have a higher moisture content, and are absolutely perfect for this dish. Problem one solved.
Problem two, not enough cheese, and problem three, not creamy enough were fairly simple to solve. I had always used grated cheddar, or a mixture of grated cheeses.
I love Parmesan, and wanted this dish to be about creamy potatoes, not cheese. But I still wanted a subtle cheese flavor. So I went with Parmesan. And for the creaminess factor, I relied on straight cream, and skipped making a roux (problem four solved). Because nothing creates creamy quite like cream 🙂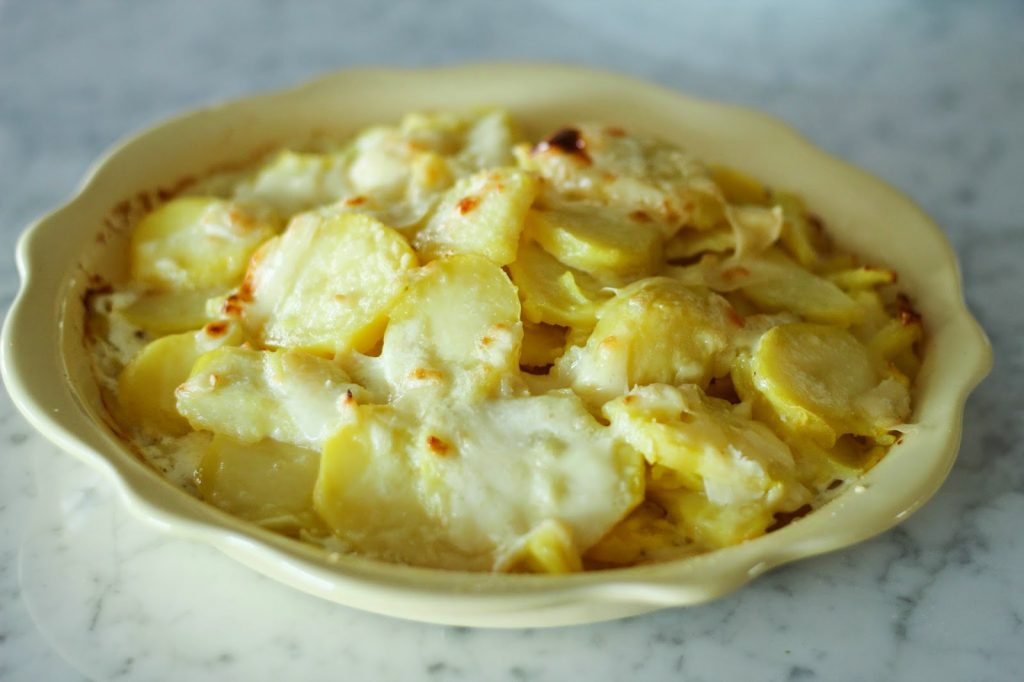 This is by far the best au gratin type potato dish I've ever made. It's rich and creamy, simple and still sophisticated.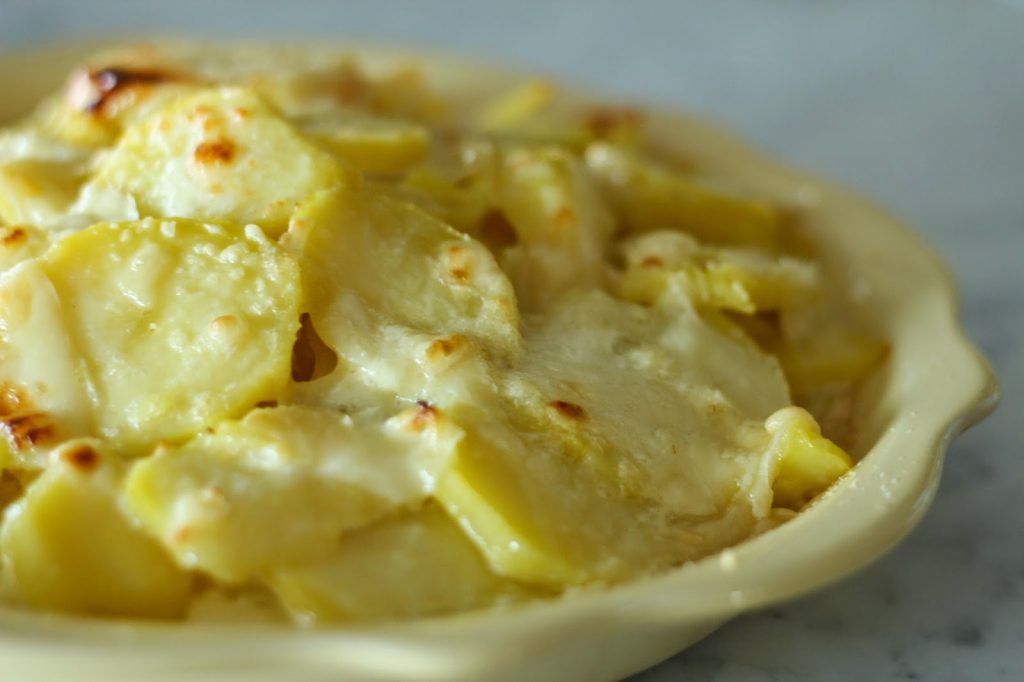 Perfect Au Gratin Potatoes
A Bountiful Kitchen
Ingredients
2

lbs

Yukon Gold potatoes

salt

1 1/4

cups

grated Parmesan cheese

1/4

cup

melted butter

unsalted

1

cup

cream

I prefer heavy cream
Instructions
Grease a 9 inch pie plate or other baking dish of similar size. Set aside.

Wash the potatoes, and place in a large pot. Fill with water until just barely covering potatoes.

Place pan on stove and cook over high heat until boiling, then reduce heat to medium heat for about 15-20 minutes, or until a fork inserted easily goes through to the middle of the potato.

Drain the water and place the potatoes on a cutting board.

Using a paring knife and a dishcloth, peel the potatoes, and slice thin. Place about half of the potatoes in the prepared dish for baking. Generously salt the potatoes. Sprinkle about 1/2 of the cheese on the potatoes, and drizzle about half of the butter on as well.

Continue to slice the potatoes and place on top of the potatoes in the pan. Sprinkle with additional salt, cheese and drizzle with remaining butter.

Finally, drizzle the cream on top and around the edges of the potatoes in the dish.

Bake in a 375 degree oven on top third of oven for about 20 minutes or until bubbly and golden.
Recipe Notes
-You may use about 3 1/2 lb potatoes to increase the size of the recipe. Bake in a 9×13 pan or a casserole dish. Double the rest of the ingredients.
-I try to mound the potatoes up a bit in the middle. While baking some settling occurs, and mounding the potatoes up will take care of sinking potatoes and overall appearance of the dish.
-I use the Shaved Parmesan  which can be purchased at most grocery stores and Costco. If you have a block of Parmesan, use a knife to shave off large bits of cheese. Place the cheese on a cutting board that is stable and shave the cheese onto the cutting board.