My cute friend Erin had a beautiful baby a while ago, and I promised her some mint brownies in exchange for the baby. At least I thought that was the deal. You know I don't love mint, but I did try one, before I delivered the goods and I must say even to me, a mint basher, they were delicious. I go light on the mint, so there is just a hint of mint in the filling. If you are into cutesy, you could make these for a baby shower and color the mint filling either green or pink (gag) . I'm not into food coloring either. For some unknown reason, I really hate it when mint flavored food items are colored green, or when
Key Lime Pie
is colored green.
Hello, people, that does not make the food more appetizing.
Don't you love it when someone addresses you as "
people
". Takes me back to jr. high. Another one of my favorites.
Right up there with mint.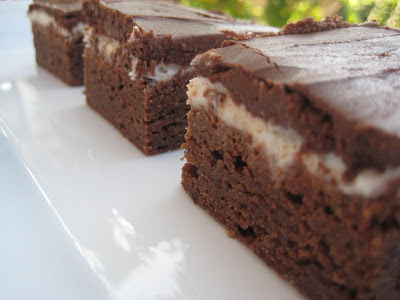 Pinch of Salt Lake Mint Brownies
Ingredients
Brownies:
2

cups

sugar

1

cup

butter

softened

4

eggs

4-1

oz

squares unsweetened chocolate

melted and cooled slightly

2 1/2

cups

sifted flour

1/4

teaspoons

salt

1/4

teaspoon

baking powder

2

teaspoons

vanilla extract
Mint filling:
4

tablespoons

butter

softened

2

tablespoons

evaporated milk

(half and half or cream works too)

2

cups

powdered sugar

1/2

teaspoons

peppermint extract

few drops of pink or green food coloring

if desired
Glaze topping:
3

tablespoons

butter

2

teaspoons

vanilla

1

cup

semi sweet chocolate chips
Instructions
Preheat oven to 325 degrees. In a large bowl, cream together sugar and butter and beat until fluffy. Beat in eggs until well blended; then add melted chocolate. Sift flour, measure out 2 1/2 cups and sift again with dry ingredients then add to creamed mixture along with vanilla. Spread in greased and floured 9×13 pan and bake for about 25 minutes or until toothpick inserted in center comes out with a few crumbs attached. Do not over bake. Set aside and let cool.

Mix all frosting ingredients until creamy and spread on brownies. Refrigerate 1 hour.

Combine butter and chocolate chips in top of double boiler; add vanilla and blend thoroughly. Pour gently over frosting and spread by tipping pan until all of the brownie mixture is covered with glaze. Refrigerate until set.
Recipe Notes
-I left out the 1 cup of nuts in this recipe, because if there is anything more weird than green food coloring in the mint filling, it's nuts in mint brownies. For some reason mint and nuts just don't go together in my world. So- 2 1/2 cups of flour may seem like a lot, but due to the absence of the nuts, I left in the full amount of flour.
Remember- don't over bake.