Do you love Halloween Cookies, but don't have time for all of the steps involved in making traditional sugar cookies? Pumpkin Spice Swig Sugar Cookies will put the fun back into your Halloween baking! Make, scoop, bake and frost. Beautiful sugar cookies in less than an hour start to finish!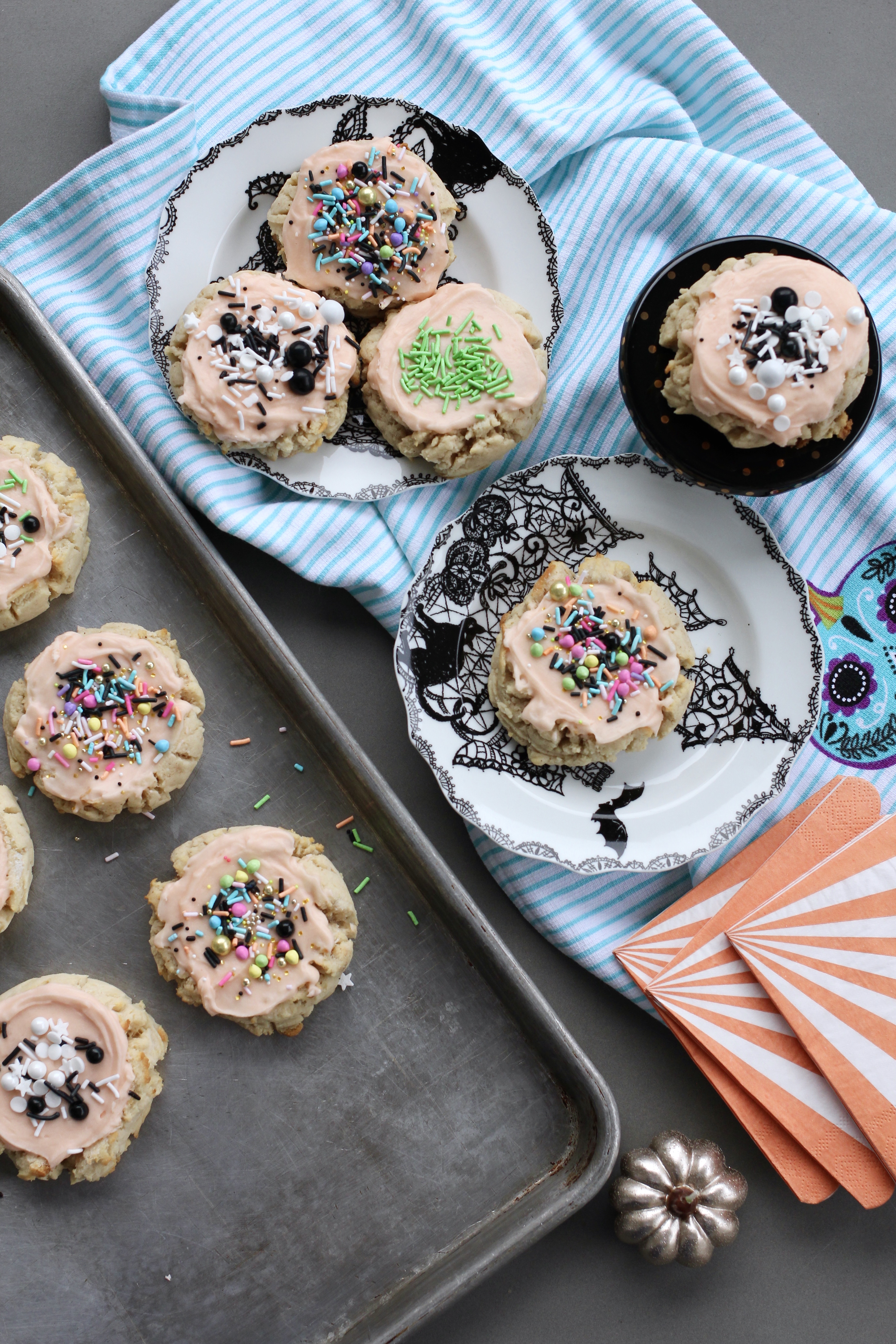 If you're a fan of ABK, you're probably a fan of homemade Swig-style sugar cookies! Even if you haven't been to a local Swig-Stop store, you've most likely heard of a Dirty Diet Coke paired with a thick, cold, frosted sugar cookie that originated in St. George, Utah.
The Swig Cookie became popular a few years ago, and I started receiving requests to duplicate the cookie so they could be made at home. My first post was the original Almost Swig Sugar Cookie (volume 1) in 2013.  A year later, after making a few hundred batches, I updated the post (the Almost Swig Cookie Volume 2) and started to make variations of the original Almost Swig Cookie. The Chocolate Swagg Cookie, The Lemon Lime Sprig Cookie ( everyone's favorite), The Triple Chocolate Mint Swig Cookie, Coconut Cream Swig Cookie and last year, the Christmas Swig (made with Ande's peppermint white chocolate bits).

This recipe for  Pumpkin Spice Swig Sugar Cookies is perfect for fall baking! It has a slight pumpkin spice flavor which I love this time of year.  The flavor is not overpowering in the Pumpkin Spice Swig Sugar Cookie and can be adjusted to fit your pumpkin spice meter. If you like a bit more pumpkin spice flavor, up the flavoring to 1 1/2 or 2 teaspoons or even a tablespoon. I like the flavor to be understated, so I chose to use a generous teaspoon in the recipe.  The frosting can be colored or left white and decorated with anything from sprinkles to candy corn! For Thanksgiving, I'm topping my Pumpkin Spice Swig Sugar Cookies with some orange and chocolate sprinkles and frosting with a plain white frosting.

Hope you enjoy ABK's newest addition to our Swig-style cookie recipes. Happy fall baking!
Pumpkin Spice Swig Cookies
Ingredients
dough:

1/2

cup

unsalted butter

1/2

cup

Canola or Vegetable Oil

1

cup

sour cream

1 1/2

cup

granulated sugar or powdered sugar

1

teaspoon

vanilla extract

4 1/2

cups

all purpose flour

1

teaspoon

pumpkin pie spice

1

teaspoon

baking powder

1

teaspoon

salt

sugar for top of cookies

frosting:

1/2

cup

butter

room temperature

2

tablespoon

sour cream

4

cups

powdered sugar

1-2

teaspoons

vanilla

dash of salt

1-2

drops red food coloring

3-4 drops yellow food coloring

1-2

tablespoons

milk**
Instructions
Preheat oven to 325 convection or 350 regular bake.

Take butter out of refrigerator and microwave for about 15 seconds.

Place butter, vegetable or canola oil and cold sour cream in a mixing bowl.

Mix for about one minute.

Add sugar and vanilla extract, mix until smooth.

Add all dry ingredients at once.

Mix just until flour disappears and the mixture comes together in a ball of dough, about 1 minute on very low speed.

Spray the cookie scoop with a little cooking spray.

Scoop the dough onto a lightly greased cookie sheet. I use a 2 inch scoop. A 2 inch scoop will produce a cookie similar in size to the Swig cookie. If you don't have a cookie scoop, use an ice cream scoop or roll the dough into a ball about the size of a golf ball. It is best to use a scoop and overfill it a bit to get the desired jagged edge.

Place about 1/4 cup sugar into a small bowl.

Spray the bottom of a flat glass with cooking spray.

Flatten one cookie a bit then dip the glass in sugar.

Press the bottom of the glass against the cookie. Press the cookies so they are flattened a bit ( until the cookie dough just reaches the outside of the edge of the glass) twisting the glass as you press to produce a jagged edge.

I bake 8 cookies per tray. Continue until all cookies are flattened.

Bake in oven for about 10-12 minutes on convection or about 12-15 minutes regular bake or until edges are lightly golden and cookies are slightly firm to the touch.

Remove from oven, let cool. Loosen the cookies from the cookie sheet after cooled a bit, or they will stick to the pan (even though it has been lightly greased).

Place the cookies in the fridge and chill.

Prepare the frosting:

Beat together the butter, sour cream, powdered sugar, vanilla and salt. When all ingredients are incorporated, add the food coloring and a little milk if the frosting needs to be thinned.

Frost after the cookies are completely chilled.

Makes about 18 large cookies.
Recipe Notes
Tips -
The recipe looks a little long and maybe even complicated, but it's not. Once you get the hang of the technique for scooping and pressing, it takes less than a half hour to make and bake the entire batch.
-This cookie measures about 3 3/4 to 4 inches across when finished baking.-The St. George Swig cookie is frosted with quite a thin layer of frosting. I prefer my frosting to be a bit thicker. If you want to frost the cookie with a thinner frosting, add about 3-4 tablespoons of milk to the frosting.
-This cookie stays quite well in the fridge for about a week (or longer) if kept in an air tight container. I frost the cooled cookies, then store them in the fridge. Once the frosting is set on the cookie, you may layer the cookies between sheets of parchment or wax paper. This allows you to stack the cookies without taking up too much space in the refrigerator.
-This cookie freezes well frosted or unfrosted.
-If you are making this for a gathering where there will be other desserts, use a smaller cookie scoop and bake for less time.
-If you like the frosting to be a bit more orange, add a couple more drops of red food coloring and double the yellow food coloring as well.
-To decorate cookies, frost and sprinkle with decorations immediately after frosting.