If you want to make a mouthwatering treat in the most simple way, try our Quick and Easy Caramel Brownies. They are made with a cake mix and added ingredients for a treat that makes you look like you've been baking all day!
A few days ago, I posted a few stories on Instagram about this brownie recipe. When I asked if readers wanted the recipe, I received hundreds of messages saying "YES" I want this recipe ASAP! I was surprised by your overwhelming response, and apologize for keeping this to myself for all of these years!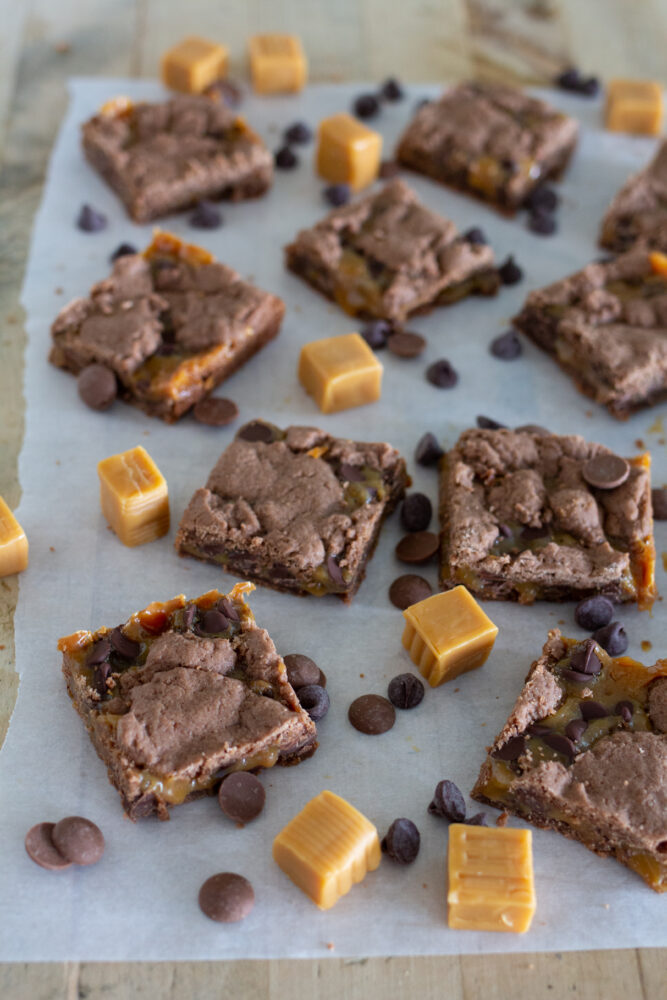 I've been making this recipe since we were first married. They were my go-to back when our kids were little. This recipe for quick and easy caramel brownies is not only easy to make, but they taste almost like a homemade candy bar when chilled. What's better than a homemade candy bar??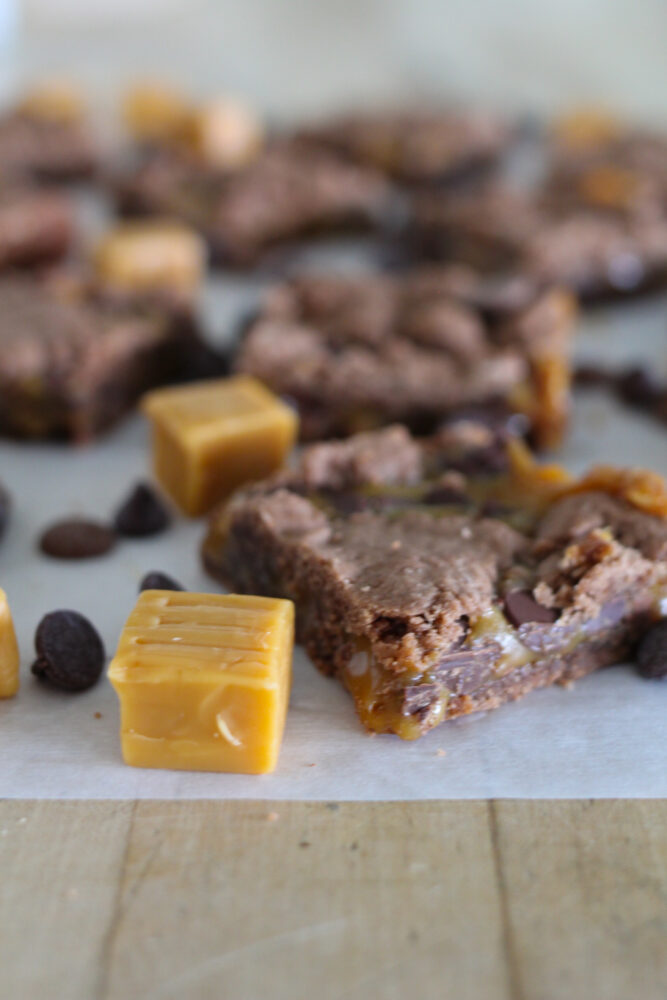 Since this recipe is made using a mix, they stay fresh longer than a standard brownie recipe, which also makes them ideal for making ahead, or also for mailing! They are also quite sturdy, so they don't fall apart easily when shipped.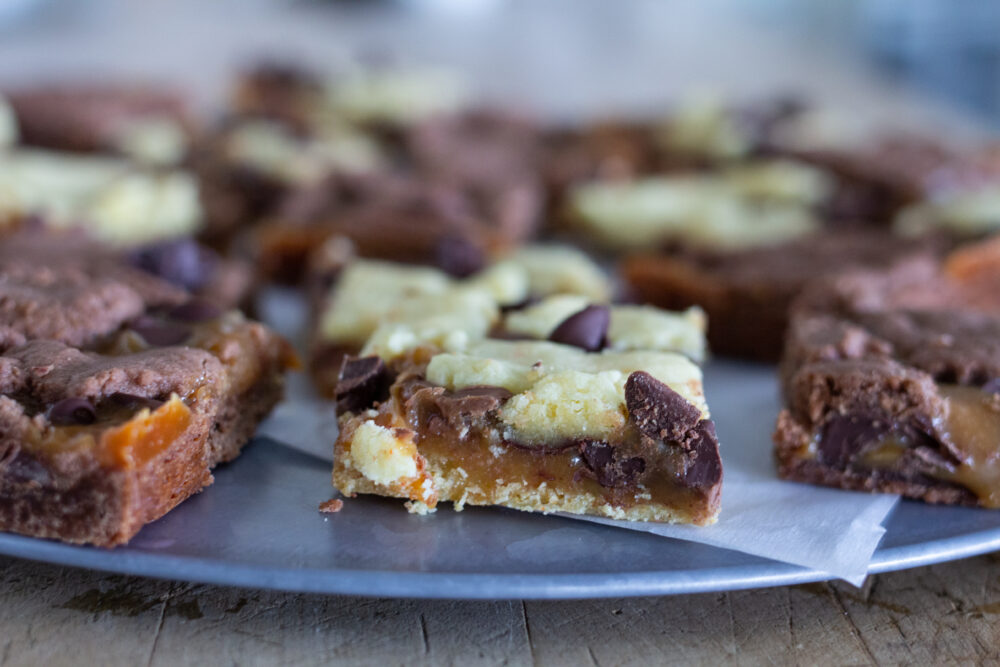 Ingredients you need for making ABK's Quick and Easy Caramel Brownies:
1 box cake mix, any type of chocolate (or yellow works as well- see photos)
2 tablespoons all-purpose flour
½ cup butter
1 small can (5 oz)  evaporated milk, cream or milk, separated
1 cup (heaping) chocolate chips, dark or light
1-11 oz  package Kraft caramels 
1 cup nuts (pecans, walnuts or cashews, chopped)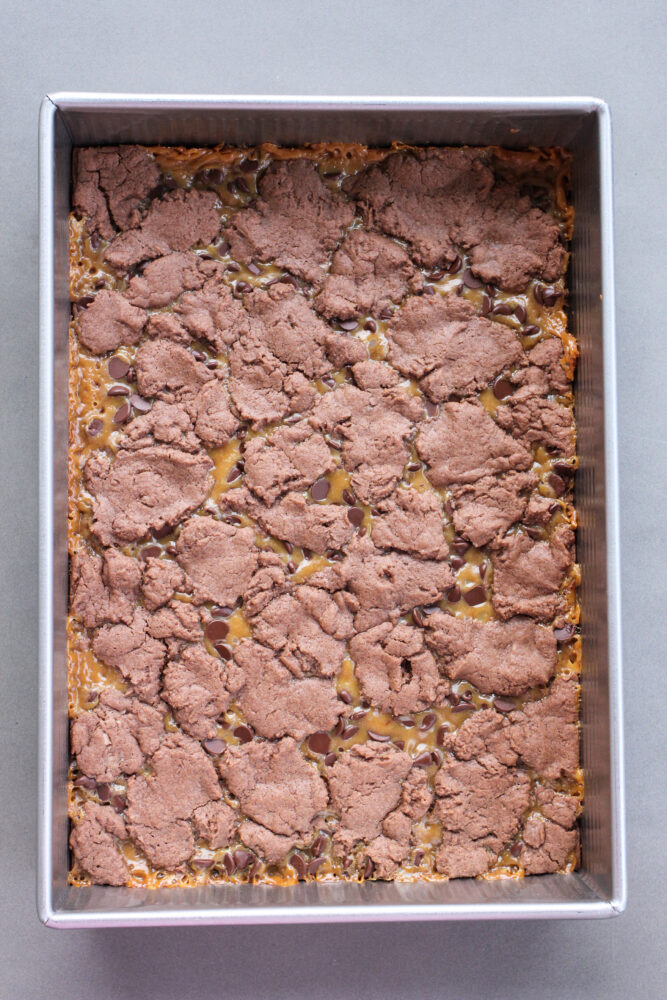 How to make Easy Caramel Brownies:
Place cake mix and flour in a mixing bowl.
Mix the melted butter and ⅓ cup of evaporated milk into the cake mix and flour mixture.
Spread 2/3 of the mixture into pan, bake.
Melt Kraft Caramels with ¼ cup milk.
After the first bake, spread the caramel over the dough in pan.
Sprinkle chocolate chips over the caramel.
Place remaining dough over caramel and chocolate.
Bake, let cool, and cut after refrigerated or cooled.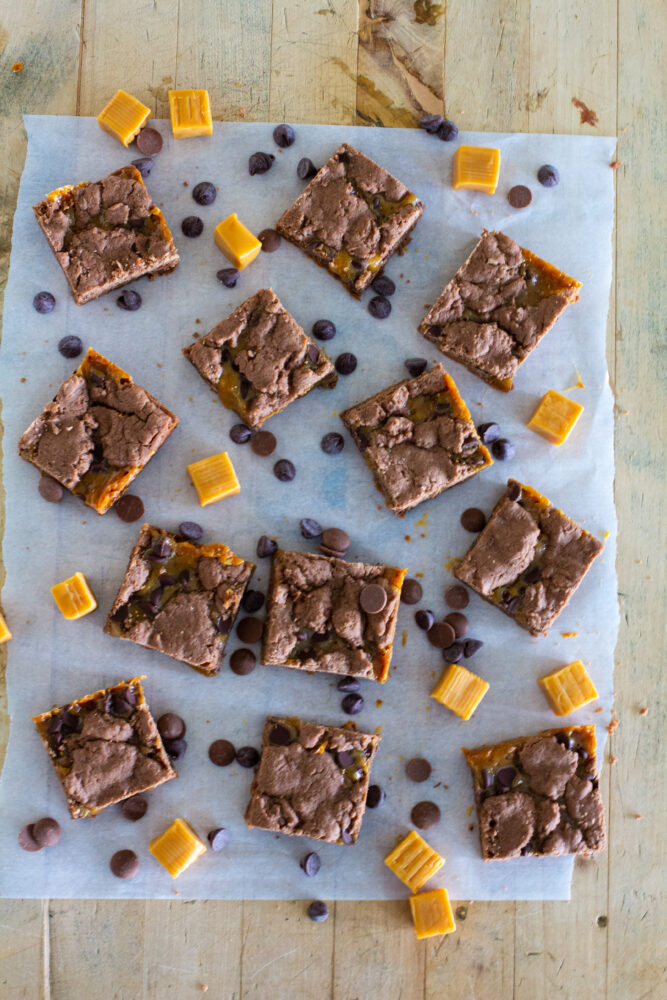 A few tips when making the Easiest Gooey Caramel Brownies:
Adding flour to the cake mix gives the brownies a little more volume and makes the base a bit more firm.
Layering in this order: brownie base, caramel, chocolate chips, dough on top makes for the best looking brownie.
Adding nuts to this recipe = over the top goodness! My friend Gayle has been making this recipe for years and adds CASHEWS on top. Cashews takes the brownie to the next level.
If you like a thicker brownie, make this as directed in a 9×9 pan, and cut into 16 pieces.
If you love coconut, add a cup of coconut. Same with almost anything you love including butterscotch chips, different cake flavors, nuts, flavorings, etc.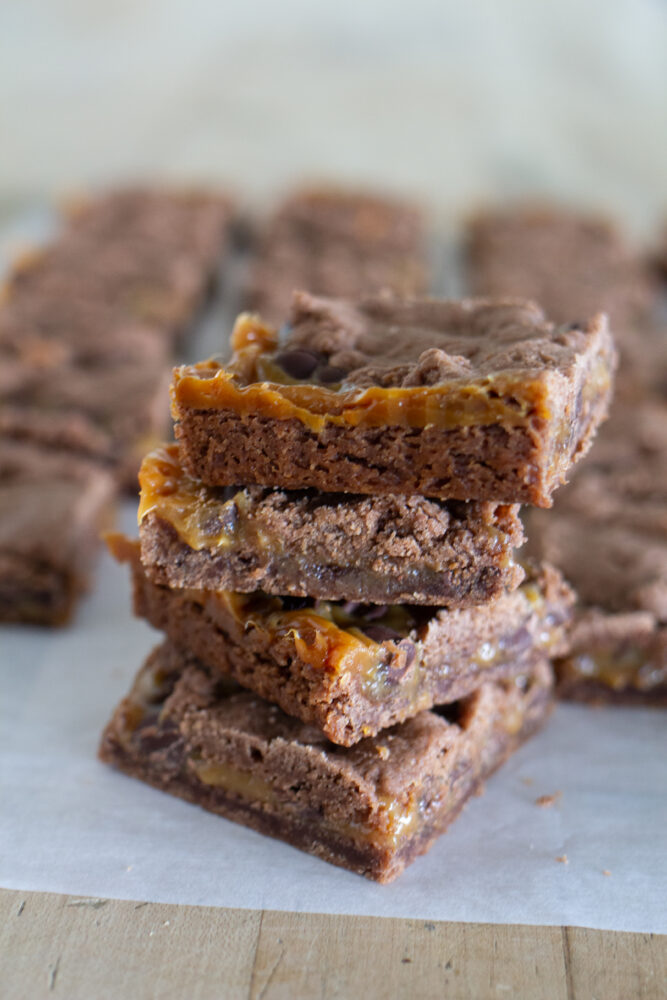 The most difficult part of making this treat? Unwrapping the caramels, and waiting for them to cool before cutting. I have been known to place the pan in the fridge or freezer to speed up the cooling process, and enlisting my kids to unwrap the caramels.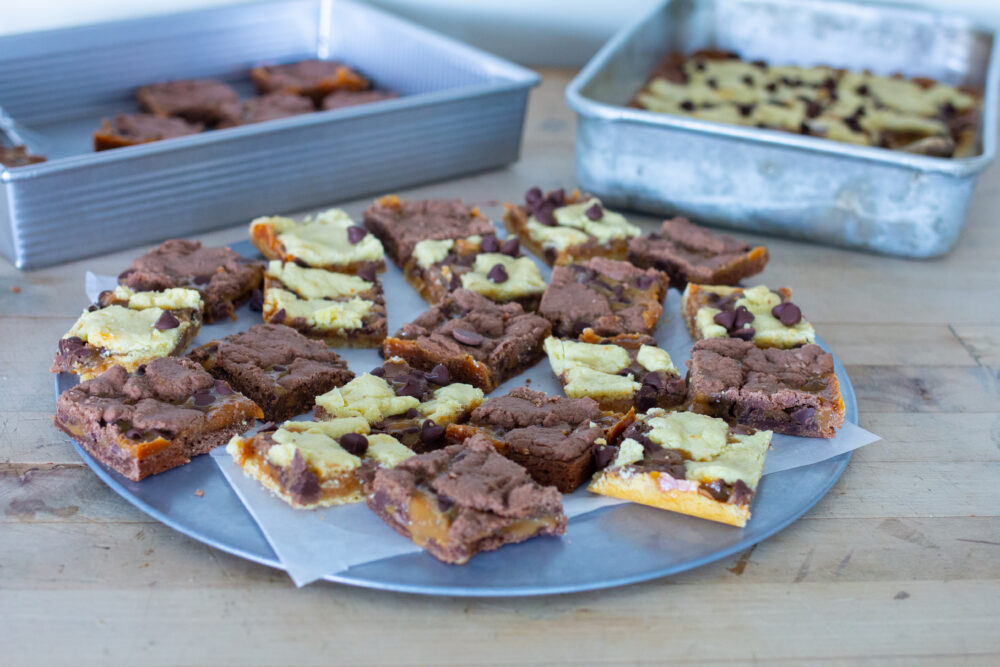 Quick and Easy Caramel Brownies
Quick and Easy Caramel Brownies are made with cake mix and Kraft Caramels in minutes!
Total Time
2
hours
30
minutes
Ingredients
For brownies:
1 15.25

oz

package German Chocolate cake mix or other flavor

2

tablespoons

all purpose flour

½

cup

melted butter

⅓

cup

evaporated milk

cream or milk
for caramel and filling:
11

ounces

individually wrapped caramels, unwrapped

see recipe notes for caramel options

¼

cup

evaporated milk

1

cup

semi-sweet (or milk) chocolate chips or a combination of both
Instructions
Preheat oven to 350 degrees and place rack in center of oven. Spray 9×13 OR 9×9 pan with non-stick cooking spray.

Combine cake mix and flour in a mixing bowl. Add butter, and 1/3 cup evaporated milk. Mix until blended. If using nuts, add to batter.

Spread 2/3 of batter into pan, bake 8 minutes. Remove from oven.

While brownies are baking, combine caramels and 1/4 cup evaporated milk in a microwave proof bowl. Cover bowl and microwave for one minute, stir. Microwave another 15 seconds and stir. Repeat until all caramel is melted and smooth. This may also be done in a double boiler on stove.

Pour caramel mixture over baked layer of dough, sprinkle chocolate chips on top of caramel. Drop bits of dough on top of chocolate chips.

Bake an additional 15 minutes. Remove from oven, cool completely before cutting.
Recipe Notes
Any flavor of cake mix may be used. I use German Chocolate, but you may use Dark chocolate, milk chocolate or even yellow cake mix.  I recommend Betty Crocker, Duncan Hines or Pillsbury brands for this recipe. 
I have used Werther's Chewy Caramels in place of the Kraft Caramels. Werther's are sold in a 5 oz package, so you will need two packages for a single recipe. Make sure to purchase Werther's CHEWY CARAMELS for this recipe. Werther's melt in half the time of the Kraft Caramels, so be very careful when microwaving. I suggest microwaving the Werther's for 15 seconds at a time, then stir. Repeat until melted and smooth.
Peter's Caramel (sold in a large block) will also work in this recipe. Weigh out 11 oz of caramel, cut into pieces and pace on top of the first baked layer of brownie. No need to melt ahead of time. Proceed with recipe as directed. 
See recipe post for mix-in ideas. 
This recipe calls for using a 9×13. If you like your brownies thicker, use a 9×9, but cut into small pieces. The caramel makes this brownie extra sweet and rich, so a small square is the perfect size! 
I usually speed up the cooling process by placing the pan in the fridge after they have cooled a bit on the countertop.
Best stored in fridge or freezer, wrapped in a sealed container.