Red, White and Blue Potato Salad is the best potato salad EVER for patriotic holidays! Picture the best side dish to serve at your summer barbecue… This. Is. It.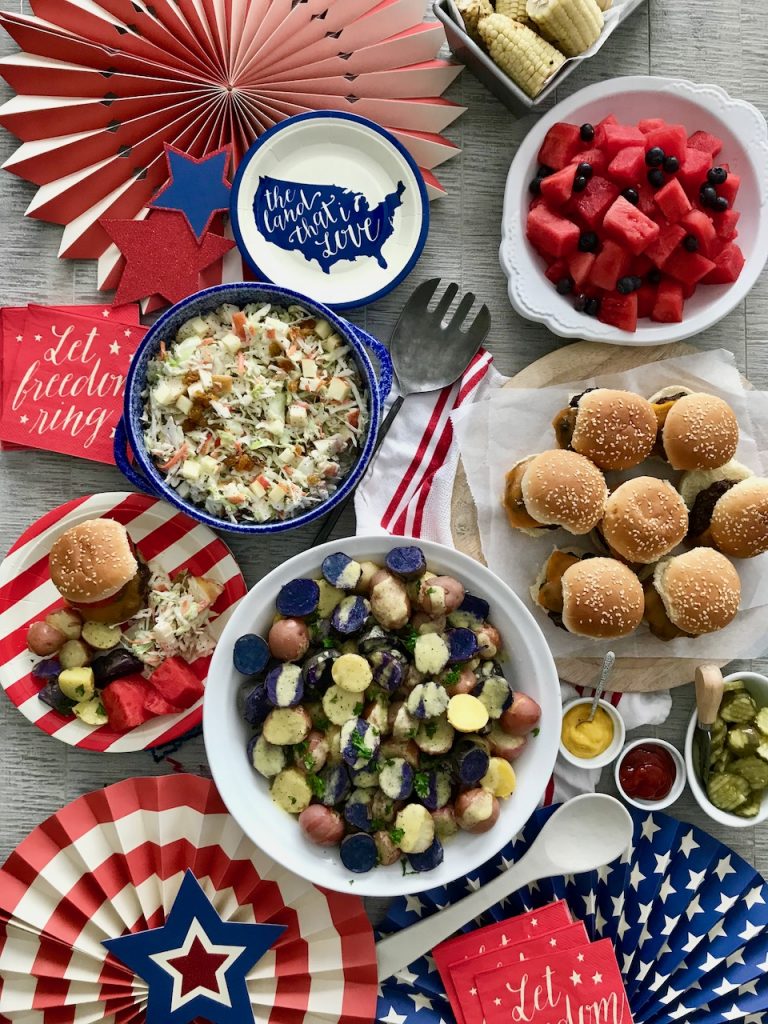 Red, White and Blue Potato Salad, so simple to be festive!
I was at my local grocery store last week, looking for produce to use for dinner. I passed by a display of red, white and blue (actually purple) potatoes in 1.5 lb bags.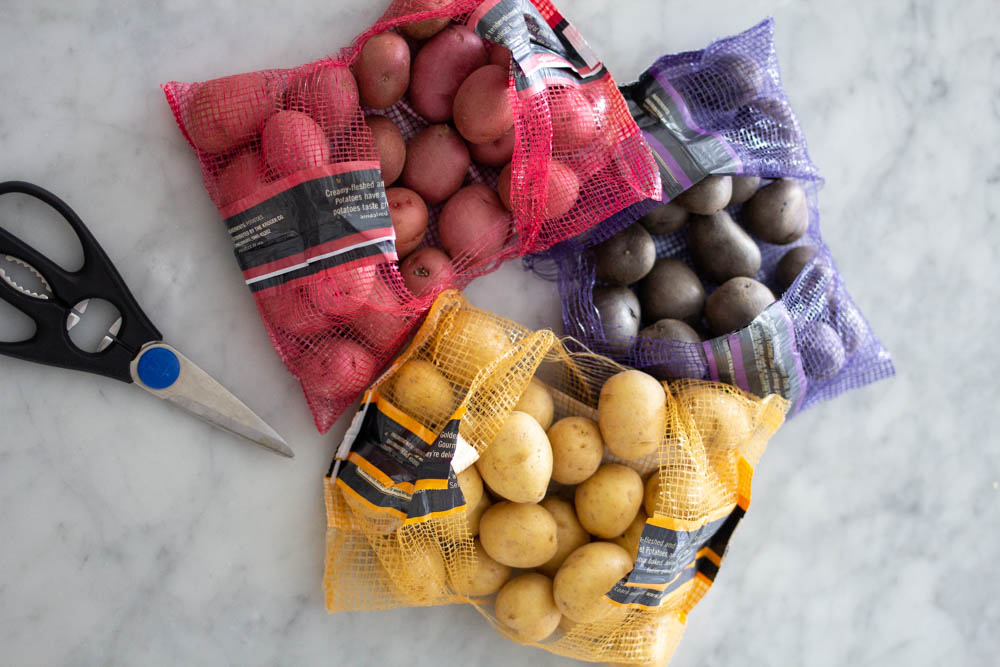 They were tiny little gems, all about the size of an egg, some as small as a yolk. These little potatoes are the perfect size for displaying the red, white and blue in a salad bowl! Then the wheels started to turn. How could I turn my new found gems into a side dish fit for a celebration?

Dressing the Salad…
I wanted to create a dressing that would compliment, but not completely cover the potatoes (still wanted the beautiful colors to show!). I put a sweet Walla Walla onion in my cart, and a bunch of fresh parsley as well. I knew a bit of fresh onion would make a flavor packed dressing without overpowering our Red, White and Blue Potato Salad.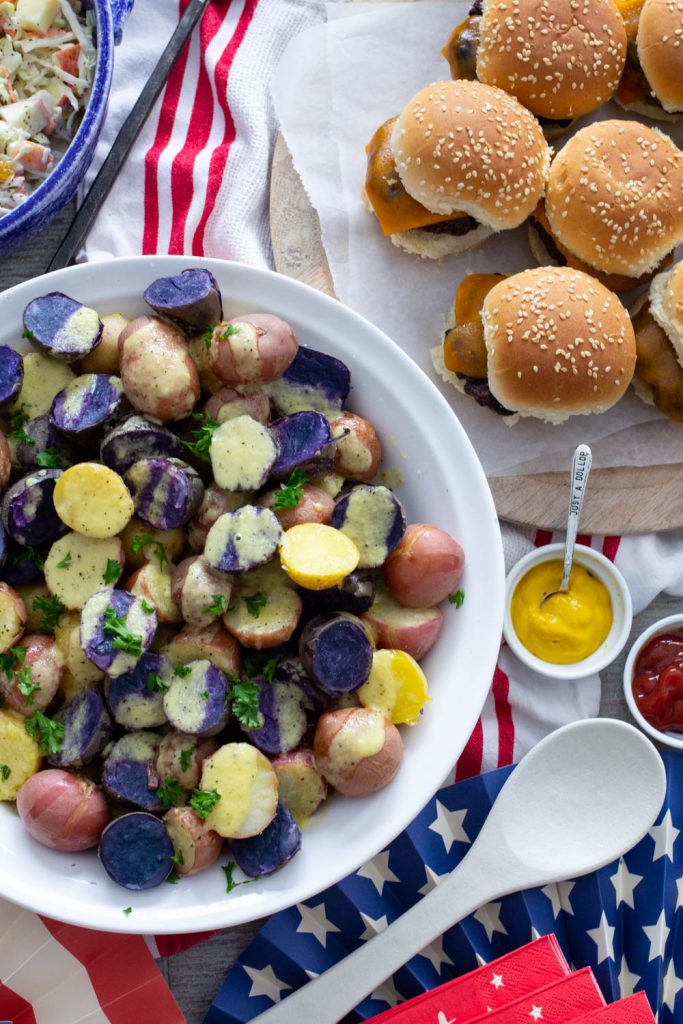 Instead of a classic mayo-based dressing, I went with some Olive oil, seasonings and fresh onion. The dressing is spectacular! It is creamy (because of blending) without being too heavy and is so good, you might want to make a double batch for green salads as well!
Cooking the Potatoes
When I started to experiment with this salad, I wondered what would be the best method for cooking the potatoes? Since they are tiny, remember, some the size of an egg YOLK, I didn't want to ruin the dish by overcooking!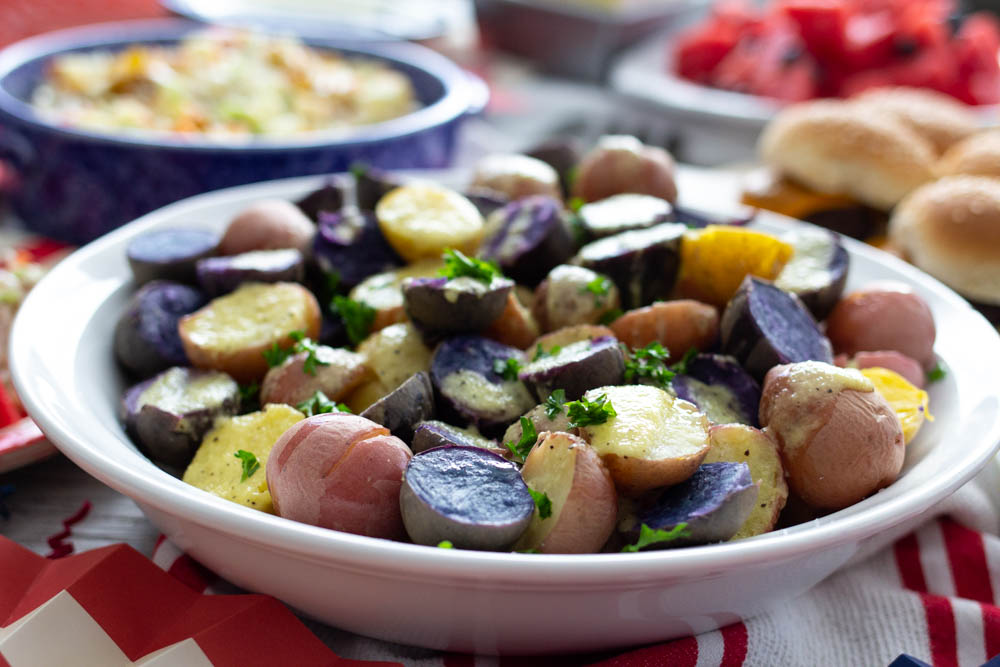 I tried three different methods for cooking the potatoes. First, I put a few on a plate and added about 2-3 tabelspoons of water to the plate and covered with a plastci dish made for microwave cooking. This is a good method, but I think more of a pain than necessary. You can only cook so many potatoes at one time, and this method requires several different plates one after another.
The second method was to boil in water over the stove, for about 10 minutes until a fork was easily inserted into the potato. This method worked well, but the potatoes were not as brilliant in color as I hoped. The final method was to cook the red, white and blue potatoes in the Instant Pot on high pressure. The Instant Pot is seriously the best way to cook potatoes for any type of potato salad! It cooks them quickly, preserves color (and nutrients) and is the least messy method.
If you don't have an instant pot, you can boil on stove or bake (375 for 20 minutes or until done). You are simply looking for a potato that is easily pierced with a fork or knife after cooking. I layered the potatoes in the IP with the blue on the bottom, red middle and white on top incase of any bleeding of the colors. I haven't had any issues with the blue potatoes bleeding too much, so no worries as far as that goes!
Simple and Festive for a Summer BBQ!
Potato salad has to be one of the easiest side dishes for a barbecue! It serves so many purposes. First, most humans love potato salad! It's mild enough for the young, and grown-up enough for the older generations and a great dish to fill up hungry guests. This recipe for Red, White and Blue Potato Salad is an easy make ahead dish as well! Cook the potatoes the day before serving, and drizzle with a little olive oil so they don't get too dried out.
Make the dressing, cover and put in the fridge in the same jar you used to make the dressing. About an hour before serving, remove the potatoes and dressing from the fridge, drizzle with dressing, sprinkle with a little fresh chopped parsley (dried will work too) and serve. If you 'd like to serve extra dressing on the side, make a double batch. I also love this salad warm or at room temperature. Cook the potatoes about 30 minutes before dinner if you want to serve it warm. Hope you love this fun and festive Red, White and Blue Potato Salad this summer!
Red, White and Blue Potato Salad
Red, White and Blue Potato Salad is the most festive side dish for the 4th of July! Easy to put together and a dish eveyrone will love.
Ingredients
1

each

​1 lb 8 oz package of Red, White and Purple Petite Potatoes (4.5 lbs total)


1

cup

water

additional olive oil for drizzling on top of potatoes
Sweet Onion Dressing
1/2

cup

chopped sweet onion, such as Vidalia or Walla Walla

1

tablespoons

granulated sugar or honey

1

tablespoon

 white or cider vinegar

1/2

teaspoon

yellow or dijon mustard (optional)

1/2

cup

olive oil

salt and pepper to taste
Instructions
Clean potatoes by rinsing and scrubbing with water in sink.


Stove top method: Place the potatoes into a large pan on top of stove and fill pan with water just above the potatoes. Top with lid and bring to a boil for about 6-10 minutes or until potatoes are fork tender. Drain and rinse with cold water.

Instant Pot Method: Place the potatoes on a rack inside of the Instant Pot with blue on bottom, red, and then white on top. Pour one cup of water into the Instant Pot and set the timer to 4 minutes on the MANUAL or HIGH PRESSURE setting. Close the lid, making sure the sealing ring is in place inside of the lid and secure into the SEAL position. Cook until timer goes off then allow to sit rest for 5 minutes before carefully releasing pressure.

When potatoes are done, let sit for a few minutes to cool off and easy to handle. While warm, slice in half onto a serving platter or large bowl. Sprinkle generously with sea salt or kosher salt. Slice the white potatoes first, then red, and purple last. The purple potatoes give off a little color onto the paring knife.

Drizzle the potaotes generously with olive oil. If using immediately or within an hour, drizzle with Sweet Onion Dressing and sprinkle with fresh chopped parsley. If using later in the day or the next day, cover and refrigerate the potatoes on platter.
Sweet Onion Dressing
Combine the chopped sweet onions, sugar or honey, vinegar, mustard (if using), and olive oil into a jar or blender. Using an immersion blender, pulse until ingredients are incorported and smooth. Or place all ingredients into a blender pulse until onions are broken up and then blend on low until smooth. Add salt and pepper to taste. Store in refrigerator. Let come to room temperature before using.
Recipe Notes
​This recipe is easily adapted to a smaller amount. You may use only red and purple potatoes, or half the ingredients and use only 1/2 of each 1.5 lb bag. The leftover cooked potatoes (undressed)  also make a perfect hash for breakfast! 
You may place the potatoes in two separate pans on stove to make sure there is not a mixing of colors in water from the purple potatoes. I tried this and noticed a small amount of darker water from the purple potatoes. 
I found the potatoes for this recipe at Smith's (Kroeger) grocery.