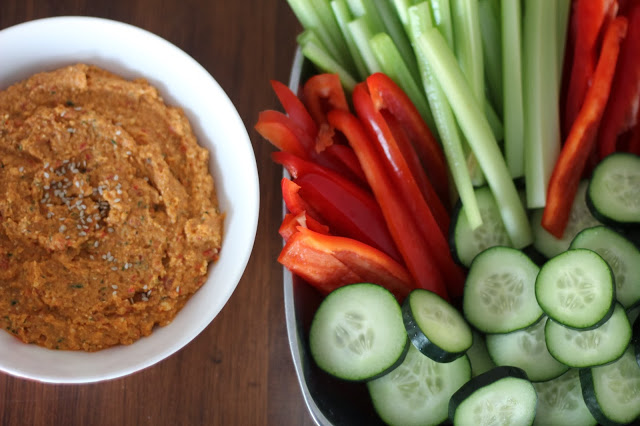 It's Friday. You have a holiday party tonight. You're suppose to bring something to share.
You've come to the right place.
Oh, and you're looking for something semi-healthy? Serious? Now I'm really going to be your new best friend.  Here it is. Roasted Red Pepper Hummus. Do you have ten minutes? Okay, let's make this.
If you are making your own Tahini, throw some sesame seeds into a food processor. Add a couple of tablespoons of olive oil. Blend until smooth, or semi smooth. I like to use a little Cuisinart mini for this. Or buy Tahini at the store, like most normal people. You can also skip the Tahini, and substitute a couple of tablespoons of sesame oil.
Throw all of the ingredients into a blender or food processor.
Here's a pic after I mixed up one batch, then decided to double the recipe so I could have some for at home, as well as taking to the party 🙂
Pulse, pulse, pulse, then bleeeeend. Until smooth. Add a little liquid from the red pepper jar, or a few tablespoons of olive oil (I used olive oil) if your hummus is too thick.
Scoop the mixture into a bowl or crock. Garnish with a little parsley or sesame seeds.
Get on your party clothes.
You still have time to practice your dance moves.
Happy Holiday.
Roasted Red Pepper Hummus
Ingredients
1

15 ounce can garbanzo beans(chickpeas), drained

1

4 ounce jar roasted red peppers, drained, reserve juice for thinning if needed*

1/2

cup

crumbled feta cheese

3

tablespoons

fresh squeezed lemon juice

2

tablespoons

Tahini

see recipe below*

1

clove

garlic

minced

3

tablespoons

chopped fresh parsley

1/2

teaspoon

ground cumin

1/4

teaspoon

cayenne pepper

salt to taste

I like coarse sea salt

olive oil

if desired to smooth hummus*
Instructions
In an electric blender or food processor, puree the chickpeas, red peppers, feta cheese, lemon juice, tahini, garlic, fresh parsley, cumin, cayenne, and salt. Process, using long pulses, until the mixture is fairly smooth, and slightly fluffy. Add liquid as suggested or olive oil to make a smooth consistency. Make sure to scrape the mixture off the sides of the food processor or blender in between pulses. Transfer to a serving bowl and refrigerate for at least 1 hour if possible.

Remove from refrigerator before serving, bring to room temperature before serving.

Serve with flat bread, crackers, or vegetables.
Recipe Notes
-*If the hummus seems too thick, you may use some of the juice from the roasted red peppers to thin the mixture, or blend in a little olive oil. I use about 2 tablespoons per single recipe.-*Tahini is found in most grocery stores. Sometimes by the peanut butter, sometimes by the beans or ethnic foods. I don't like to buy it because it's so simple to make, and a jar us usually about $7-8. Tahini is simply ground sesame seeds made into a paste. Here's my recipe:Blend some seeds in a food processor or grinder or blender (about 1/3 cup) pulse several times until finely ground, add a little olive oil to make a paste. I like to toast the seeds first in the oven or stove top for a few minutes. I buy sesame seeds in bulk at the grocery or in the Asian section of the grocery, where they are less expensive compared to seeds purchased in the spice section.-The hummus can be made up to 3 days ahead and refrigerated. Best served at room temperature.-This recipe is easily doubled.