Is there anything better than the combination of creamy caramel and tart apples? This Salted Caramel Apple Pie combines sweet creamy caramel, tart apples, flaky pie crust and a toffee-like streusel topping.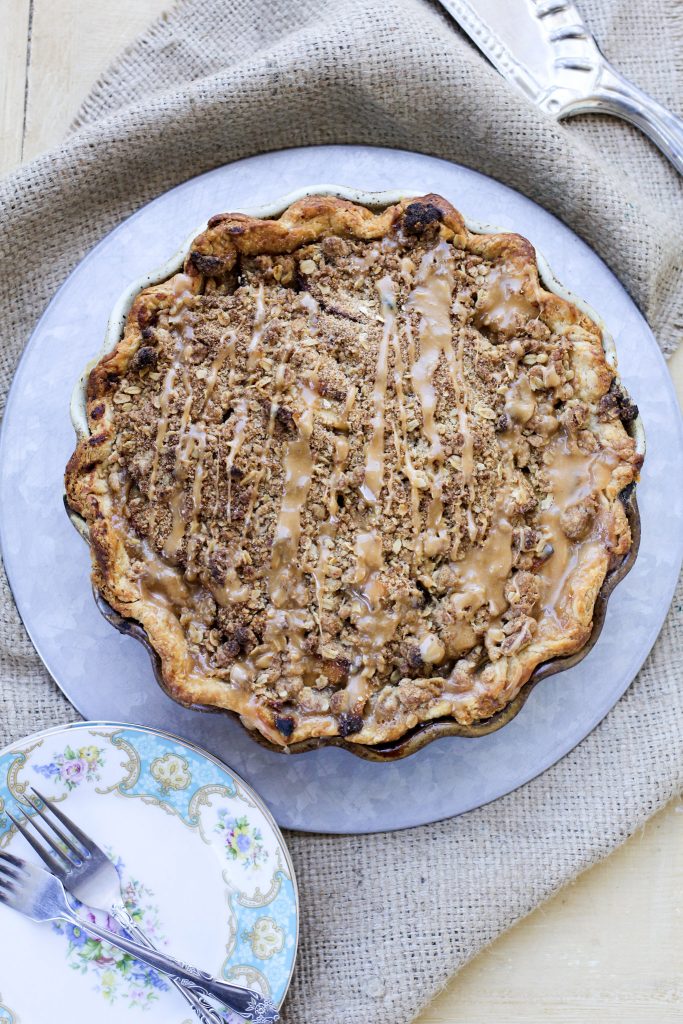 Grant's Grandmother Martin was the queen of caramel making!  She always packed a bag of caramels for us to take home after she had stuffed us with her Thanksgiving feast. They were creamy and sweet and had the perfect texture. Grandma wrapped those caramels up in individual little pieces of wax paper and folded them over to create their own little caramel package. O, how I loved those caramels!
It's been 34 years since she first shared her caramels with me, and I have still never mastered the art of  caramel making. When I started testing this pie, I wanted to make a no-fail, fairly simple Salted Caramel Apple pie. I wanted it to be delicious and creamy and have substantial chunks of apple and a sweet and salty caramel flavor with a slightly crispy streusel topping, drizzled with more caramel.  Doesn't that sound dreamy?? It all worked out…except the caramel layer. I'm still striving to make the most delicious caramel. Let's be honest, I would settle for ANY successful caramel making experience. But it just hasn't happened for me. After a few attempts, I turned to my old fall back, Peter's Caramel. It's my go-to caramel for cooking. Slice, heat and use.
Someday, I'll master the art of caramel making, but for now, this recipe WOWED everyone who ate a slice, or two.  My cheater version of Salted Caramel Apple Pie with Streusel Topping is fit for any holiday table, I've already received requests for Thanksgiving day!  We loved it and I know you will too.
** This recipe has been updated 11/2018 to eliminate the problem of the filling being too juicy. I added a step that includes drain gin off any juices after the apples have been tossed with sugar and flour and then adding back a small amount of flour and sugar just before filing the pie shell.**
Salted Caramel Apple Pie with Streusel Topping
Apples and caramel with a bit of sea salt in a pie shell and streusel topping. Nothing is more delicious than this combination!
Cook Time
1
hour
10
minutes
Total Time
1
hour
30
minutes
Ingredients
6-8

large Granny Smith apples

¾

cup

sugar

dash of salt

3

tablespoons

all purpose flour

1 1/3

cup

Peters Caramel

divided (1/4 cup saved for topping the streusel)

sea salt

*additional 2 tablespoons sugar and 2 tablespoons flour for filling
for topping:
1/2

cup

all purpose flour

1

teaspoon

ground cinnamon

1/2

cup

brown sugar

3/4

cup

old fashioned oats

6

tablespoons

butter
Pie dough:
1

cup

flour

1/2

cup

solid shortening

I use half butter flavor and half regular flavor shortening

1/2

teaspoon

salt

1/4

cup

+ a tablespoon or more of additional water
Instructions
Make filling: Peel, core and slice apples. Set in large bowl. Mix in 3/4 cup sugar, dash of salt, and 3 tablespoons flour. Set mixture aside.

Prepare the streusel topping: Pulse all ingredients together in a food processor, or simply mix all of the dry streusel ingredients together in a bowl and cut in the butter and set aside.

Make pie dough: Place 1 cup of flour into a bowl. Add 1/2 cup shortening and 1/2 teaspoon salt. Using a pastry cutter or two knives, cut shortening into flour and salt until the texture is similar to small peas. This should take a few seconds. Add the cold water all at once and gently fold with a fork until the flour and shortening absorbs the liquid. This should be a folding, and not a stirring motion. Gather the dough together and roll out on a generously floured surface. The dough will be a bit sticky. Sprinkle it with flour and roll out to fit a 9 inch deep dish pie plate.

Preheat the oven to 375 degrees and place the rack on the second lowest shelf in the oven.
Assemble the pie:
Fit the dough inside the plate and trim the edges.

Melt 1 cup of Peter's Caramel for a few seconds in a microwave safe bowl or measuring cup until caramel is soft enough to pour, about 20-30 seconds** see recipe notes.

Drain any juice off of the apple mixture and discard. Add another 1/4 cup of sugar and 2 tablespoons of flour to the apple mixture and toss. Do this immediately before filling the pie.

Place 1/2 of the apple mixture in the pie plate. Drizzle the prepared apples with about 1/2 cup of caramel, sprinkle with about 1/4 teaspoon sea salt. Repeat, ending with the caramel layer on top. Sprinkle top layer of caramel with additional 1/4 teaspoon sea salt.

Place the pie pan in the oven and bake for 30 minutes, uncovered. I usually set a pan under the pie plate, I use a thin cookie sheet or sheet of foil under the pie plate*.

Remove from oven and top with streusel topping and bake uncovered for an additional 40 minutes. Do not pat down streusel topping, it will settle as it bakes. If the pie gets too browned on top, loosely tent with foil.

Remove from oven when done.

Let cool for about 15 minutes and melt remaining 1/3 cup of caramel.

Drizzle over top of pie and sprinkle lightly with sea salt. Let cool for at least 3 hours, then cut and enjoy.

Store pie loosely covered on counter top.
Recipe Notes
Some apples give off more juice than others, therefore producing more juice in the finished product. The flour helps thicken the filling, but sometimes, letting the fruit macerate (combine with the sugar, which helps the fruit to release juice) and draining before baking helps, the recipe instructions include a step to incorporate draining off juices and adding back  a bit of flour and sugar to compensate for ingredients lost when draining off. 
Make sure to use sea salt and not regular table salt in this recipe. Sea salt is found in almost any grocery or big box store. It is very inexpensive. If you aren't using it already in your baking, you will taste a big difference!
For the dough, I use 1/2 Butter Flavor Crisco and 1/2 Regular Flavor Crisco. You may use all of one type if you don't want to buy both flavors! I always buy the sticks for simple measuring and cutting. They can be stored on a pantry shelf.
If you have a newer model oven with a blue coating inside of the oven, do NOT place any foil on the bottom of the oven to catch drips. The foil will melt onto your oven and will not be removable. Instead, place a layer of foil under your pie plate, or place the pie plate on a thin cookie sheet to bake.-
** the caramel does not need to be melted beforehand. If you cut off about a 2 inch chunk, that should equal close to a cup melted. Cut the chunk in half. Cut each piece into about 5 pieces of caramel and stretch with your hands. The caramel is pliable and can be stretched easily. Place the pieces of stretched caramel over the apples. This eliminates the need to melt and pour the caramel! I still melt the 1/3 cup of caramel to drizzle over the top of the pie (for a pretty thin drizzle effect) after it has been removed from the oven and cooled a bit.