photo credit Becky, Vintage Mixer
A few weeks ago the
Harmons
bloggers gathered and had a little pre-Thanksgiving meal. It was an afternoon of photo taking, discussing our favorite holiday dishes, and of course, feasting on good food. We all went away stuffed and excited to share new recipes with our readers!
Savory Yams with Bacon, Cream and Fresh Thyme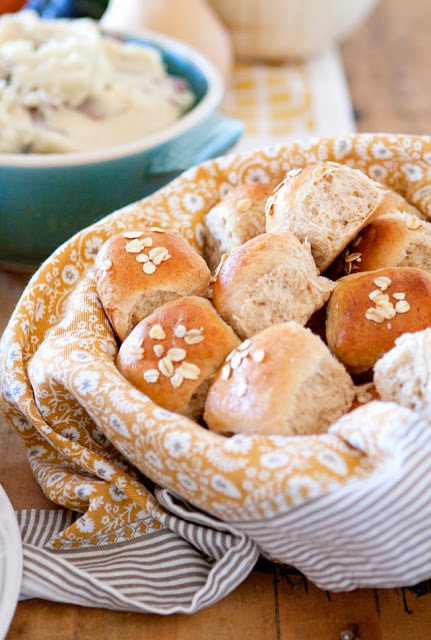 photo credit, Caroline Drake, Armelle Blog
We partnered with
Harmons
to offer five, yes,five $100 gift cardsjust in time for holiday grocery shopping! Harmons provided the gift cards, and we've provided recipes to make this your best holiday season, ever.
photo credit- Becky at Vintage Mixer
For our Harmons gathering, I made
Slow Cooker Mashed Potatoes
and Savory Yams with Bacon, Cream and Fresh Thyme (recipe below).
You'll want to follow each of the
Harmons
bloggers for multiple doses of amazing cooking and general family/lifestyle ideas each day! The other dishes that rounded out our meal and links to recipes are listed below. Don't forget to scroll to the bottom of this post for multiple chances to win a $100 giftcard!
Honey Whole Grain Dinner Rolls
and
photo credit Becky, Vintage Mixer
photo credit Caroline Drake, Armelle Blog
Chocolate Mousse Pie from
Caroline at Armelle Blog
made with an olive oil crust. On my list of pies to make this month.
photo credit, Caroline Drake
Sesame Green Beans with Bacon and Chestnuts
Sausage Herb Stuffing from
Jesseca at One Sweet Appetite
can't wait to try this, stuffing is my favorite.
photo credit Caroline Drake, Armelle Blog
Last, but not least is my recipe for
Savory Yams with Bacon, Cream and Fresh Thyme.
This recipe is rich, without being over the top. So often yams are used in a sweet dish at holiday time. I thought creating a dish that used savory flavors would be perfect for our holiday gatherings. I've made it three times in the past three weeks, and it's been a hit every time.
Fifteen more days til Thanksgiving!
Can't wait.
Savory Yams with Bacon, Cream and Fresh Thyme and Harmons Giftcard Giveaway Winner!
Ingredients
5-6

medium size yams or sweet potatoes

about 8-10 cups total

1/2

lb

bacon

1

tablespoon

olive oil

1

small onion

chopped (about 1 cup)

1

cup

heavy cream

fresh thyme

about 4 tablespoons stripped from stems, plus a few sprigs for garnish after cooking

salt and pepper
Instructions
Wash yams, place in large pot. Cover with cold water. Bring water to boil and cook for about 30 minutes, or until barely fork tender.

Meanwhile, chop bacon and cook until crisp, drain grease and set aside.

Wipe out pan used to cook bacon, add 1 tablespoon of olive oil and cook until soft and slightly golden.

Remove yams from boiling water. Drain and set yams on counter and let cool a bit. Peel and slice or cut into small chunks.

Place cut up yams in a greased 9 x 13 or similar size baking pan. Sprinkle with fresh thyme.

Drizzle fresh cream onto yams. Sprinkle with cooked onions and bacon.

Cover and bake for about 30 minutes at 350 degrees, or place in refrigerator until ready to bake.

May be made up to 3 days in advance. Let sit on counter when removing from refrigerator for about an hour before baking.

Garnish with additional fresh thyme before serving.
Click to Copy Embed Code