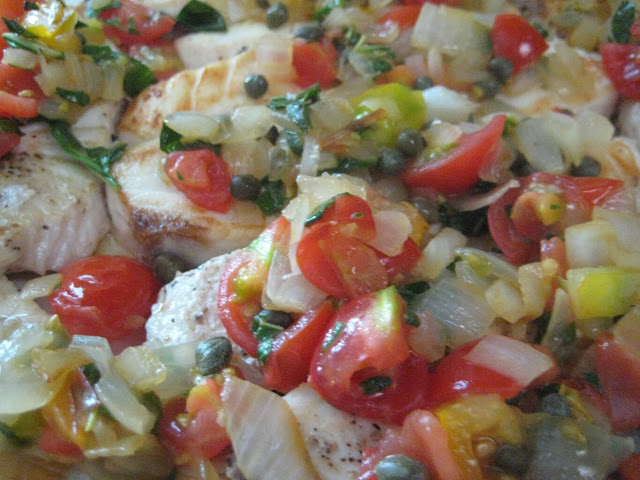 Alaska. Never been there. Grant is always trying to talk me into going on a cruise to Alaska. Isn't that a cold place? We live in a cold winter place, and the thought of going to a cold place in the summer just isn't appealing to me. I know it's not really cold in the summer, but fishing, hunting and hiking around in the great out of doors just isn't my idea of a vacation. A cruise vaca = swimsuit, lounge chair,books, lots of sunburned overfed cruisers and a fruity drink with a straw.
Alaska. Somehow a cruise to this isn't tempting to me…
My only associations/impressions with Alaska come through: Leeanna, one of my dearest childhood friends, who worked there for a few summers after high school. Made a boatload of money. My two high school guy pals Larry and Mike- their fathers were commercial fishermen. Worked with their dads in the summers, made boatloads of money. My sister friends Tessa and Emily are from AK. Grant went on a (yearly) once in a lifetime hunt to Alaska a few years ago- came back with a moose and a caribou (not an appropriate cruise activity). Melinda's hub Wayne just got back from a fishing trip to Alaska. He caught a HUGE fish. Melinda doesn't really know what to do with it. One morning after walking I told her to give me a few pieces, and for the price of sharing – I would make it into dinner.
Wayne and his big fish.
I found this recipe in Southern Living Feb 2009 issue. It's quick and easy. If it was any easier, it would be take out. If you have fresh tomatoes, BONUS. I wrote up the recipe as it was printed, and added my revisions in parenthesis. I bagged the can of tomatoes, and chopped up some of my neighbors fresh pear and cherry tomatoes. And of course, used FRESH herbs out of my herb pot. If you have halibut in your freezer, get it out and try this. If not, maybe you should book a cruise to Alaska.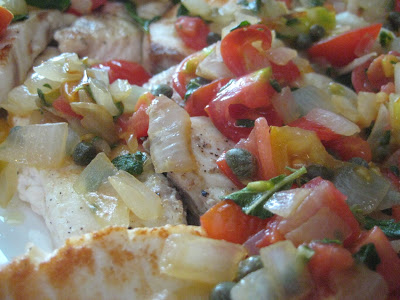 Seared Halibut with Herbed Tomatoes
Southern Living Magazine 2009
Ingredients
4- 6

oz

halibut fillets

1/2 inch thick

1/2

teaspoon

salt

divided

1/4

teaspoon

pepper

2

teaspoons

extra virgin olive oil

1/2

medium onion

chopped (sweet is best)

1

garlic clove

1

tablespoon

drained capers

1/2

teaspoon

dried basil

I used about 1/4 cup fresh chopped

1/4

teaspoon

dried oregano

I used about 1/4 cup fresh chopped

1 14.5

oz

can petite diced tomatoes

about 2 cups fresh tomatoes chopped
Instructions
Cut fish into fillets. pat fish dry with paper towels. Season with 1/4 teaspoon salt and pepper.

Cook fish in hot oil on large skillet over medium high heat about 3 minutes on each side, or until fish flakes with a fork and is opaque throughout. Do not over cook fish, or it will be dry.

Transfer fish to a serving platter, cover with foil and keep warm. Add onion and garlic to skillet, and saute 1 to 2 minutes or until onion is tender. Stir in capers, basil, oregano and remaining salt.

Reduce heat to low, and stir in tomatoes. Cook for about 3-5 minutes, until heated thoroughly. Top fish with tomato-herb mixture.

Serve immediately.